Rams' Cooper Kupp, Packers' Davante Adams among unanimous choices for AP NFL All-Pro Team
NEW YORK — Five players, including dynamic pass-catchers Cooper Kupp and Davante Adams, are unanimous choices for the Associated Press 2021 NFL All-Pro Team.
Joining the Los Angeles Rams' Kupp and the Green Bay Packers' Adams in receiving votes Friday from all 50 members of a nationwide panel of media members who regularly cover the league are Colts running back Jonathan Taylor, Steelers edge rusher T.J. Watt, and Rams defensive tackle Aaron Donald.
While Donald is a perennial pick — the three-time Defensive Player of the Year makes the team for the seventh time in his eight pro seasons — Watt is on it for a third time. He tied the NFL record for sacks with 22 1/2. Adams makes it for the second time, and the other two are newcomers as All-Pros. Kupp led the NFL in receptions (145), yards receiving (1,947) and TD catches (16). Taylor was the top rusher by a landslide with 1,811 yards and scored 18 touchdowns on the ground, along with two as a receiver.
"Obviously, it's an honor to be recognized, and it wouldn't be possible without my coaches and incredible teammates, but the awards and accolades aren't what drives me," said Watt, whose Steelers play at Kansas City on Sunday. "It's competing with and for them, this franchise, and this city, that drives me. My coaches and teammates are the people that put me in a position to make splash, help us win, and this recognition honestly doesn't come without them."
Like Donald, although not nearly as often as the offense-wrecking DT, several players are making another appearance on the All-Pro team. Green Bay quarterback Aaron Rodgers is on for the fourth time, as is Philadelphia center Jason Kelce — one more than his brother, Chiefs' star tight end Travis Kelce. One better than them: Dallas right guard Zack Martin and Baltimore placekicker Justin Tucker at five.
The three-time All-Pros this year are Colts linebacker Darius Leonard, Rams cornerback Jalen Ramsey, and Steelers defensive tackle Cam Heyward. The two-time All-Pros are Browns edge rusher Myles Garrett and Titans safety Kevin Byard.
The other 14 2021 All-Pros are making their debuts. On offense, 49ers left tackle Trent Williams is a newcomer in his 11th NFL season, joined by Ravens tight end Mark Andrews, Buccaneers right tackle Tristan Wirfs, Browns left guard Joel Bitonio, and 49ers wide receiver Deebo Samuel. On defense, it's linebackers Micah Parsons of Dallas, the only rookie on the squad, and De'Vondre Campbell of Green Bay; Cowboys cornerback Trevon Diggs; Bills safety Jordan Poyer; and five special teamers: Las Vegas punter A.J. Cole, Jets kick returner Braxton Berrios, Ravens punt returner Devin Duvernay, Saints special teams ace J.T. Gray, and Colts long snapper Luke Rhodes.
Perhaps the most thrilled player is Williams, who has been a stellar blocker for a decade with Washington and now San Francisco, but never got an All-Pro nod.
"I do feel more comfortable than I've ever felt," he said. "I do feel like I'm as strong as I've ever been. I do feel my football IQ is probably better than it's ever been. As a football player, as a competitor, every year you want to be better than the last year. That's my goal and always has been my goal. So if this year is better than last year, I hope so. That's the plan."
Almost as unusual as sweeping the votes is having a rookie on the team. Parsons has been so outstanding that he's also considered a strong contender for the Defensive Player of the Year award.
"I think it's an extraordinary honor," he said of being an All-Pro. "It speaks to the work and the position the Cowboys put me in. I think it's just a true blessing. It just makes you want to go harder.
"I think when you achieve things early, you've got to learn how to sustain it. People always say when you get there, it gets easier. But I think when you get there, it gets harder. Once you get it, you've got it. But it's hard to sustain it than it is just to get there. I've got to just keep working and keep getting better and find a way to beat this season next year, which is the harder part."
Byard was an All-Pro in 2017, and now he's back on the roster after what he felt was a down 2020 season.
"It means a lot to me, honestly," he acknowledged. "I put a lot of work in every single offseason by myself, not necessarily with the team in training camp, but just try to come into the next season to try to play the best I can be for my team.
"I've talked about it a lot. Just not felt like I played my best last year. So to be able to bounce back and see the kind of the work that I put in mentally and physically kind of pay off."
The Packers, Colts, Ravens, Rams and Cowboys each have three All-Pros. There's an even breakdown by conference of 14 apiece.
Jeff Fisher, Larry Fedora fill final two USFL head-coach job openings
Former NFL head coach Jeff Fisher and former North Carolina head coach Larry Fedora were named coaches by USFL teams Thursday, filling the final two vacancies in the league.
Fisher was named the head coach of the Michigan Panthers and Fedora the head coach of the New Orleans Breakers.
The other head coaches in the eight-team league are: Todd Haley (Tampa Bay Bandits), Kevin Sumlin (Houston Gamblers), Mike Riley (New Jersey Generals), Skip Holtz (Birmingham Stallions), Kirby Wilson (Pittsburgh Maulers) and Bart Andrus (Philadelphia Stars).
Fisher, 63, was an NFL head coach for 22 seasons with the Houston Oilers/Tennessee Titans and St. Louis/Los Angeles Rams. He had a 173-165-1 record and led the Titans to the Super Bowl after the 1999 season. He last coached in 2016, with the Rams.
Fedora, 59, had a 79-62 record in 11 seasons at Southern Miss and North Carolina. He last coached in 2018, with the Tar Heels.
The newly re-formed USFL announced earlier this week that the league will play every game in Birmingham, Alabama this season.
The eight-team professional football league owned by Fox Sports will debut on April 16 with the Birmingham Stallions against the New Jersey Generals.
Training camps open March 21 after a player selection meeting. Each team will have 38-man rosters with seven players on a practice squad. Each player will receive base pay and be eligible for victory bonuses.
From 1983-85, the original USFL played spring league games before folding.
The Associated Press contributed to this report.
As Chicago Bears hire Ryan Poles and Matt Eberflus, it's time for chairman George McCaskey to step up – Chicago Bears Blog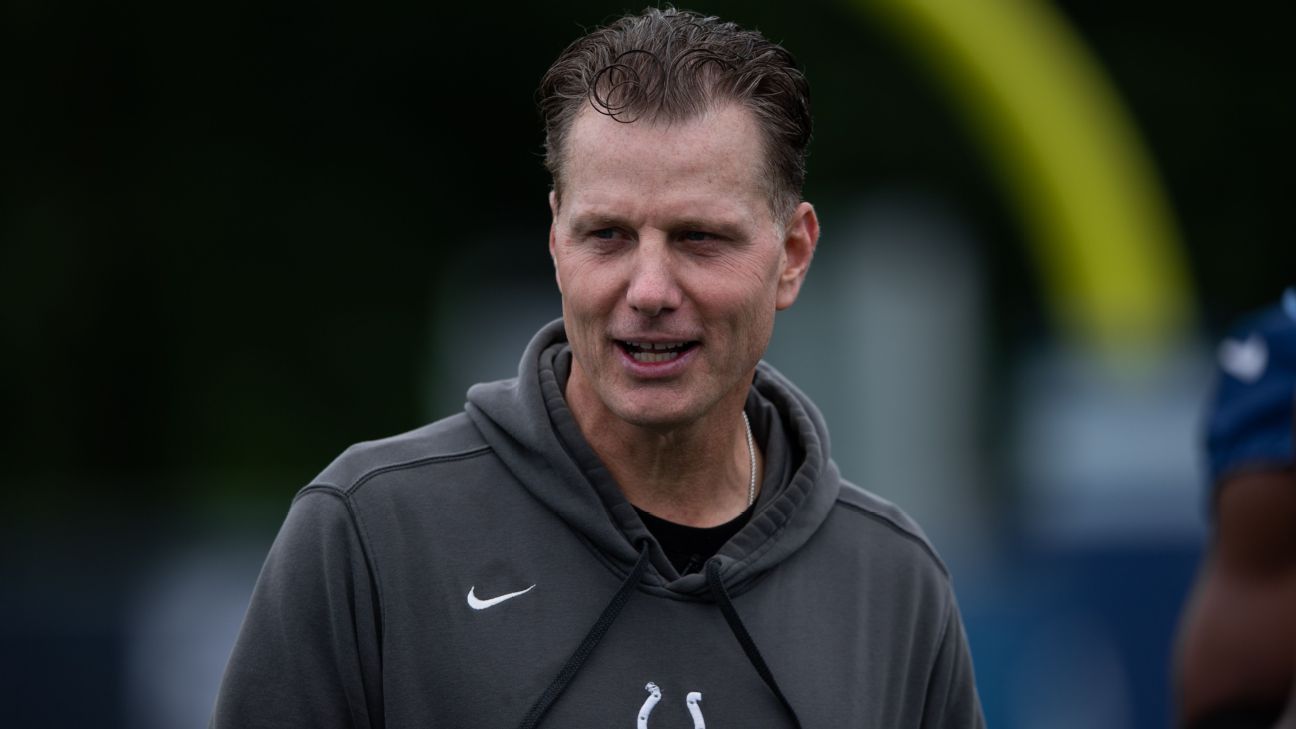 When reports emerged this week Kansas City Chiefs executive director of player personnel Ryan Poles was in negotiations to become the general manager of the Chicago Bears, one of the franchise's most beloved former players spoke up. Longtime center Olin Kreutz, who retired a decade ago and lives in the Chicago area, tweeted that Poles should make sure he gets more than $15 per hour.
Kreutz's joke referenced his own claim that the Bears once insulted him by offering an hourly fee to serve as a player consultant, a contention Bears chairman George McCaskey has said wasn't true. Kreutz stood by his story — saying in a radio interview that "if a guy like George McCaskey doesn't like me, that is a win for me" — and provided a glimpse into the dysfunction that has festered during McCaskey's 11-season tenure as the team's chairman.
• A league without Tom Brady?
• OBJ gives Rams boost on, off field
• Chiefs WR Hill had to pivot this season
• Sean Payton's best wins, losses
• Why Cowboys' window to win is closing
• Should Raiders pick GM or coach first?
Poles is the third general manager McCaskey has hired, and Indianapolis Colts defensive coordinator Matt Eberflus is the fourth coach. By all accounts, they are roundly respected around the NFL. But so were former general managers Ryan Pace and Phil Emery when they were hired, as were coaches Matt Nagy, John Fox and Marc Trestman. None of them brought long-term success to the Bears organization, however, and that through line serves as an uncomfortable reminder that the competency of an owner matters in ways that many fans and media members prefer not to consider.
The Bears' board of directors, made up primarily of team founder George Halas' descendants, elevated McCaskey to his current role after the 2010 season. For most of that time, he has followed a mandate that most of the public demands of sports owners: stay out of the way. Professional sports is flush with the notion that teams' fortunes are inversely related to the involvement of the owner, who is presumed to be a non-expert and thus unqualified to exist in that world. McCaskey has appeared to agree with that theory, relying on his hired hands to establish a vision and make the moves they thought were necessary to fulfill it.
I spoke to McCaskey in 2013, as Emery was working through the difficult decision of whether to part ways with aging linebacker Brian Urlacher. Such a move would reach far beyond football and affect the relationship between the franchise and a future Pro Football Hall of Fame player, but McCaskey was determined to stay out of it.
"As a fan," McCaskey said at the time, "of course you want him back. He's been the face of the franchise. He's been an outstanding player, a Hall of Fame career. But I've tried to assure Bears fans since I became chairman that I don't involve myself in player personnel decisions unless there is a question of character. Of course, there is no question about Brian's character. So you have to leave that to the pros, the guys that make the evaluations, and hope for the best."
No owners should make specific football decisions on their own, but it appears McCaskey has realized that successful stewardship of an NFL franchise requires a bit more direct involvement than hoping for the best. After firing Pace and Nagy earlier this month, he announced that the next general manager would report directly to him instead of team president Ted Phillips. McCaskey attributed the change to Phillips' role in pursuing a possible new stadium in suburban Arlington Heights, but regardless of the reason, his position at the top of the Bears' football vertical should by definition bring more of a connection to the Bears' football operation.
Even owners who are inclined to be deferential, and there are fewer than you might realize, can still play an important role in building a successful team. Perhaps it's by providing a different voice or bringing up unasked questions in key decisions. Maybe it is as simple as insisting on a vision that allows the general manager, coach and quarterback to all be in alignment, rather than try to push forward with mismatches caused by staggered hiring and drafting cycles — a key problem for the Bears in the past decade.
It's fair to ask if McCaskey's involvement will bring better outcomes, make them worse or leave them unchanged. Being the grandson of Halas doesn't grant any ethereal insights or skills on its own. Asked by a reporter why he should be trusted with this new arrangement, given the lack of a single playoff victory since his tenure began, McCaskey acknowledged the frustrations of fans and said that results on the field will be the only way to answer.
"We think in time it'll be shown that we've chosen the right people," he added.
The hiring of Poles and Eberflus is best viewed in the context of an owner who has decided to step into the operation with a bit more verve than he once did. Owners can't just be caretakers. At some level, they must be operators as well. We're about to find out whether George McCaskey is up to it.
Nathaniel Hackett is the newest Denver Broncos coach to try to fix same old offensive problem – Denver Broncos Blog
ENGLEWOOD, Colo. — The need to repair one of the league's most consistently clunky offenses was finally so big, so unavoidable, the NFL's most patient coaching search abruptly turned into the offseason's first hire. Sometime late Wednesday night or early Thursday morning, the Denver Broncos agreed to a deal with Green Bay Packers offensive coordinator Nathaniel Hackett to be the team's next head coach.
Broncos general manager George Paton talked to the most candidates of any team on the hunt for a head coach in the first round of interviews — 10 — and then scrapped his second interview schedule when the Broncos finalized a deal with Hackett.
Hackett, 42, known throughout the league for his wit, experience and — most importantly to the Broncos — offensive know-how to go with top-shelf work with quarterbacks, has plenty of heavy lifting ahead. He presented himself as the guy for the job, and Paton then finished a deal before Hackett could interview a second time with the Jacksonville Jaguars. The Broncos' plan to give Dallas Cowboys defensive coordinator Dan Quinn and Los Angeles Rams offensive coordinator Kevin O'Connell a second interview were tossed aside on the way to the dotted line.
Hackett is the third consecutive first-time head coach the Broncos have hired. The other two — Vance Joseph and Vic Fangio — were fired after two and three seasons, respectively. Both were dragged onto the hot seat by an offense that has not averaged more than 23 points per game since 2014 and hasn't averaged more than 21 points per game since 2015.
• Tracking firings, hirings and openings »
• Latest buzz on each open coach job »
During that span, the Broncos have had three seasons, including the most recent one, when they averaged fewer than 20 points per game.
Two things happen in today's NFL when your offense lives in that scoring neighborhood. First, you miss the playoffs as the Broncos have for six consecutive seasons, and second, you fire your coaches, as the Broncos have after the 2018 and 2021 seasons.
Hackett, whose father, Paul, was a longtime coach in both college and the NFL, had the deepest coaching résumé of any of the candidates interviewed. That he spent the past three seasons as the Packers' offensive coordinator will keep the Aaron Rodgers-to-the-Broncos hype train rolling for the foreseeable future.
But the Broncos can't, and didn't, hire Hackett because he might be able to help the Broncos get Rodgers if Rodgers doesn't retire or if the Packers even decide to be the first team in recorded football history to move on from a quarterback coming off (likely) back-to-back MVP awards.
That's not good business, and if the Broncos really did do that, they should probably move Hackett along, start the interviews over again and save everybody the trouble two seasons from now.
No, Hackett was hired to fix the offense with whatever quarterback options arrive. The Broncos don't need a reinvent-the-wheel offense, they don't need to shatter scoring records like 2013's festival of points behind quarterback Peyton Manning. But they do need an offense that doesn't get the quarterback, the offensive coordinator and the head coach fired over and over again.
They do need an offense that matches the roster they have, not the one they wish they had. They do need an offense that simply isn't the Broncos' biggest opponent each week, because their own offense has been just that: bad field position, bad choices, bad turnovers and — usually — bad results.
Stephen A. Smith is upset that the Broncos hired Nathaniel Hackett over Eric Bieniemy to be their new head coach.
Joseph and Fangio showed, more often than they'll likely be given credit for, they could be NFL head coaches, and each had moments when he had an opportunity to take the next step on the developmental curve and be a longer-term solution in the job. But neither managed his own staff enough, especially on the "other" side of the ball. Each fired an offensive coordinator in the first season of his tenure, but neither was aggressive enough in-house to make sure the problems got fixed. Those problems eventually earned each a shove out the door.
Neither fixed the team's special teams enough. They didn't iron out some in-game struggles such as replay challenges.
They didn't, bottom line, coach their own coaches enough.
That's all on Hackett's plate now as the 18th coach in franchise history. He's paid his dues, many in the league believe it is his time to be a head coach, and he arrives at one of the best jobs available. The Broncos, specifically Paton as well as team CEO Joe Ellis, will soon say they found the "leader" they want, and they'll likely use "energy" somewhere in the welcome remarks.
All involved will hope Hackett, as he unpacks all those boxes in his new office, brought some touchdowns with him.