NFL wild card playoffs – Key moments from the Dallas Cowboys-San Francisco 49ers rivalry
The Dallas Cowboys and San Francisco 49ers will write another chapter in their storied rivalry Sunday in the NFC wild-card game.
The two familiar foes have met a total of 37 times, with the Cowboys possessing a thin lead on the series, 19-17-1. Dallas won the last meeting 41-33 in Week 15 of the 2020 season.
Both coaching staffs are well-versed in the longtime rivalry.
San Francisco head coach Kyle Shanahan shared his own memories from when his father, Mike Shanahan, served as the 49ers' offensive coordinator and quarterback coach from 1992 to '94 — when the teams met in three consecutive NFC Championship Games.
"Those are part of my childhood. That was such cool football because everyone knew that for those three NFC championships, those three years were the Super Bowl."
Cowboys coach Mike McCarthy is also familiar with the rivalry. He served as the Niners' offensive coordinator in 2005 and suffered a 34-31 loss to Dallas in Week 3. He named "The Catch" as his first recollection of the rivalry.
"Great tradition, great games, but more importantly these games always mean something, and that's no different this year," McCarthy said. "So you're always playing for more and it's a privilege to be a part of this tradition."
Defensive coordinator Dan Quinn was an assistant in San Francisco from 2000 to '04 and is looking forward to the matchup
"There's a new heightened sense of things that happen in the playoffs. All the teams are good, they usually come down right to the end. … I'm fired up and ready to go."
Here are some of the top moments that made 49ers-Cowboys one of the greatest non-division rivalries in NFL history, selected by NFL Nation reporters Nick Wagoner and Todd Archer.
Introducing "Captain Comeback"
A separated shoulder kept Cowboys QB Roger Staubach sidelined for most of the 1972 season, but he solidified his status as "Captain Comeback" in the fourth quarter of the divisional round.
Craig Morton started the game at quarterback for Dallas but threw two interceptions and lost a fumble as San Francisco mounted a 21-6 lead in the second quarter.
"They were laughing at us. Making fun of us during the game," said Dallas safety Charlie Waters. "They were really enjoying having the upper hand on us. They didn't think there was any way [we'd come back] — because our offense was sputtering. We were doing absolutely nothing."
The Cowboys' offense was held scoreless in the third quarter, and coach Tom Landry made a QB change in the fourth.
Staubach fumbled the ball on his first possession but made up for his misstep by leading Dallas to a miraculous comeback. He threw two touchdown passes in the final two minutes, finding Billy Parks and Ron Sellers, and that gave Dallas a 30-28 lead.
Waters sealed the game by picking off 49ers QB John Brodie.
---
The Catch
Joe Montana and Co. found themselves trailing the Cowboys 27-21 with less than five minutes remaining in the 1981 NFC Championship Game.
But Montana and Dwight Clark made magic happen on third down.
Montana evaded three defenders, rolled to his right and delivered the ball in the back of the end zone where Clark made the winning grab with 51 seconds remaining in regulation.
The play nearly didn't happen, though.
"I was thinking of throwing the ball away," Montana said after the game. "But I saw him come open and I figured if I could hang on another half-second …"
---
"How 'bout them Cowboys?"
After finishing the regular season 13-3, Dallas steamrollered their NFC East rivals, the Philadelphia Eagles, 34-10 in the divisional round, stamping their ticket to meet the 49ers in the 1992 NFC championship.
Meanwhile, San Francisco finished the season 14-2 and came out on top in a tough divisional-round matchup against Washington. Moreover, after winning four Super Bowls with Joe Montana throughout the 1980s, the team looked to continue that stretch with Steve Young as its signal-caller.
Both squads were chock full of offensive talent with Young and Jerry Rice on one side, and Troy Aikman, Emmitt Smith and Michael Irvin on the other.
Despite that, a low-scoring back-and-forth battle ensued in the first half, and the two were tied at 10 at halftime.
In the second half, Dallas scored three of the game's final four touchdowns, which was enough to secure the victory and a Super Bowl XXVII appearance.
But before going to face the Buffalo Bills in the Super Bowl, Cowboys coach Jimmy Johnson had something to say:
"How 'bout them Cowboys?"
And just like that, a phrase that has transcended generations of Dallas fans was born.
---
"We will win the ballgame, put it in 3-inch headlines"
In 1993, Johnson delivered another memorable phrase that has stood the test of time.
Before the two met for a second consecutive NFC Championship, Johnson called a local sports radio show and made an unprecedented declaration.
"We will win the ballgame," Johnson stated. "You can put that in three-inch high headlines."
Well, he wasn't wrong.
Bolstered by a three-touchdown second quarter, Dallas dominated San Francisco 38-21 to advance to Super Bowl XXVIII.
---
Niners get their revenge
The Niners and Cowboys met for the NFC title for the third straight time, with both quarterbacks having opposing circumstances. Aikman entered with a 7-0 record as a starter in the playoffs, while Young had yet to get over the hump, and into the Super Bowl.
However, in 1994, the pendulum finally swung in favor of the 49ers.
Aikman threw a pick-six to Eric Davis on the first drive. Then Irvin fumbled on Dallas' next possession, and Young took advantage of the ideal field position by connecting with Ricky Watters for a 29-yard touchdown. The Cowboys' had another costly early turnover on the next drive when Kevin Williams fumbled the kickoff and San Francisco capitalized with a touchdown.
And just like that, the 49ers led 21-0 with over seven minutes left in the first quarter.
Still, Dallas put up a fight, recording 451 total yards of offense, compared to San Francisco's 294, but couldn't overcome five turnovers.
The 38-28 victory allowed Young to make his first Super Bowl appearance as the Niners' starting quarterback.
---
Dallas wins "Deion Sweepstakes"
Entering the 1995 offseason, reigning Defensive Player of the Year and Super Bowl XXIX champion Deion Sanders was riding high after the best season of his career. However, his one-year deal with San Francisco was up and it was time to find his next home.
The Miami Dolphins, New Orleans Saints, Oakland Raiders and Philadelphia Eagles entered the "Deion Sweepstakes" along with the Niners and Cowboys.
In Week 2, Dallas ended up signing Sanders to a seven-year, $35 million contract, which made him the NFL's highest paid defensive player at the time.
Due to a surgery, Sanders was unable to make his debut for America's Team until Week 9, but he made an immediate impact and went on to be a part of his second Super Bowl-winning squad in just as many years.
---
T.O.'s star-studded celebration
Terrell Owens' legacy is highlighted by signature celebrations and unforgettable moments, and on Sept. 24, 2000, a star was born.
After making a 3-yard touchdown reception, Owens ran to midfield and spread his arms on the Cowboys' logo. Nearly a minute later, longtime Dallas running back Emmitt Smith scored a touchdown of his own and responded by returning to the star to copy Owens. Later on, T.O. hauled in another touchdown and headed back to the center of the field in Texas Stadium, but Cowboys' safety George Teague met him at the star and delivered a big hit.
On a 2016 episode of ESPN's Mike & Mike radio show, Owens defended his decision to stand on the star.
"It had nothing to do with me trying to taunt my opponent, had nothing to do with me trying to taunt the Cowboys. … My coach was like, 'Yo' — he motivated me [to do this] — 'This is what this is about. Go to the star, give your thanks to God, because he's watching down on this game, and show him who's the best player today.' And that's what I did."
---
Tony Romo rallies past Niners in OT
In Week 2 of the 2011 season, Tony Romo managed to lead Dallas to an unlikely comeback win.
Romo took several hits in the first half, including one off of a blindside blitz that left him visibly in pain. He missed all but the last series in the third quarter, and his injuries were later revealed to be a broken rib and punctured lung. He would return in the fourth quarter.
The Cowboys trailed by as many as 10 points in the fourth quarter, but the tide quickly changed.
Romo completed 5 of 6 passes on the drive that sent the game to overtime. His 77-yard pass to Jesse Holley set up the winning field goal. Romo connected on 20 of 33 passes for 345 yards and two touchdowns, with over 200 yards coming in the fourth quarter and OT.
Andrew Whitworth, Taylor Rapp look on track to return for Los Angeles Rams in NFC Championship Game, Sean McVay says
Los Angeles Rams safety Taylor Rapp and left tackle Andrew Whitworth appear to be on track to play in Sunday's NFC Championship Game against the visiting San Francisco 49ers, coach Sean McVay said Monday.
Rapp has yet to play in the playoffs because of a concussion he suffered in Week 18. Whitworth missed the Rams' divisional-round win over the Tampa Bay Buccaneers because of a knee injury.
McVay said Whitworth's replacement, Joe Noteboom, "strained his pec a little bit" shortly before Matt Gay kicked a 30-yard field goal as time expired to beat Tom Brady and the defending champions, who had stormed back from a 27-3 third-quarter deficit to tie the game.
"[Noteboom] did a great job finishing out," McVay said. "So we'll kind of monitor his progress throughout the course of the week. Andrew Whitworth had some great treatment. Really responded well to that. He's feeling good. I expect him to be able to practice this week and see what that looks like. And then Taylor's really making great progress, has ramped up some of the physical activity and he's feeling good. So both those guys look like they're on track to be able to play on Sunday potentially."
Whitworth, 40, hurt his right knee on the first play of the Rams' wild-card win over the Arizona Cardinals. He played 30 of the team's 60 offensive snaps before Noteboom replaced him for the remainder of that game.
McVay said Noteboom was "outstanding" against Tampa Bay and that he had also played well in two previous fill-in starts this season.
Against Tampa Bay, Notebook recorded a pass block win rate of 96%. Whitworth ranked third among offensive tackles during the regular season with a PBWR of 94%.
The Bucs recorded eight QB hits and two sacks on Matthew Stafford's 40 dropbacks.
"We feel like he's a starter," McVay said of Noteboom. "I thought he and [right tackle Rob Havenstein] both did an outstanding job for the amount of times and some of the stress we put on them, with the amount of dropbacks that we did have in that game. And to be able to hold up against that rush was instrumental in us being able to win. Was really pleased with Joe yesterday."
Linebacker Ernest Jones is the only player among those the Rams recently designated for a return to practice off injured reserve who has a chance to play against San Francisco, McVay said.
Rapp's absence as well as the season-ending ankle injury that Jordan Fuller suffered in Week 18 have forced the Rams to play without both of their starting safeties in the team's two playoff games. Nick Scott, who has filled in as one of the starters, intercepted Brady late in the first half Sunday.
Terrell Burgess again started opposite Scott but was out-snapped 61 to 14 by veteran Eric Weddle, who came out of his two-year retirement in light of the Rapp and Fuller injuries.
Tampa Bay Buccaneers QB Tom Brady says he plans to spend a lot of time with family to figure out his future
TAMPA, Fla. — Buccaneers quarterback Tom Brady indicated Monday that family will play a substantial role in determining whether he will return to play next season. He also said that if this is it, he could walk away "proud and satisfied," even though the Bucs lost 30-27 when they were eliminated in the divisional round of the playoffs Sunday by the Los Angeles Rams.
"I think as I've gotten older, I think the best part is, is football is extremely important in my life, and it means a lot to me, and I care a lot about what we're trying to accomplish as a team and I care a lot about my teammates," Brady said on his "Let's Go!" podcast with Jim Gray. "The biggest difference now that I'm older is I have kids now, too, you know, and I care about them a lot as well. They've been my biggest supporters. My wife is my biggest supporter. It pains her to see me get hit out there. And she deserves what she needs from me as a husband, and my kids deserve what they need from me as a dad.
"I'm gonna spend some time with them and give them what they need, 'cause they've really been giving me what I need the last six months to do what I love to do. I said this a few years ago, it's what relationships are all about. It's not always what I want. It's what we want as a family. And I'm gonna spend a lot of time with them and figure out in the future what's next."
Brady has three children. His oldest, Jack, is 14 years old and lives with his mother, actress Bridget Moynahan, in New York, and Brady sees him as much as he can. Brady's son Benjamin, 12, and daughter Vivian, 9, live with him and his wife, supermodel and philanthropist Gisele Bundchen. While Brady expressed disappointment in being eliminated from the postseason, it meant getting to eat waffles with his children Monday morning, something he cannot do in-season.
He said there is no rush to make a decision on his future, and coach Bruce Arians said Monday that no timetable has been set. The team expressed a strong desire for Brady to return but has encouraged him to take all the time he needs and will look at contingency plans in the event he decides not to return.
Some have questioned how Brady could consider walking away after a loss. He has won seven Super Bowl rings, and owns a 243-73 record during the regular season and a 35-12 record in the postseason. And because of his competitiveness, he said, he felt he couldn't take everything in Sunday, in the event it was his last game.
"I would say I'm proud and satisfied of everything we accomplished this year, so I know when I give it my all, that's something to be proud of," Brady said. "And I've literally given everything I had this year, last year, the year before that, the year before that. Like, I don't leave anything half-ass, you know? I think I leave it with everything that I have. My physical being, I work really hard on that. I feel like I give everything I can to my teammates. Although, it is divided attention as you get older, 'cause there's different priorities and responsibilities in life. And, you know, I have things happening outside of football that require some time and energy.
"Every year I just have to make sure that I have the ability to commit to what the team really needs, and that's really important to me," he said. "The team doesn't deserve anything less than my best. And if I feel like I'm not committed to that, or I can't play at a championship level, then you gotta give someone else a chance to play. And, you know, we'll see. There's a long time between now and the start of next football season. I've gotta really figure those things out, which is probably natural for anyone. And at the same time, I would say this, we never know what's gonna happen in the future. We really don't. I mean, Kobe Bryant, a friend of ours, God rest his soul. You think you're gonna live forever. We're not. We think we're gonna play forever. We're not. What can we do? We can enjoy the moments that we have.
"As challenging as the season was, I was glad I played and glad I participated, 'cause I'm living my life and I'm not just counting the days," he continued. "So my days are meaningful to me. I'm gonna try to keep 'em meaningful to me. And, you know, in the meantime I'm gonna do as best I can to enjoy, you know, the time that I have not playing football. 'Cause that's equally important. Playing football I get so much joy from. I love it. But not playing football, there's a lot of joy in that for me also now, too, with my kids getting older and seeing them develop and grow. So all these things need to be considered and they will be. And, you know, the funny part is always that most guys retire and then move to Florida. I'm already in Florida. So it's really confusing, even to me."
Brady also said he wouldn't want a farewell tour with all the fanfare that accompanies it. Pittsburgh Steelers quarterback Ben Roethlisberger was acknowledged by fans and players as this past season wound down, even taking a final lap around Heinz Field. Green Bay quarterback Aaron Rodgers said he didn't want one either, though many felt there was a strong possibility 2021 might have been his last season, at least with the Packers.
"I think that would be distracting for me. … My enjoyment comes from not a recognition of kind of what I've accomplished as a player in the league — my enjoyment comes from the competition," Brady said. "More so than anything, even yesterday, I was thinking about competing. I was thinking about, this whole year, about competing. I wasn't thinking about anything other than that.
"So when the time comes to think about post-career and second career, I'll think about those things. It's just when you're 44, I guess you get asked about that a lot. And a lot of people thought I was done playing football in 2015. A lot of people in 2016 said, 'You're done.' A lot of people in 2018, and when I left the Patriots, they said, 'You're done.'"
Instead, Brady signed with the Bucs in 2020 in the middle of a pandemic, took them to the postseason for the first time in 13 years and won the franchise's second Super Bowl 18 years after the first. They came up short in 2021 though, failing to advance in the divisional round for just the fourth time in Brady's career.
San Francisco 49ers in wait-and-see mode with Trent Williams' injury; Deebo Samuel expected to practice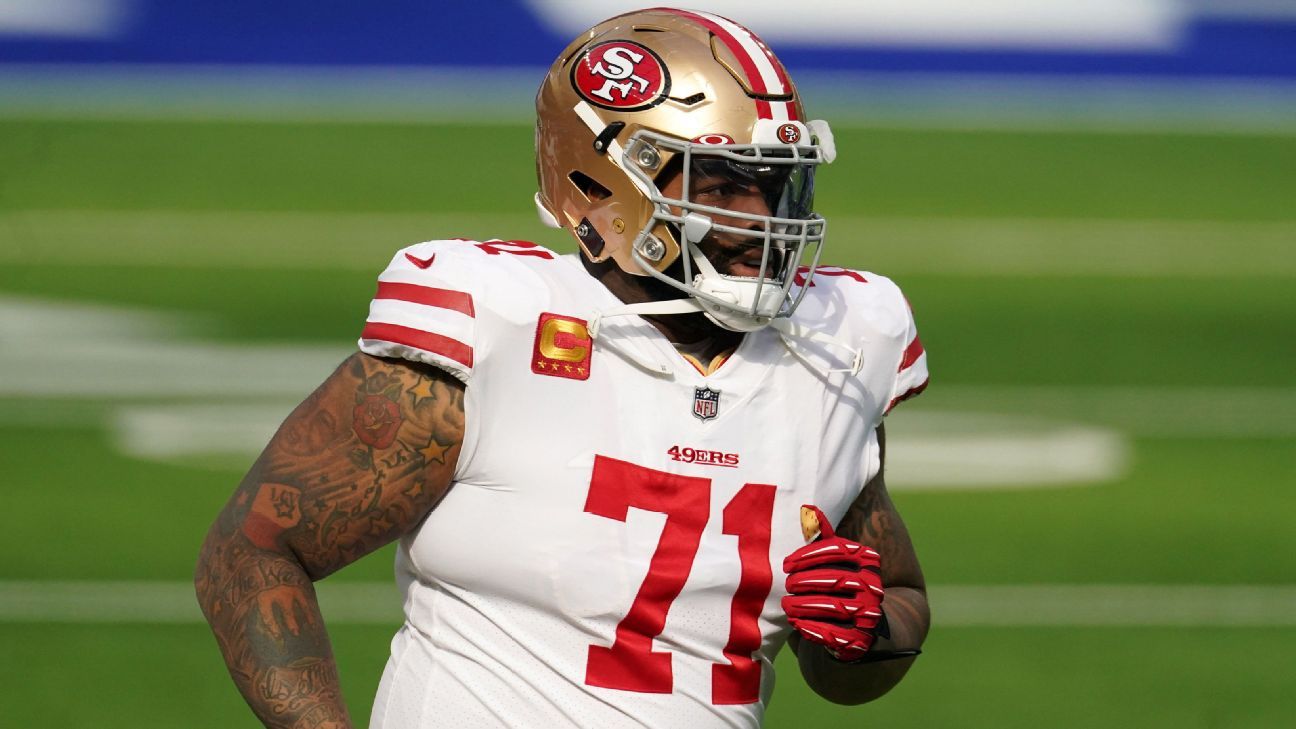 SANTA CLARA, Calif. — As the San Francisco 49ers departed Green Bay late Saturday night, injury questions lingered over two of their best players.
On Monday, Niners coach Kyle Shanahan offered updates on left tackle Trent Williams and receiver Deebo Samuel as the team prepares for Sunday's NFC Championship Game against the Los Angeles Rams.
Williams, who is dealing with a right ankle injury, will be monitored as the week goes on, which leaves his game status unclear. Samuel is sore but OK after taking a helmet to his right knee on his run that set up the game-winning field goal. Samuel is expected to be available for practice this week, Shanahan said.
Williams suffered a right ankle sprain midway through San Francisco's 13-10 win against the Packers. He didn't come out of the game but was seen on crutches headed toward the X-ray room at Lambeau Field after the victory.
X-rays on Williams' ankle showed no fractures but more tests showed some older issues that are lingering in the ankle and have made it hard to determine the severity of the current injury. It's similar to the situation the Niners went through last week with defensive end Jordan Willis, in which the initial diagnosis showed a potential high ankle sprain, but when things settled, the newer ankle sprain wasn't as severe.
"You have got to see how the week goes and whether it heals," Shanahan said of Williams' ankle injury. "If it was a high [sprain], then I'd rule him out. But there are more components to it. … So, you have just got to wait and before you declare what it is, you've got to see how it heals and reacts throughout the week. So, that's about all I can say and that's what we'll be waiting on to find out."
Shanahan said the Niners will have to manage Williams and see how he progresses throughout the week before his status for the game can be determined. Willis was able to play against the Packers, blocking the punt that provided the game-tying points, after he was listed as questionable on the injury report.
Williams did not play in the last meeting with the Rams because of an elbow injury. Colton McKivitz replaced Williams in that Week 18 contest.
Elsewhere on the injury front, Niners running back Jeff Wilson Jr. suffered a low ankle sprain covering the first kickoff of Saturday's game, but he, too, has a chance to play.
Shanahan said cornerback Ambry Thomas, who was a pregame inactive Saturday because of a bone bruise on his knee, should also be able to return to practice this week.
"We were hoping he was going to be close [to playing] but by the time he got there we could tell there was no point in working him out," Shanahan said. "So, it ended up not being as close as we hoped for. We know he's doing better today compared to how he was on Sunday. So, I think he has a much better chance of playing this week. Hopefully he's ready for practice on Wednesday."