Utah Utes LB Devin Lloyd, projected first-rounder, declares for 2022 NFL draft
Utah linebacker Devin Lloyd will enter the NFL draft, he announced in a social media post Wednesday.
U n i t e d
T o g e t h e r
E t e r n a l
S o l d i e r s pic.twitter.com/NANd09u3TE

— devin lloyd (@DevinLloyd_) January 13, 2022
The decision was widely expected after he opted to return to Utah following the 2020 season despite the possibility of being a first-round pick in the 2021 draft.
Lloyd is the No. 8-ranked player overall on ESPN NFL draft analyst Mel Kiper Jr.'s latest big board.
Lloyd was a consensus All-American in the 2021 season, leading Utah to its first Pac-12 championship and an appearance in the Rose Bowl. He is a two-time Butkus Award finalist and was the Associated Press Defensive Player of the Year this season, after finishing the season with 110 tackles, including 22 for loss.
Lloyd was a three-star recruit coming out of Ottay Ranch High near San Diego.
Green Bay Packers QB Aaron Rodgers to mull 'tough decision' about future
GREEN BAY, Wis. — There's one thing that will make Aaron Rodgers' decision about whether to return to the Green Bay Packers next season much easier.
"I don't want to be part of a rebuild if I'm going to keep playing," Rodgers said.
Absent that, the 38-year-old year believes he has a difficult decision to make about his football future.
He just didn't think he would have to start contemplating it so soon. But when the San Francisco 49ers upset the top-seeded Packers in Saturday's NFC divisional playoff round, it meant the hourglass flipped for Rodgers, who took his share of the blame for the offensive ineptitude in the 13-10 loss at Lambeau Field.
"I'm still super competitive, still know I can play at a high level, so it's going to be a tough decision," Rodgers said during a 17-minute session with reporters after the game. "I have a lot of things to weigh in the coming weeks. But man, just so much gratitude for this city and this organization and such a long, long career here that I'm proud of and really thankful for all the men and women that work here, the men I've gotten to cross paths with, coaches and players over the years."
The Packers made one thing clear: They're not ready to move on from Rodgers, who is the favorite to win his fourth NFL MVP and his second in a row.
"Certainly we want him back here," said Packers coach Matt LaFleur after he failed to reach the Super Bowl with the No. 1 seeded team for the second straight year. "I think we'd be crazy not to want him back here. He's going to be the two-time MVP. This guy does so much for our football team, not only what you guys see on Sunday's or every game day, but what he does in that locker room, how he leads. I know what he puts into this thing, and certainly I'm extremely disappointed in that we couldn't get over the hump for not only him, but for everybody in that locker room."
Rodgers failed to throw a touchdown pass in a playoff game for the first time since the 2010 NFC Championship Game and lost to the 49ers for the fourth time in the postseason. His Total QBR of 19.3 was the worst of his playoff career.
After an opening-drive touchdown, the Packers managed just three points on their final nine drives. It was the first time they went that many possessions without a touchdown since their season-opening 38-3 loss to the Saints.
"I didn't have a great night tonight," said Rodgers, who was 20-of-29 for 286 yards and was sacked a season-high five times. "They did a good job of kind of getting me off the spot, and a better job of taking away some of the quick game we got going last time we played them. I missed a couple reads. I probably should have taken a couple hole-shot chances a couple times. Obviously, if I hit Allen [Lazard] on that deep in on the last drive, that probably gets us out to about midfield and then we're a couple first downs away from being in field-goal range.
"So definitely disappointed by some of the decisions I had tonight. I definitely take my fair share of blame tonight."
He admitted that the way this season ended could factor into his decision. So will the plan that general manager Brian Gutekunst has for this team moving forward. He said his relationship with Gutekunst has improved significantly since they met last offseason to discuss the issues that nearly prevented Rodgers from returning for the 2021 season.
"There's a lot of players whose futures are up in the air, so definitely will be interesting to see which way some of those decisions will go," Rodgers said. "But I'll have the conversations with Brian in the next week or so and get a little bit more clarity and think about my own future and how much longer I want to keep doing this."
After saying last month that he did not plan to drag out his decision, he offered a more specific timeline on Saturday: No later than the start of free agency on March 16.
Rodgers didn't decide to return to the Packers this season until right before training camp opened in July. Rodgers' three options are to return to the Packers, ask for a trade or retire. A return would almost certainly require a contract extension because the team would need to reduce his $46.1 million salary-cap charge for 2022.
Even that wouldn't guarantee that the Packers could re-sign receiver Davante Adams, who is a free agent. The Packers are currently $44.8 million over their projected salary cap for the 2022 season, which brings into question whether they will even be able to field as strong of a Super Bowl contender as they've had in LaFleur's first three seasons.
"That's a fair question — definitely one I've thought about," Rodgers said. "But there are a lot of decisions to be made and key players … So many guys' contracts are up or on the brink or salary cap stuff, so lot of decisions to be made. I don't want to be part of a rebuild if I'm going to keep playing, so a lot of decisions in the next couple months."
Cincinnati Bengals surge into AFC Championship Game after statement win vs. Tennessee Titans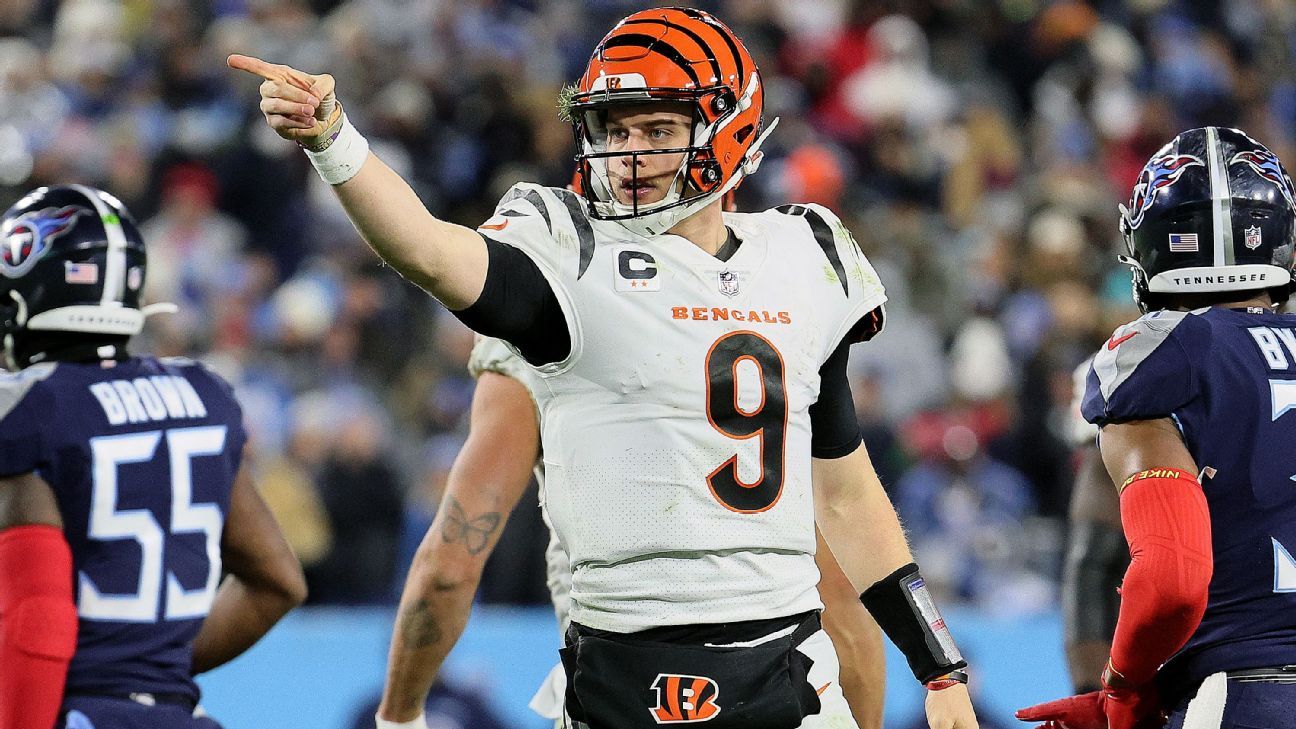 NASHVILLE, Tenn. — The Cincinnati Bengals wanted to send a message after Saturday's dramatic playoff win over the Titans. They're not underdogs anymore.
Cincinnati emphatically delivered that message with a 19-16 victory against the top-seeded Titans. Rookie Evan McPherson's 52-yard field goal as time expired sent the Bengals to their first AFC Championship Game since 1988.
Throughout the team's best postseason run in 31 years, the theme of "Why not us?" has been a common refrain for this season's Bengals team. Cincinnati wants that retired. Immediately.
"I'm tired of the underdog narrative," Bengals quarterback Joe Burrow said after the game. "We're a really, really good team. We're here to make noise."
The Bengals delivered that statement with an improbable finish that produced the first playoff road win in franchise history. After the Titans scored 10 straight points in the second half to tie the score at 16, Tennessee was driving down the field in the final minute before Cincinnati reversed the course of the game.
Bengals linebacker Logan Wilson intercepted a pass from Tennessee quarterback Ryan Tannehill that was batted into the air by Cincinnati cornerback Eli Apple with 20 seconds left at the Cincinnati 47. A few plays later, McPherson booted his fourth field goal of the game and sealed a trip to the title game to face the winner of Sunday's AFC divisional contest between the Kansas City Chiefs and Buffalo Bills.
"He [McPherson] gave a little warm-up swing and he said, 'Ahh, looks like we're going to the AFC Championship,'" Burrow said after the game.
That confidence is a distillation of the message Cincinnati's captains delivered in the team meeting the night before the game. That was when Burrow and the other captains made it very clear that the underdog narrative that surrounded one of the NFL's most unsuccessful franchises was not one they wanted associated with the team anymore.
"That's just kind of what he preached to everyone," Wilson said. "He's our leader, so everyone's going to believe anything he says. He's our ride or die."
The Bengals won in spite of history Cincinnati wasn't looking to create. Burrow was sacked nine times, which tied the most in a playoff game in the Super Bowl era. Cincinnati's offensive struggles were offset by three interceptions, including the one recorded by Wilson that ultimately set up the game winner.
"This is the expectation for this team," Bengals coach Zac Taylor said. "This is not too big for these guys. I know we haven't been here before, but it sure feels like we have. You just see the attitude of this team and the confidence of this team that we're going to find a way to win."
Bengals defensive tackle D.J. Reader said it felt as if Cincinnati was getting disrespected by pundits the entire season, including questions about the team's ability to stop Titans running back Derrick Henry on Saturday. In his first game since missing the final nine games of the season with a foot injury, Henry had 20 carries for just 62 yards.
Those numbers exclude a failed 2-point conversion after Tennessee's first touchdown of the game.
"As a journalist, do you want somebody to doubt your ability to do your job?" Reader said after the game. "No. It's disrespectful. You gotta go out there and get it and take it. You gotta earn respect, though."
Before Reader met with reporters following the win, he popped his head through the door as Wilson wrapped up his own news conference.
With the team's "Why Not Us?" moniker now finished, Wilson asked Reader what the team's new motto will be. Reader wasted no time with a response: "It is us."
Said Reader, a few minutes later: "We're confident in us. We feel like we [are] them. We're the people. We're going out there every game, feeling like we're confident, we're the ones that need to get beat."
Strong fourth quarter carries San Francisco 49ers past Green Bay Packers, into NFC championship
GREEN BAY, Wis. — The San Francisco 49ers simply will not go away.
The same Niners that were once 3-5 and headed for a long offseason full of questions are now headed to the NFC championship game for the second time in three seasons.
To get there, San Francisco had to pull out the type of late-game magic that has been a hallmark of its late-season surge to the playoffs. The result was a wild 13-10 victory over the Green Bay Packers on Saturday night at Lambeau Field.
After a disappointing offensive performance marked by drops, protection issues and costly missed throws, the Niners pieced together the drive they needed at the biggest moment with receiver Deebo Samuel taking a handoff 9 yards for a first down on third-and-7 at Green Bay's 38.
That run set up kicker Robbie Gould's game-winning 45-yard field goal as time expired.
For a team that had won eight of its past 10 entering Saturday's game, this one might have required the most unpredictable of contributions to make it happen.
Buoyed by a dominant defensive performance in which they didn't allow a touchdown after the first drive of the game, the Niners put the special in special teams to overcome the Packers in a game they trailed for most of the first three and a half quarters.
With their offense struggling mightily, the 49ers finally got points from a special teams unit that often came under fire in recent weeks as the team's biggest weakness.
On fourth-and-19 at Green Bay's 12, Niners defensive end Jordan Willis, nursing a high ankle sprain, burst through the middle and blocked punter Corey Bojorquez's punt. The ball popped straight in the air before landing near rookie safety Talanoa Hufanga.
Hufanga scooped it up and raced 6 yards for the touchdown and Gould's extra point tied it at 10 with 4:41 to go.
It was the first blocked punt return for a touchdown in 49ers playoff history and the second the Packers have given up in theirs. Green Bay is the first team in at least the past 20 postseasons to have a punt and field goal blocked in the same game, according to ESPN Stats & Information research.
That was the biggest special teams play on a night when the Niners also got a blocked field goal from safety Jimmie Ward at the end of the first half and a 45-yard kick return from Samuel to open the third quarter.