Dallas Cowboys' Mike McCarthy calls win over New Orleans Saints 'great experience' for team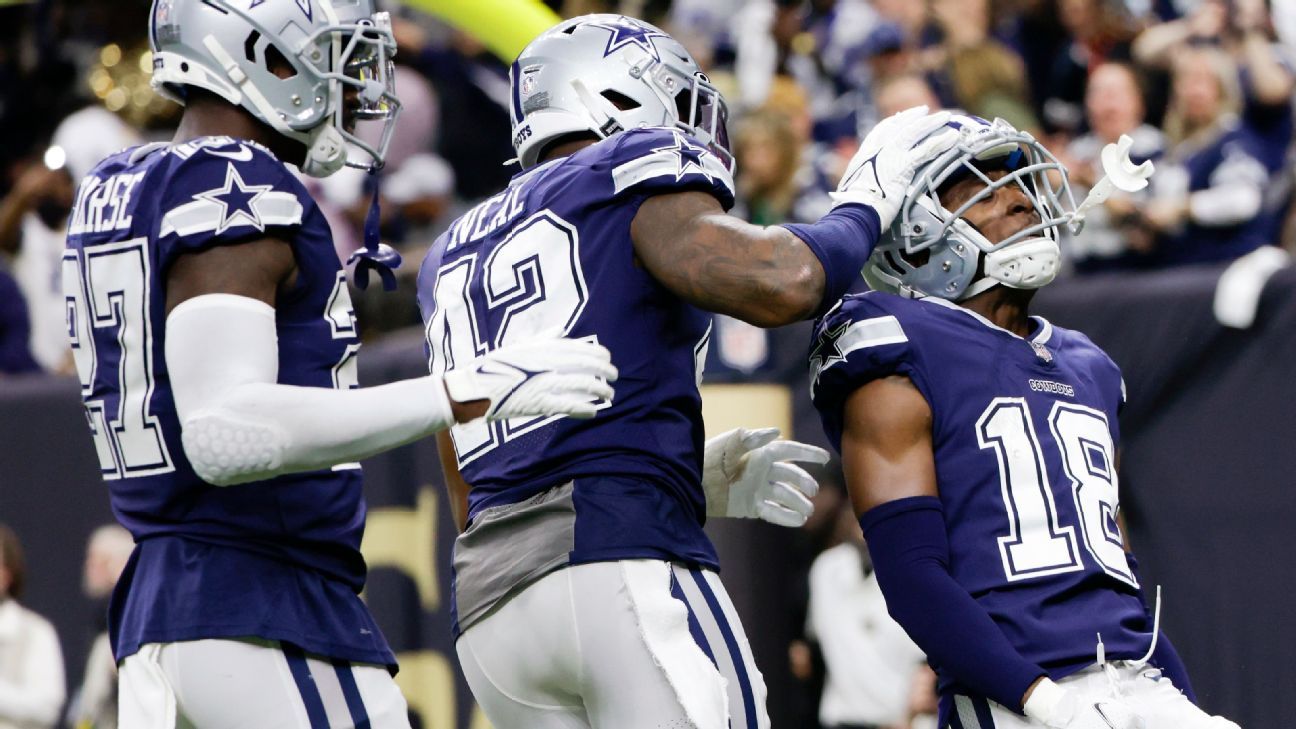 NEW ORLEANS — Dallas Cowboys coach Mike McCarthy knew watching Thursday night's game from a hotel in Frisco, Texas, would be difficult. He just didn't know how difficult.
The good news is McCarthy's Cowboys beat the New Orleans Saints 27-17 to end a two-game losing streak and open up more room over the Washington Football Team in the NFC East with five games to play.
"It was rough, I'm not going to lie," McCarthy told ESPN via phone after the game. "I'm proud of the guys and how it all turned out, but I don't ever want to do this again."
McCarthy was placed in COVID-19 protocols over the weekend after testing positive, and Dan Quinn took over the head-coaching role Thursday. Five other coaches, including offensive line coach Joe Philbin and assistant offensive line coach Jeff Blasko, and two players (Terence Steele and Nahshon Wright) missed the game.
"Adversity win, ugly win, however, you want to define it, you have to have these wins, especially when you get to later in the year when you're playing teams that are trying to get in the playoffs or make a run," McCarthy said. "This is a great experience for us. Let's face it, this is today's NFL. You've got to be able to win with change."
The Cowboys had plenty of change.
Quinn is normally in the coaches' booth for the game, calling defenses, but he was on the sideline Thursday. Tight ends coach Lunda Wells took over the offensive line responsibilities. Offensive assistant Chase Haslett worked with the tight ends. Vice president of player personnel Will McClay was on the sideline, as was consultant Ben McAdoo. Assistant head coach Rob Davis was on a headset for the first time with McCarthy out.
"One thing you've heard me say before is I love doing hard things with a group of people, and this was one of those moments," said Quinn, who was the Atlanta Falcons' head coach for parts of six seasons and had a 2-3 record inside the Superdome. "We got great people to get the job done. We wanted to make sure Mike and all the guys who missed, let them know we got their backs. So honestly, that was the only thing I was nervous about. I didn't want to let him down. He's done a great job leading us, to how it's going to go down, the play style that we wanted. But it was just a cool win."
Quinn's defense contributed four takeaways, all interceptions, including a pick-six by defensive tackle Carlos Watkins. Running back Tony Pollard made it a two-score game in the third quarter with a 58-yard touchdown run, the longest run of his career and the longest scoring run since Ezekiel Elliott had a 60-yarder as a rookie in 2016.
It was the culmination of a week that forced the Cowboys to adjust on the fly. McCarthy ran the meetings all week virtually, and he held his normal pregame meeting via the internet on Thursday. Players and coaches met virtually before and after practices leading into the game and had to grab their meals at The Star to go. With the three strength coaches in COVID protocols, the players did not have access to the weight room all week and had to work out on their own.
"This is one of those weeks where no job is not your job right now," Quinn said.
Owner and general manager Jerry Jones had a funny line ready for Quinn after the game.
"I just told him with a win he's right there with Tom Landry," Jones said, referencing the Hall of Fame coach and Cowboys' all-time win leader. "He can now say he's head coached the Cowboys."
But Quinn will be glad to be back in the coaches' booth for next week's game against Washington.
"I'm hopeful that you guys won't see me again and I'll be back on the top here hopefully by the next game and Mike will make all the progress that we need to have him back on the field and a lot of other guys too," Quinn said. "We missed a number of guys today from the staff and a couple players as well, so hopefully this is hitting us with some time to see if we can get back and get back to our normalcy."
McCarthy said he is feeling much better and hopes to be back in the office early next week once he either posts two negative tests separated by 24 hours or reaches the 10-day quarantine.
He just knows he does not want to have to watch his team play from afar again.
Dallas Cowboys' Mike McCarthy told he will return as head coach in 2022
Dallas Cowboys head coach Mike McCarthy has been told that he will return in 2022, a source confirmed to ESPN's Ed Werder on Thursday.
Cowboys owner/general manager Jerry Jones has so far declined to commit to McCarthy's return publicly after Dallas' playoff exit with a wild-card round loss to the San Francisco 49ers.
USA Today Sports first reported that McCarthy had been told he will return.
On Jan. 17, Cowboys vice president Stephen Jones said in an interview with 105.3 The Fan in Dallas that he was "very confident" McCarthy would return but just days later, Jerry Jones wouldn't divulge his conversations with the coaching staff and their futures in an interview with the same radio station.
McCarthy has said that he wasn't concerned about his future as head coach, saying in a new conference on Jan. 19 that he had positive conversations with Jerry Jones after the loss to the 49ers.
McCarthy has an 18-15 regular-season record in two seasons, which includes a 12-5 mark and NFC East title in 2021, buoyed by quarterback Dak Prescott's return to health and a revamped defense that led the NFL in takeaways (34) under new coordinator Dan Quinn.
Sources told ESPN's Adam Schefter and Dianna Russini on Thursday that Quinn will return next season as defensive coordinator interviewed for the head-coaching vacancies of the Chicago Bears, Denver Broncos, Minnesota Vikings, Miami Dolphins and New York Giants.
While the offense finished No. 1 in yards and points this season, they had no consistency, scoring 16 and 9 points in losses to the Denver Broncos and Kansas City Chiefs in a three-week span mixed around a 43-3 win against the Atlanta Falcons. They scored 56 and 51 points in two of their last three games, wins against the Washington Football Team and Philadelphia Eagles, but lost a key home game in Week 17 against the Arizona Cardinals that effectively ended their chances for the No. 2 seed in the postseason.
In the playoff loss to the 49ers, they scored just 17 points and trailed by 16 points in the fourth quarter. A potential game-winning drive was thwarted when the clock ran out after a 17-yard run by Prescott when the ball was not set for play in time. It is one of several clock-management issues McCarthy has had in his two-year tenure.
Penalties also have been an issue. The Cowboys led the league in penalties with 127 for 1,103 yards. In the playoff loss to San Francisco, the Cowboys were flagged 14 times for 89 yards, tied for the most in a playoff game in team history (Eagles, 2009 wild card, which Dallas won.)
ESPN's Todd Archer contributed to this report.
Why Kansas City Chiefs receiver Tyreek Hill had to pivot this season
KANSAS CITY, Mo. — Used to providing big plays and long touchdowns for the Kansas City Chiefs, Tyreek Hill sounded weary earlier in the season with his new role as more of a possession receiver.
"It's hard, especially for me, because I'm used to going 80 [yards] every play," Hill said after a Week 10 win over the Las Vegas Raiders in which he caught two touchdown passes, one from 1 yard out and the other from 8.
"Coach [Andy] Reid, he's just got to keep me calm on the sideline. I'm a head case, man. I'm used to going down the field. Now I'm running 12-yard ins. That's not something I'm used to."
Hill has had to adapt this season with so many teams using two deep safeties against the Chiefs. Quarterback Patrick Mahomes has thrown him shorter routes underneath the coverage rather than not getting him the ball at all. And it has worked.
Exhibit A: His 64-yard touchdown reception late in the fourth quarter of last week's divisional-round playoff win over the Buffalo Bills. Hill caught the pass around midfield for what would have been a modest gain, but he turned on the jets for one of several late scores that propelled the Chiefs into Sunday's AFC Championship Game against the Cincinnati Bengals (3 p.m. ET, CBS).
"He's excellent after the catch," said ESPN NFL analyst Matt Bowen, a former NFL safety. "You talk about catch-and-run ability, his is near the top of the league. That's why you see Kansas City throw so many quicks, throw so many unders and use him on wide receivers screens. That allows him to play to his ability of attacking open grass."
ARE YOU NOT ENTERTAINED?!?!?! pic.twitter.com/c7Ju98M1i7

— Kansas City Chiefs (@Chiefs) January 24, 2022
Hill (and his speed) is the reason for the Chiefs facing so many defensive looks with two deep safeties designed to take away his ability to get the big play. It's a defensive concept the Chiefs have seen in the past but one that was proved especially effective by the Tampa Bay Buccaneers during their 31-9 victory over Kansas City in Super Bowl LV. In the season that has followed that Super Bowl loss, the Chiefs faced two high safeties 54.8% of the time, according to ESPN Metrics and NFL Next Gen Stats. That was not only the highest percentage in the league this season — by nearly 5% — but the highest in at least the past five years.
"You have to respect the speed," Bowen said. "It creates consistent conflict for opposing defenses. What you're going to get is more two-high looks because defenses are threatened by his ability to get down the field."
Those looks caused the Chiefs and Mahomes to sputter at times, especially early. But it wasn't just Mahomes who had to adjust as opposing defenses worked to take away the many big plays that were the signature of the Chiefs' offense.
Hill is another player who had to learn another way of doing things. He caught 13 passes this season of 20 yards or more, and 26 receivers around the NFL had more. As a comparison, Hill caught 27 passes of 20 or more yards in 2018 — most in the NFL. He averaged 11.2 yards per catch during the 2021 regular season, or fewer than tight end Travis Kelce, wide receivers Mecole Hardman and Byron Pringle and running back Derrick Gore. In 2018, he averaged 17 yards per catch to lead the Chiefs among their regulars.
Hill might not have loved his new role during the 2021 season, but he took to it nicely. His 111 catches broke Kelce's year-old team record.
"That one is supposed to be held by a wide receiver. The tight end isn't always the focal point in the offense," Kelce said. "Tyreek has done an incredible job of taking his game to the next level. Sure enough, you see him breaking records … and he's just going to keep taking off. It's so fun to play with him."
Speed and quickness are obvious assets for Hill, but he has always fought back on the notion that he's not a complete receiver. Wide receivers coach Joe Bleymaier said Hill practices more than deep routes.
"He's always asking to run different routes and more types of routes and more variety," Bleymaier said. Then, noting Hill's displeasure with not getting more big passes, he added, "At times, I just remind him, 'You were asking for these routes back in the day when you were just running downfield.'
"It's all an adjustment period for Tyreek. He's made so many plays down the field and he loves doing that. We still ask him to do that, but [also other routes including] the 12-yard ins or the facing-the-quarterback, back-to-the-defense type of routes that are open for him.
"We always want to get Tyreek the ball. The more times it's in his hands, the better for everybody."
In the last three games of the regular season, Hill caught nine passes for 61 yards, or an average of less than seven yards per reception. His long catch was just 17 yards.
He busted out in the playoffs, though, catching a 31-yard touchdown pass in the wild-card-round win over the Pittsburgh Steelers before his 64-yarder against the Bills.
"Pretty much every coverage he has two people on him or two people kind of shadowing over the top of him, and he's still getting himself open, making tough catches over the middle of the field," Mahomes said after the Steelers game. "He's really evolved his game, and at the end of the day, whenever he gets into those man coverage situations … you can always hit him over the top for touchdowns."
MAHOMES BOMB TO CHEETAH!!!!

📺: #PITvsKC on NBC pic.twitter.com/Ln1a14eTdm

— Kansas City Chiefs (@Chiefs) January 17, 2022
This version of Hill is not what the Chiefs imagined when they drafted him in 2016. Hill played just one season of Division 1 football — at Oklahoma State in 2014 — rushing 102 times for 534 yards to go with 31 catches for 281 yards. Hill was dismissed from Oklahoma State after the 2014 season following charges of domestic assault and battery by strangulation on his then-20-year-old girlfriend. He pleaded guilty, received three years of probation and finished his career at West Alabama.
When the Chiefs drafted him in the fifth round — behind 16 other receivers — they saw the obvious speed and quickness but didn't necessarily see him developing a wide range of talents like he showed this year.
"When he came here, he was raw," Reid said. "He had been a running back [in college], so you could imagine. That's a big change. They flexed him out and did all that stuff, but that's kind of where he was. Every year he's gotten better. Now, he's refining all of those wide receiver skills that he's learned here, and with his talent, he's a tough one to stop.
"Normally, people have ways of trying to double him, which is a compliment to him and his ability, but he's learned to work through it. He's better in space, he's more patient against man, setting things up, so my hat goes off to him. He's worked very hard at that."
New Minnesota Vikings GM Kwesi Adofo-Mensah focused on finding coach as first major task
EAGAN, Minn. — Not even a full day into his tenure as the general manager of the Minnesota Vikings, Kwesi Adofo-Mensah is already "deeply involved" in the team's search for its next head coach, according to co-owner Mark Wilf.
Speaking at his introductory news conference Thursday, Adofo-Mensah reiterated that the conversations he has had regarding candidates are only in the beginning stages but that the direction the franchise wants to go in is clear.
"We know what we want to find," Adofo-Mensah said. "We want leadership, we want somebody who is going to value the collective over the individual, we want somebody who has a vision, who can communicate, who has a solid football foundation, who understands how football is interconnected and what that means. That's been our focus in these last few days honing in on what we want. In terms of specific names, we're going to meet after this and talk about that further."
The Vikings' search has been narrowed down to six candidates after sources confirmed to ESPN that the Denver Broncos had hired Green Bay Packers offensive coordinator Nathaniel Hackett as head coach and Dallas Cowboys defensive coordinator Dan Quinn withdrew his name from head-coaching searches, according to ESPN's Adam Schefter and Dianna Russini.
Minnesota's options now include San Francisco 49ers defensive coordinator DeMeco Ryans, Los Angeles Rams offensive coordinator Kevin O'Connell, Rams defensive coordinator Raheem Morris, Cowboys offensive coordinator Kellen Moore, Philadelphia Eagles defensive coordinator Jonathan Gannon and Tampa Bay Buccaneers defensive coordinator Todd Bowles.
Adofo-Mensah overlapped in San Francisco with Ryans and O'Connell when he worked in football research and development for the 49ers before being hired by the Cleveland Browns, where he spent the 2020 and 2021 seasons as the vice president of football operations.
Wilf said Jan. 10 that the next general manager would have "input" in choosing the Vikings' coach. Adofo-Mensah did not specify whether he would have the final say on whom Minnesota hires and referred to the decision as "a collaborative process."
Asked whether he would have full control over the 53-man roster, Adofo-Mensah again deferred to seeking a collaborative approach with the team's next head coach on personnel decisions.
"I always say that with a coach, a coach that I would work with, I would work for," Adofo-Mensah said. "It's somebody that I would want to partner with. I wouldn't care about that distinction because they understand about personnel and about living in today and living in tomorrow that would make us a great partnership. I guess I know what the specifics of my contract say, but I don't think it really matters to speak in this forum."
Minnesota conducted interviews with eight general manager candidates before interviewing Adofo-Mensah for a second time Tuesday and announcing his hiring Wednesday. His was the only second-round interview the Vikings conducted after former Kansas City Chiefs executive director Ryan Poles was hired by the Chicago Bears as general manager before he was set to interview in Minnesota.