Why the NFL in 2021 feels more balanced — and unpredictable — than ever before
KANSAS CITY, Mo. — The Minnesota Vikings are like a lot of NFL teams in 2021 in that their game days have been stressful. They've just taken it to an extreme.
The Vikings beat the Seattle Seahawks 30-17 in Week 3, but their other 10 games have been settled by one score, with many of those coming down to one play determining the result.
"That's the NFL, and that's kind of how it is," Vikings coach Mike Zimmer said with a shrug. "We had several games come down to one play."
The NFL's other 31 teams haven't had it quite like the Vikings but can relate. Consider:
Twenty-five games this season have been decided on the final play, the most through 12 weeks since the 1970 merger.

Thirty-five games have had the winning score come in the final minute of regulation or overtime, the fourth most through 12 weeks since 1970.
So while the Vikings might be ground zero for close games determined by one play, they're not alone.
The race for this year's Super Bowl championship seems as open as ever. Through 12 weeks, nine teams had Super Bowl odds at 13-1 or shorter, matching the most teams with odds that short in the past six years.
"The league is always meant to have teams that [are] pretty equal," Arizona Cardinals defensive coordinator Vance Joseph said. The Cardinals beat the Vikings 34-33 in Week 2 when Minnesota missed a 37-yard field goal attempt on the final play.
"They don't want teams running away with this thing. They want competition; they want teams to battle down to the end. … To see the league pretty much even, I'm not surprised by that. That's the way they want it. That's the way it should be. And it keeps everyone grinding, and that makes it fun."
In the first two weeks of the season, the Kansas City Chiefs experienced the full spectrum of close-game emotions.
They rallied from nine points down in the fourth quarter to beat the Cleveland Browns 33-29 but only after intercepting a pass to kill a Browns drive late in the game.
The next week they led the Baltimore Ravens by 11 points in the fourth quarter and lost 36-35 but only after a late Chiefs fumble killed a potential game-winning drive in the final moments.
Chiefs coach Andy Reid said no lead is ever safe, but he said he feels that way more than ever this year.
"The league has strived like crazy for the last how-many-ever years for parity," Reid said. "I'm just looking at the way this season has gone for different teams, and it seems to me that there's a tremendous amount of parity in the league. Every given weekend, every town, every city, in the NFL has an opportunity to win a game.
"That's a great thing. We're in it for the competition, and there's great competition."
Unexpected results everywhere
The NFL also has had more than its normal share of lopsided games this season. Thirty-five have been decided by 22 points or more, the second-highest total through 12 weeks since 1970.
But even the league's better teams aren't immune from getting blown out. The Cardinals have the league's best record at 9-2, followed closely by the Green Bay Packers (9-3), Tampa Bay Buccaneers (8-3) and Ravens (8-3). The Cardinals lost a game by 24 points. Green Bay lost by 35. Baltimore lost by 24. The Bucs have two double-digit losses on their résumé.
Strange and unexpected results are everywhere, turning the standings upside down weekly. The Browns recently went through a 63-point swing from one week to the next, beating the Cincinnati Bengals by 25 points then losing by 38 to the New England Patriots.
The Dallas Cowboys one week trailed the Denver Broncos at one point by 30 points then beat the Atlanta Falcons the next week by 40.
There might be no better example of this season's unpredictability than the Bengals. Five of their games have been decided by exactly three points (2-3 in those games). Their remaining six games have been decided by 14 points or more (5-1), including all four of their divisional matchups (3-1).
More than ever, it seems, taking a result for granted is trouble for just about any of the 32 teams.
"It's a week-to-week [league], and you've got to come to play each and every week," Buffalo Bills wide receiver Stefon Diggs said.
Diggs and the Bills, then 5-2, lost to the 1-6 Jacksonville Jaguars in Week 9 in one of the season's biggest upsets. Neither team scored a touchdown, and the Jaguars won 9-6 by kicking one more field goal than the Bills.
"You just can't get comfortable," Bills tackle Dion Dawkins said after the contest. "You have to stay hungry and everybody is going to give us their best ball. We're in a position now that everybody is going to give us their best ball every week. Everybody's coming for the Buffalo Bills.
"You have to go through the ups and downs of life in football and wins and losses to honestly feel that and understand that. It's a kill or be killed world, and now that we know that everybody has their best effort against us, then we just know that we have to be at our best every time. We can never take our foot off of that gas pedal."
No Goliaths
There's more evidence the competition around the league is what the NFL is striving for. Betting underdogs have a 71-106-1 record straight up this season. That .402 winning percentage for teams that are supposed to lose would be the highest in a season since 2006.
There are no Goliath teams opponents wish to avoid in the playoffs for as long as possible. The defending Super Bowl champion Tampa Bay Buccaneers have rebounded from losing two straight games, but those defeats weren't to top-level competition. One came to the New Orleans Saints and backup quarterback Trevor Siemian and the other to lowly Washington.
The Chiefs, who won 26 games in the past two regular seasons and represented the AFC in each of the previous two Super Bowls, have come back to the pack. They're 7-4, and one of their losses, 27-3 to the Tennessee Titans in Week 7, was by the biggest losing margin since Patrick Mahomes became their quarterback in 2018.
Twelve of the 16 teams in the AFC are .500 or better, including all of the teams from the West and North divisions. That's the most teams .500 or better in a single conference through Week 12 in NFL history. Leaguewide, 21 teams are at least within a game of .500, so the scramble for a division championship or a wild-card playoff berth might be as, well, wild as ever.
The Vikings are one of those 21 teams. They're 5-6 overall and 4-6 in those games decided by one score.
The Vikings are among the many teams wondering what their record might be if they had just been better on all of the game-deciding plays.
"We were right there," Minnesota center Garrett Bradbury said after that missed field goal cost the Vikings a win against the Cardinals in Week 2. "We're going to do the things we need to correctionwise so when we're in that position again — because we will be — we're going to finish the game and come out on top."
ESPN Stats & Information as well as NFL Nation reporters Courtney Cronin, Alaina Getzenberg and Josh Weinfuss contributed.
NFL moves to dismiss Jon Gruden lawsuit, calls ex-Las Vegas Raiders coach's claims against league 'baseless'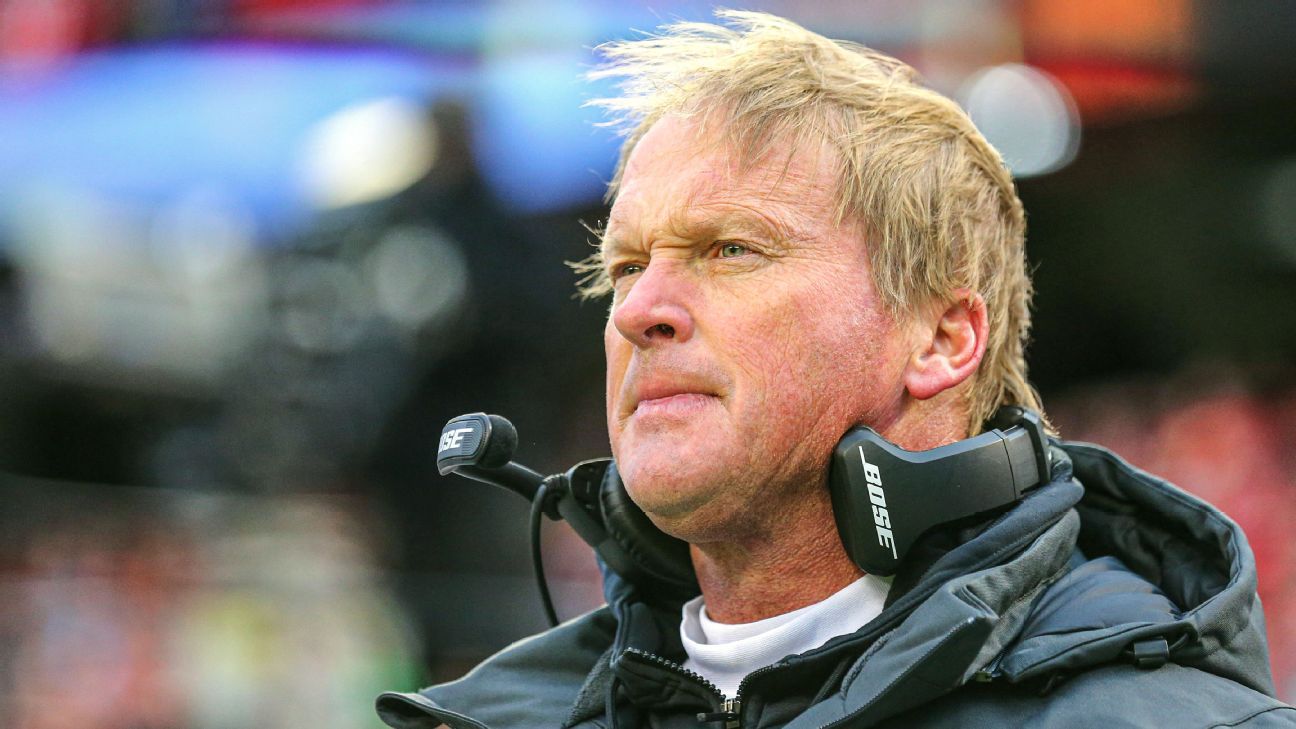 The NFL filed a motion asking a Nevada court to dismiss former Raiders coach Jon Gruden's lawsuit against the league, saying accusations that the NFL leaked Gruden's old, offensive emails are "baseless" and "should be dismissed for failure to state a single viable cause of action."
The league responded Wednesday to the suit Gruden filed in district court in Clark County, Nevada, in November. The NFL filed a motion to dismiss the case and also asked the court to stay that motion until it first rules on whether the case should be moved to arbitration.
Gruden resigned as coach of the Raiders in October with more than six seasons remaining on his 10-year, $100 million contract.
He claimed a "malicious and orchestrated campaign" was used by the NFL and commissioner Roger Goodell to destroy his career by leaking the old emails that included racist, misogynistic and anti-gay language.
The emails were sent to former Washington Football Team executive Bruce Allen and others from 2011 to 2018 during Gruden's time as the lead analyst for ESPN's Monday Night Football. The emails came from a set of 650,000 obtained by the league in June during an investigation into WFT's workplace culture.
The Wall Street Journal first reported on Oct. 8 that Gruden used a racist trope to describe NFL Players Association executive director DeMaurice Smith.
Gruden apologized, and then coached two days later as a listless Raiders team lost at home to the Bears.
Then on Oct. 11, the New York Times revealed Gruden sent additional emails using misogynistic and anti-gay language over a seven-year period. He resigned that evening, apologizing again and saying he never meant to hurt anyone.
"Gruden does not, and cannot, dispute that he wrote the published emails. He does not, and cannot, dispute that he sent those emails to multiple parties," the league's filing said. "Nor does he claim that they were somehow altered or edited and that the repugnant views espoused in them were not in fact expressed by him. Instead, Gruden filed the instant complaint against the NFL and the commissioner, painting himself as the victim in a fictional story and seeking money through baseless claims against the NFL."
Gruden's lawyer had said "there was no explanation or justification for why Gruden's emails were the only ones made public out of the 650,000 emails collected in the NFL's investigation of the Washington Football Team or for why the emails were held for months before being released in the middle of the Raiders' season."
The league denied leaking the emails, which had been sent to up to a half-dozen people and added that Gruden had no "expectation of privacy" for the emails.
The filing said even if the league had leaked the emails it still would not constitute "intentional interference with a contract" as claimed by Gruden because the NFL had no obligation to protect the confidentiality of the emails, had the right to disclose truthful information to the media and could have suspended or canceled Gruden's contract because of the emails.
Raiders owner Mark Davis said in October he had reached a settlement with Gruden over the final six-plus years of his contract. Davis did not reveal the terms of the settlement.
Information from The Associated Press was used in this report.
Los Angeles Rams' Matthew Stafford says toe feeling fine ahead of playoff game vs. Tampa Bay Buccaneers
Los Angeles Rams quarterback Matthew Stafford doesn't expect his injured toe to be a factor in Sunday's divisional-round game against the Buccaneers in Tampa, Florida.
Stafford suffered the injury in the Rams' regular-season finale against the San Francisco 49ers, a 27-24 overtime loss.
"I'm feeling OK," Stafford said Wednesday. "The toe kind of happened in that game and that was kind of a real thing, but I got a bunch of treatment on it. I'm feeling a lot better. So I don't see anything limiting me in this game."
Coach Sean McVay said one of the reasons he tried to put the 49ers away with their run game near the end of regulation was because Stafford was hobbled. He said Stafford had "no limitations" Monday night against the Arizona Cardinals as the Rams leaned on their run game for much of their 34-11 wild-card victory.
Stafford was 13-of-17 passing, both easily season lows, for 202 yards and a pair of touchdowns. He also ran for a score in the first playoff victory of his 13-year NFL career.
"He felt good," McVay said. "Everything was up and available to be called. He was feeling great."
The Rams are uncertain about the statuses of left tackle Andrew Whitworth and safety Taylor Rapp for Sunday's game.
Whitworth, 40, got his right knee rolled up on during the Rams' opening play against Arizona. He played 30 of the team's 60 offensive snaps before Joe Noteboom replaced him for the remainder of the game.
McVay said tests results haven't indicated that the Rams need to rule Whitworth out yet. He'd be a nonparticipant if the Rams were practicing Wednesday, per McVay.
"He's got some swelling in that knee and that ankle," McVay said. "It's a miracle. He's like Gumby with the way that he got rolled up on. It was not a good looking play when you watch it on the replay. But he's a resilient guy. He responds quickly. He's been a quick healer. For him to be able to play and start at tackle at the age of 40 tells you everything you need to know about how blessed he is with his genetics and the way he takes care of himself.
"But we'll see how quickly he can turn around. Not sure whether he'll be able to go or not this week. We'll take it a day at a time. Fortunately his scans gave us some information where we didn't have to rule him out."
Whitworth ranked third during the regular season in ESPN's Pass Block Win Rate among offensive tackles.
Rapp, who missed the Cardinals game, remains in concussion protocol. His absence and Jordan Fuller's season-ending ankle injury prompted the Rams to bring 37-year-old Eric Weddle out of his two-year retirement last week to pad their safety depth. He played 19 of 56 defensive snaps while Nick Scott and Terrell Burgess started.
"With Rapp, we're just taking that a day at a time," McVay said. "The concussion protocol and kind of going through those strategic steps and making sure that when you are active, you're not having any symptoms. Those are the things we're working through right now and I know Taylor's going to do everything in his power to be ready if he can."
Cornerback David Long Jr. (knee) is "doing good," per McVay. He returned one of the Rams' two interceptions of Kyler Murray for a touchdown Monday night. McVay said backup running back Buddy Howell (hamstring) also would have been a nonparticipant Wednesday and that "everybody else would be in good shape" if the team was practicing.
McVay expects the Rams to designate linebacker Ernest Jones to return to practice from injured reserve on Thursday, thereby starting his 21-day window to be activated to the 53-man roster.
Cleveland Browns QB Baker Mayfield has shoulder surgery, eyes return to 'my true self'
Cleveland Browns quarterback Baker Mayfield says he is on track to getting "back to my true self" after undergoing surgery Wednesday to repair a torn labrum in his non-throwing shoulder.
Dr. Orr Limpisvasti, the orthopedic surgeon for the NHL's Anaheim Ducks, performed the surgery on Mayfield's left shoulder in California.
"Surgery went great. Was a complete success," Mayfield said in a video posted to social media. "Now it's on to the road to recovery. It's one of those steps to get back to my true self. … This is not the end of my story."
Thanks to Dr. Limpisvasti and his team for performing a successful surgery. This is only going to be a minor bump in the road.. excited to get healthy and back to my normal self. Thank y'all and God Bless. pic.twitter.com/cRVdkB6t9d

— Baker Mayfield (@bakermayfield) January 19, 2022
The Browns said the likely time period for Mayfield's recovery is four to six months. He will start physical therapy on his shoulder next week and is expected to be cleared by training camp, if not sooner, a source told ESPN.
Mayfield, who suffered the shoulder injury in Week 2 and played through it for the rest of the season, will begin light throwing in April and should be able to participate in the off-season program on a limited basis, the team said.
After the Browns' Week 17 game against the Pittsburgh Steelers, Mayfield admitted that he was "pretty damn beat up."
With Cleveland already eliminated from playoff contention, Mayfield sat out the team's season finale against the Cincinnati Bengals on Jan. 9.
Even though Mayfield finished 27th in the league in QBR (35.3) this season, Cleveland general manager Andrew Berry declared last week that the Browns "fully expect" the 2018 No. 1 draft pick to be their starting quarterback in 2022 and "bounce back" from his injury-plagued season.
Mayfield will be entering the final year of his rookie contract, which will pay him close to $19 million in 2022 after the Browns exercised his fifth-year option last offseason.