Twins, Buxton find perfect balance in incentive-laden deal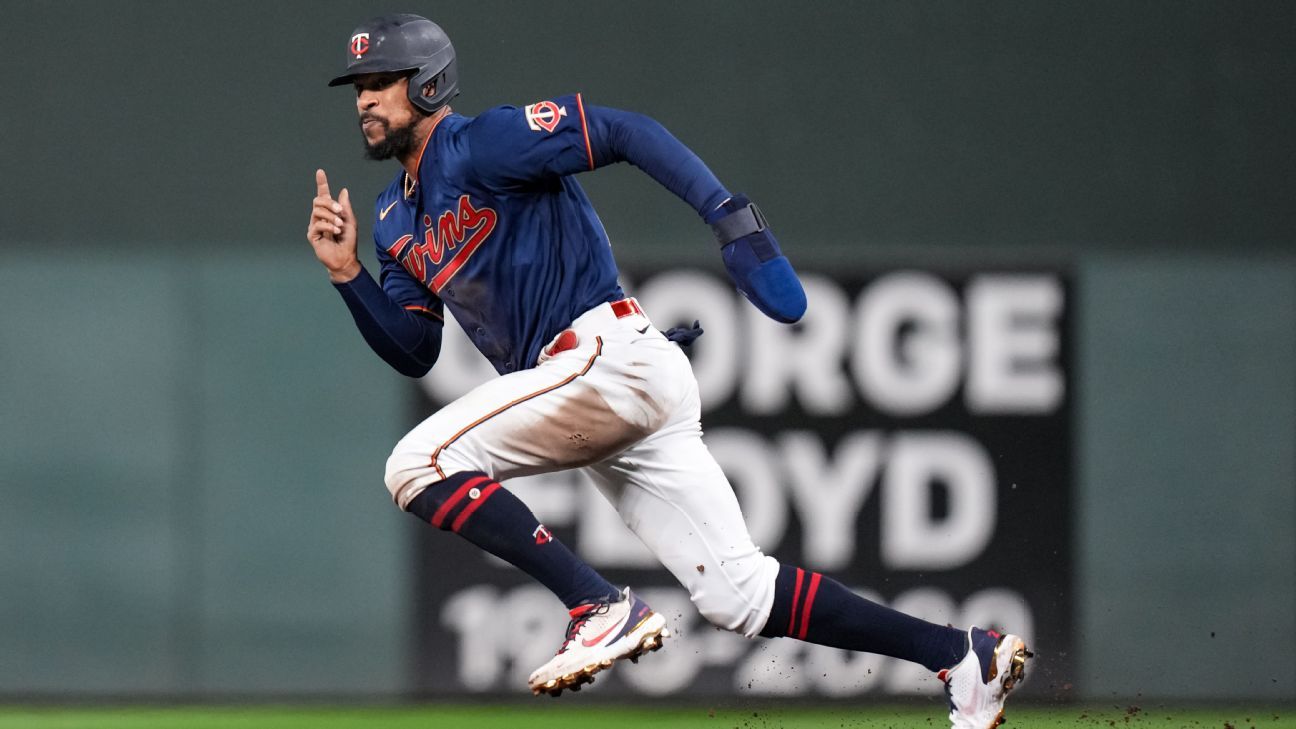 For his first 24 games of 2021, Byron Buxton was the best baseball player on the planet. He hit for average. He hit home runs. He hit doubles. He stole some bases. He played center field like Hermes, only in cleats instead of winged sandals. He hit .370/.408/.772 with nine home runs, 10 doubles and five stolen bases. He led all hitters in slugging percentage and trailed only Mike Trout in OPS.
This was the ceiling we had longed dreamed of for Buxton, who at his best is the most dynamic player in baseball this side of Shohei Ohtani: a combination of power, speed and defense that would make him a modern-day Willie Mays or Ken Griffey Jr.
Of course, it's unfair to compare anybody to those two, and it was unfair to expect Buxton to keep hitting at that level. But sadly, we don't even know how close he would have come, because once again the injury bug wrecked Buxton's season. On May 7, he went on the injured list with a hip strain, suffered while running to first base on a groundout. He returned on June 19, and in his third game back, he suffered a fracture in his left hand when Reds pitcher Tyler Mahle hit him with a 94-mph fastball.
Robot umpires at home plate moving up to Triple-A for 2022, one step away from major league baseball
NEW YORK — Robot umpires have been given a promotion and will be just one step from the major leagues this season. Major League Baseball is expanding its automated strike zone experiment to Triple-A, the highest level of the minor leagues.
MLB's website posted a hiring notice seeking seasonal employees to operate the Automated Ball-Strike system. MLB said it is recruiting employees to operate the system for the Albuquerque Isotopes, Charlotte Knights, El Paso Chihuahuas, Las Vegas Aviators, Oklahoma City Dodgers, Reno Aces, Round Rock Express, Sacramento River Cats, Salt Lake Bees, Sugar Land Skeeters and Tacoma Rainiers.
The independent Atlantic League became the first American professional league to let a computer call balls and strikes at its All-Star Game in July 2019 and experimented with ABS during the second half of that season. The system also was used in the Arizona Fall League for top prospects in 2019, drawing complaints of its calls on breaking balls.
There were no minor leagues in 2020 because of the pandemic, and robot umps were used last season in eight of nine ballparks at the Low-A Southeast League.
The Major League Baseball Umpires Association agreed in its labor contract that started in 2020 to cooperate and assist if commissioner Rob Manfred decides to use the system at the major league level.
"It's hard to handicap if, when or how it might be employed at the major league level, because it is a pretty substantial difference from the way the game is called today," Chris Marinak, MLB's chief operations and strategy officer, said last March.
MLB said the robot umpires will be used at some spring training ballparks in Florida, will remain at Low A Southeast and could be used at non-MLB venues.
Tampa Bay Rays say split-season plan with Montreal rejected by MLB
ST. PETERSBURG, Fla. — The Tampa Bay Rays' proposed plan to split the season between Florida and Montreal has been rejected by Major League Baseball.
Rays principal owner Stuart Sternberg announced the news on Thursday.
"Today's news is flat-out deflating," Sternberg said.
The idea of playing in both the Tampa Bay area and Montreal has been discussed over the past several years after attempts to build a new full-time ballpark locally failed.
Montreal had a big league team from 1969, when the expansion Expos began play, through 2004. The Expos moved to Washington and became the Nationals for the 2005 season.
The Rays' lease at Tropicana Field in St. Petersburg, Florida, where the team has played since its inaugural season in 1998, expires after the 2027 season.
Since Sternberg took control in October 2005, the once-struggling franchise has been a success on the field but not at the box office.
Despite reaching the World Series in 2008 and 2020, the Rays have annually ranked near the bottom in attendance. The Rays averaged about 9,500 for home games last season, 28th in the majors and ahead of only Miami and Oakland.
St. Petersburg mayor Ken Welch feels a new stadium in his city remains a possibility. Governmental officials have been working on a redevelopment plan for the Tropicana Field site.
"We are working with our county partners and city council to put together the best plan possible, which will work in conjunction with my planned evolution of the Tropicana Field master development proposals," Welch said in a statement. "With this collaborative approach, I am confident we can partner with the Tampa Bay Rays to create a new and iconic full-time home for Major League Baseball in St. Petersburg while also achieving historic equitable economic growth."
Sternberg said the team will definitely explore options in the Tampa Bay area.
One fun fact you (probably) did not know for all 30 MLB teams

From telling team numbers to surprising player stats, we find what you might have missed about your favorite squad.

Source link