NFL Thanksgiving Day fantasy football inactives watch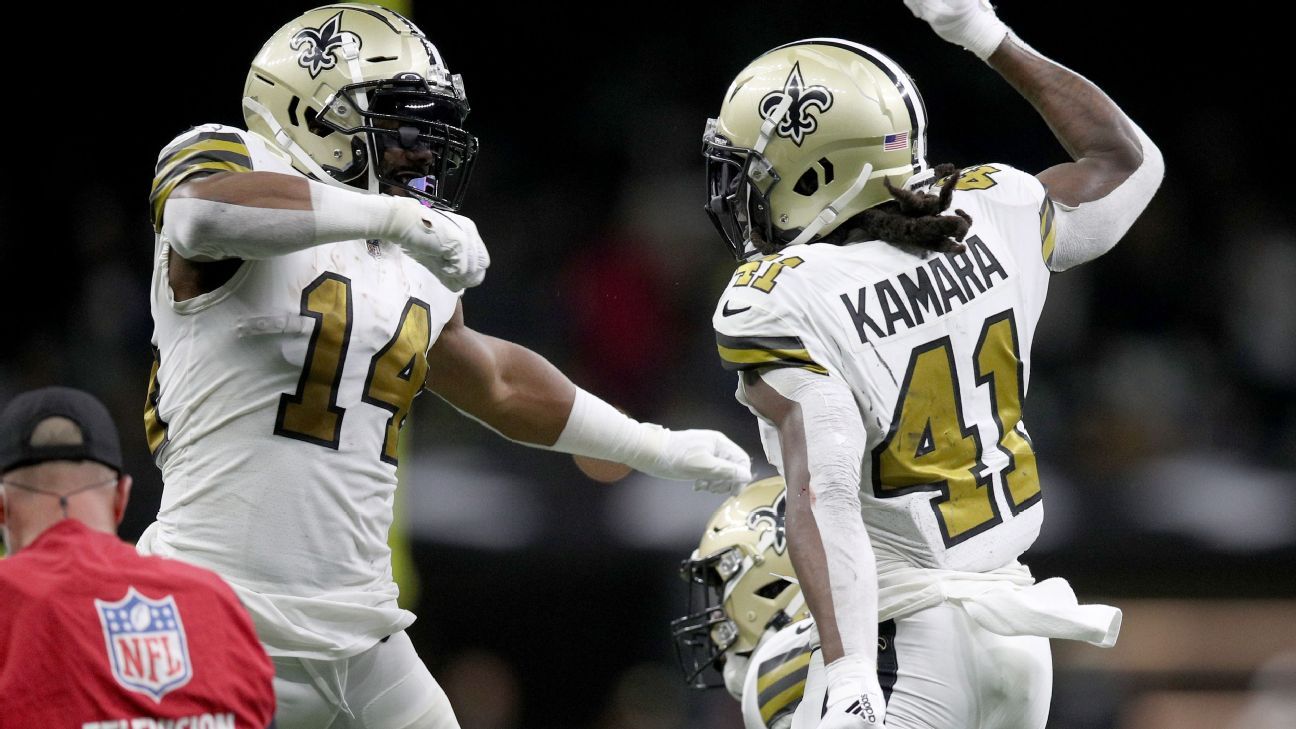 Who should you start? Who should you sit? To help you set your fantasy football lineups and to avoid starting a player who won't be playing, we'll post fantasy-relevant updates and analysis here as NFL teams release their official inactives lists, typically about 90 minutes before kickoff. Any rankings cited in this column come from our ESPN Fantasy staff ranks.
Official inactives should begin coming in approximately 90 minutes prior to the scheduled kickoff time.
Refresh often for the latest information.
---
Justin Fields, QB, CHI: Ribs — OUT
Impact: Andy Dalton will start with Nick Foles as his backup.
Allen Robinson II, WR, CHI: Hamstring — Doubtful
Impact: He hasn't practiced this week, so odds are against a Thursday start.
Marquise Goodwin, WR, CHI: Shoulder — Questionable
Impact: If he plays, expect Goodwin to start alongside Darnell Mooney.
Akiem Hicks, DT, CHI: Ankle — OUT
Eddie Jackson, S, CHI: Hamstring — Questionable
Tashaun Gipson Sr., S, CHI: Chest — Questionable
Jared Goff, QB, DET: Oblique — Questionable
Impact: He's a game-time call, although leaning towards yes. Just leave him out of fantasy lineups and watch the parade in peace.
Jermar Jefferson, RB, DET: Ankle — Questionable
Impact: It's looking like he will play, but isn't worth the fantasy gamble.
Michael Brockers, DE, DET: Knee — Questionable
Trey Flowers, LB, DET: Knee — OUT
---
Amari Cooper, WR, DAL: COVID-19 — OUT
Impact: Michael Gallup and Cedrick Wilson get a chance to bask in the spotlight of a nationwide audience.
CeeDee Lamb, WR, DAL: Concussion — Questionable
Impact: Dallas expects Lamb to clear the league's protocol in time to play.
---
Alvin Kamara, RB, NO: Knee — OUT
Impact: The lack of practice in this short week was never a good sign.
Mark Ingram II, RB, NO: Knee — Questionable
Impact: Tony Jones Jr. could be pressed into a full workload.
Adam Trautman, TE, NO: Knee — OUT/IR
Impact: Nick Vannett to take over No. 1 TE duties for the Saints.
Marcus Davenport, DE, NO: Shoulder — OUT
Green Bay Packers quarterback Jordan Love placed on COVID-19 list
GREEN BAY, Wis. — Green Bay Packers backup quarterback Jordan Love, who has been taking most of the midweek practice reps while Aaron Rodgers treats and rests his fractured pinkie toe, was placed on the reserve/COVID-19 list on Monday.
The team made the announcement on the day players returned to the facility from their bye week. Love, who has said he is vaccinated, would have been part of the group of players tested upon their return for their week off. Unvaccinated players who have not had COVID in the last 90 days would have been tested daily during the bye.
Love has taken only one game snap since his Nov. 7 start against the Kansas City Chiefs, the game Aaron Rodgers missed while he was on the COVID list. It was a kneel-down play on Nov. 21 against the Vikings, when Rodgers went into the locker room shortly before halftime to get treatment on his toe.
However, Love handled all the starting quarterback practice duties leading up to the Nov. 28 game against the Rams.
Rodgers elected not to have surgery on his toe during the bye week, but coach Matt LaFleur wasn't ready to say whether Rodgers would practice much, if at all, this week in advance of Sunday night's game against the Chicago Bears.
"I know he was getting treatment and doing everything he can to be 100 percent," LaFleur said Monday. "I still think it's a process like anything, and we'll see where he's at this week. Hopefully we can get him out there at practice, but if not, we've got a lot of confidence in just his ability to go out there and play at a high level."
The only other quarterback the Packers have is Kurt Benkert, who is on the practice squad. He, too, was on the COVID list this season, but returned to the team on Nov. 15.
Las Vegas Raiders RB Kenyan Drake to have season-ending ankle surgery
HENDERSON, Nev. — Las Vegas Raiders running back Kenyan Drake will travel "in a few days" to undergo season-ending surgery on his broken right ankle in Birmingham, Alabama, Raiders interim coach Rich Bisaccia said Monday in his weekly news conference.
Drake, who was carted off the field after being tackled and twisted down awkwardly from behind by Washington's Daniel Wise midway through the second quarter of the Raiders' 17-15 loss, took to Twitter Sunday night to say that the tackle that injured him "should be an illegal form of tackling like a horse collar."
Bisaccia said Monday that Drake was frustrated since he suffered a similar injury last season, when he had a high right ankle sprain in Week 7 while playing for the Arizona Cardinals against the Seattle Seahawks. He missed one game with that injury.
"When you look at the play on tape, it did not look intentional," Bisaccia said. "I think he got himself in a funky body position at the end, when he went to finish … the guy kind of rolled him over, got his ankle caught underneath there.
"Certainly, it ended up being a roll-up position at the end."
Drake, 27, signed a two-year free-agent contract worth $14.5 million with $11 million guaranteed with the Raiders this offseason. A versatile change-of pace back to complement starter Josh Jacobs, Drake rushed for 254 yards and two touchdowns on 63 carries and caught 29 passes for 283 yards and a TD. He also returned 10 kickoffs for 192 yards for the Raiders.
The Raiders have also lost fullback Alec Ingold for the season with a torn ACL in his right knee and backup running back Jalen Richard was placed on the COVID list the morning of the Washington game.
Los Angeles Chargers put leading WR Keenan Allen on reserve/COVID-19 list
Los Angeles Chargers leading receiver Keenan Allen was placed on the reserve/COVID-19 list on Monday, putting his availability for Sunday's game against the New York Giants in doubt.
Allen was one of 11 players placed on the reserve/COVID-19 list by teams on Monday. All were the result of positive tests, ESPN's Adam Schefter reports.
Allen, who has been selected to the Pro Bowl each of the past four seasons, leads the Chargers with 929 receiving yards this season and has four touchdown receptions.
If Allen is vaccinated, he will need two negative tests 24 hours apart and be asymptomatic for 48 hours before he can return. If he is unvaccinated, Allen will have to stay away from the team for a minimum of 10 days.
The Chargers improved to 7-5 with their 41-22 victory over the Cincinnati Bengals, a game in which Allen had two touchdown receptions.
Los Angeles is currently in second place in the AFC West standings.