Offensive coordinator Jason Garrett first to be fired by Giants, more could follow – New York Giants Blog
EAST RUTHERFORD, N.J. — It became apparent after Monday night's 30-10 loss to the Tampa Bay Buccaneers that New York Giants coach Joe Judge couldn't take it anymore. He was tired of coordinator Jason Garrett's stale offense, which had continuously failed to get the ball to its playmakers in space and perform the most basic of services — like score points.
The result was 42 offensive touchdowns in 26 games for the Giants (3-7), the fewest of any team (including the New York Jets) since the start of last season. It ultimately got Garrett fired on Tuesday, the day after Judge was uncharacteristically critical of him following the loss to the Bucs.
Garrett was the first major piece to fall as a result of another disappointing season. He's unlikely to be the last.
General manager Dave Gettleman better not leave his key card behind on a scouting trip. If he does, there might not be a new one when he returns. Not with an 18-40 record since he was hired to replace two-time Super Bowl winner Jerry Reese.
The scouting staff should also be on notice. That should be obvious every time it watches the struggling offensive line and the rest of the roster it assembled.
Even Judge, with Garrett no longer around and Gettleman's dismissal all but a formality at this pace, better be careful. Tuesday's move removed some of the built-in shelter that perhaps improved Judge's job security.
With Garrett out, the spotlight becomes brighter on the Giants' coach. Judge has a 9-17 record, and while his job doesn't seem to be in jeopardy now, at some point soon he needs to start winning, because this isn't good enough.
Not that Judge took this into consideration when firing Garrett.
"I hardly ever worry about perception on the outside," he said. "I make moves that I think are in the team's best interest, and when you're in a leadership position, you can't really ever worry about if it's a popular decision or not.
"You have to make the right decision."
It's hard to argue with this move. Judge couldn't afford alienating his biggest stars, who were growing frustrated by the team's lack of offensive success in what seems destined to be another season out of the playoffs.
The Giants had running back Saquon Barkley and left tackle Andrew Thomas back against the Bucs. They had receivers Kenny Golladay and Kadarius Toney the healthiest they had been in a long time. Yet they managed just 215 total yards against a Tampa Bay defense that had struggled in recent weeks.
It was the final straw for Garrett, who according to sources seemed to be losing influence in recent weeks.
Stephen A. Smith sounds off on the Giants after their loss to the Buccaneers.
"I don't believe we're scoring enough points," Judge said Tuesday afternoon. "It's my job as the head coach to make sure I give our players an opportunity to go out there and make plays."
Quarterback Daniel Jones is at the top of that list. He's in Year 3 of his progression. Gone now is the excuse that Garrett's offense is holding him back. Judge said the Giants will use a collaborative in-house effort to fill Garrett's role. A source told ESPN that senior offensive assistant Freddie Kitchens is expected to be involved in the playcalling. Judge declined to name a playcaller publicly and implied that he could perhaps be involved.
Maybe this is the answer. After all, Jones threw 24 touchdown passes during his 12 games in Pat Shurmur's offense as a rookie. He threw 20 in 24 games under Garrett. And in spite of the offensive line woes, there is confidence in the building in the playmakers surrounding the quarterback.
"We've certainly got good players at spots and we've got to do a good job of getting them the ball," Jones said after Monday's loss. "Like I said, it falls on me to do that. We had chances. There were opportunities. I've got to do a better job of finding those guys."
It's hardly a surprise Garrett was a failed experiment. He and Judge always seemed like an arranged marriage.
Garrett was well-regarded by co-owners John Mara and Steve Tisch after spending time with the organization from 2000 to 2003 as a player. They respected him from a distance as a coach when he was with the Dallas Cowboys. So ownership suggested that Judge meet with Garrett upon taking the Giants job.
Judge agreed, the meeting apparently went well and Garrett eventually became the coordinator despite not being a part of Judge's work circle and not having called plays since 2013.
"Just very simply on the staff, I hire the staff," Judge said Tuesday in response to the idea that Garrett was forced upon him by ownership.
It didn't matter. Garrett always seemed on the wrong side of things. His fate seemed inevitable after the departures of two of his former assistants in Dallas: offensive line coach Marc Colombo, who was fired after an altercation with Judge last season, and assistant running backs coach Stephen Brown, who was not brought back this season.
According to sources, the Giants considered firing Garrett in the offseason. But Garrett's relationship with Jones made the Giants give it one more college try. It lasted 10 more mostly unsuccessful games that saw the Giants rank 25th in the NFL at 18.9 points per game.
There were signs last week that the relationship was nearing an end when Garrett made some curious comments about the state of the offensive line, noting that the unit was in the infantile stages of a rebuild.
The Giants' rebuild will continue without him, but with others under the microscope.
Ex-Tampa Bay Buccaneers WR Antonio Brown says 'there's nothing wrong with my mental health' in wake of sideline outburst
TAMPA, Fla. — Former Buccaneers wide receiver Antonio Brown said his recent sideline outburst against the New York Jets that resulted in his dismissal from the Buccaneers, and previous incidents he's been involved in have been miscategorized as "mental health issues."
In a preview of an episode of "I Am Athlete," that will be posted in full on Jan. 24, Brown tells former NFL wide receiver Brandon Marshall that he's not suffering from mental health issues.
"Everyone in the world got a different form of reactions of what happened to me. And it's all based upon where you from, how you feel and no one really gonna know that regardless of who you is," Brown said. "The thing with football players is mental health and CTE is this: These guys are willing to do whatever it take to make some obligated gain. But in the midst of those gains, along that journey, they're mistreated, there's a lot of stuff that went on that may not have been handled right.
"And then you started your career on a high. It's like a rollercoaster. You go up, and then as soon as it bout to go down, everyone leave. … If we all players and we all saying we care about mental health, why every time something happens bad or someone reacts, 'Aw, he's crazy, there's something wrong with his mental health,'" Brown asked. "There's nothing wrong with my mental health. Someone told me, 'Get the f— out of here.' I'm not passive-aggressive."
Brown and his attorney Sean Burstyn have claimed that the Bucs attempted to mislabel his outburst as a mental health issue and wanted Brown to receive counseling, when Brown claims his ankle was too injured to play on, and that Arians told him to leave the field.
Since his release by the Buccaneers earlier this month, Brown has shifted his focus to his music career and rehabbing his ankle, which will require surgery. He indicated he does want to continue playing football next year. He released a music single, "Pit Not the Palace." He appeared courtside for a Brooklyn Nets-Memphis Grizzlies game two weeks ago. He's taken part in photo shoots and has linked up with pals Kanye West, Floyd Mayweather and Madonna.
In the past though, he has acknowledged seeking mental health treatment. His father Eddie Brown told ESPN's Jeremy Fowler that Brown was undergoing therapy after his release by the New England Patriots in 2019, which coincided with two sexual assault allegations.
Brown has also indicated that he supports mental health treatment. In an interview with ESPN in February 2020, Brown was asked whether he needed mental health help, to which he responded, "We all need mental help."
At that time, the circumstances of Brown's life were different. He'd been arrested and charged with felony burglary and battery charges. The mother of three of his children, Chelsie Kyriss, posted on Instagram at the time that her and their children were focused on building a new life "free from any impulsive, reckless and unhealthy" behaviors." She added, "My hope is that Anotonio [sic] will get help and seek the mental health treatment that he so desperately needs so that he can be the father all of his children need and deserve."
He and Kyriss reached reconciliation and she and their children were on-hand when Brown and the Bucs defeated the Kansas City Chiefs in Super Bowl LV. Brown had also underwent anger management counseling and his probation was terminated one year early for good behavior. On numerous occasions before his departure from the Bucs, both general manager Jason Licht and head coach Bruce Arians described him as a "model citizen."
Arians said of his departure, "Yeah, it was very hard. I wish him well. I hope, if he needs help, [that he] gets some. It's very hard because I do care about him."
Green Bay Packers expected to have healthy Randall Cobb; statuses of Marquez Valdes-Scantling, David Bakhtiari less promising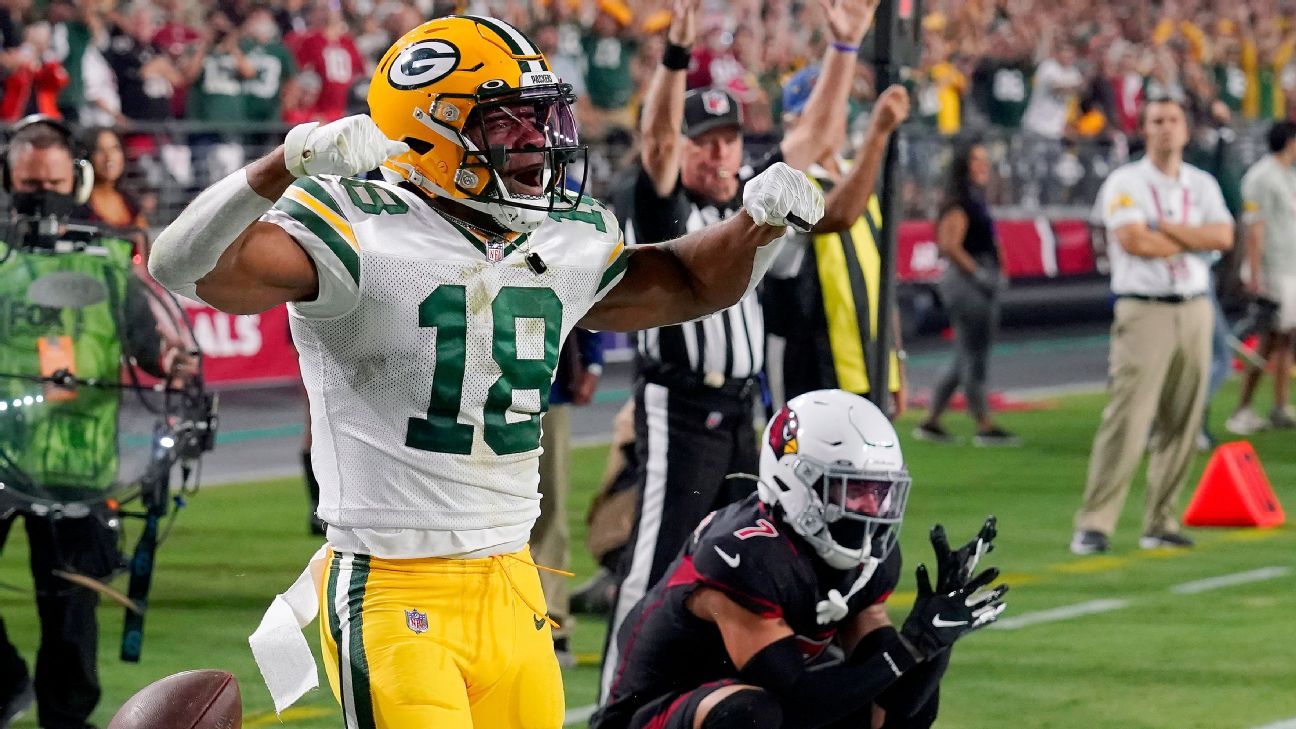 GREEN BAY, Wis. — The last two times the Green Bay Packers were in the playoffs, Randall Cobb had to watch from his couch.
The Packers had moved on from the receiver following the 2018 season, and he spent the next two years with non-playoff teams Dallas in 2019 and Houston in 2020.
When he tore multiple muscles in his abdomen as he caught a touchdown pass 12 weeks into his return to Green Bay this season, he was determined not to be a spectator again. Sure enough, Cobb is expected to return for Saturday's NFC divisional playoff game against the San Francisco 49ers at Lambeau Field.
However, even with Cobb's return, the Packers' receiving corps may not be at full strength.
Marquez Valdes-Scantling was listed as doubtful because of the back injury he suffered in the regular-season finale against the Detroit Lions. He practiced on Tuesday but then was a nonparticipant the rest of the week.
Cobb said he could have played two weeks ago at Detroit, about five weeks after he underwent surgery.
"The past four years I've been watching the playoffs from the couch," Cobb said, counting the 2017 and '18 seasons that the Packers missed the postseason. "I haven't seen the playoffs since 2016, so I'm really excited for the opportunity to be out there and help contribute."
Cobb, who returned to Green Bay last summer via trade from the Texans at the request of Rodgers, said the low point in his career was the 2019 NFC Championship Game, when the Packers played the 49ers. He said he watched the game alone and didn't even want his wife, Aiyda, with him during it.
"When I got drafted here it was right after the Super Bowl," Cobb said of the Packers' Super Bowl XLV win. "We went 15-1, I thought we were going that year. Thought we were going in '14. Obviously '16, the loss in Atlanta and I haven't been there since then and I've been watching from the couch.
"It was hard. I was definitely in a dark place when they played the 49ers in San Francisco because in my mind, I'm like, 'Man, they won the year before I got there and they won the year after I left,' or, 'They're getting ready to go the year after I left, so I must've been the problem. It must've been me.' So I was definitely in a dark place that year, but I'm just happy to be a part of it, happy to have the opportunity to contribute and to do my part."
The Packers activated Cobb off injured reserve on Friday. They had a spot open after they released defensive tackle Kingsley Kekea day earlier. The Packers would also need spots for outside linebackers Za'Darius Smith (back) and Whitney Mercilus (biceps), who are attempting to come back from IR. Coach Matt LaFleur left that possibility as questionable.
Cornerback Jaire Alexander, who is on the roster but hasn't played since his Week 4 shoulder injury, was listed as questionable.
There are other question marks as well.
When left tackle David Bakhtiari played the first 27 snaps of the Week 18 game against the Lions, it was believed to be a precursor to him playing full time when the playoffs started. That may not be a sure thing. Bakhtiari practiced only one day this week — the middle of three practices — and was listed as questionable.
LaFleur was vague about why or what may have happened in the days since Bakhtiari made his return in the regular-season finale after more than a year away because of ACL surgery.
"He's working his tail off," LaFleur said. 'And we'll see where he's at."
The Packers will have at least one of their two preferred starting tackles. LaFleur said right tackle Billy Turner, who missed the last month of the regular season with a knee injury, has been cleared to play.
Cincinnati Bengals DE Trey Hendrickson clears concussion protocol, OK to play Saturday
Cincinnati Bengals defensive end Trey Hendrickson has cleared the concussion protocol and will play in Saturday's divisional-round playoff game against the Tennessee Titans, coach Zac Taylor announced Thursday.
Hendrickson, who led the Bengals with 14 sacks this season, suffered the concussion in the Bengals' 26-19 wild-card game victory over the Las Vegas Raiders last Saturday.
Hendrickson had a strip sack of Raiders quarterback Derek Carr before leaving that game.
His 14 sacks in the regular season were a career high. He had 13.5 sacks in 2020 for the New Orleans Saints, helping him to earn a four-year, $60 million contract in free agency with the Bengals last March.