New York Giants great Michael Strahan set to be space tourist next month aboard Blue Origin flight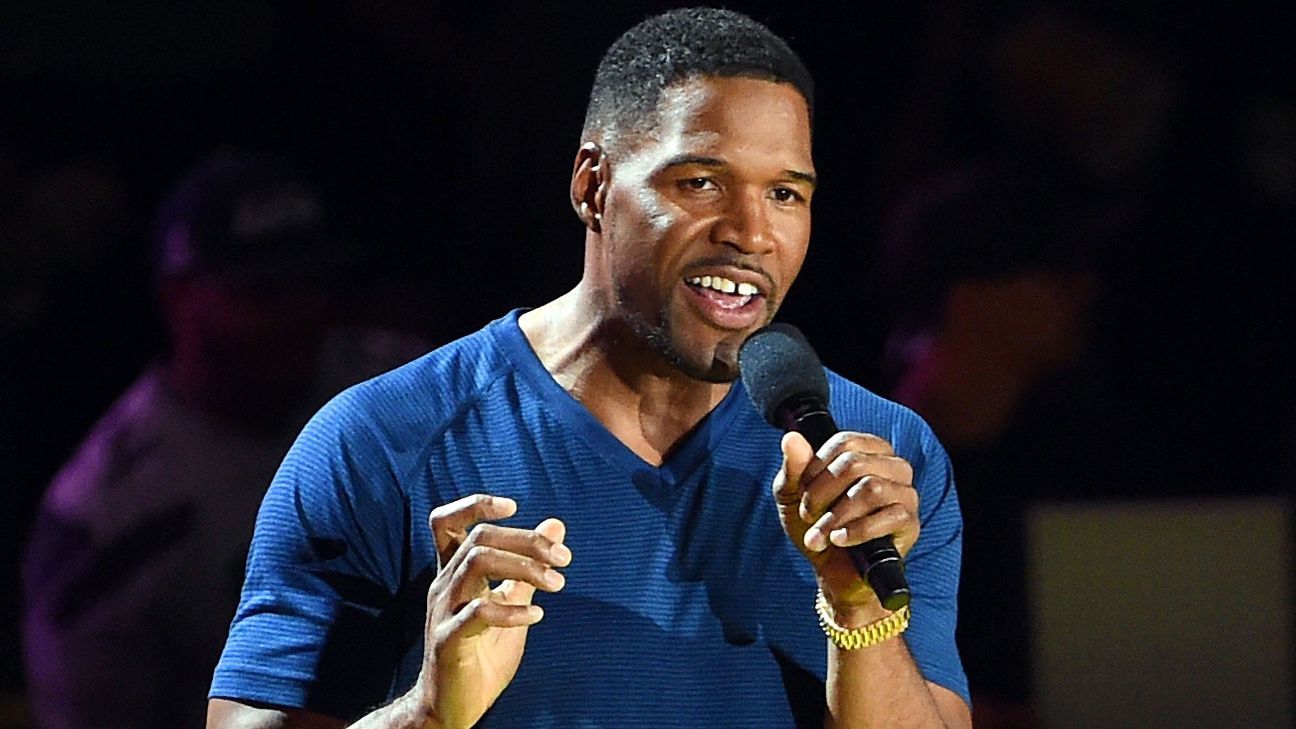 Pro Football Hall of Famer and "Good Morning America" co-host Michael Strahan is going to space next month.
Strahan, who turned 50 on Sunday, will join Laura Shepard Churchley, the eldest daughter of late astronaut Alan Shepard, on the Dec. 9 mission aboard the New Shepard, a spacecraft named after her father, who was the first American in space.
The Blue Origin flight, the company headed by Amazon founder Jeff Bezos, will also carry four paying customers and will be the third by the New Shepard craft this year to shuttle humans to space.
Blue Origin has not disclosed the ticket price for paying customers.
The 10-minute flight, five minutes shorter than Alan Shepard's 1961 Mercury flight, will launch from West Texas carrying six people, two more than the previous two flights this year with humans aboard.
JUST IN: @michaelstrahan is going out of this world – literally! – and will be flying on @BlueOrigin's #NewShepard rocket on December 9! https://t.co/zubchTcMg9 pic.twitter.com/mwVqRQ7HAB

— Good Morning America (@GMA) November 23, 2021
Similar to previous jaunts, Strahan's flight is likely to include about three minutes of weightlessness and a view of the curvature of the Earth. Passengers are subjected to nearly 6 G's, or six times the force of Earth's gravity, as the capsule descends.
Strahan reported on the first Blue Origin flight for "Good Morning America."
"I want to go to space," Strahan said on "GMA." "I think being there at the first launch, it really was mind-blowing."
Strahan played for 15 seasons in the National Football League with the New York Giants, who will retire his No. 92 on Sunday when they host the Philadelphia Eagles. The seven-time Pro Bowl selection had 141.5 sacks with the Giants, second in franchise history behind Lawrence Taylor, who had 142. He was the NFL's Defensive Player of the Year in 2001 when he set the single-season sacks record with 22.5.
He was inducted into the Pro Football Hall of Fame in 2014.
Bezos and "Star Trek" star William Shatner flew to space on separate New Shepard flights this year. At 90, Shatner became the oldest person in space, eclipsing the previous record — set by a passenger on Bezos' flight in July — by eight years.
Virgin Galactic's Richard Branson went into space in his own rocket ship in July, followed by Bezos nine days later on Blue Origin's first flight with a crew. Elon Musk's SpaceX made its first private voyage in mid-September, although without Musk on board.
The Associated Press contributed to this report.
Los Angeles Rams RB Darrell Henderson, WR Odell Beckham Jr. active vs. Jacksonville Jaguars
The Los Angeles Rams running back Darrell Henderson Jr. is active for Sunday's game against the Jacksonville Jaguars.
A source had told ESPN's Adam Schefter that the team was not optimistic about him being able to play but he would test out his injured thigh before Sunday's game before it made a decision.
Wide receiver Odell Beckham Jr., also is active. Like Henderson, he was listed as questionable. Beckham has a hip injury.
Running back James Robinson is active for the Jaguars. He had been listed as questionable due to heel and knee injuries. Robinson has been hobbled for weeks with the injuries but was feeling better Saturday.
Henderson, the Rams' top running back, has rushed for 648 yards and five touchdowns this season.
Gardner Minshew throws first TD as an Eagle, a 36-yard dart to Dallas Goedert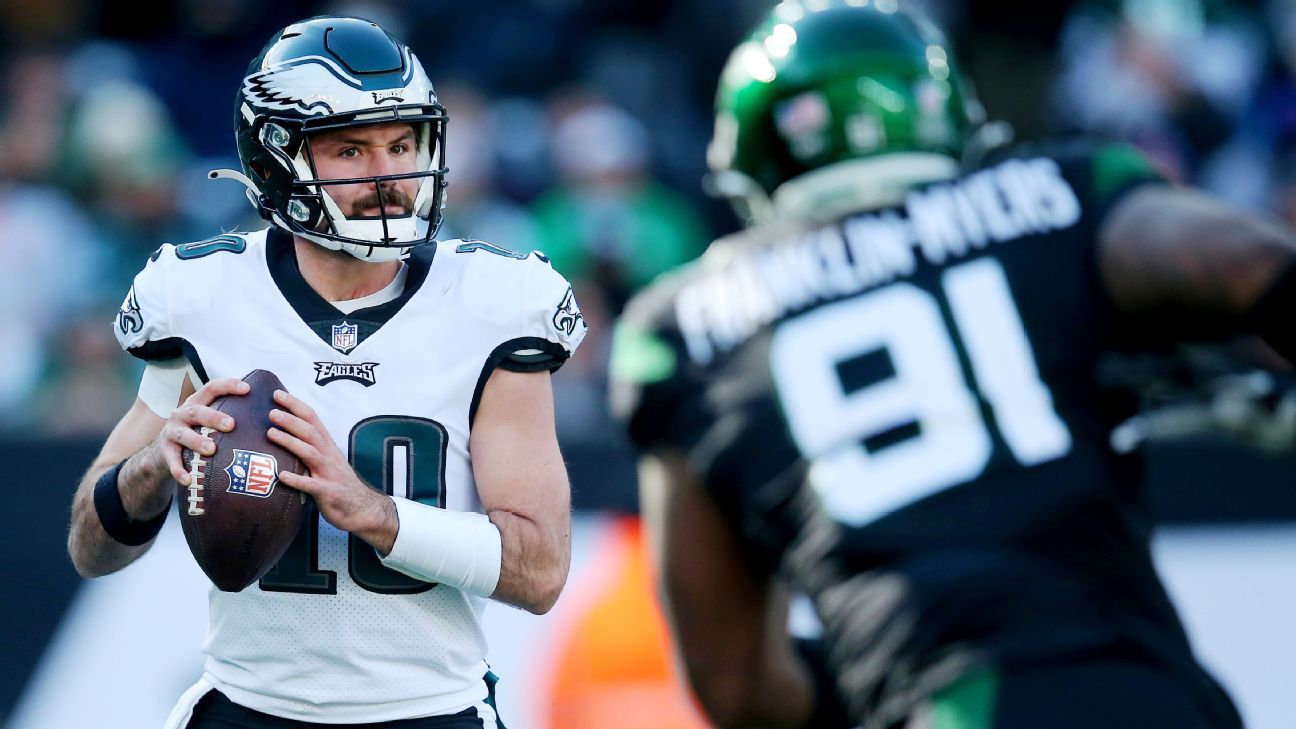 EAST RUTHERFORD, N.J. — Minshew mania — it is upon us.
Starting in place of the injured Jalen Hurts, Eagles quarterback Gardner Minshew II got off to a red-hot start against the New York Jets on Sunday, connecting with tight end Dallas Goedert for a 36-yard touchdown on the team's opening drive. Facing a second-and-1, Minshew unfurled a pass downfield as he was being hit. Goedert hauled it in and shed a tackle attempt before walking into the end zone.
Minshew went 3-for-3 for 61 yards on the Eagles' first possession, with each of those completions going to Goedert. Hurts is sidelined with a sprained left ankle, opening the door for Minshew's first start since Dec. 20 last season, when he was with the Jacksonville Jaguars.
.@GardnerMinshew5 goes deep for his first TD with the @Eagles! #FlyEaglesFly

📺: #PHIvsNYJ on CBS
📱: NFL app pic.twitter.com/ruEPdqKZ3L

— NFL (@NFL) December 5, 2021
Minshew hit Goedert again, this time for a 25-yard score, later in the first half.
Minshew and Goedert have two TD connections already! #FlyEaglesFly

📺: #PHIvsNYJ on CBS
📱: NFL app pic.twitter.com/Q08hl9g37F

— NFL (@NFL) December 5, 2021
Carolina Panthers fire offensive coordinator Joe Brady with team sitting at 5-7
The Carolina Panthers have fired offensive coordinator Joe Brady with five games left in their season, the team announced Sunday.
Panthers coach Matt Rhule said in a statement that he met with Brady on Sunday morning and "informed him that I have decided to make a change."
"I'm very grateful to him for his time and effort in helping us get established over this past year and a half," Rhule said.
Senior offensive assistant Jeff Nixon will take over the offensive coordinator duties with the rest of the offensive coaching staff for the remainder of the season.
The Panthers are on their bye this week.
In October, Rhule said he was sticking with Brady but wanted him to commit more to the running game. Brady, however, never committed to the running game to the level Rhule preferred (at least 30 attempts per game).
The Panthers started the season 3-0 but are currently 5-7. Star running back Christian McCaffrey is out for the season with an ankle injury while the team has started three different quarterbacks. Sam Darnold struggled after a strong start in the first three games and is currently on injured reserve with a shoulder injury. Cam Newton is now starting at quarterback in his second stint with the franchise.
Brady joined the Panthers in January 2020 after helping LSU win a national championship as the Tigers' passing game coordinator.
ESPN's David Newton contributed to this report.