Shohei Ohtani of Los Angeles Angels unanimously wins AL MVP
Shohei Ohtani, coming off a largely unprecedented 2021 season, was crowned the American League's Most Valuable Player unanimously on Thursday night, cementing the two-way superstar as a global sensation.
Later in Japan, the Tokyo Tower was scheduled to be lit up in Los Angeles Angels colors to celebrate Ohtani becoming the 19th unanimous MVP in major league history. Earlier, Major League Baseball ran a global spot centered on Ohtani in four languages, representing the latest in a string of efforts to market him all over the world.
How did Ohtani plan to celebrate?
"I don't have any special plans, actually," Ohtani, speaking through his interpreter, said a little after 10 a.m. local time from his home in Japan. "I'm probably gonna spend a lonely night by myself at home."
Ohtani, charmingly ordinary amid extraordinary accomplishment, claimed all 30 first-place votes from the Baseball Writers' Association of America and became the fifth unanimous MVP since 2000, joining Mike Trout (2014), Albert Pujols (2009), Barry Bonds (2002) and Bryce Harper, who won unanimously in 2015 and was named the National League MVP on Thursday.
Vladimir Guerrero Jr., the young star for the Toronto Blue Jays, captured 29 of the 30 second-place votes by the BBWAA, with the remaining vote going to Salvador Perez of the Kansas City Royals. Guerrero's teammate Marcus Semien received 24 third-place votes.
The 2021 season saw Ohtani fulfill his promise as a two-way star and somehow exceed the outsized expectations he carried with him from Japan four years earlier.
The MVP was his crowning achievement.
"I've always dealt with a lot of doubters, especially from my days in Japan," Ohtani said. "But I try not to let that get to me. I just wanted to have fun and see what kind of numbers I could put up."
Ohtani became the first player in baseball history to hit at least 30 home runs in a year when he also made at least 10 pitching appearances — and that doesn't come close to capturing his wide-ranging excellence.
Ohtani, 27, amassed 46 home runs and made 23 starts for an otherwise lowly Angels team. Offensively, he posted a .965 OPS (second highest in the AL), added eight triples (tied for the major league lead) and stole 26 bases (a mark topped by only seven players). He became the sixth player in history with at least 45 homers and at least 25 stolen bases in the same season, joining a decorated list of names that includes Alfonso Soriano, Chipper Jones, Jose Canseco, Larry Walker and Bonds.
None of the others, of course, actually pitched.
Ohtani also compiled 130 1/3 innings on the mound, and boasted a 3.18 ERA with 156 strikeouts and 44 walks. Among those with at least 120 innings in 2021, Ohtani ranked within the top 14% in strikeout percentage, the top 19% in opponents' slugging percentage and the top 16% in expected fielding independent pitching. All told, Ohtani was worth 9.1 Baseball-Reference wins above replacement, far more than anybody else in the sport.
"Shohei's season was nothing short of electric," Trout wrote in a statement. "At times, I felt like I was back in Little League. To watch a player throw eight innings, hit a home run, steal a base and then go play right field was incredible. What impresses me the most about him, though, is the way he carries himself both on and off the field. With so much on his plate daily, he still manages to do it with a smile."
Ohtani, who gave up a promising career in Japan early to become a two-way player at his sport's highest level, showed glimpses of his potential early in his first season in the United States. Through his first two months of 2018, he posted a 3.18 ERA on the mound and a .929 OPS in the batter's box. But he suffered a sprain of his ulnar collateral ligament in his first June start and made only one more pitching appearance the rest of the year.
Tommy John surgery was recommended in late September, prompting Ohtani to spend most of the next 15 months rehabbing his right elbow. Ohtani proved to be a formidable offensive weapon in the meantime — batting .286/.351/.532 with 40 home runs in a combined 210 games from 2018 to 2019 — but shouldered widespread doubt over whether he could become baseball's first two-way star since a young Babe Ruth briefly juggled hitting and pitching in the early 1900s.
The COVID-19-shortened 2020 season only exacerbated concerns. Ohtani posted a .190 batting average and made only two pitching starts — allowing seven runs and recording only five outs — before being shut down from throwing once again with a flexor strain.
An aggressive offseason followed. Ohtani altered his diet, sought counsel from third-party facilities, got into more game-like situations as both a pitcher and a hitter and showed up to spring training in 2021 looking like a completely different player. His fastballs breezed into the upper 90s, his batted balls frequently cleared the center-field batter's eye, and in the midst of that, Angels manager Joe Maddon decided to let Ohtani dictate the terms of his season. He lifted prior restrictions, allowing Ohtani to hit the day before, the day after and, most notably, the day of his starts. On some nights, he even moved Ohtani from the mound and into the outfield in order to keep his bat in the lineup.
In July, Ohtani competed in the Home Run Derby, then led off the All-Star Game as both a pitcher and a hitter. In October, Major League Baseball commissioner Rob Manfred gifted him with the Commissioner's Historic Achievement Award meant to "recognize accomplishments and contributions of historical significance to the game," according to an MLB release. Throughout, Ohtani captivated audiences with his unprecedented combination of power, speed and pitching prowess. His fastball was electric, but his splitter was devastating. He hit 500-foot moon shots, but he also legged out routine grounders.
Fans lined up outside the Angel Stadium gates for his giveaways, people all over the world tuned in on his start days and the most respected members of his sport — players, coaches, executives — were left stunned by his overwhelming talent.
Now, rightfully, he is the MVP.
Advocates for Minor Leaguers forms steering committee to give players a voice, push for better conditions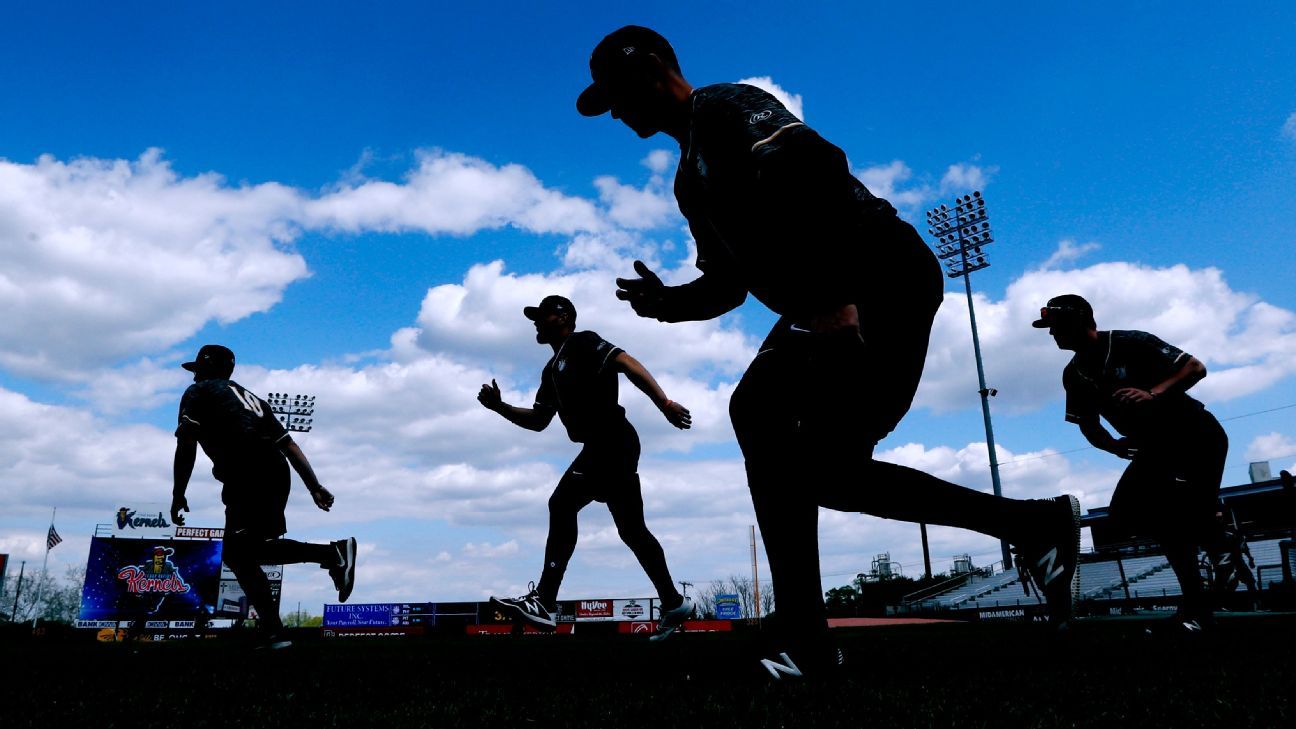 NEW YORK — While the owners and Major League Baseball players intend to collectively bargain for the terms of their next agreement, one group will not be at the table during those discussions: minor leaguers.
While Major League Baseball recently announced improved housing conditions across all levels of the minor leagues — including furnished housing — many across the minor leagues do not believe this is enough. As a result, Advocates for Minor Leaguers announced the formation of a player steering committee on Thursday, which will provide strategic advice and leadership regarding the ongoing labor battle to provide better conditions across baseball's development levels.
"The players on the Advocates for Minor Leaguers Player Steering Committee have decades of combined experience in the Minor Leagues," said Advocates for Minor Leaguers director Harry Marino. "They are thoughtful, intelligent and committed to improving the game of baseball for future generations. At a meeting earlier today, they decided to make public the existence of the committee and to voice support for the Major League Players Association."
The players on the committee will remain anonymous to protect their future job prospects in the sport.
"For decades, we Minor League players have been exploited by Major League Baseball's owners, who have abused their unique antitrust exemption to pay us less than we are worth," the steering committee said in a statement. "This year, most of us will make less than $15,000. Many of us will work second and third jobs, struggling just to make ends meet and put food on the table. Without question, the mistreatment that we endure as Minor League players is the most urgent labor issue facing the sport."
Marino said that the recent concession by Major League Baseball to provide improved housing shows the balance of power is shifting towards minor leaguers.
"There is much work yet to be done," Marino said. "Going forward, I expect the committee to play a key role in our ongoing effort to provide a collective voice for Minor League players and improve Minor League working conditions."
The first action for the committee is to voice their public support for the Major League Baseball Players Association, who the owners decided to lock out at midnight on Thursday morning.
"The owners who have voluntarily decided to shut down Major League Baseball are the same individuals who abuse a legal loophole to pay Minor Leaguers poverty-level wages," the committee said. "As in the past, they use restrictive contracts and collusion to pay the vast majority of professional baseball players less than their actual worth."
The committee stated the uniform player contract for minor leaguers — which ties a player to the same team for seven seasons and prevents them from seeking better pay in baseball domestically or internationally — is fundamentally unfair.
"Now that we have found our collective voice," the committee said, "we intend to use it." —
San Diego Padres sign RHP Nick Martinez on 4-year, $20 million deal
The San Diego Padres and right-hander Nick Martinez have agreed on a four-year, $20 million contract, sources told ESPN's Jeff Passan.
Martinez's deal includes opt-outs after his first and second year.
Martinez, 31, spent the past four seasons in Japan and starred for the Fukuoka SoftBank Hawks this year, posting a 1.62 ERA. He previously played four seasons in the major leagues, all with the Texas Rangers from 2014-17, and went 17-30 with a 4.77 ERA.
Martinez also won a silver medal while playing for Team USA in the Tokyo Olympics.
What we do in the shadows
NEW YORK — Within minutes of locking out players Thursday amid contentious negotiations on the next collective bargaining agreement, Major League Baseball scrubbed all remnants of player likenesses off its official properties such as MLB.com, replacing player photos with generic silhouettes.
In response, players decided to lean all the way in.
Players started to change their profile pictures on Twitter to the generic player silhouettes in solidarity and as a response to the league's action. The decision to do so was not an organized, calculated move by the Major League Baseball Players Association but rather started off as a joke in a small player text group chat, according to New York Mets pitcher Trevor Williams, one of the first to change his profile picture.
"It was just being silly," Williams told ESPN. "It's a meme. When you think about it, by us posting a picture of what MLB does, we're doubling down on what they're doing. It's not supposed to be serious."
It's amazing to see players around the league change their avi in solidarity. MLB can take away our image but never our LIKENESS!

— Trevor Williams (@MeLlamoTrevor) December 2, 2021
I have no idea what likeness means

— Trevor Williams (@MeLlamoTrevor) December 2, 2021
During a news conference Thursday morning, commissioner Rob Manfred said the league was legally obligated to remove all player likenesses due to the lack of a collective bargaining agreement.
Along with Williams, San Diego Padres pitcher Joe Musgrove, Chicago White Sox pitcher Lucas Giolito, New York Yankees pitcher Jameson Taillon and Mets pitcher Taijuan Walker were among the first players to change their profile pictures on Twitter.
Due to the lockout, players cannot use team facilities or work with trainers. Taillon underwent surgery in October to repair a partially torn ankle tendon and was expected to miss five months.
"Since MLB chose to lock us out, I'm not able to work with our amazing team Physical Therapists who have been leading my post surgery care/progression," Taillon tweeted. "Now that I'm in charge of my own PT – what should my first order of business be? I'm thinking I'm done with this boot. It can go."
Since MLB chose to lock us out, i'm not able to work with our amazing team Physical Therapists who have been leading my post surgery care/progression. Now that I'm in charge of my own PT- what should my first order of business be? I'm thinking I'm done with this boot. It can go😎

— Jameson Taillon (@JTaillon50) December 2, 2021
The bit soon started catching on among those not in the initial group chat. When Mets reliever Trevor May woke up Thursday, he noticed players changing their profile pictures and decided to join in.
"I saw it, and that's what I did," May said. "Anything when it comes to Twitter, memes, I'm all for it. I just went for it. It's not a strong message I'm trying to send. … This is one of the funny ways for players to poke at [the league]. It's a funny way to point out they don't really have anything without us."
Other players who joined in included Chicago Cubs outfielder Ian Happ, free-agent reliever Sean Doolittle, Minnesota Twins pitcher Randy Dobnak, Seattle Mariners outfielder Mitch Haniger and shortstop J.P. Crawford, free-agent second baseman Shed Long Jr., and Mets closer Edwin Diaz.