Pete Carroll, Seattle Seahawks searching for answers after loss to Arizona Cardinals adds to woes
SEATTLE — Another disappointing loss has left Seahawks coach Pete Carroll more frustrated than he has ever been in 10-plus seasons in Seattle. He admitted as much Sunday after cutting his news conference short before returning later to answer more questions.
The odd postgame scene followed Seattle's 23-13 loss to the Arizona Cardinals at Lumen Field. The defeat dropped the Seahawks to 3-7, marking the first time since 2011 and only the second time in Carroll's tenure that they've been four games under .500.
"I'm just not any good at this," Carroll said of handling this level of losing. "I'm not prepared for this. I'm struggling to do a good job of coaching when you're getting your butt kicked week in and week out. It's new territory, and I'm competing in every way I can think of. But I'm just unfamiliar with it. So if I leave early or if I make a mistake, I'm not on my best game right here … I'm not making any excuses. And I don't want to get good at this."
Facing an NFC West-leading Cardinals team without injured quarterback Kyler Murray or receiver DeAndre Hopkins represented a golden opportunity for the Seahawks to breathe some life into their dwindling hopes of making the playoffs for the ninth time in 10 seasons. Instead, they allowed 328 passing yards and a pair of touchdowns to backup Colt McCoy, while Russell Wilson and their offense struggled for the second week in a row since his return from finger surgery.
Carroll began his postgame news conference without his usual opening statement, saying, "I don't have a lot to tell you" before inviting questions. He then left about eight minutes in, saying, "I'm really done. I'm done," and continued to walk off as a reporter was beginning to ask another question.
Carroll later returned wearing street clothes and apologized for his early exit. But he was just as mystified in his second trip to the podium as his first one as to why Seattle's offense has been so ineffective, especially on third down.
"It's really surprising now that we're back a couple weeks with Russ back in there that we had such a hard time scoring and moving the football," he said. "The running game was pretty efficient. But it came down to we were 1-for-5 in the first half [on third down]. The hard part of it is that this is what it's been like and it hasn't gotten better. We have to improve and find our ways."
After suffering their first shutout loss of the Wilson era last week in Green Bay, Wisconsin, the Seahawks managed only 266 yards of offense and went 2-of-10 on third down against Arizona. Wilson was 0-for-6 on third and fourth downs Sunday. He had previously never finished worse than 0-for-4 on third or fourth down, according to ESPN Stats & Information research.
Wilson has now gone without a touchdown pass in consecutive games for just the third time in his career, according to ESPN Stats & Information research. The Seahawks' only touchdown Sunday came on a 2-yard DeeJay Dallas run midway through the fourth, snapping a streak of seven straight quarters without finding the end zone. Seattle rushed for 86 yards on 19 attempts.
Entering Sunday, Seattle had the NFL's third-worst conversion rate on third down at 33.7%.
"We had a few third-and-longs," Wilson said. "They made a couple of good plays. … I think the biggest thing for us is that we just have to find ways. Third down is always about making plays and finding a way. I think that's what it really is. We've got to figure out what that is and figure out how to do it."
Wilson said his surgically repaired right middle finger wasn't an issue in his first game since Oct. 8 surgery and that it continued to feel fine last week. On Sunday, he shot down the idea that he's rusty after his rehab kept him out of practice for a month. He pointed to his deep ball — Wilson hit Tyler Lockett for a 48-yard gain to set up Seattle's lone touchdown — as evidence.
"The ball is coming out of my hand just fine," he said. "… I'm not going to make any excuses. I'm not an excuse kind of guy."
The Seahawks lost to McCoy last season when he quarterbacked the New York Giants to a 17-12 win in Seattle while filling in for Daniel Jones. McCoy managed his way to that victory while completing 13 passes for 105 yards. On Sunday, he carried much more of the offensive load while completing 35 of 44 attempts and did most of his damage on underneath throws.
Arizona went 7-of-14 on third down, a bugaboo for Seattle's defense earlier this season before it improved in that regard during its recent resurgence.
"When 10 guys do their job and one doesn't, bad plays can happen," said safety Jamal Adams.
The Seahawks play the Washington Football Team at FedExField next Monday.
"I feel like we're going to win next week and we're going to play a great game on the East Coast and come on back here and get ready for the next one," Carroll said. "I don't have any other thought in my mind. I'm just disappointed that I've got to keep coming back in here and talk about the same stuff and don't feel like I have good answers for you. Because our answers so far have not turned it. … It starts with me. I've got to get this done, and I've got to help my guys get it done."
Wilson was asked how the Seahawks' 3-7 start will impact his future given the way he voiced his frustration this past offseason, a public airing of grievances that led both the quarterback and the organization to flirt with the idea of moving on from each other.
"It doesn't impact any of my thoughts at all," he said. "All I think about is right now what we're going to do and how we're going to do it. I love this team. I love this organization. I love being here. Like I said, I like the challenge. I'm looking forward to it. It's going to be a great story."
Washington's Logan Thomas feared to have suffered torn ACL, MCL in win over Las Vegas Raiders, sources say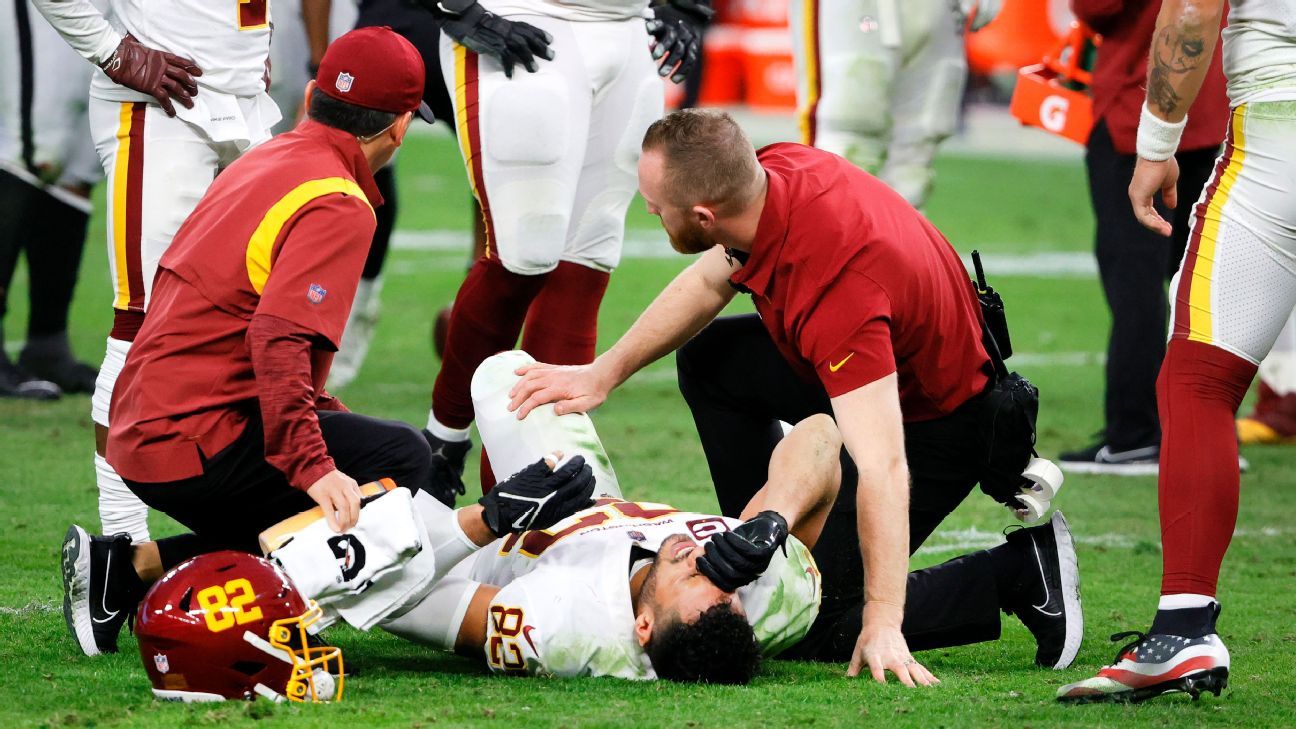 LAS VEGAS — The Washington Football Team's four-game win streak was muted by more bad injury news: tight end Logan Thomas' season could be over.
Sources told ESPN's Adam Schefter on Sunday night that the team fears that Thomas suffered a torn ACL and MCL late in its 17-15 win over the Las Vegas Raiders.
Thomas will undergo more tests Monday after Washington returns home.
Losing Thomas would be a big blow to Washington, which is now 6-6 and two games behind first-place Dallas in the NFC East. The WFT currently holds the sixth playoff spot in the NFC with five games remaining.
Thomas was hurt with 10 minutes remaining in the game when he pulled to the left side and was hit low in the left knee by Las Vegas defensive end Yannick Ngakoue. Thomas left on his own power. Washington coach Ron Rivera said in his postgame news conference that he did not see the play.
Thomas was Washington's top red zone target and its most productive tight end in that area over the last two years. He entered Sunday leading all tight ends with 144 yards receiving in the red zone over the past two seasons — even with missing six games this season with a hamstring injury.
On Sunday, he showed his worth in that area when he made a leaping one-handed grab in the back of the end zone for a 7-yard touchdown catch. He caught three passes for 48 yards. In six games this season, Thomas caught 14 passes for 148 yards and two touchdowns.
Washington signed Thomas to a three-year contract extension worth up to $24.05 million in August. That came after his breakout 2020 season when he caught 72 passes for 670 yards and six touchdowns. He established himself as a pivotal piece to Washington's offense.
Without Thomas, Washington will have to rely on Ricky Seals-Jones, who has missed the past three games with a hip injury. But he was able to return to practice last week, albeit in a limited fashion. He was inactive Sunday because of the injury. The WFT also have rookie John Bates and Sammis Reyes.
In the five games Seals-Jones played after Thomas was hurt, he caught a combined 20 passes for 192 yards and a touchdown. For the season, he has 23 catches for 230 yards and two scores. Bates is primarily a blocker, but he's caught nine passes for 74 yards this season.
Washington has been banged up lately, yet continues to win. Sunday, it played without running back J.D. McKissic (concussion) and safety/linebacker Landon Collins (foot). Defensive end Chase Young is out for the year with a torn ACL and fellow end Montez Sweat has not played during the four-game streak because of a jaw injury. The team started its fourth center, Keith Ismael, on Sunday.
Houston Texans coach David Culley says Tyrod Taylor as starting QB to be evaluated
HOUSTON — After the Texans' 31-0 loss to the Indianapolis Colts, head coach David Culley said Tyrod Taylor isn't necessarily the team's starting quarterback when healthy.
"When you don't score any points during a game, you evaluate everything," Culley said.
Culley's admission is a departure from the stance he has taken all season, including less than a week ago when he said Taylor was the team's starter and rookie quarterback Davis Mills would only play "if something happens to Tyrod [Taylor]."
In the third quarter on Sunday, Taylor went to the blue medical tent. On the Texans' next offensive drive he was replaced by Mills. Mills finished the game, completing 6 of 14 passes for 49 yards.
After the game, Culley said Taylor hyperextended his wrist, but a team spokesperson said Taylor was healthy enough to return to the game. The Texans did not make an announcement with an injury update during the game, but trainers were seen looking at Taylor's left wrist.
"He probably could have came back into the game if we needed him to, but I don't know how effective he would have been in throwing the football," Culley said.
Before Taylor was replaced by Mills, he completed 5 of 13 passes for 45 yards. The Texans, who were shut out for the second time this season, fell to 2-10.
Taylor played the first 1 1/2 games of the season for the Texans before injuring his left hamstring against the Cleveland Browns. He was replaced by Mills, who went 0-6 in his six starts while Taylor was on injured reserve.
This season, Taylor has completed 60.7% of his passes for 966 yards, with five touchdowns and five interceptions.
Las Vegas Raiders running back Kenyan Drake's right ankle injury 'a little bit of an issue'
LAS VEGAS — Las Vegas Raiders running back Kenyan Drake was carted off the Allegiant Stadium field with a right ankle injury midway through the second quarter of a 17-15 loss Sunday to the Washington Football Team.
Drake, who joined the Raiders this offseason after signing a two-year contract worth up to $14.5 million with $11 million guaranteed, was tackled awkwardly as he was pulled down by Daniel Wise from behind while being hit from the front by Deshazor Everett and Jamin Davis.
The Raiders were down to two running backs in starter Josh Jacobs and Peyton Barber, as Jalen Richard was placed on the reserve/COVID-19 list earlier in the day. Drake was officially ruled out at halftime.
Raiders interim coach Rich Bisaccia said, after the loss, that Drake's injury is "a little bit of an issue" and would have an update on Monday. And Jacobs said Drake told him, "It's broke," before the trainers arrived on the field.
"I know he's had significant injuries in the past," said Jacobs, who was a bit choked up. "So, I'm just praying for him right now and praying for his family. His whole family was here at the game."
Drake, 27, has rushed for 254 yards and two touchdowns on 63 carries and caught 29 passes for 283 yards and a score as a change-of-pace back, often spelling Jacobs. He also has returned 10 kickoffs for 192 yards.
The Raiders' rushing attack clearly suffered without Drake. They ran for just 76 yards in the loss, on 16 carries, and even though it was a tight game throughout, Las Vegas relied on its passing attack.