Passan answers 20 burning MLB offseason questions — Will there be a lockout? When could stars sign?
The World Series is over. The sport's collective bargaining agreement expires in less than four weeks. Baseball could shut down for the foreseeable future. You have questions. I have answers.
Why is this Sunday an important day?
The MLB offseason really starts Sunday. More than 200 players are free agents now, but they can't sign with new teams until Sunday. Decisions on options — club and player — are due by that day, too. And teams that plan to extend a qualifying offer to free agents must do so by 5 p.m. ET on Sunday.
When will players actually start signing with new teams this offseason?
There should be some movement in November, especially among players who want some semblance of certainty. Multiple officials see a two-pronged market this winter: a relatively low-impact one pre-lockout, and a frenzied post-lockout rush.
So, uh, did you just say there's going to be a lockout?
Put it this way: I've talked with a lot of people around the sport, and literally every single one believes that once the clock turns from 11:59 p.m. on Dec. 1 to 12 a.m. on Dec. 2, the owners will lock out the players.
A deal to keep the sport running is not impossible. It's just seen as highly unlikely.
Kevin Gausman finds new home, agrees with Toronto Blue Jays on $110 million contract, sources say
Right-handed starting pitcher Kevin Gausman and the Toronto Blue Jays are in agreement on a five-year, $110 million contract, sources familiar with the deal told ESPN's Jeff Passan on Sunday night.
Gausman was a reliable back-end starter early in his career, posting a 4.22 ERA, a 1.34 WHIP and a 3.02 strikeout-to-walk ratio while averaging 146 innings per season for the Baltimore Orioles, Atlanta Braves and Cincinnati Reds from 2014 to 2019.
But his career truly took off upon joining the San Francisco Giants, who helped him fine-tune his splitter to form a devastating combination with his four-seam fastball.
Gausman, originally obtained on a one-year, $9 million contract, posted a 3.62 ERA with 79 strikeouts and only 16 walks in 59 2/3 innings during the COVID-19-shortened 2020 season. The 30-year-old right-hander returned to the Giants after accepting the qualifying offer and was even better in 2021, combining a 2.81 ERA with 227 strikeouts and only 50 walks in 192 innings while anchoring the starting rotation for a team that won a major league-best 107 games.
Gausman made his first All-Star team that year, then finished sixth in National League Cy Young Award voting and became one of the most coveted free agents on the market.
Gausman could help fill a new hole in the Blue Jays' rotation. Last week, Toronto lost starting pitcher Steven Matz, who posted a 14-7 record, with a 3.82 ERA in 29 starts last season. The veteran agreed to a four-year, $44 million deal with the St. Louis Cardinals.
ESPN Staff Writer Alden Gonzalez contributed to this report.
MLB free-agency grades – Texas Rangers bet big on their future with Marcus Semien signing
Raise your hand if, like me, you uttered something unprintable when you heard the reported terms of Marcus Semien's new contract and the team that had offered them. That's what we call a knee-jerk reaction, which isn't always rational or correct. Your real response is what you come up with after thinking through the factors involved. Often, then, you see a reason and a rhyme, even with surprising news.
For me, after thinking this deal through, I still think something mildly unprintable, but it's a word that's less severe than my knee-jerk phrase — and it comes with a slightly more positive connotation.
According to ESPN's Jeff Passan, Semien and his representatives agreed to a seven-year, $175 million deal with the Texas Rangers. It's the richest deal by far of this year's free-agent season, matching the average annual value of Justin Verlander's deal with the Astros ($25 million) but for a half-decade longer.
In finding a new team, Semien becomes the second member of the long-anticipated shortstop free-agent class of 2021-22 to find a long-term home (the first being Francisco Lindor, who agreed to an extension with the Mets last season). Let's consider that class with a few numbers from baseball-reference.com:
Here, it's worth noting that Passan is also reporting that Semien is far from likely to be the last of the Rangers' high-level free-agent targets, even among that shortstop class. Still, for now, we'll look at how he fits as if he were the jewel of the Rangers' winter push, and not just a jewel.
Twins, Buxton find perfect balance in incentive-laden deal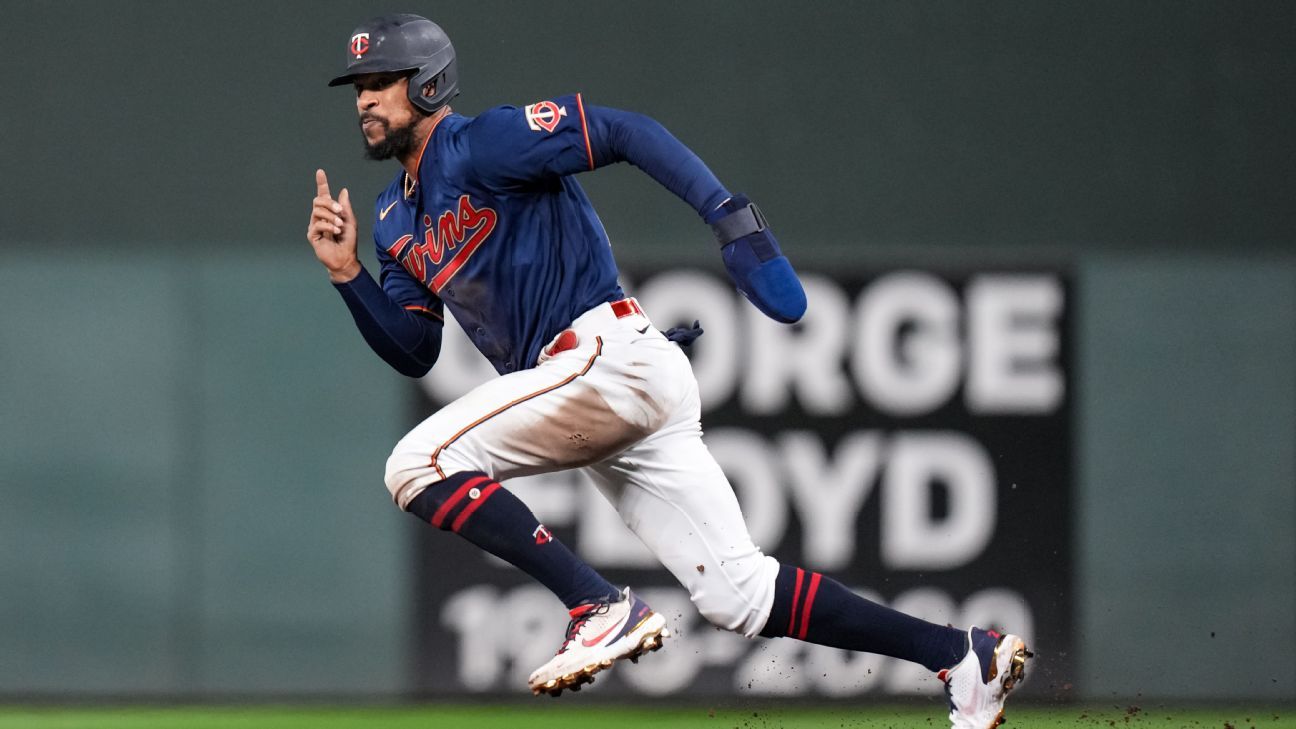 For his first 24 games of 2021, Byron Buxton was the best baseball player on the planet. He hit for average. He hit home runs. He hit doubles. He stole some bases. He played center field like Hermes, only in cleats instead of winged sandals. He hit .370/.408/.772 with nine home runs, 10 doubles and five stolen bases. He led all hitters in slugging percentage and trailed only Mike Trout in OPS.
This was the ceiling we had longed dreamed of for Buxton, who at his best is the most dynamic player in baseball this side of Shohei Ohtani: a combination of power, speed and defense that would make him a modern-day Willie Mays or Ken Griffey Jr.
Of course, it's unfair to compare anybody to those two, and it was unfair to expect Buxton to keep hitting at that level. But sadly, we don't even know how close he would have come, because once again the injury bug wrecked Buxton's season. On May 7, he went on the injured list with a hip strain, suffered while running to first base on a groundout. He returned on June 19, and in his third game back, he suffered a fracture in his left hand when Reds pitcher Tyler Mahle hit him with a 94-mph fastball.