Noah Syndergaard says Los Angeles Angels flew in while New York Mets were distracted
ANAHEIM, Calif. — Noah Syndergaard got a qualifying offer and not much else from the New York Mets over the past two months.
That's one big reason he's switching coasts to join Mike Trout, Shohei Ohtani and the Los Angeles Angels.
The imposing right-hander known as Thor said Friday he was thrilled to land with the Halos on a $21 million, one-year deal. He sees the move as an opportunity to reestablish himself as an elite starter after being limited by injuries and surgery to two brief appearances over the past two seasons.
"I think if I get back to my old self, then the combination one-two punch with myself and Shohei, and all the young talent that the Angels have, I think we can really make a run at this thing," Syndergaard said.
Syndergaard was immediately full of praise for the Angels' two MVPs, calling Ohtani "the most exciting player in the game" and Trout "the best player the game has ever seen, so I want to help get him a ring."
Syndergaard had spent his entire big league career with the Mets, but he feels the organization was preoccupied with replacing its front office while his future was up in the air.
"I didn't really hear from them all that much in the last two months from the end of the season until now," he said. "I understand they had a lot on their plates."
Syndergaard still said leaving New York was "the hardest decision of my life. But I definitely think that I made the right decision."
The Mets' organizational upheaval was "definitely in the back of my mind a little bit," Syndergaard added. "This is an important year for me. This is kind of a make-or-break time for me. I didn't want to gamble on that kind of uncertainty that's been going on with them."
New York hired former Angels general manager Billy Eppler this week, but Syndergaard was already headed to the West Coast to join the Angels, who are desperate to end their skids of six straight losing seasons and seven straight non-playoff campaigns.
Syndergaard said Angels GM Perry Minasian pursued him ardently from the opening hours of free agency. The executive won him over at dinner in New York with his agent, presenting a detailed plan for the upcoming season and showing impressive knowledge of Syndergaard's pitching mechanics, right down to identifying specific changes Syndergaard was already considering to improve his delivery.
"I could just sense his passion, his desire to win right now, and that got me really fired up," Syndergaard said.
The talent on the Angels' roster also impressed Syndergaard, even though the club hasn't done much with it in recent years largely because it has long lacked quality starting pitching. Minasian is determined to change that, and he said Syndergaard was a potential ace who would be available if the Angels were aggressive and financially generous.
"When he's right, he's one of the better pitchers in the game," Minasian said. "He's one of those guys, you want to give him the ball in big spots. The aggressiveness he pitches with, the moxie, I think complements our rotation really well. … It's somewhat flattering, the fact that he picked us. It's a partnership. We're betting on him, and he's betting on us. He is not coming here to lose."
Syndergaard said he expects to be on an overall innings limit, although a number hasn't been chosen. The Angels intend to use a six-man rotation again this year as part of their usual plan to maximize Ohtani's two-way abilities, so a slightly limited number of starts should help Syndergaard in his full return from Tommy John surgery.
Minasian isn't done shopping for starters, saying he "would like to add multiples." Behind Ohtani and Syndergaard, Patrick Sandoval and Jose Suarez appeared to pitch their way into 2022 rotation spots last season, but the rest of the group is in flux.
But the Angels have already made what's likely to be the most important purchase in their offseason shopping. Syndergaard said he'll move to the Newport Beach area quickly to begin his offseason throwing program and to start "soaking up that sunshine."
MLB free-agency grades – Texas Rangers bet big on their future with Marcus Semien signing
Raise your hand if, like me, you uttered something unprintable when you heard the reported terms of Marcus Semien's new contract and the team that had offered them. That's what we call a knee-jerk reaction, which isn't always rational or correct. Your real response is what you come up with after thinking through the factors involved. Often, then, you see a reason and a rhyme, even with surprising news.
For me, after thinking this deal through, I still think something mildly unprintable, but it's a word that's less severe than my knee-jerk phrase — and it comes with a slightly more positive connotation.
According to ESPN's Jeff Passan, Semien and his representatives agreed to a seven-year, $175 million deal with the Texas Rangers. It's the richest deal by far of this year's free-agent season, matching the average annual value of Justin Verlander's deal with the Astros ($25 million) but for a half-decade longer.
In finding a new team, Semien becomes the second member of the long-anticipated shortstop free-agent class of 2021-22 to find a long-term home (the first being Francisco Lindor, who agreed to an extension with the Mets last season). Let's consider that class with a few numbers from baseball-reference.com:
Here, it's worth noting that Passan is also reporting that Semien is far from likely to be the last of the Rangers' high-level free-agent targets, even among that shortstop class. Still, for now, we'll look at how he fits as if he were the jewel of the Rangers' winter push, and not just a jewel.
Twins, Buxton find perfect balance in incentive-laden deal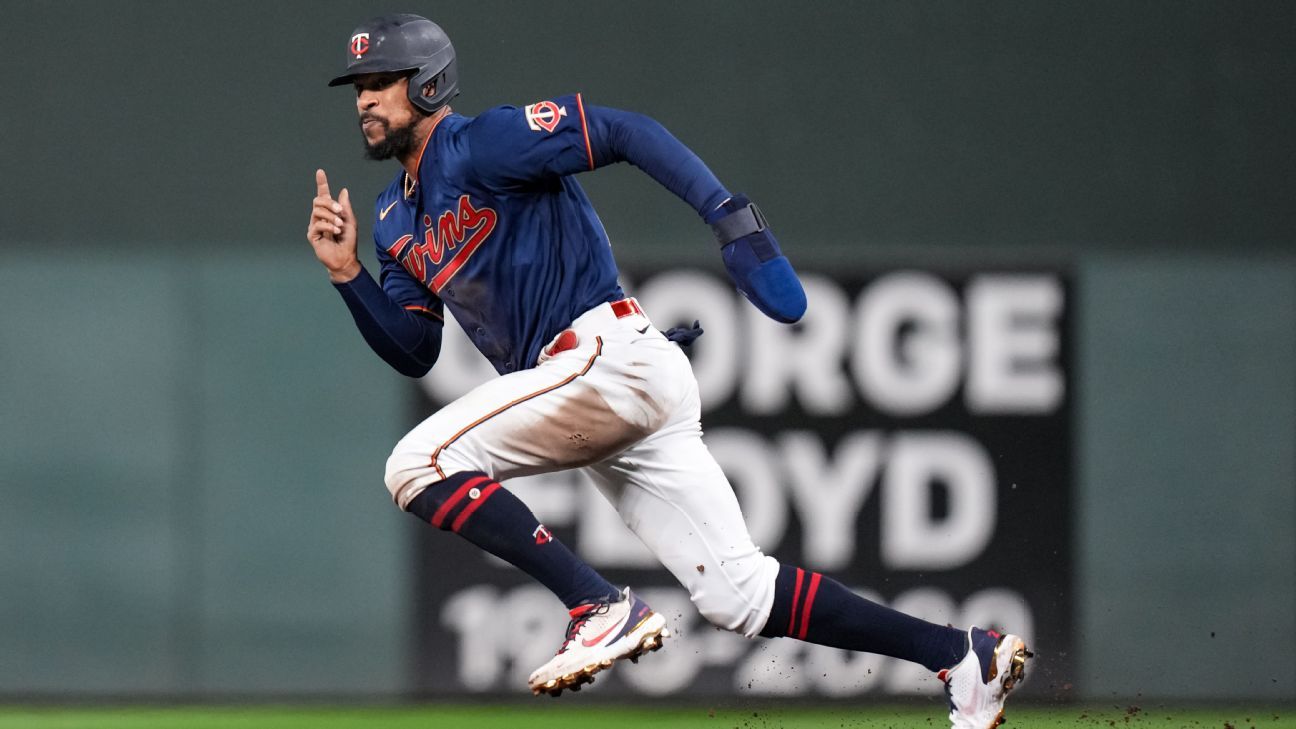 For his first 24 games of 2021, Byron Buxton was the best baseball player on the planet. He hit for average. He hit home runs. He hit doubles. He stole some bases. He played center field like Hermes, only in cleats instead of winged sandals. He hit .370/.408/.772 with nine home runs, 10 doubles and five stolen bases. He led all hitters in slugging percentage and trailed only Mike Trout in OPS.
This was the ceiling we had longed dreamed of for Buxton, who at his best is the most dynamic player in baseball this side of Shohei Ohtani: a combination of power, speed and defense that would make him a modern-day Willie Mays or Ken Griffey Jr.
Of course, it's unfair to compare anybody to those two, and it was unfair to expect Buxton to keep hitting at that level. But sadly, we don't even know how close he would have come, because once again the injury bug wrecked Buxton's season. On May 7, he went on the injured list with a hip strain, suffered while running to first base on a groundout. He returned on June 19, and in his third game back, he suffered a fracture in his left hand when Reds pitcher Tyler Mahle hit him with a 94-mph fastball.
Avisail Garcia, Miami Marlins reach 4-year deal, sources say
Outfielder Avisail Garcia and the Miami Marlins are in agreement on a four-year, $53 million contract, a source told ESPN's Jeff Passan on Sunday.
Garcia, 30, spent the past two seasons with the Milwaukee Brewers. He hit .262 in 2021, with 29 home runs and 86 RBIs — both career highs.
Miami had some money to spend in free agency after going 67-95 this past season, and made an early move with Garcia, one that helps shore up the team's outfield.
CEO Derek Jeter had said he planned to be active this offseason.
"For the first time, really since we've been here as an ownership group, I expect to be pretty active — or I should say, have active conversations. There's two sides to it," he said in Octover.