New York Mets announce Billy Eppler as new GM on 4-year contract
NEW YORK — The New York Mets finally found a general manager, hiring Billy Eppler in a move announced Thursday night following their long and ridiculed search.
Eppler was fired as GM of the Los Angeles Angels a little more than a year ago after five unsuccessful seasons. But he landed the same position with the Mets after a recruiting process that became the butt of jokes while dragging on for more than six weeks since the 2021 season ended.
Eppler gets a four-year contract to become the 16th general manager in Mets history and their fifth head of baseball operations in 13 tumultuous months. He will be introduced by the team Friday via Zoom.
With an uncertain offseason already underway, his return to New York marks a major step toward restoring stability in the front-office structure under owner Steve Cohen and team president Sandy Alderson.
"I'm so thankful to Steve and Sandy for what I consider an opportunity of a lifetime," Eppler said in a statement. "We have a lot of work to do and will systematically begin to work towards our goal of building a perennial winner."
The 46-year-old Eppler was GM of the Angels from 2015 to 2020, overseeing five straight losing seasons. The team went 332-376 (.469) under three managers, with a rotating cast of supporting players around Mike Trout and Albert Pujols.
Unable to provide enough pitching, an aggressive Eppler did land some big fish for Los Angeles with the help of owner Arte Moreno's checkbook. He lured two-way sensation Shohei Ohtani to the Angels and signed free agent third baseman Anthony Rendon to a $245 million, seven-year contract. Trout got a $426.5 million, 12-year deal.
"Billy has the experience, character and respect of the baseball community that will allow him to attract the players and front office talent to lead the Mets forward," Cohen said. "He is a leader who has worked in two of baseball's biggest markets and his talents and personality will move us closer to my goal of sustained success."
Although the Angels didn't win much under Eppler, he boosted a previously barren farm system with several prospects now making an impact on the big league level, including All-Star slugger Jared Walsh, Brandon Marsh, Jo Adell and Reid Detmers.
"One of the most honest people I've met in this industry. Great talent evaluator," Angels manager Joe Maddon said of Eppler at the end of the pandemic-shortened 2020 season. "I'm certain he's going to land firmly on his feet."
Two months ago, Eppler joined WME Sports as part of their baseball representation.
"Over the past two decades, Billy has been a scout and an assistant GM," Alderon said. "He's also more than familiar with the New York market. This uniquely qualifies him to lead our efforts going forward. He's smart, he hustles and has a keen eye for identifying talent. He's going to make us better. I am really pleased that we have someone of his caliber leading the Mets."
Eppler graduated from the University of Connecticut in 1998 with a finance degree and worked in scouting and player development for the Colorado Rockies from 2000 to 2004. After that he joined the New York Yankees and became a rising star in their front office. He was director of professional scouting from 2006 to 2011 and an assistant GM under Brian Cashman from 2012 to 2014.
Eppler will surely be busy right off the bat with the Mets, who have 11 players who became free agents and remain unsigned. The group includes infielder Javy Báez and starting pitcher Marcus Stroman. Right fielder Michael Conforto declined the team's $18.4 million qualifying offer Wednesday, and pitcher Noah Syndergaard left the Mets on Tuesday for a $21 million, one-year contract with the Angels.
Syndergaard had also received the $18.4 million qualifying offer from New York.
With a GM finally in place to direct the search, the Mets now will turn their attention to picking a new manager after Luis Rojas was let go Oct. 4 following two losing seasons.
Rojas was hired across town Monday as the Yankees' new third base coach.
Alderson, who turns 74 next week, has been running baseball operations since acting GM Zack Scott was placed on paid leave following his arrest in late August on charges of drunken driving. He was fired Nov. 1.
Scott was promoted to the role in January when Jared Porter was fired after fewer than 40 days on the job following revelations he sent sexually explicit text messages and images to a female reporter in 2016 while working for the Chicago Cubs.
Porter and Scott were hired last offseason after Alderson and Cohen failed in their search for a president of baseball operations. The club hit a similar roadblock this offseason and pivoted to GM again.
Alderson said several candidates were unable to get permission from their current clubs to interview for the job, while others declined because they were too comfortable personally or professionally where they are.
He said he was a little surprised by how many candidates had turned down the Mets. Largely, though, he thought New York itself was keeping people away.
"I don't want to give you a timeline," Alderson said last week at the general managers' meetings in California. "We've already blown through what most people would say is a reasonable timeline."
Alderson, whose son, Bryn, is an assistant general manager with the Mets, did not rule out the possibility that a president of baseball operations could be hired above the GM in a future offseason.
"Assuming we only hire one person, there will be at least a year runway for that person to demonstrate their ability and their potential," Alderson said. "I've said this to others in the past — that's the opportunity. That's all you can ask for. And demonstrated ability tends to get rewarded.
"If you're looking to be comfortable, this is probably not the place, the Mets are probably not the place to come," he added.
Alderson joked at the GM meetings that he'd interviewed so many candidates for the Mets job that "probably half the people are going to be here today."
Late-night talk show host Jimmy Kimmel also found humor in the situation, tweeting that "after much thought, I have decided to withdraw my name from consideration as GM of the @Mets."
Daisuke Matsuzaka ends 23-year career, surprised by Ichiro Suzuki in ceremony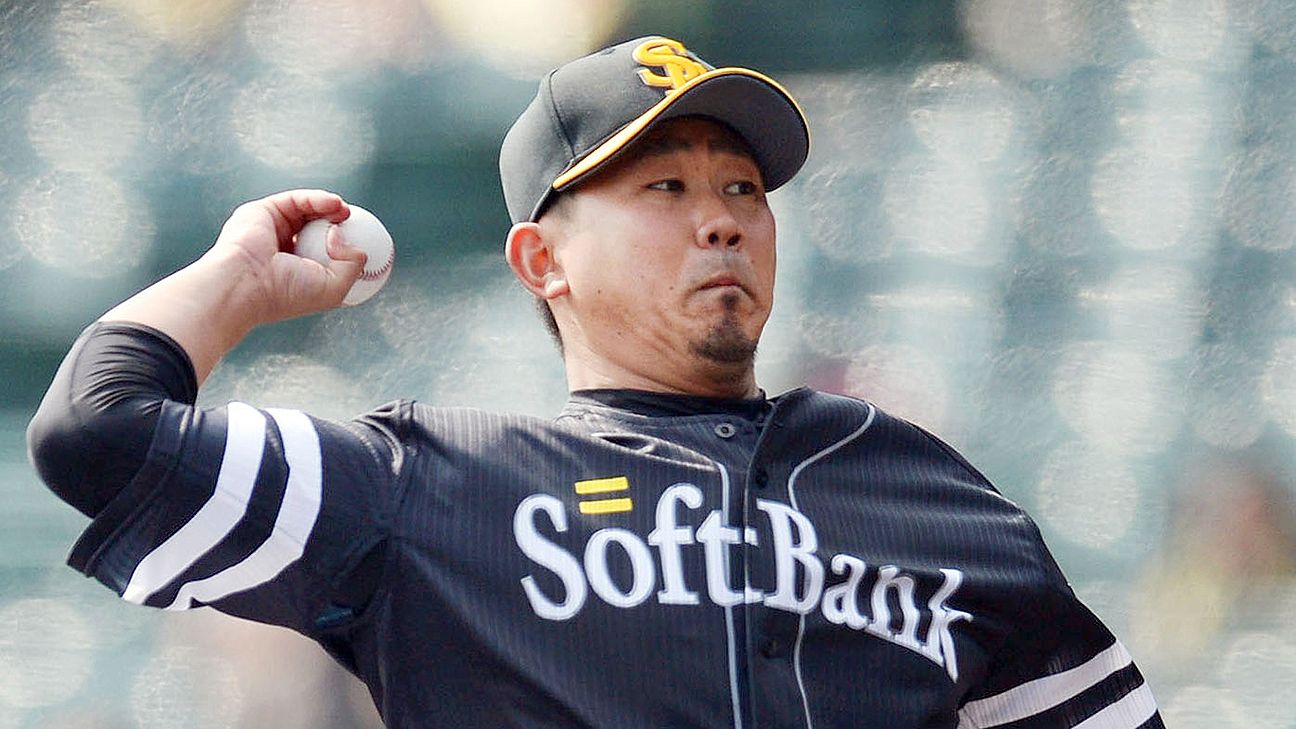 Daisuke Matsuzaka brought his 23-year professional baseball career to a close Saturday in a ceremony that included a surprise appearance by Ichiro Suzuki.
Matsuzaka, who faced only one batter this season for the Saitama Seibu Lions — issuing a walk in an October appearance — told fans at Seibu's MetLife Dome that he was happy to leave the sport on his terms.
"I'm content that I was able to keep playing baseball until I could no longer throw normally in the end," Matsuzaka said, according to Kyodo News.
A video from Suzuki was played, ending with the longtime Seattle Mariners outfielder surprising Matsuzaka on the field and giving him a flower bouquet.
"I hadn't imagined this. It was crazy," Matsuzaka said, according to Kyodo News. "At first I was able to hold up, and then the tears came and I was done for.
"I was surprised and just overjoyed that, at the end, Ichiro-san came to see me. I'm happy I was able to come so far."
Suzuki and Matsuzaka faced each other both in Japan and Major League Baseball over their careers. They were also teammates for Japan's World Baseball Classic titles in 2006 and 2009.
Matsuzaka, 41, was 56-43 with a 4.45 ERA in 132 career MLB starts with the Boston Red Sox and New York Mets from 2007 to 2014. He won a World Series title in his rookie season with the Red Sox in 2017.
He started and ended his career with the Lions, pitching for them from 1999 to 2006 and the past two seasons. He also played for the Fukuoka SoftBank Hawks and Chunichi Dragons after returning to Japan in 2015.
Atlanta Braves shortstop Dansby Swanson and USWNT soccer player Mallory Pugh announce their engagement
Atlanta Braves shortstop Dansby Swanson earned a ring last month. U.S. women's national team forward Mallory Pugh got one this month.
The World Series champion and the World Cup winner announced their engagement on Instagram Thursday night. The two have dated since 2017.
The couple met through Swanson's former teammate Jace Peterson, now with the Milwaukee Brewers, who is married to Pugh's sister.
Pugh plays with the Chicago Red Stars of the NWSL and has been with the U.S. national team since 2016. She played in the 2016 Summer Olympics and the 2019 World Cup, scoring a goal against Thailand.
Swanson made his major league debut with the Braves in 2016. This season, he hit .248 with 27 home runs and 88 RBIs.
The couple is just the latest power couple with connections to the U.S. team. They join Megan Rapinoe and her partner, WNBA star Sue Bird, and Julie Ertz, who is married to Arizona Cardinals tight end Zach Ertz.
Time to put Minnie Minoso in Cooperstown (finally) and more on this weekend's Baseball Hall of Fame vote
As much as it might feel like it, the baseball world has not completely shut down. While the thrilling rush of free-agent signings and trades from the past few days will cease for now because of the lockout, there is a lot of baseball business still to be conducted.
One of the more important items comes this Sunday, when the biggest void in the membership of the Baseball of Hall Fame can be filled: The omission of White Sox legend Saturnino Orestes Armas (Arrieta) Minoso, remembered by history as Minnie.
Minnie Minoso is one of 20 greats who will be under consideration at the winter meetings this weekend for induction to the Hall of Fame. And, yes, the winter meetings will go on even without the presence of Major League Baseball. The minor league portion of the meetings will still take place, and those appointed to consider the Hall's two era-committee ballots will convene, as scheduled.
The ballots are as follows:
• The Early Baseball committee (covers the beginning of time to 1950) will consider Bill Dahlen, John Donaldson, Bud Fowler, Vic Harris, Grant "Home Run" Johnson, Lefty O'Doul, Buck O'Neil, Dick "Cannonball" Redding, Allie Reynolds and George "Tubby" Scales.
• The Golden Days committee (covers 1950 to 1969) will consider Dick Allen, Ken Boyer, Gil Hodges, Jim Kaat, Roger Maris, Minoso, Danny Murtaugh, Tony Oliva, Billy Pierce and Maury Wills.
This is a big weekend for the Hall, which is hoping that 2022 will bring with it the full Hall of Fame induction experience, including the annual Parade of Legends, the induction ceremony itself and the scores of fans who make their way to Cooperstown, New York, each July. After the festivities were canceled because of the pandemic in 2020, 2021 saw a scaled-down version in September in which Derek Jeter, Larry Walker, Ted Simmons and the late Marvin Miller were inducted without parades and with smaller crowds than otherwise would have flocked to upstate New York, particularly for Jeter.
The thing is, Induction Weekend is a heck of a lot more fun — and a bigger draw — when there are actual inductees. And there is no guarantee that this year's BBWAA ballot will produce any new Hall of Famers.
Sadly, of this group of 20, the only candidates still living are Kaat, Oliva and Wills, so obviously it would be great for one or all of that trio to get in. We'll get to that, but for now I want to really focus on Minoso, the most egregious omission in the Hall's plaque room, at least among those not still on the BBWAA ballot.