MLB free-agency grades – Houston Astros bet on more greatness from Justin Verlander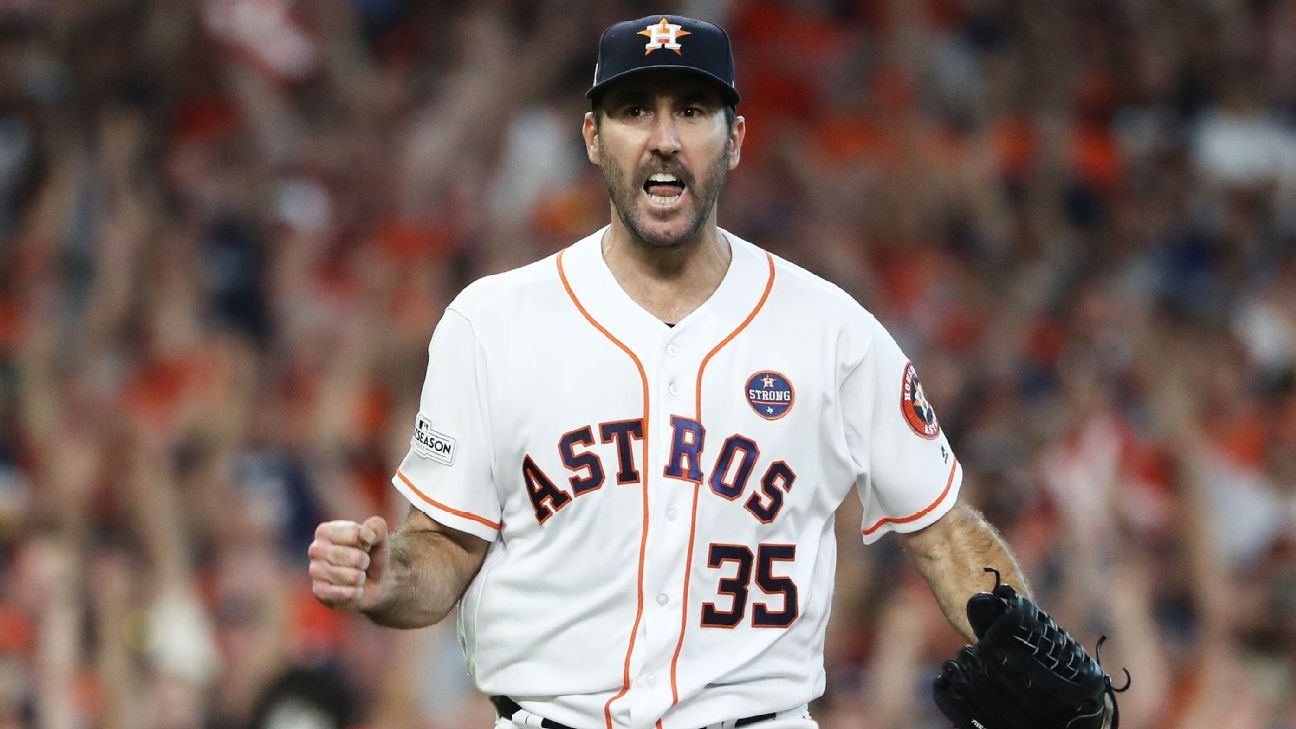 The offseason run on free-agent starting pitchers continued on Wednesday with the news that longtime ace Justin Verlander has agreed to a deal to return to the Houston Astros. ESPN's Jeff Passan reported that Verlander will sign for one guaranteed season at $25 million, plus a player option for 2023, also reportedly valued at $25 million.
How did the Astros do? Let's grade it.
---
Pitchers have come back from two-year, injury-related absences. One encouraging example that ought to be fresh in everyone's mind is 2021 National League Cy Young finalist Zack Wheeler, who did not pitch in a big league game in either 2015 or 2016. New York Yankees righty Jameson Taillon became an elite hurler after missing two straight seasons as a prospect in the Pittsburgh Pirates' system.
The big difference and, hence, the big uncertainty when it comes to Verlander is that most anecdotal cases you can think of where a pitcher missed that much time because of a major injury, and returned to be elite, involved players a heck of a lot younger than him. The history of players of Verlander's ilk, in this situation, is uncertain. The Astros embraced that uncertainty when they declared their willingness to pay Verlander — who has pitched in one big league game in the past two seasons and will be 39 on Opening Day — $50 million for the next two years.
What happens to Marcus Semien's fantasy value in Texas?
The first of the big-name free agent shortstops — or, in this case, second base, which was his primary position in 2021 — is off the board, as Marcus Semien reportedly agreed to sign with the Texas Rangers on Sunday, for a whopping seven years and $175 million.
Semien was the best in fantasy terms from that group, finishing fourth among shortstop-eligibles and third among second basemen in 2021. He's also the oldest, having turned 31 years of age in September, so it's curious to see a rebuilding team like the Rangers turn in his direction. It might be one of the few places where his chances of repeating what was a marvelous past season took a definitive hit.
Kevin Gausman finds new home, agrees with Toronto Blue Jays on $110 million contract, sources say
Right-handed starting pitcher Kevin Gausman and the Toronto Blue Jays are in agreement on a five-year, $110 million contract, sources familiar with the deal told ESPN's Jeff Passan on Sunday night.
Gausman was a reliable back-end starter early in his career, posting a 4.22 ERA, a 1.34 WHIP and a 3.02 strikeout-to-walk ratio while averaging 146 innings per season for the Baltimore Orioles, Atlanta Braves and Cincinnati Reds from 2014 to 2019.
But his career truly took off upon joining the San Francisco Giants, who helped him fine-tune his splitter to form a devastating combination with his four-seam fastball.
Gausman, originally obtained on a one-year, $9 million contract, posted a 3.62 ERA with 79 strikeouts and only 16 walks in 59 2/3 innings during the COVID-19-shortened 2020 season. The 30-year-old right-hander returned to the Giants after accepting the qualifying offer and was even better in 2021, combining a 2.81 ERA with 227 strikeouts and only 50 walks in 192 innings while anchoring the starting rotation for a team that won a major league-best 107 games.
Gausman made his first All-Star team that year, then finished sixth in National League Cy Young Award voting and became one of the most coveted free agents on the market.
Gausman could help fill a new hole in the Blue Jays' rotation. Last week, Toronto lost starting pitcher Steven Matz, who posted a 14-7 record, with a 3.82 ERA in 29 starts last season. The veteran agreed to a four-year, $44 million deal with the St. Louis Cardinals.
ESPN Staff Writer Alden Gonzalez contributed to this report.
MLB free-agency grades – Texas Rangers bet big on their future with Marcus Semien signing
Raise your hand if, like me, you uttered something unprintable when you heard the reported terms of Marcus Semien's new contract and the team that had offered them. That's what we call a knee-jerk reaction, which isn't always rational or correct. Your real response is what you come up with after thinking through the factors involved. Often, then, you see a reason and a rhyme, even with surprising news.
For me, after thinking this deal through, I still think something mildly unprintable, but it's a word that's less severe than my knee-jerk phrase — and it comes with a slightly more positive connotation.
According to ESPN's Jeff Passan, Semien and his representatives agreed to a seven-year, $175 million deal with the Texas Rangers. It's the richest deal by far of this year's free-agent season, matching the average annual value of Justin Verlander's deal with the Astros ($25 million) but for a half-decade longer.
In finding a new team, Semien becomes the second member of the long-anticipated shortstop free-agent class of 2021-22 to find a long-term home (the first being Francisco Lindor, who agreed to an extension with the Mets last season). Let's consider that class with a few numbers from baseball-reference.com:
Here, it's worth noting that Passan is also reporting that Semien is far from likely to be the last of the Rangers' high-level free-agent targets, even among that shortstop class. Still, for now, we'll look at how he fits as if he were the jewel of the Rangers' winter push, and not just a jewel.