F1 Qatar Grand Prix 2021, Max Verstappen, Lewis Hamilton, penalty for incident in Brazil, latest news, practice times, driver standings
The fallout from Max Verstappen's actions during his battle with Lewis Hamilton in Brazil last week is set to roll on through the Qatar Grand Prix this weekend, with the Red Bull driver still at risk of losing points over the incident.
The sport is divided about how the attempted overtake from Hamilton played out, with no punishment dished out to Verstappen at the time.
Hamilton did eventually manage to overtake him and cruise home for the victory but on-board footage from Verstappen's car showed that he made no attempt to make the apex and may have deliberately run his title rival wide.
Stream Every Practice, Qualifier & Race of the 2021 FIA Formula One World Championship™ Live & On-Demand on Kayo. New to Kayo? Start Your Free Trial >
Upon the release of his new footage, Mercedes launched an appeal, the decision of which is set to be revealed before first practice (9pm EDT) on Friday night.
If Verstappen is given a subsequent five-second post-race penalty for his actions, his title lead will be cut from 14 to 11 points as he would have dropped down to third place in the final standings from Sao Paulo.
And now former F1 driver Juan Pablo Montoya has come out saying that Verstappen – as the championship leader – was happy for the pair to collide and both exit the race as a result, thus keeping his lead intact.
"My honest opinion, the way I think Max looks at it is: if they crash he gains points," Montoya told This Week with Will Buxton.
"As long as Lewis doesn't finish ahead of him, he's in a better situation for the championship.
"Lewis was alongside him and cleared him in the braking zone. There was no way as late as he braked he was gonna make the corner. I don't think he had much of an intention of making the corner.
"I don't have anything against Max. I actually really like Max and Red Bull, and they've done an amazing job to bring the fight to Mercedes. But I think they're being surprised of how good Mercedes was."
Max and Lewis go at it again on turn 4! | 00:57
Montoya was also critical of the stewards' role in it all, questioning the consistency in the rules after both Lando Norris and Sergio Perez were penalized for doing something similar to Verstappen earlier in the season.
"In Austria, when people were going side by side and the guy in the outside wasn't given enough room in the corner, because there was gravel, they were penalised, the guy in the inside," he added. "And here that guy drove him completely off the race track. How do you justify [it]?
"Why is Max getting away with this and some other guys don't? I mean, are they applying the rules the same for everybody? Or is Max getting treated different because he's young or whatever you want to call it?
"I'm gonna put another name out there. If [Nikita] Mazepin did that would he then been penalised?"
Verstappen (332.5 points) leads Hamilton (318.5 points) with three races in Qatar, Saudi Arabia and Abu Dhabi to come.
Hamilton will win the championship if he wins all three events however just one more win for Verstappen would make the Mercedes driver's task very difficult, and potentially reliant on a DNF by the Dutchman.
Supercars Championship, Gen3 prototypes, photos, reaction, video
The new era of the Repco Supercars Championship has arrived, with the two Gen3 prototypes unveiled in Bathurst.
The covers came off the Ford Mustang GT and General Motors Chevrolet Camaro ZL1 on the Friday morning of the Repco Bathurst 1000.
The Gen3 cars will make their racing debut in the 2023 Repco Supercars Championship.
The prototype Mustang and Camaro bare a closer visual connection between race and road vehicles than the current model race cars.
Stream every practice, qualifier & race of the 2021 Repco Bathurst 1000 Live & On-Demand on Kayo with no ad-breaks during racing. New to Kayo? Start your free trial now >
Holdsworth tops practice session | 01:18
The new cars will also feature a signature Gen3 V8 engine sound.
The Bathurst unveiling brings the project full circle, with the Gen3 ruleset revealed at the 2020 Great Race.
The last 12 months have been headlined by a painstaking effort by Supercars and the two homologation teams to bring the cars to life.
Dick Johnson Racing has been charged with the development of the Mustang, and Triple Eight Race Engineering the Camaro.
From roof to bonnet, doors to windows, Gen3 cars will share the same key dimensions as the road cars they are based on.
BATHURST 1000 LIVE: Early crash causes drama; Supercars gun's 'extraordinary' feat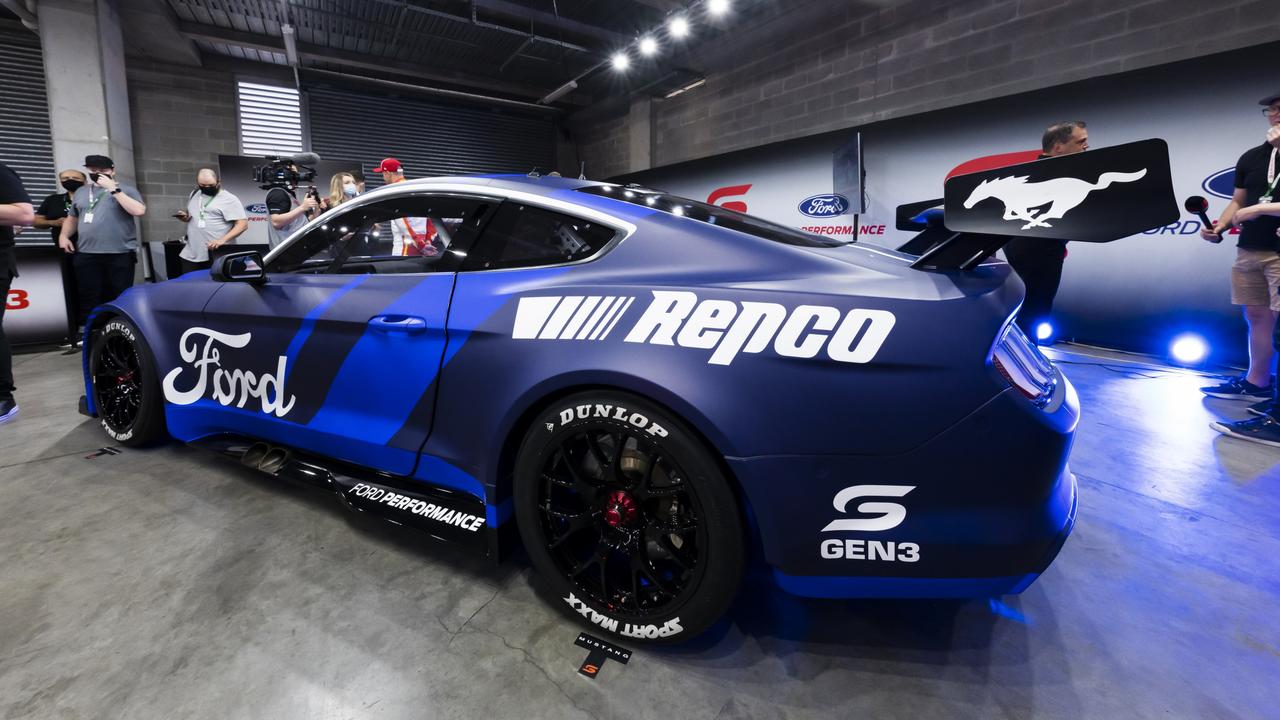 Supercars CEO Sean Seamer was delighted to uncover the future of the Repco Supercars Championship.
"These are incredible looking race cars and it's an historic occasion to be here today, unveiling them at the foot of Mount Panorama, our spiritual home of racing," Seamer said.
"The motorsport and motoring worlds have been watching this announcement very closely as it is a massive opportunity for our sport to step up on several levels and attract a wider audience.
"Both the Mustang and Camaro give a nod to the Supercar of the past, with as much attention given to the design and appearance of the cars as the new technologies.
"With the work of the Gen3 Steering Committee, our manufacturers and the homologation teams, we truly believe these cars will create close racing with a more level playing field.
"The Ford Mustang and GM Camaro are the first chapter of our new era that will be cost-effective for our major stakeholders and teams but retain the very core of our success – terrific and exciting Supercar racing, which is what our fans have been asking us for."
Bathurst drama as Pither rams the wall | 01:28
It was also revealed at Friday's launch that 2021 champion-elect and 2020 Bathurst winner Shane van Gisbergen will have the honour of turning the first laps of Mount Panorama in the Camaro.
Anton De Pasquale will drive the first lap of the Bathurst circuit in the Mustang.
The cars will be on display from Friday at the Repco Bathurst 1000. Demonstrations will be held at events in 2022.
Supercars will return to the track on Friday for Practice 3 at 10:40am AEDT. Click here to view the track schedule.
Every session of the event will be broadcast live on Foxtel (Fox Sports 503) and streamed on Kayo.
This article first appeared on supercars.comand was reproduced with permission.
practice, qualifying, results, schedule, grid, drivers, crashes, how to watch, start time
All eyes will be on the two practice sessions that kickstart Friday's action as the Supercars hit the track in the lead-up to Friday afternoon's qualifying.
Chaz Mostert and Lee Holdsworth made a statement at the practice session on Thursday, proving themselves a genuine contender to look out for at Mount Panorama.
Holdsworth recorded the fastest time of the second co-driver only session while Mostert, who took out the Bathurst 1000 in 2014, had the second quickest time behind Cameron Waters.
Stream every practice, qualifier & race of the 2021 Repco Bathurst 1000 Live & On-Demand on Kayo with no ad-breaks during racing. New to Kayo? Start your free trial now >
Holdsworth tops practice session | 01:18
This weekend presents a perfect chance for Holdsworth to win the Bathurst 1000 in his 18th attempt and first time at the mountain not as a full-time driver since 2005.
Waters recorded a time of 2:05.023 to best Mostert and Dick Johnson Racing's Will Davison.
There were plenty of the usual suspects making up the rest of the top 10, including James Courtney, Mark Winterbottom, Tim Slade, Shane van Gisbergen, Todd Hazelwood, Nick Percat and Brodie Kostecki.
Meanwhile, Thursday was a disaster for Brad Jones Racing with Macauley Jones and Chris Pither both having issues.
Pither crashed their Commodore with less than two minutes on the clock in P2 while Jones had power-steering problems in the first session.
ULTIMATE GUIDE: Full schedule, weather forecast and favourites
Up in smoke! Jones' practice turns ugly | 00:46
The next co-drivers only practice session begins at 10.40am while the lead drivers will take to the track for practice at 1.30pm.
Later in the afternoon the grid for the Great Race will be settled by the regular qualifying.
There was plenty of early drama on Thursday, with two big crashes in qualifying for the support categories.
Follow all the action from the track in our live blog below! Can't see it? Click here!
Saudi Arabian Grand Prix, Lewis Hamilton, Max Verstappen, championship race, cheating, feud, Red Bull
Lewis Hamilton has hit back at cheating accusations while Max Verstappen has rejected the notion his rival's previous title showdown experience would give him any advantage at this weekend's inaugural Saudi Arabian Grand Prix.
Verstappen can clinch the title if he outscores Hamilton by 18 points in Monday morning's [AEDT] race on the perilous and unforgiving wall-lined high speed street circuit, which is hosting a Grand Prix for the first time.
The title race though is far from over, as is the case with the ongoing feud between Red Bull and Mercedes.
Stream Every Practice, Qualifier & Race of the 2021 FIA Formula One World Championship™ Live & On-Demand on Kayo. New to Kayo? Start Your Free Trial >
Hamilton closes the gap with Qatar win | 01:29
Speaking to The Telegraph, Hamilton has clapped back at claims his Mercedes team is benefiting from cheating in its bid for success this season.
It comes after repeated claims from Red Bull boss Christian Horner of social media evidence proving Mercedes used components that were a "clear breach" of regulations.
"We all have egos and that's what controls our emotions and it is egos fighting each other," Hamilton told The Telegraph.
"There is defence, there is respect. But what is important… I did see someone say something about cheating and that's the worst claim to make.
"I called [Mercedes senior engineers] James Allison and Mike Elliott and said 'I really want to know about these things' and they took me through details of where we are.
"We have done all these tests and this is where it is. But I don't like it when people put that out there. I don't think we have exploited any loophole.
"They [Red Bull] did at the start of the year with their wing and then they changed that rule and now it is much stricter and the wing can't do anything."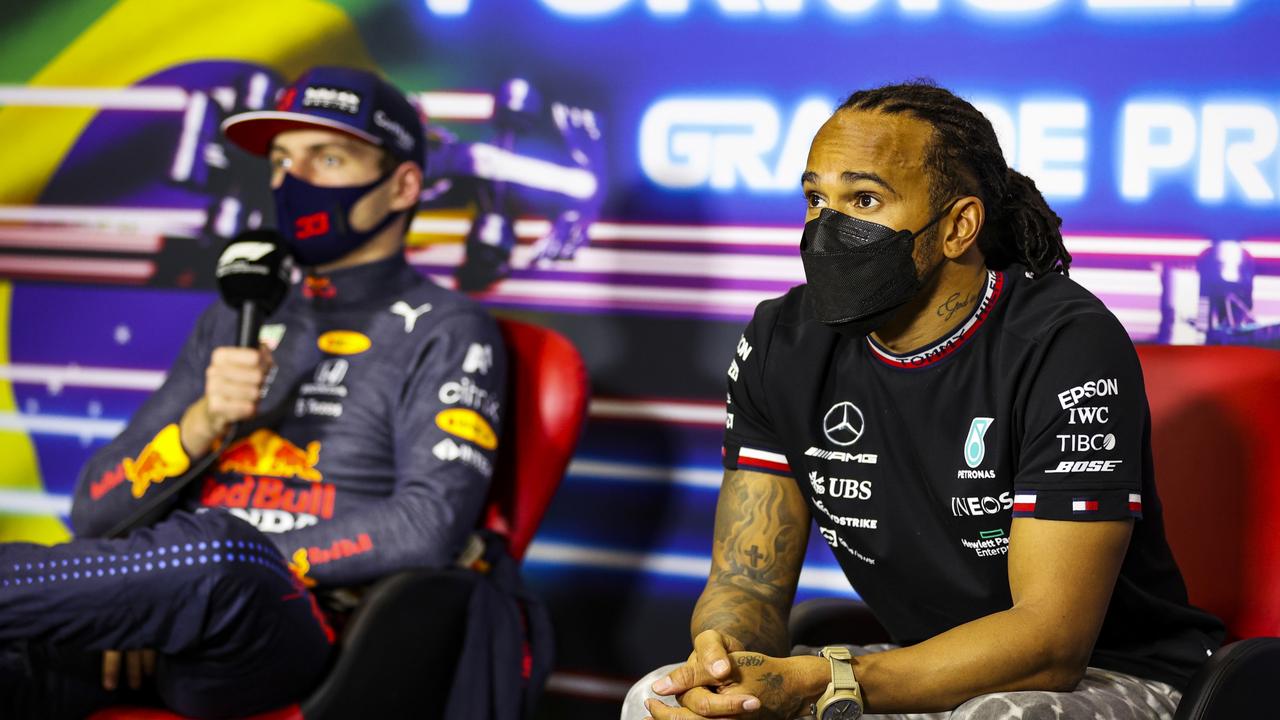 The drama adds just another element of intrigue to a tense championship duel between Verstappen and Hamilton.
Verstappen, who holds an eight-point advantage ahead of the final two races of the season, said he did not believe the seven-time champion's previous experiences could make much difference.
The Red Bull driver said it was to be expected that the 36-year-old Briton had progressed in his career and stressed, instead, that he had enjoyed his season-long scrap with the Mercedes man.
"Well, I think it's natural, of course, that when you are in this stage of your career, you're better prepared than you were in your first or second season, when Lewis was fighting for his first title.
"I think that's just a natural progression and it's very normal. I mean, I also feel much better prepared and more experienced than when I just came into Formula One.
"So, no, I don't think that it makes a big difference otherwise it would have shown already throughout the season.
"As a driver, you always keep learning even when you're 30, 35, 40. You learn through experience.
"Naturally, you become quicker, but you maybe know or understand how to deal with certain situations, or prepare yourself better – these things are pretty normal."
After a serene Hamilton had declared himself as utterly at ease, Verstappen followed in similar fashion, offering a calm, gentle and often-bland approach to questions from reporters at the Jeddah Corniche Circuit.
He evaded all questions that could prompt a controversial answer and revealed none of the once-familiar bluntness that characterised his early career in F1.
Asked about his chances of winning the title and becoming the Netherlands' first world champion driver, he said: "It doesn't matter where we end up because we've had a really good season as a team. To be in this title fight to the end is really impressive from our side, we are not looking at others."
"I think last year I had, for my feeling, also a very good season, but I'm always looking at myself and what I can do better. You learn throughout every single season certain things, what you can do better.
"Even when I win a race, I always look at things that could have been better, or in general throughout the whole weekend.
"But I think fighting against Lewis, in general, has been good for the sport. It's a young guy against the established multiple champion. I think it's just very exciting.
"So, for me, at the end of the day, it doesn't matter if you're fighting against someone who's my age or a world champion.
"You know that both of them are great drivers. Some might have had a bit more luck, in general, to be in a good car for a longer time, but that doesn't take away that they're a great driver.
"We always try to beat each other, of course, but I think so far it's been a really cool season."