Ole Gunnar Solskjaer sacked after Manchester United 4-1 loss to Watford, Premier League, manager, replacement
Ole Gunnar Solskjaer has officially been sacked as Manchester United manager following a humiliating 4-1 defeat at Watford.
Solskjaer admitted he was "embarrassed" after his team's fifth defeat in their last seven Premier League games.
The Times, The Guardian and the Manchester Evening News reported that the result of an emergency board meeting called after the Watford defeat was to bring the Norwegian's three-year spell in charge at Old Trafford to an end.
Watch the world's best footballers every week with beIN SPORTS on Kayo. LIVE coverage from LaLiga, Bundesliga, Ligue 1, Serie A, Carabao Cup, EFL & SPFL. New to Kayo? Start Your Free Trial >
Manchester United confirmed the news on Sunday morning (UK time).
Michael Carrick takes over in the immediate future while the club is still looking for an interim manager to complete the season.
Solskjaer finishes with a record of 91 wins, 37 draws and 40 losses as Manchester United boss.
He signed a new three-year contract in July and will reportedly be handed a £7.5 million compensation package.
Former Real Madrid boss Zinedine Zidane, Leicester manager Brendan Rodgers and Ajax coach Erik ten Hag are the frontrunners to be Solskjaer's successor.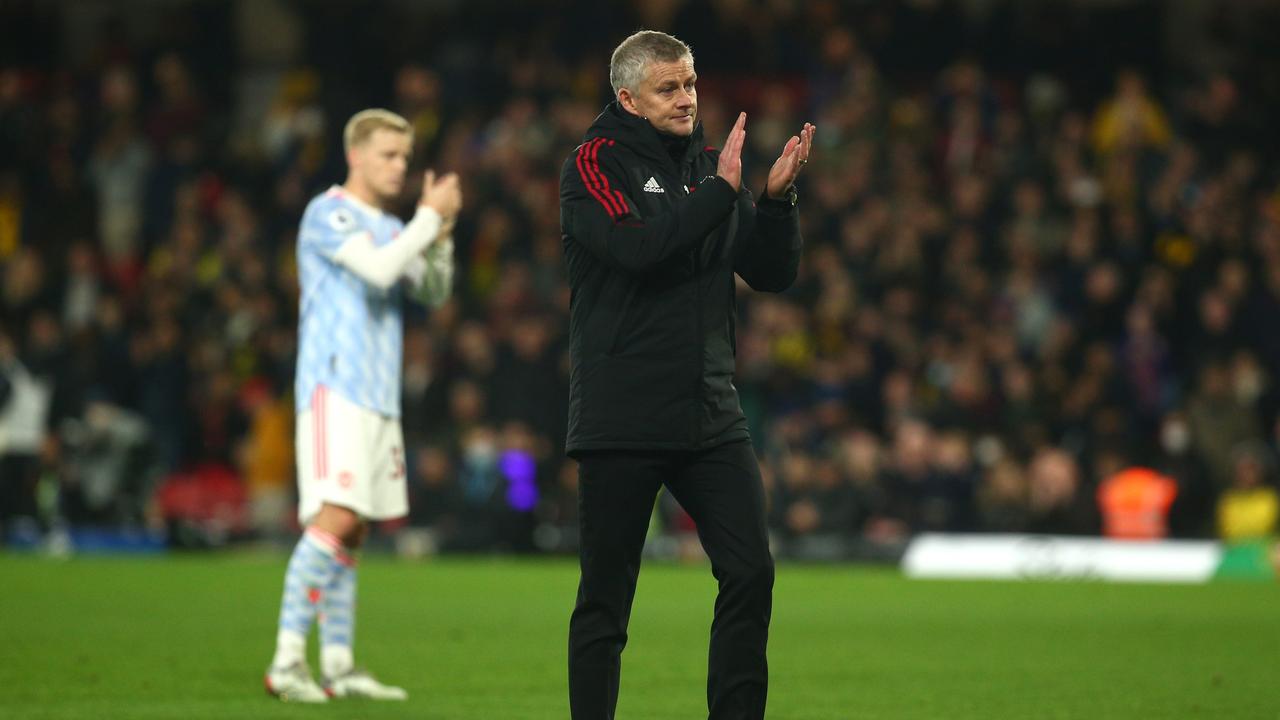 Read a full wrap of all Premier League action here!!!
'Sick of it': Fuming PL coaches held apart in heated touchline bust-up
United are in disarray after a fifth defeat in seven Premier League matches left them 12 points behind leaders Chelsea and out of the title race after just 12 matches.
The club's hierarchy stuck by Solskjaer during the recent international break despite humiliating home defeats to Liverpool and Manchester City.
But worse was to come at Vicarage Road as the struggling Hornets could afford to miss a first half penalty twice and still run out comfortable winners.
Claudio Ranieri's feisty Watford led 2-0 after dominating the first half against the shoddy visitors, courtesy of goals from Joshua King and Ismaila Sarr.
United pulled a goal back shortly after half-time through substitute Donny van de Beek but their job was made much harder when captain Harry Maguire was sent off with just over 20 minutes to go.
Liverpool swat Arsenal aside with ease | 00:46
Substitute Joao Pedro finished off United's hopes with a late third and Emmanuel Dennis rubbed salt into Solskjaer's wounds.
The United boss said he still believed in his ability to turn things around at the beleaguered club, apologising to angry fans.
"I feel for the fans and I feel the same as them," he told Sky Sports.
"We know we are in a very bad run and a bad situation, but that's football and I know they'll support whoever is on the pitch every day and sometimes you've got to say 'Sorry'".
Solskjaer said the recent signings of Cristiano Ronaldo, Jadon Sancho and Raphael Varane had raised expectations at Old Trafford, but the club has gone backwards quickly after finishing second last year.
"I understand the fans, who have supported the club through thick and thin, and have been great over the last few years. It's a difficult period, we have had a hard time since Sir Alex left, and the fans who have been here – since I came in – have been unbelievable," Solskjaer said.
Gerrard claims first win as Villa coach | 01:23
"They understood the situation, the signings this summer raised expectations, rightly so, because we brought some top players in and having been second last year, we hoped to kick on.
"At the moment, we can't seem to find our form, and it's their right to show their opinion. But as Bruno is such a passionate man, he knows football can change quickly."
Goalkeeper David de Gea was even more scathing in his assessment of United's poor display.
"It was hard to watch the team playing today — it was nightmare after nightmare," he said. "It's not acceptable.
"We are trying to give our best and fight for the team but for sure something is very wrong. You can see in the games — it's very low level, very poor. Sorry to the fans, once again."
But he urged fans to point their fingers elsewhere.
"It's easy to blame the manager or the staff but sometimes it's the players."
Liverpool legend and pundit Jamie Carragher claimed the position has become 'untenable'.
"I mean what are they going to talk about? [at the board meeting] – It's obvious. I don't think the board meeting will last too long. It's getting to the stage where it becomes untenable.
"We all know sooner or later that Manchester United will have a new manager, but when it gets to this stage now you actually look at Ole as an individual and human being and think it's not good for him to be the Manchester United manager right now.
"I've not been a manager, but if you've got a crop of those players – and I don't care what anyone tells me, Manchester United have got quality players – you can't lose to Watford 4-1. You can't."
Solskjaer has managed to ride out the storm during previous poor runs since taking charge in 2018.
But United's latest slide comes after heavy pre-season investment on Cristiano Ronaldo, Jadon Sancho and Raphael Varane that were expected to turn the team into title-winners for the first time since 2013.
Financial results released this week for the first quarter of the season showed United's wage bill has risen 23 percent.
However, that has not been rewarded on the field as the Red Devils find themselves 12 points adrift of Premier League leaders Chelsea down in seventh and out of the League Cup.
Much more was expected after steady progress during Solskjaer's first two full seasons in charge.
He secured back-to-back top-four finishes in the Premier League for the first time since the club's decline began with Alex Ferguson's retirement as manager in 2013.
However, Solskjaer, who famously scored United's winning goal in the 1999 Champions League final against Bayern Munich, has failed to win a trophy since his return to the club.
His legendary status as a United player meant the 48-year-old retained the support of fans even as results went downhill in recent months.
But even they began to turn on him on Saturday as he was booed while holding his hands up in apology.
Lionel Messi, Cristiano Ronaldo, voting, past winners, reaction, analysis
Together, Lionel Messi and Cristiano Ronaldo have won 12 of the past 13 editions of the Ballon d'Or.
Messi's triumph at the ceremony on Tuesday morning capped off what is now over a decade of dominance from the superstar pair.
But that dominance finally seems to be coming to an end, with even Messi hinting at as much in his acceptance speech.
Watch the world's best footballers every week with beIN SPORTS on Kayo. LIVE coverage from LaLiga, Bundesliga, Ligue 1, Serie A, Carabao Cup, EFL & SPFL. New to Kayo? Start Your Free Trial >
Kerr finishes third in Ballon D'or | 00:30
"It is incredible to be here again," Messi said, the emphasis here on the word 'again'.
It suggested an element of surprise from the Paris Saint-Germain superstar, which he would go on to address right after.
"Two years ago I thought that it was my last year and now I am here again," he added.
"I am very happy, very excited and wanting to fight for new challenges."
Some might question whether Messi really deserved to win his latest Ballon d'Or prize ahead of other worthy candidates, but the Argentinian has been rewarded for continuing to be so good for so long.
The most turbulent year of Messi's glittering career, in which he was forced to tearfully bid farewell to Barcelona, ends with him — at the age of 34 — claiming a record-extending seventh Ballon d'Or for the best player in the world.
In Germany they thought it had to be Robert Lewandowski's year after he missed out 12 months ago when the 2020 edition was scrapped due to the pandemic.
Karim Benzema might have had plenty of support in Spain for his remarkable performances with Real Madrid, and Jorginho could stake a claim following a year in which he won the Champions League with Chelsea as well as Euro 2020 with Italy.
Yet it is the enduring brilliance of Messi — who won the last award in 2019 — which stays in the minds of the jurors when it comes to voting.
Ronaldo's role sparked HEATED debate | 01:51
That enduring brilliance though has faded at times this year, with his performances at PSG underwhelming.
More significant of course was Messi's role in leading Argentina to their first Copa America triumph since 1993.
He was named player of the tournament, finishing with four goals and five assists to prove his worth once again on the international stage.
Messi's hopes of a record-extending eighth Ballon d'Or will largely depend on Argentina's success at the World Cup.
Otherwise, along with Ronaldo, the pair's reign at the top of football world may be over with a new generation of talent being ushered in.
Although no-one is likely to ever top Messi's incredible seven Ballon d'Or wins, solidifying his spot in the history books.
As for Ronaldo, 2021 saw him finish sixth in voting – the first time since 2010 he had polled outside of the top three.
Unreal action as Sancho and Vardy score | 01:09
It coincides with growing question marks over the 36-year-old striker's role at Manchester United amid the arrival of interim coach Ralf Rangnick.
The Ballon d'Or, instead of holding more widespread significance, has for so long instead come to define Messi and Ronaldo's tussle for the throne.
The voting system was and still is tied up in perception and global appeal.
While Robert Lewandowski may have become the first German-based player to finish in the top two since 1996, the fact the did not win speaks volumes itself.
Messi admitted as much himself.
"It is a huge honour to fight with Robert [Lewandowski]," he said.
"Last year you were the winner and I think France Football should give it to you."
Lewandowski won the Bundesliga and was the European top scorer, while also breaking Gerd Muller's 40-goal German record with 41 goals in 29 games.
Yet it did not happen in the Premier League or La Liga and for many, that was the difference between the Polish superstar and Messi, regardless of whether it is wrong or right.
The hope is that when the time comes, where Ronaldo and Messi no longer solely dominate Ballon d'Or discussions, it will force voters to adopt a more nuanced idea of what it means to be the 'best'.
That time appears to have already come, with Lewandowski widely tipped to take out the top gong ahead of Messi.
That did not happen but his presence in the voting, along with Karim Benzema, Jorginho and N'Golo Kante hinted that times are changing.
Lionel Messi wife, kids photo, Cristiano Ronaldo, Robert Lewandowski
Lionel Messi has won a record-breaking seventh Ballon d'Or award — but his family members were the real winners.
The Argentine footballer was recognised as the greatest footballer on the planet on Tuesday morning in a glamorous, black-tie affair in Paris.
Before even walking into the event, Messi had won in the eyes of the internet when the 34-year-old walked past the throng of cameras with wife Antonella Roccuzzo and their three sons.
A family photo showing Messi dressed in identical outfits to his three children pulled at the internet's heart strings.
Unfortunately, it revealed all too much.
Fans around the world knew instantly Messi had won the award, judging by the family's extravagant entrance.
Voting for the award is one of the closest-kept secrets in sport before the results are announced, but the secret was out before Messi had even sat down.
It is rare that Roccuzzo, a 33-year-old Argentine model, is not the centre of attention when the family makes public appearances.
Roccuzzo and Messi were married in 2017 after going public with their relationship in 2008, although they are thought to have been together for some time before that.
It was their adorable children Ciro, Mateo and Thiago, that stole the show on Tuesday.
The internet could not get enough of it.
Ciro, Mateo and Thiago also produced an adorable moment during the ceremony when their father was again recognised as the world's best footballer.
Their reactions to the announcement were too much.
The only time Messi broke a smile during his acceptance speech was the moment the cameras showed his children on the big screen.
"It is incredible to be here again," Messi said after accepting the award.
"Two years ago I thought that it was my last year and now I am here again. I am very happy, very excited and wanting to fight for new challenges.
"I do not know how long I have left but I hope it will be a long time. I want to thank my teammates from Barcelona and PSG, and especially the Argentina team. I won this award and I had the feeling that I was missing something and this year I was able to achieve it.
"A large part of this trophy is because of what we did in the Copa America, so thanks to my teammates, this is also yours. My wife, my children, my father, my mother are here.
"It is a huge honour to fight with Robert [Lewandowski]. Last year you were the winner and I think France Football should give it to you."
Messi won the last edition of the Ballon d'Or in 2019 before last year's awards were cancelled due to the pandemic. He also won in 2009, 2010, 2011, 2012 and in 2015.
The 34-year-old scored 38 goals in 48 games last season for Barcelona and won the Copa del Rey before captaining Argentina to Copa America glory in July.
That was the first major international title of his glittering career, which had been spent entirely with Barcelona before his tearful departure from the Camp Nou in August and subsequent move to Paris Saint-Germain.
Messi has played just 11 games for PSG so far, scoring four goals, but he was rewarded as much as anything for his continued brilliance down the years.
He has now won the Ballon d'Or twice more than his old rival Cristiano Ronaldo — between them they have won 12 of the last 13 editions with the exception coming in 2018 when Luka Modric claimed the prize.
Prolific Bayern Munich striker Robert Lewandowski finished second and Chelsea and Italy midfielder Jorginho was third in the voting by a jury of journalists from around the world.
Ronaldo, meanwhile, came in sixth.
— with AFP
Man Utd owners Glazers decide stance on making January signings for new boss Ralf Rangnick
MANCHESTER United have appointed Ralf Rangnick on an interim basis.

Source link