Lewis Hamilton wins over Max Verstappen, Daniel Ricciardo position, points, standings
Lewis Hamilton won Sunday's inaugural Qatar Grand Prix with a commanding performance from pole to cut Max Verstappen's world championship lead to eight points and set up the kind of thrilling end this unforgettable Formula One season deserves.
The Mercedes seven-time champion comfortably held off his arch Dutch rival's Red Bull under the Losail circuit's lights to leave the battle for the F1 drivers' crown delicately poised with only two races remaining.
One week on from arguably his toughest and greatest win in Brazil, Hamilton enjoyed one of his easiest.
Stream Every Practice, Qualifier & Race of the 2021 FIA Formula One World Championship™ Live & On-Demand on Kayo. New to Kayo? Start Your Free Trial >
READ MORE
DANIEL RICCIARDO'S F1 CURSE DEEPENS AFTER 'UNUSUAL' ISSUE KILLS COMEBACK
RED BULL BOSS VIOLATES F1 CODE IN FURIOUS REACTION TO 'CRUCIAL BLOW'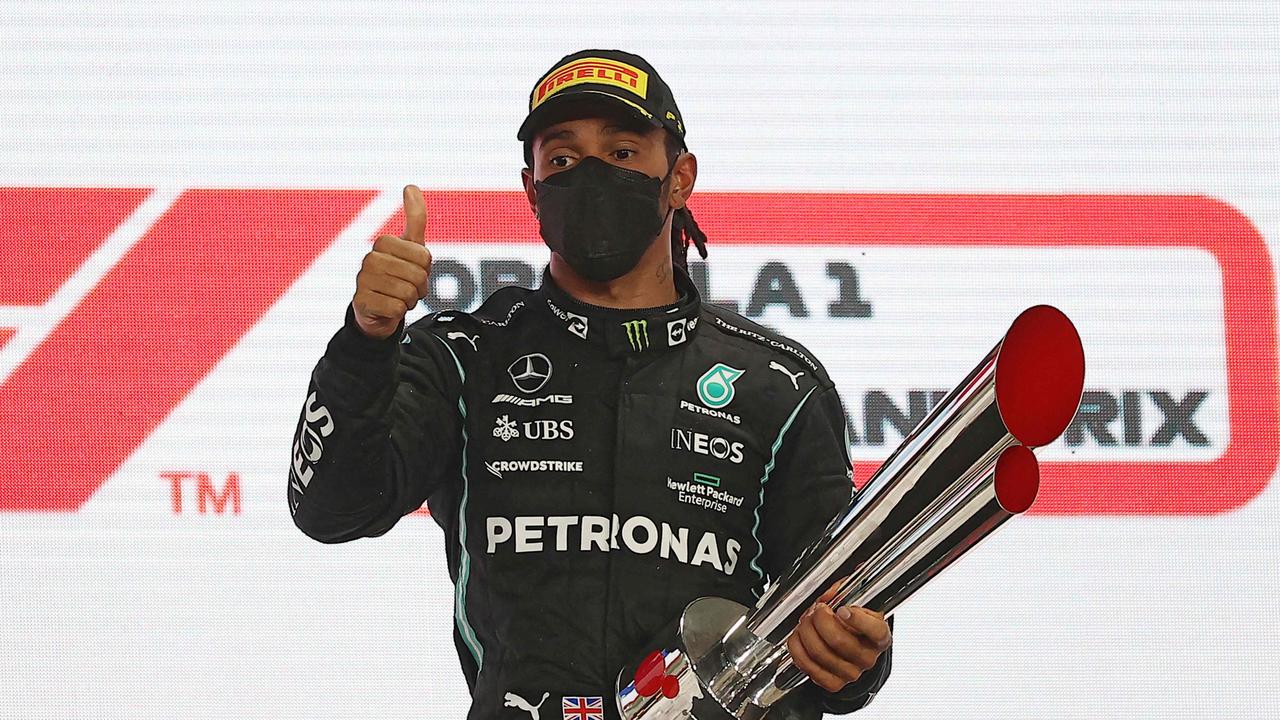 And after an unprecedented eighth world title appeared to be slipping from his grasp after Verstappen's wins in the USA and Mexico, it is the 36-year-old Briton rather than the 12-year-younger pretender who has the momentum.
"I can't wait to watch the race replay to find out what happened behind me," he said after his 102nd career win.
"It was pretty lonely at the front — of course I enjoy those races where you are battling through but we needed those points today.
"It's been a hell of a year. Back-to-back wins here, feel good, I feel fit, fitter than I've ever felt. Bring on the next two!"
Verstappen, who was demoted from second to seventh on the grid for a yellow flag infringement in qualifying on Saturday, took second, and picked up a point for the fastest lap.
"Our starting position was compromised, but luckily we had a really good start," he said.
"Of course, I know it's going to be difficult to the end but it keeps it nice, keeps it exciting. This track was fun to drive as well. I feel good, but it's going to be a tight battle to the end."
Red Bull boss Christian Horner received an official warning from race stewards for pre-race comments made about Verstappen's penalty.
Horner was summoned to the stewards after the race after he had said: "We're really struggling to understand it. It looks like a complete balls-up.
"I think it's just a rogue marshal that's stuck a flag out. He has not been instructed to by the FIA. They've got to have control of their marshals, it's as simple as that."
Horner offered to apologise to the marshall involved and to also take part in a stewards program in February, which the stewards accepted.
Meanwhile, Hamilton's faster engine, fitted last weekend in Sao Paulo, will likely give Red Bull a tough time again at the ultra quick new circuit in Saudi Arabia in a fortnight's time ahead of the season-closing race in Abu Dhabi in mid-December.
Fernando Alonso took third for Alpine, the former two-time world champion's first podium since 2014, the grizzled 40-year-old getting a huge cheer from the crowd.
Daniel Ricciardo couldn't salvage any points from the weekend and finished 12th for McLaren.
– World Cup –
The 20th race of the season was being held one year to the day to the start of the football World Cup in Qatar and the trophy was on display, as were some of the game's finest — David Beckham, Andrea Pirlo and John Terry getting a touchline view of how fast Hamilton takes corners.
Sporting the rainbow helmet he wore in practice and qualifying to raise awareness for human rights and equality, Hamilton got off to a dream start, quickly drawing away from the pack as Verstappen jumped up from seventh to fourth.
The charging Verstappen knocked off Pierre Gasly's Alpha Tauri to move into third by lap four, with Alonso falling shortly after to leave only Hamilton in his cross hairs.
With the new engine fitted before Brazil firing on all cylinders, Hamilton was leaving his Red Bull pursuer for desert dust.
Verstappen, trailing by nine seconds, was the first to pit on lap 18, resuming in second.
Mercedes covered that move, hauling Hamilton in on the very next lap with the Briton resuming with a lead of around eight seconds.
Like a game of shadow boxing, Mercedes carried out the same tactics the next time Verstappen pitted, leaving Hamilton to coast to victory and Red Bull puzzling over what they can do to keep their championship hopes alive.
Whilst there are numerous routes either driver can take to the 2021 crown, Verstappen will claim it if he wins in Saudi Arabia in a fortnight's time and Hamilton is out of the top 10.
Mercedes did not have all their cards fall kindly for them though this weekend as Valtteri Bottas picked up a late puncture to leave the Silver Arrows with only a five-point lead over Red Bull in the constructors championship.
Bottas quickest ahead of Gasly after P2 | 01:00
Follow the F1 Qatar Grand Prix live from Monday 1AM AEDT in our Race Centre!
Daniel Ricciardo has McLaren fuel issue, position, points, standings, Lando Norris
Daniel Ricciardo was once again left scratching his head on Monday (AEDT) after another car issue plagued his Qatar Grand Prix.
For the third-consecutive race, Ricciardo failed to claim any points, finishing in 12th — two places higher than his qualifying position.
The back-end of Ricciardo's season has seen the Australian endure a number of issues with his McLaren, with the most recent being an unexplained fuel problem.
Stream Every Practice, Qualifier & Race of the 2021 FIA Formula One World Championship™ Live & On-Demand on Kayo. New to Kayo? Start Your Free Trial >
It brought to a close a sorry triple-header that has left Ricciardo exhausted and needing a break heading into the season's final two races.
"Unfortunately, a pretty disappointing end to the triple-header today," he said.
HAMILTON DEALS VERSTAPPEN FRESH TITLE BLOW AS RB LEFT FUMING OVER 'COMPLETE BALLS UP'
Alleged Mercedes cheating explained | 01:26
"We ran into some issues with fuel, and we had to save which dictated our race. So, not sure what happened but we obviously need to look into it."
He added: "I'm looking forward to moving on. I think a weekend off is necessary for everyone involved.
"We'll debrief now, try to understand the issues today and then we've got some sim time next week to get ready for the last two. Let's finish strong."
Team boss Andreas Seidl was also at a loss to explain the issue.
"For Daniel, it was always going to be tough to get into the points from P14. He drove a very strong first stint that pulled him up into contention, but then had to save an unusually high amount of fuel," he said.
"We'll have to investigate why that was required on his side."
Ricciardo's teammate Lando Norris experienced no such issues and was even in contention to finish fourth, although a late puncture relegated him to ninth. He was one of four drivers to suffer a late puncture.
After victory in Monza and three other top-five finishes immediately the mid-season break, Ricciardo looked set for a strong finish to the year but has seen his campaign take a dive.
Norris, meanwhile, hasn't failed to finish inside the points since the Belgian Grand Prix and now has a 48-point advantage over Ricciardo in the drivers' standings.
Only two races remain in 2021, starting with the Saudi Arabian Grand Prix in two weeks' time.
F1 Brazilian Grand Prix 2021, winner, results, Max Verstappen, Lewis Hamilton, drivers championship, tie breaker, points, next race, calendar
There are three races to go and only two title contenders remaining. This Formula 1 season is going to go right down to the wire.
Lewis Hamilton's stunning last-to-first victory at the Brazilian Grand Prix on Monday morning (AEDT) means the closest title fight since 2016 is set to go all the way down to the wire.
Only Hamilton and leader Max Verstappen are mathematically able to win the title now, with the Dutchman's lead cut to 14 points.
The two have dominated the championship this season, appearing together on the top two steps of the podium in 11 of the 19 races to date.
Verstappen has accumulated 332.5 points through those 19 races, while Hamilton has 318.5, with just three to go before the season – and the turbo-hybrid era – are complete.
Stream Every Practice, Qualifier & Race of the 2021 FIA Formula One World Championship™ Live & On-Demand on Kayo. New to Kayo? Start Your Free Trial >
Max and Lewis go at it again on turn 4! | 00:57
READ MORE:
'MASTERCLASS': HAMILTON PENALTY CAUSES PANIC AS CHAMP OVERCOMES UGLY MAX RUN IN DURING F1 DRAMA
'WE COULDN'T FIX IT': DISASTER STRIKES TO END RICCIARDO'S 34-RACE STREAK IN DOUBLE MCLAREN BLOW
'BRUSHED IT UNDER THE CARPET': MERCEDES FUME AT 'LAUGHABLE' DECISION IN F1 CHAOS
Hamilton has dominated that era, winning six of the seven titles up for grabs, with the only one missing going to his then teammate Nico Rosberg in 2016.
That season was decided at Abu Dhabi, which is likely to decide this season too, but there are is plenty to happen between now and then.
Technically, it is still in the hands of both drivers.
Should Hamilton win the remaining three races, even if Verstappen finished second in all three, he will overhaul the 14-point difference to win the championship by a point.
But it could be even closer than that, with three bonus points on offer for the fastest lap between now and the chequered flag in Abu Dhabi to throw a mathematical spanner into all possible permutations.
There is of course the very realistic chance that both Hamilton and Verstappen could end up on identical points totals by the end of the season – all it would take is for three more Hamilton-Verstappen 1-2s but the Dutchman to take one more fastest lap than his rival.
Should that happen, F1's tie breaker is simple: Whoever won the most races over the course of the season is champion.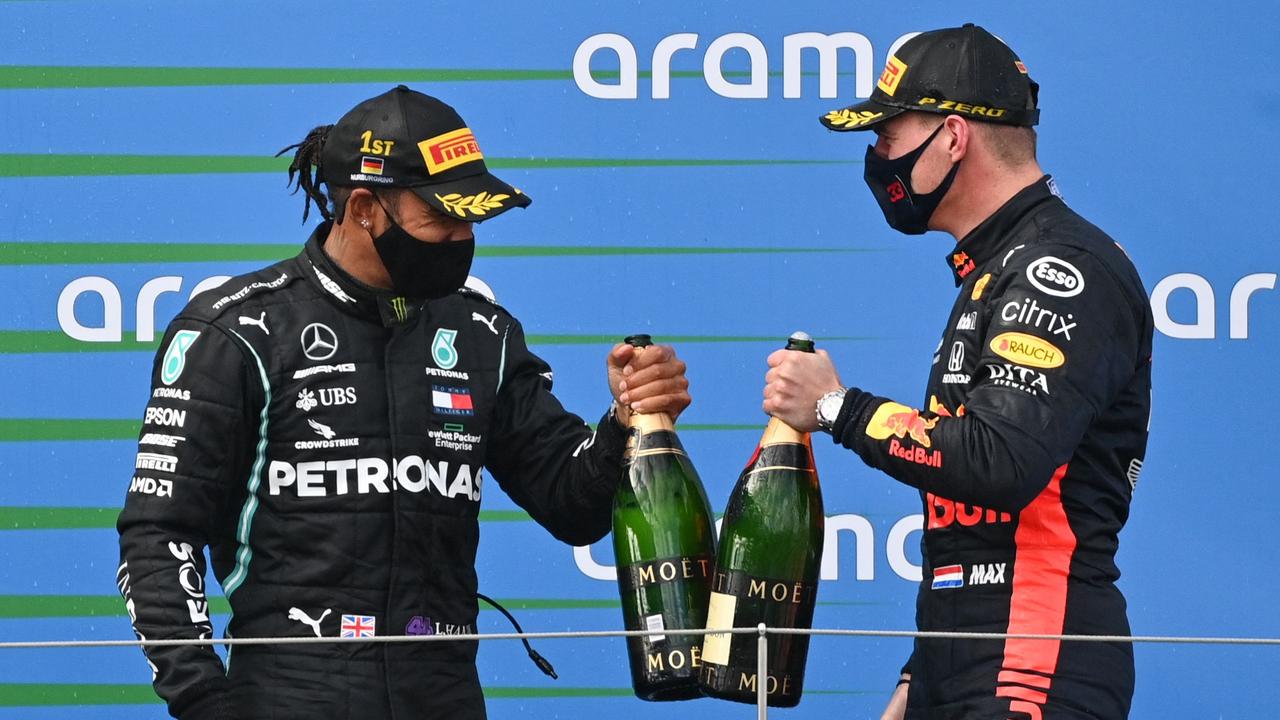 Currently, Verstappen leads that statistic 9-6, but for this permutation to happen, Hamilton would need to win all three of the remaining races, which would mean they'd be tied 9-9 on races won.
In that incidence, we'd go to second-place finishes, which Hamilton currently leads 7-6, but Verstappen would overtake him on to lead 9-6 and therefore become champion.
In fact, other than finishing ninth in Hungary, second is the lowest finish Verstappen has had all season excluding retirements.
Of course, one more win for Verstappen would mean Hamilton would be relying on another one of those retirements to have any chance of overhauling him from there.
The further twist in the tail is that of the final three races, two are at tracks none of the drivers have ever raced at before.
Qatar, which is the next race up this weekend, was called in at the eleventh hour to replace the Australian Grand Prix before it joins the F1 calendar permanently in 2023 on a 10-year contract.
Is Max too close for comfort? | 00:27
It is also the debut of the Saudi Arabian Grand Prix the following weekend, which again no driver has ever driven at before either and will provide further uncertainty.
The season finale is in Abu Dhabi as it has been for the last few seasons but will have some tweaks and modifications to the track the drivers know so well. Hamilton has been on the podium there 9 times since 2009, including five wins. Verstappen won it in 2020, second in 2019 and third in 2018.
All three are night races and bound to involve huge levels of tension and – inevitably – drama.
Game on.
Valentino Rossi retires, Remy Gardner Moto2 world champion
Valentino Rossi was described as an "idol" as he closed the door on his career with a 10th-place finish at the season-ending Valencia MotoGP, won by Ducati's Francesco Bagnaia, appropriately one of the great Italian's proteges.
The 42-year-old Rossi, a nine-time world champion across all categories, took all the applause from the 75,000 crowd as he rode an ovation lap in Valencia, which was his 432nd GP since starting his career back in 1996.
Stream Every Practice, Qualifier & Race of the 2021 Moto GP Championship Live & On-Demand on Kayo. New to Kayo? Start Your Free Trial >
Jorge Martin, of the Ducati-Pramac team, and Jack Miller (Ducati) completed the podium at the 18th race of the season for a first ever Ducati podium sweep.
Yamaha's Fabio Quartararo, who had already secured the world championship, finished fifth after a heavy fall in qualifying.
It was a fourth win of the season for Bagnaia, who came through the VR46 Academy created by Rossi.
The 24-year-old finished the season 26 points behind Quartararo as runner-up in the title race.
He dominated the race but once former Brazilian footballer Ronaldo waved the chequered flag, all the attention turned to Rossi as the riders stopped to pay homage, fireworks went off and cries of "Vale, Vale" echoed around the stands.
His number 46 was everywhere, including on Bagnaia's helmet and up in the stands of the Ricardo Tormo circuit where his initials and number 'VR46' fluttered on yellow flags in the Valencian sunshine.
In the paddock, the nine motorcycles that brought him world titles were lined up side-by-side since Thursday when he posed with each for an evocative photo-shoot.
Rossi thinks retirement will be difficult "especially in March when the season starts again".
"I regret stopping, already," Rossi admitted with a trademark grin.
"We imagine this moment for a long time but you never know how we're going to feel, if you're going to be able to stay focused on the race, if you're going to be sad. But it was a great weekend.
"It was very moving. I received great support and felt great respect from all the people in the paddock and all the riders."
A giant street-art fresco displaying the portrait of the smiling "Dottore" overlooked the starting line.
If this season was his poorest in 26 seasons at world level — he finished a distant 18th in the standings — there were no tears, just a trademark grin from "The Doctor".
"I was motivated and focused as if I was fighting for the championship because the last race is the last race, it's very important," he said.
"It was not easy because there was a lot of pressure but I was able to get into the top 10 so that means I'm ending my long career among the top 10 riders in the world!
"That's important to me, I'll always be able to say that in my last race I finished in the top 10. That was the most important thing, to try to be competitive, because I'm still a rider.
"I didn't want to finish last."
Quartararo was not even born when the Italian won his first world title in the 125cc category in 1997.
"Rossi, he's been my idol since I was little," said the 22-year-old
"He influenced me a lot in this sport and in the way of working. He's a rider that I adore, as a rider and as a person for that matter.
"It is sad that this is his last race but we celebrated it well with the whole Yamaha team."
Rossi's last title dates back to 2009 and his last GP victory in 2017 but that has not dulled the adoration felt by fans.
He claimed his first world title in 1997, a year after making his 125cc debut, following up with the 250cc championship in 1999.
Graduating to the premier class he was runner-up in his first season in 2000 before taking the final world title raced in the 500cc format a year later with Honda.
He added six more in the new MotoGP class in 2002, 2003, 2004, 2005, 2008 and 2009, the first two with Honda, the rest with Yamaha.
He retires with 115 victories including a record 89 in MotoGP, 235 podiums (199 in the top flight), also a record, and the longest career of any rider in the sport's premier class.
Next season his VR46 team will make its debut in MotoGP next year as a Ducati satellite.
Australian rider Remy Gardner became Moto2 world champion, emulating his father Wayne's 500cc world championship in 1987, in spite of only finishing 10th behind his main rival and Kalex teammate Raul Fernandez.
Spain's Xavier Artigas of Honda won his maiden Moto3 GP on the same track earlier after countryman Pedro Acosta, winner of the world title last week at the age of just 17, fell on the final lap.