Daniel Ricciardo has McLaren fuel issue, position, points, standings, Lando Norris
Daniel Ricciardo was once again left scratching his head on Monday (AEDT) after another car issue plagued his Qatar Grand Prix.
For the third-consecutive race, Ricciardo failed to claim any points, finishing in 12th — two places higher than his qualifying position.
The back-end of Ricciardo's season has seen the Australian endure a number of issues with his McLaren, with the most recent being an unexplained fuel problem.
Stream Every Practice, Qualifier & Race of the 2021 FIA Formula One World Championship™ Live & On-Demand on Kayo. New to Kayo? Start Your Free Trial >
It brought to a close a sorry triple-header that has left Ricciardo exhausted and needing a break heading into the season's final two races.
"Unfortunately, a pretty disappointing end to the triple-header today," he said.
HAMILTON DEALS VERSTAPPEN FRESH TITLE BLOW AS RB LEFT FUMING OVER 'COMPLETE BALLS UP'
Alleged Mercedes cheating explained | 01:26
"We ran into some issues with fuel, and we had to save which dictated our race. So, not sure what happened but we obviously need to look into it."
He added: "I'm looking forward to moving on. I think a weekend off is necessary for everyone involved.
"We'll debrief now, try to understand the issues today and then we've got some sim time next week to get ready for the last two. Let's finish strong."
Team boss Andreas Seidl was also at a loss to explain the issue.
"For Daniel, it was always going to be tough to get into the points from P14. He drove a very strong first stint that pulled him up into contention, but then had to save an unusually high amount of fuel," he said.
"We'll have to investigate why that was required on his side."
Ricciardo's teammate Lando Norris experienced no such issues and was even in contention to finish fourth, although a late puncture relegated him to ninth. He was one of four drivers to suffer a late puncture.
After victory in Monza and three other top-five finishes immediately the mid-season break, Ricciardo looked set for a strong finish to the year but has seen his campaign take a dive.
Norris, meanwhile, hasn't failed to finish inside the points since the Belgian Grand Prix and now has a 48-point advantage over Ricciardo in the drivers' standings.
Only two races remain in 2021, starting with the Saudi Arabian Grand Prix in two weeks' time.
F1 news 2021, Daniel Ricciardo, McLaren, results, drivers championship, race wins, next season, 2022, new rules
Sitting eighth in the drivers championship, 48 points behind his teammate and without a top-10 finish in four of his last five races is hardly how Daniel Ricciardo wanted his record to read with two races to go in his first season as a McLaren driver.
But that's where he is, behind Carlos Sainz and Charles Leclerc – the two men who pipped him for the seat at Ferrari each time he has been looking to move teams – and behind Lando Norris, who is 10 years his junior and expected to play second fiddle to the Aussie this season.
With just the Saudi Arabian and Abu Dhabi Grands Prix remaining, Norris holds an unassailable 14-6 head-to-head lead in races across the season, at one point holding a commanding 9-1 lead.
In qualifying, Norris has been nearly as dominant, this time holding a 12-8 head-to-head lead over Ricciardo, including a pole position. Norris also has four podiums to his name to Ricciardo's one.
Stream Every Practice, Qualifier & Race of the 2021 FIA Formula One World Championship™ Live & On-Demand on Kayo. New to Kayo? Start Your Free Trial >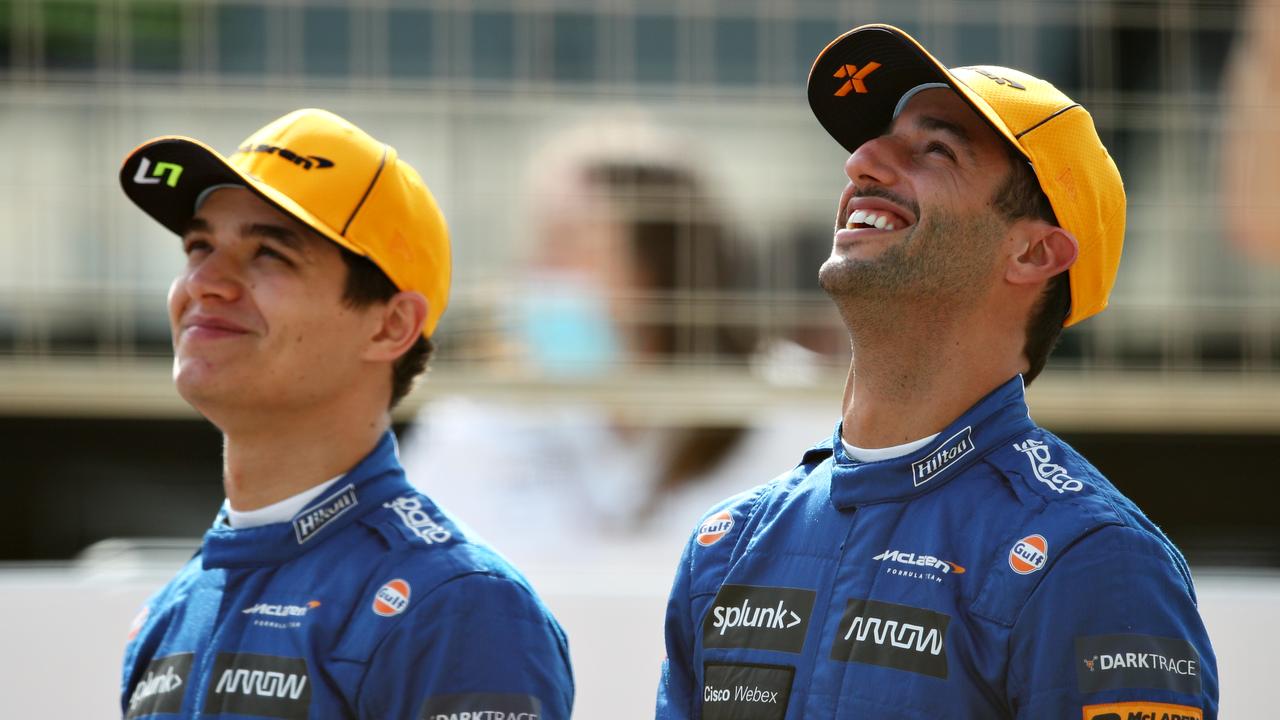 In short, Ricciardo has been completely outdriven and outmanoeuvred by his junior teammate and is on his worst run of consecutive finishes since 2019 thanks to a series of car issues, culminating with a disappointing P12 in Qatar last weekend.
"We had a few things going on," he said on Monday morning (AEDT). "So already from Lap 1, I had some fuel warnings on the dash which you don't get on Lap 1, so I ignored it, because I thought okay, it's just an error in the dash.
"But then quite early, I was told that you need to seriously start saving fuel. I saved quite a lot, like already what I thought was too much, and I was told it's not enough, it's not enough, to the point where we were… probably going two seconds a lap slower. And with that, tyres get cold, brakes get cold, so you lose even more ultimately.
"So I was kind of thinking, what's the point of staying out, because obviously there's an error and maybe we just messed up but we're just cruising.
"It was painful and it's just obviously something that's gone wrong in the data or the calculations today and we were getting the wrong information."
But if you can look past the numbers and the current frustration, this would have been Ricciardo's favourite season since he left Red Bull, because it's the first time he's stood on the top step of the podium since his famous win in Monaco.
He ended McLaren's long wait for a win and etched his name on the wall of history of one of F1's most recognisable teams.
He was brilliant that weekend, finishing on the podium in the sprint race and being a contender throughout every practice and qualifying session. There was just an inevitability about him at Monza that weekend that something special was going to happen.
Alleged Mercedes cheating explained | 01:26
Ricciardo can still be that good and if there is one thing we have learned from his time with Renault, it's that a poor and frustrating season is the perfect match to light the fire for the following year.
After a very average debut year where he only scored one top-five finish for the team now known as Alpine, he drove out of his skin in his second season, earning two podiums and seven top-five finishes.
"The winter can't come soon enough for him to regroup and just work out for him how he's going to, with McLaren, just unlock a bit more performance for himself," nine-time race winner and fellow Aussie Mark Webber told AAP.
"You don't forget how to drive quickly overnight but for whatever reason he hasn't clicked at the moment.
"Daniel, when he does, we saw it, it's in there and when he does he's very, very special. McLaren would struggle to have someone better for the brand. He's so good for the sport.
"He had a problem (in Qatar) with the car which would sort of amplify his issues.
"In a technical sport, it's easy to get brought undone and people don't understand the full scenario of what's going on but by Daniel's incredibly high standards – this is a race winner, this is a guy that he's been on the middle step quite a few times and plenty of podiums – so he knows how to have success at that level.
"By his own admission, of course, it's been a challenging year for him in this car. Hopefully, he can finish the year with some strong results."
And while Ricciardo is off mentally regrouping, his McLaren team will be providing him with all of the tools to put his hunger to good use.
Both Ricciardo and Norris have had car troubles over the last three races, with the team being overtaken by Ferrari in the constructors championship after the two drivers could only muster four points between them in that period.
But that is arguably a good sign for the season to come, with McLaren clearly not delegating too many resources into resolving the current car's issues.
While Mercedes and Red Bull are putting all of their efforts into the current title race where they are still battling for both the constructors and drivers championships, McLaren can afford to turn their attention to next season, when a whole new generation of F1 cars will debut.
It's a clean slate for all of the teams, with F1 introducing stricter spending caps in order to level the playing field, and McLaren are able to steal a march on their rivals by beginning work on the 2022 car.
Through his own admission, it took Ricciardo a while to get to grips with the McLaren and once the training wheels were taken off, he won a race and finished fourth in the next before car problems kicked in and sparked his current downward spiral.
But he will be ready for next season and McLaren will have used the extra time to be as well prepared as any team on the grid.
McLaren and Ricciardo are unlikely to have to wait so long for another race win from here.
F1 news, Williams Racing team tributes, George Russell
Frank Williams, whose team dominated Formula One in the 1980s and 1990s, has died at the age of 79, the team announced on Monday morning (AEDT).
The Williams team won the F1 drivers' title seven times and the constructors' championship on nine occasions under Williams' stewardship, although the most recent triumphs came in 1997.
The Englishman stepped down from the board of Williams Formula One in 2012 and his family ended 43 years of involvement in the team last year, following its sale to Dorilton Capital.
Williams had used a wheelchair since being injured in a car crash in France in 1986.
"The Williams Racing team is truly saddened by the passing of our founder Sir Frank Williams," the team said in a statement.
"Sir Frank was a legend and icon of our sport. His passing marks the end of an era for our team and for the sport of Formula 1. He was one of a kind and a true pioneer.
"Despite considerable adversity in his life, he led our team to 16 world championships, making us one of the most successful teams in the history of the sport."
Damon Hill, who won the 1996 world title with Williams, said Frank Williams would have an important place in F1 history.
"The only person I could compare him to is Enzo Ferrari. He loved Formula One and he loved racing. Anyone who runs a team would like to aspire to his achievements and to his record," Hill told Sky Sports News.
Jean Todt, who was principal of the Ferrari team that grappled with Williams in the 1990s, tweeted that Frank Williams "leaves a lasting impression on the history of @F1".
"He was a pioneer, an exceptional personality and an exemplary man," said Todt, the former FIA president.
Formula 1 also issued a brief statement shared on their social media channels.
"We are filled with the most immense and deep sadness at the passing of Sir Frank Williams," the statement read.
"His was a life driven by passion for motorsport; his legacy is immeasurable, and will be forever part of F1.
"To know him was an inspiration and privilege. He will be deeply, deeply missed."
Current Williams driver George Russell paid his own tribute. "Today, we say goodbye to the man who defined our team," he said on Twitter. "Sir Frank was such a genuinely wonderful human being and I'll always remember the laughs we shared.
"He was more than a boss, he was a mentor and a friend to everybody who joined the Williams Racing family and so many others." Formula One president Stefano Domenicali said Formula One had lost a "much-loved and respected member of the F1 family".
"He was a true giant of our sport that overcame the most difficult of challenges in life and battled every day to win on and off the track," he said.
In 1977, Frank Williams joined forces with innovative motor racing engineer Patrick Head to launch the Williams Formula One team.
Clay Regazzoni registered the team's first grand prix win at Silverstone in 1979 and a year later Australian Alan Jones won the team's first drivers' title.
Keke Rosberg took the 1982 title, with five more captured in a golden period between 1987 and 1997, all after Williams' ill-fated 1986 dash to catch a flight in France and the car crash that left him paralysed.
Williams steered Nelson Piquet to the following season's title, with Nigel Mansell and Alain Prost following up in 1992 and 1993.
Ayrton Senna, who had won three world championships with McLaren, joined for the 1994 season, only to lose his life in a high-speed crash at Imola.
The last Williams driver to win a world championship was Canada's Jacques Villeneuve in 1997.
The team's nine constructors' crowns place Williams second only to Ferrari in the all-time Formula One list. But the outfit has under-performed in recent years, consistently running at the back of the pack.
McLaren blunt message for Daniel Ricciardo, F1 news
Formula 1 driver Daniel Ricciardo has spilt on his relationship with the McLaren engineers, detailing the "constructive criticism" he received throughout a chaotic maiden season with the British team.
Following a two-year stint at Renault, the Australian signed a multi-year deal with McLaren ahead of the 2021 championship.
Ricciardo partnered with British young gun Lando Norris, who repeatedly bettered his teammate during the first half of the season.
Stream Every Practice, Qualifier & Race of the 2021 FIA Formula One World Championship™ Live & On-Demand on Kayo. New to Kayo? Start Your Free Trial >
Norris had claimed several podium finishes before the mid-season break, while Ricciardo was yet to secure a top-three finish when the drivers went on holiday in August.
The 32-year-old bounced back in September by winning the Italian Grand Prix – McLaren's first F1 victory in nine years.
But Ricciardo's woes continued after the Monza triumph, with McLaren slipping below Ferrari on the constructors' championship as the season drew towards a close.
Ricciardo is currently eighth on the drivers' standings with 105 points, comfortably below fifth-placed Norris on 153 points.
"The support of (race engineer Tom Stallard), and really the whole team, was good – they were very understanding and patient, for sure," Ricciardo told GP Racing.
"But yeah, there was also at times a kind of 'pull your finger out', and I'm big enough to take constructive criticism – there were no insults or beating me down, it was always trying to understand, 'Okay, what's the issue, and then how can we help you?' That was a more modern approach to take and it's served us well."
Ricciardo's main cause of frustration in the MCL35M was the braking system, which forced him to undertake a different approach to his driving, a change that didn't come naturally for the Australian.
"The natural picture in my head was that every lap I do in this car, I'd just get better," Ricciardo explained.
"In Bahrain I qualified sixth and I knew I still wasn't close to 100 per cent comfortable. So in my head I was like, 'Well, each time I drive now I'll just push the car more and more'.
"And then I, let's say, hit an early plateau where the limit was a different limit to what I was used to. And to arrive at that limit, I needed to drive the car quite differently.
"The car has some really strong points but also some weak points, and I was just trying to navigate my way to the strong points. It didn't always come natural for me.
"The key was trying to break it down and understand it corner by corner because, as a whole, there were times when I was seven or eight tenths away (from Norris) and I was like, 'I can't do that. I don't know where that time is'.
"Even with me and Max (Verstappen), a really strong and competitive rivalry, I remember I was furious if he was two tenths faster than me. We all know the calibre of driver Max is. So – and I'm not taking anything away from Lando – a gap that big is like foreign territory really. I've never found myself in that position.
"It wasn't like I made a mistake here or there, it was that I didn't know where that chunk of time was. Tom was good at bringing it back and saying, 'Look, let's analyse, let's go through this corner – why can't you do that, what's stopping you? Let's figure it out, let's go from A to B to C, as opposed to just going straight from A to F'.
"Race car drivers or athletes, we are a certain amount of stubborn. But you can't take that to your grave, if you know what I mean.
"At some point you have to be open-minded and say, 'All right, this is what it is. I have to now adapt and maybe I'm not comfortable with it at first, but take encouragement that the more I learn and get comfortable with it the better I'll be'."
The F1 season resumes next weekend with the Saudi Arabian Grand Prix, which is scheduled to get underway at 4.30am AEDT on Monday, December 6.