Cleveland Guardians' launch starts with store sign crashing to sidewalk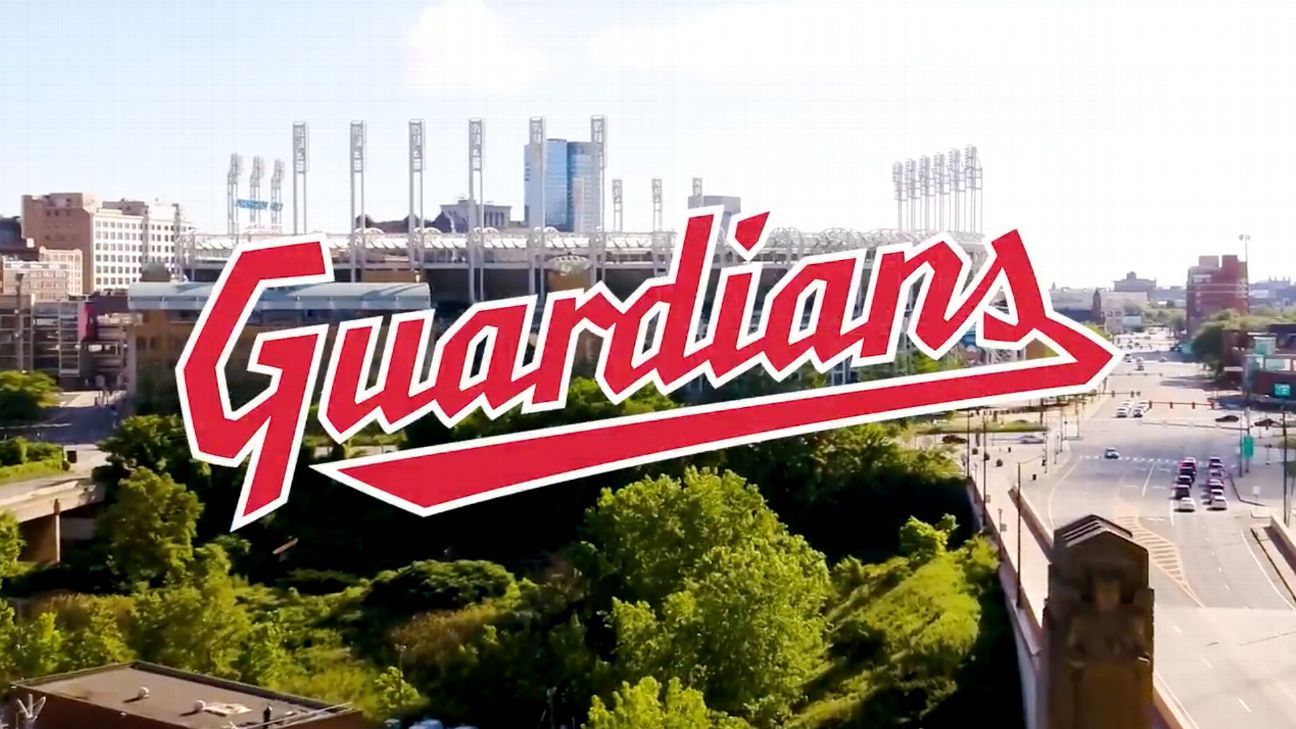 CLEVELAND (AP) _ A special opening day for the newly named Cleveland Guardians began with a bang.
Not the one they hoped for, either.
As fans were buying the first available Guardians merchandise on Friday as the team officially transitioned from Indians after 106 years, a sign installed outside the team store at Progressive Field broke free from its mount and crashed to the sidewalk.
"Well, that's an ominous sign," yelled one onlooker.
A worker was on a ladder checking bolts when the sign snapped a small section of the ballpark's stone exterior, fell about 15 feet and smashed into pieces. No one was injured.
Smashing success: Cleveland Guardians team shop sign goes up and quickly comes back down.https://t.co/miiBexlf6G

— News 5 Cleveland (@WEWS) November 19, 2021
Fans began lining up early in the morning to buy new caps, sweatshirts, T-shirts and other gear bearing the Guardians' logos.
"This kind of exceeds expectations," said Karen Fox, the team's director of merchandising. "Having people show up at 6:30, and then we had 100 people in by 9:14. You can kind of see the store looks like we're having a game today."
Greg Foote and his 15-year-old son, Lucas, didn't plan to be first in line, but it worked out that way. And as they waited to get inside, Cleveland's furry mascot, Slider, rewarded them with Guardians' stocking caps as gifts – perfect accessories on a frigid morning downtown.
Like others in the store, the Footes were getting gear to update their own wardrobes while also crossing off some Christmas shopping lists.
"These are for him," the elder Foote said, clutching some items as his son playfully pretended not to notice.
After months of buildup and talk about the name change, Fox said the store opening made it all feel real.
"It was like when you were a little kid waiting for Christmas morning," she said. "That's kind of how it feels for our merch team and the whole organization. Just that, here we are, a new era and you can see all the fans that are excited about it, too."
The team also changed its social media handles to complete the changeover, a process that began in June 2020, when owner Paul Dolan announced the major league team was dropping Indians in the wake of a social reckoning on racist names and symbols.
The Guardians ran into a legal issue along the way as a local roller derby team also called the Guardians filed a lawsuit alleging trademark infringement. The sides reached an amicable resolution earlier this week allowing both to use the name.
The team will continue to sell Indians gear _ which nearly sold out at the end of last season _ at the ballpark with profits going to youth organizations and causes, Fox said.
It's going to take some time for Guardians to catch on with some fans, and there could be an extended period during which new jerseys and caps are as seen in the ballpark along with familiar, worn ones.
"There are still people who like the name Indians and they can still wear that here," Fox said. "Really, it's the team on the field, it's the city of Cleveland that's important."
Advocates for Minor Leaguers forms steering committee to give players a voice, push for better conditions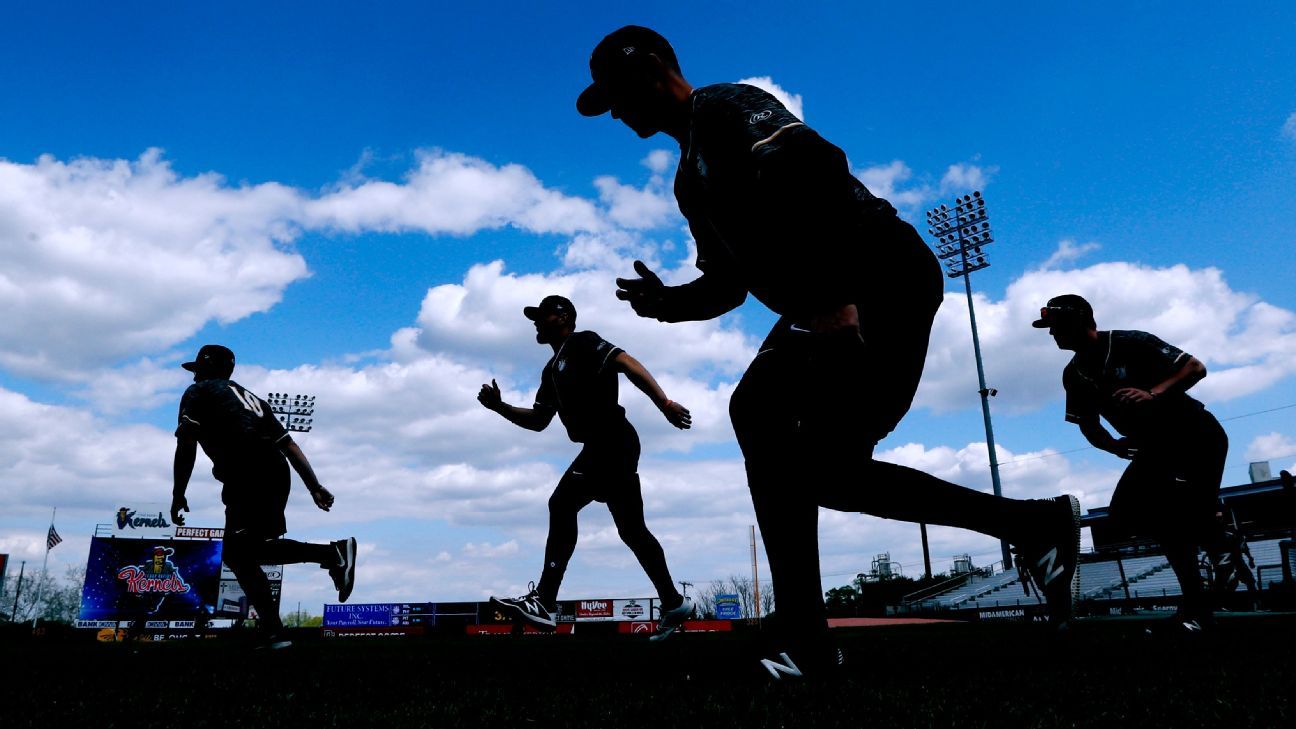 NEW YORK — While the owners and Major League Baseball players intend to collectively bargain for the terms of their next agreement, one group will not be at the table during those discussions: minor leaguers.
While Major League Baseball recently announced improved housing conditions across all levels of the minor leagues — including furnished housing — many across the minor leagues do not believe this is enough. As a result, Advocates for Minor Leaguers announced the formation of a player steering committee on Thursday, which will provide strategic advice and leadership regarding the ongoing labor battle to provide better conditions across baseball's development levels.
"The players on the Advocates for Minor Leaguers Player Steering Committee have decades of combined experience in the Minor Leagues," said Advocates for Minor Leaguers director Harry Marino. "They are thoughtful, intelligent and committed to improving the game of baseball for future generations. At a meeting earlier today, they decided to make public the existence of the committee and to voice support for the Major League Players Association."
The players on the committee will remain anonymous to protect their future job prospects in the sport.
"For decades, we Minor League players have been exploited by Major League Baseball's owners, who have abused their unique antitrust exemption to pay us less than we are worth," the steering committee said in a statement. "This year, most of us will make less than $15,000. Many of us will work second and third jobs, struggling just to make ends meet and put food on the table. Without question, the mistreatment that we endure as Minor League players is the most urgent labor issue facing the sport."
Marino said that the recent concession by Major League Baseball to provide improved housing shows the balance of power is shifting towards minor leaguers.
"There is much work yet to be done," Marino said. "Going forward, I expect the committee to play a key role in our ongoing effort to provide a collective voice for Minor League players and improve Minor League working conditions."
The first action for the committee is to voice their public support for the Major League Baseball Players Association, who the owners decided to lock out at midnight on Thursday morning.
"The owners who have voluntarily decided to shut down Major League Baseball are the same individuals who abuse a legal loophole to pay Minor Leaguers poverty-level wages," the committee said. "As in the past, they use restrictive contracts and collusion to pay the vast majority of professional baseball players less than their actual worth."
The committee stated the uniform player contract for minor leaguers — which ties a player to the same team for seven seasons and prevents them from seeking better pay in baseball domestically or internationally — is fundamentally unfair.
"Now that we have found our collective voice," the committee said, "we intend to use it." —
San Diego Padres sign RHP Nick Martinez on 4-year, $20 million deal
The San Diego Padres and right-hander Nick Martinez have agreed on a four-year, $20 million contract, sources told ESPN's Jeff Passan.
Martinez's deal includes opt-outs after his first and second year.
Martinez, 31, spent the past four seasons in Japan and starred for the Fukuoka SoftBank Hawks this year, posting a 1.62 ERA. He previously played four seasons in the major leagues, all with the Texas Rangers from 2014-17, and went 17-30 with a 4.77 ERA.
Martinez also won a silver medal while playing for Team USA in the Tokyo Olympics.
What we do in the shadows
NEW YORK — Within minutes of locking out players Thursday amid contentious negotiations on the next collective bargaining agreement, Major League Baseball scrubbed all remnants of player likenesses off its official properties such as MLB.com, replacing player photos with generic silhouettes.
In response, players decided to lean all the way in.
Players started to change their profile pictures on Twitter to the generic player silhouettes in solidarity and as a response to the league's action. The decision to do so was not an organized, calculated move by the Major League Baseball Players Association but rather started off as a joke in a small player text group chat, according to New York Mets pitcher Trevor Williams, one of the first to change his profile picture.
"It was just being silly," Williams told ESPN. "It's a meme. When you think about it, by us posting a picture of what MLB does, we're doubling down on what they're doing. It's not supposed to be serious."
It's amazing to see players around the league change their avi in solidarity. MLB can take away our image but never our LIKENESS!

— Trevor Williams (@MeLlamoTrevor) December 2, 2021
I have no idea what likeness means

— Trevor Williams (@MeLlamoTrevor) December 2, 2021
During a news conference Thursday morning, commissioner Rob Manfred said the league was legally obligated to remove all player likenesses due to the lack of a collective bargaining agreement.
Along with Williams, San Diego Padres pitcher Joe Musgrove, Chicago White Sox pitcher Lucas Giolito, New York Yankees pitcher Jameson Taillon and Mets pitcher Taijuan Walker were among the first players to change their profile pictures on Twitter.
Due to the lockout, players cannot use team facilities or work with trainers. Taillon underwent surgery in October to repair a partially torn ankle tendon and was expected to miss five months.
"Since MLB chose to lock us out, I'm not able to work with our amazing team Physical Therapists who have been leading my post surgery care/progression," Taillon tweeted. "Now that I'm in charge of my own PT – what should my first order of business be? I'm thinking I'm done with this boot. It can go."
Since MLB chose to lock us out, i'm not able to work with our amazing team Physical Therapists who have been leading my post surgery care/progression. Now that I'm in charge of my own PT- what should my first order of business be? I'm thinking I'm done with this boot. It can go😎

— Jameson Taillon (@JTaillon50) December 2, 2021
The bit soon started catching on among those not in the initial group chat. When Mets reliever Trevor May woke up Thursday, he noticed players changing their profile pictures and decided to join in.
"I saw it, and that's what I did," May said. "Anything when it comes to Twitter, memes, I'm all for it. I just went for it. It's not a strong message I'm trying to send. … This is one of the funny ways for players to poke at [the league]. It's a funny way to point out they don't really have anything without us."
Other players who joined in included Chicago Cubs outfielder Ian Happ, free-agent reliever Sean Doolittle, Minnesota Twins pitcher Randy Dobnak, Seattle Mariners outfielder Mitch Haniger and shortstop J.P. Crawford, free-agent second baseman Shed Long Jr., and Mets closer Edwin Diaz.