Shohei Ohtani says second half of season was 'stressful' amid Los Angeles Angels' dim postseason prospects
TOKYO — Even Shohei Ohtani, arguably the best player in the major leagues, feels down at times, particularly when his team isn't winning.
And that's been the case during each of the four seasons he's been with the Los Angeles Angels, all of which have ended with losing records.
His mental state during those struggles was among the few small nuggets Ohtani revealed in an hour-long interview Monday at the Japan National Press Club.
The Q-and-A session focused heavily on local matters about being back home, about local food and local baseball personalities, and even questions about when the 27-year-old might start a family.
"I think this is something you cannot force to happen, it just naturally happens," he said, speaking in Japanese through an interpreter. "I think it's still well ahead of me."
Ohtani is under contract for next season at $5.5 million, which will be his highest annual salary thus far. He remains under the Angels' control through 2023 and could become a free agent after that season.
Questions about free agency did not come up in Monday's interview, although he was asked about his taxes in the United States.
"Los Angeles has high tax rates," he said, indicating he was happy to pay them. "So slightly more than half of what I earn has to be paid in taxes. So I pay my taxes. It's not that I consume a lot. I really don't spend, so it just goes into my savings."
Almost every question began with a congratulatory message, often long ones. He was asked to comment on his memories of the 2011 earthquake, tsunami and meltdown of three nuclear reactors that killed almost 20,000 people in northeastern Japan, his home region.
And he was asked several times about being "down" emotionally and getting through it.
"How do you overcome that?" he was asked.
"Of course I feel down," he said, indicating his emotions toward the end of the just-completed season.
"Since I joined the major leagues, the team has not been winning and we didn't have much prospect of going beyond the regular season. So in the latter half of the season, psychologically it was more stressful. And of course I feel down occasionally when I can't hit — or when my pitches are hit."
However, Ohtani said that suffering through a losing season was better than not playing at all, which he experienced in several stretches because of injury.
"So even feeling down included, it was a wonderful year," he said.
Ohtani is a leading candidate for the American League MVP award, which will be announced later this week.
He was asked where he will be when the award winner is revealed.
"I don't know where I will be," he said straightforwardly, which was typical of his responses.
The Mets spent, the Yankees didn't and more
When MLB free agency began, as I was comparing notes with agents and executives, a popular discussion was how many players would sign big deals before the collective bargaining agreement expired on Dec. 1. The common opinion was that only a couple of guys would sign for $75 million or more — and some legitimately thought zero would. They also expected slower-than-usual overall volume.
All of that turned out to be … wildly wrong!
Now we're in the midst of a lockout that will likely freeze the market for months, but before Dec. 1, we had tons of action to a degree that no one expected. Over the course of about three weeks, teams handed out 51 MLB deals with guaranteed money totaling $1.974 billion. If you include extensions occurring in the 2021 calendar year, another $1.655 billion was spent, and nearly $1.1 billion of that went to five players: Byron Buxton, Wander Franco, Jose Berrios, Francisco Lindor and Fernando Tatis Jr. Let's go on a journey of the lessons learned from this incredibly entertaining and active first part of the offseason.
The Mets went hard.
The 2021 season didn't go that well for the New York Mets, who ended the season in third place in the National League East with 77 wins and watched the Atlanta Braves win the World Series. But since the clock turned to November, things have turned around. Robinson Cano's season-long suspension ended, Jacob deGrom should be healthy by the time the season starts, and they added Max Scherzer ($130 million guaranteed), Starling Marte ($78 million), Mark Canha ($26.5 million) and Eduardo Escobar ($20 million) in free agency. With these additions, FanGraphs' depth charts now have the Mets in a dead heat with the best teams in baseball. The Mets, a team that posted 34.6 WAR in 2021, are projected to post 48.0 in 2022 — behind (and just slightly) only the Dodgers and Yankees.
Buck O'Neil joins Gil Hodges, Minnie Minoso, others in being elected to baseball's Hall of Fame
Buck O'Neil, a champion of Black ballplayers during a monumental, eight-decade career on and off the field, joined Gil Hodges, Minnie Minoso and three others in being elected to the baseball Hall of Fame on Sunday.
Former Minnesota Twins teammates Tony Oliva and Jim Kaat, a longtime television analyst after his playing days, also were chosen along with Bud Fowler by a pair of veterans committees.
Oliva and Kaat are the only living new members. Dick Allen, who died last December, fell one vote shy of election.
Kaat pitched 25 seasons with a host of teams, including the Phillies, Yankees and Cardinals, winning 283 games. He served as an analyst for the Yankees before moving on to the MLB Network.
The 16-member Early Days and Golden Days committees met separately in Orlando, Florida. The election announcement was originally scheduled to coincide with the big league winter meetings, which were nixed because of the MLB lockout.
The six newcomers will be enshrined in Cooperstown, New York, on July 24, 2022, along with any new members elected by the Baseball Writers' Association of America. First-time candidates David Ortiz and Alex Rodriguez join Barry Bonds, Roger Clemens and Curt Schilling on the ballot, with voting results on Jan. 25.
The Associated Press contributed to this report.
Daisuke Matsuzaka ends 23-year career, surprised by Ichiro Suzuki in ceremony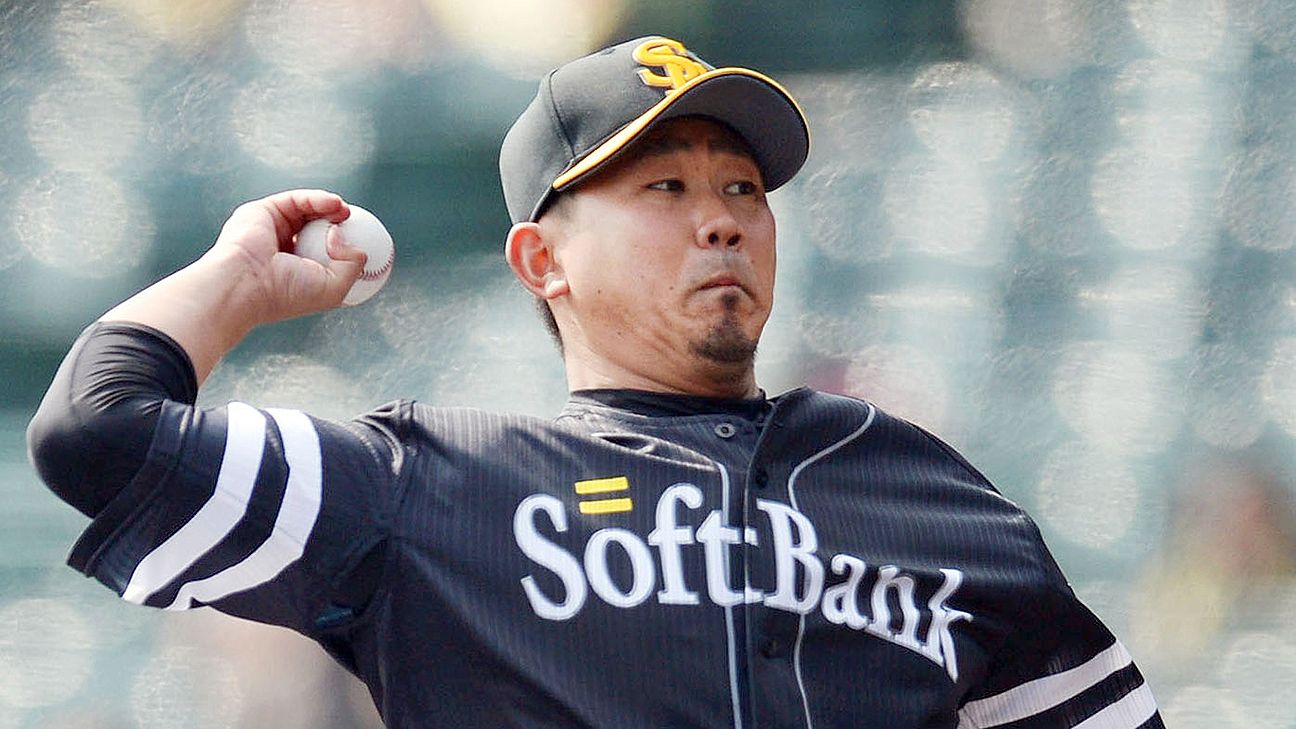 Daisuke Matsuzaka brought his 23-year professional baseball career to a close Saturday in a ceremony that included a surprise appearance by Ichiro Suzuki.
Matsuzaka, who faced only one batter this season for the Saitama Seibu Lions — issuing a walk in an October appearance — told fans at Seibu's MetLife Dome that he was happy to leave the sport on his terms.
"I'm content that I was able to keep playing baseball until I could no longer throw normally in the end," Matsuzaka said, according to Kyodo News.
A video from Suzuki was played, ending with the longtime Seattle Mariners outfielder surprising Matsuzaka on the field and giving him a flower bouquet.
"I hadn't imagined this. It was crazy," Matsuzaka said, according to Kyodo News. "At first I was able to hold up, and then the tears came and I was done for.
"I was surprised and just overjoyed that, at the end, Ichiro-san came to see me. I'm happy I was able to come so far."
Suzuki and Matsuzaka faced each other both in Japan and Major League Baseball over their careers. They were also teammates for Japan's World Baseball Classic titles in 2006 and 2009.
Matsuzaka, 41, was 56-43 with a 4.45 ERA in 132 career MLB starts with the Boston Red Sox and New York Mets from 2007 to 2014. He won a World Series title in his rookie season with the Red Sox in 2017.
He started and ended his career with the Lions, pitching for them from 1999 to 2006 and the past two seasons. He also played for the Fukuoka SoftBank Hawks and Chunichi Dragons after returning to Japan in 2015.