New York Jets' blowout loss to Buffalo Bills brings new marks for defensive futility
EAST RUTHERFORD, N.J. — The New York Jets played another horrible defensive game Sunday in their 45-17 loss to the Buffalo Bills at MetLife Stadium, creating new marks for futility and roiling emotions in the locker room.
"Every man should be embarrassed," Jets defensive tackle Sheldon Rankins said. "Every man should be angry."
The Jets (2-7), young and rebuilding on both sides of the ball, expected growing pains in 2021. But their defense has performed at a historically bad level. Consider:
The Jets have allowed 175 points in their past four games, the second most allowed in a four-game span by any team since the 1970 AFL/NFL merger.

They're the first team to allow at least 45 points three times in a four-game span since the 1966 New York Giants.

They have surrendered 1,890 total yards during the abysmal stretch, the worst four-game period in franchise history.
Coach Robert Saleh, who built his reputation in the league on defense, seemed at a loss to explain the latest embarrassment.
"Our system prides itself on being able to get better as the year goes on," Saleh said. "Clearly, it's not happening."
In the past four games, the Jets have allowed 54, 31, 45 and 45 points. They managed to beat the Cincinnati Bengals 34-31 behind quarterback Mike White, who threw four interceptions Sunday in what might have been his last start. Zach Wilson (knee) could be ready to return to the lineup.
The Jets were vulnerable in the secondary without safety Marcus Maye, who suffered a season-ending Achilles injury last week. He was replaced by Jarrod Wilson, who has bounced between the practice squad and the 53-man roster.
They were no match for quarterback Josh Allen, who completed 21 of 28 passes for 366 yards and two touchdowns. The Jets had no answer for wide receiver Stefon Diggs, who caught eight passes for 162 yards and one touchdown. Diggs burned rookie cornerback Brandin Echols and second-year corner Javelin Guidry, who replaced Echols (thigh injury).
Surprisingly, the Jets often left their corners in man-to-man coverage with a single-high safety. Saleh said they have coverages designed for Diggs, but "you're going to get caught in certain one-on-one situations."
Second-year safety Ashtyn Davis, often the deep safety, took some of the blame.
"We harp on three seconds of discipline and I don't think we did that out there today," he said. "It starts with me."
Other than Maye and defensive end Carl Lawson, who had a season-ending Achilles injury in the preseason, the Jets are playing with their primary starters. But no position group has played well, not even the front four, which has cooled off after a seven-sack game in a Week 4 upset of the Tennessee Titans.
"Our job is to go out there and stop people, and we haven't done it to an even average clip over the last few outings," Rankins said. "For us, yeah, we're embarrassed because it's not our standard."
Defensive tackle Folorunso Fatukasi delivered a fiery speech in the locker room after the game, players said. He implored teammates to "look within," saying players will get replaced if they don't perform, according to Rankins. Saleh echoed that message in his postgame address to the team, Rankins said.
"It just hasn't been good enough ever since that Tennessee game," Saleh said. "We played Atlanta all right, but ever since that bye week, we haven't been nearly as good as we've wanted to be. We have eight games left, and from coaches to players, we have to find a way to get better every day. Otherwise, you're selling yourself short."
Linebacker C.J. Mosley, a captain, called Sunday a pivotal moment for the Jets, a "character-building moment … We're going to really see what our foundation is like, and is it going to crack or not."
Rankins said he's confident the team will respond positively, calling Sunday a rock-bottom moment.
"It can only go up from here," he said. "We've played overall about as bad as we could possibly play at times, so it can only go up from here."
NFL Week 13 fashion – Kyler Murray is back in style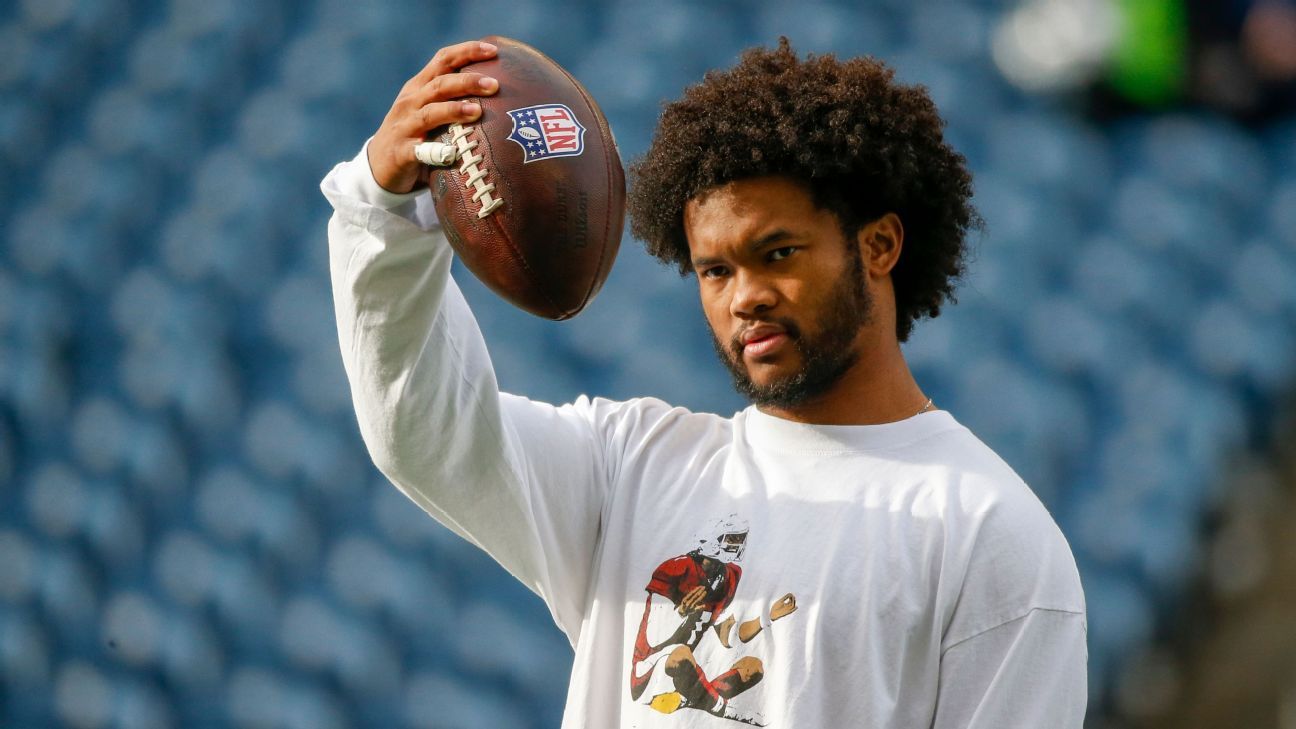 It's December, which means in addition to there being just four weeks left to the 2021 NFL season, it's also time for the winter wardrobe.
All eyes will be on key AFC matchups, as the Cincinnati Bengals host the Los Angeles Chargers and the Pittsburgh Steelers host the Baltimore Ravens. Can a now-surging Washington Football Team keep its three-game winning streak alive? How will the return of quarterback Kyler Murray and wide receiver DeAndre Hopkins impact the Arizona Cardinals?
With a great slate of games in Week 13, there must also be a great slate of outfits to match.
The return
Murray and Hopkins look fly in their return. Murray was out for the past three games with an ankle injury and Hopkins missed the same amount of time with a hamstring injury. The Cardinals are 9-2 and hosting a struggling Chicago Bears team.
k y l e r pic.twitter.com/YoWL3EjOiS

— Arizona Cardinals (@AZCardinals) December 5, 2021
Hop. pic.twitter.com/xqBmTwgzQd

— Arizona Cardinals (@AZCardinals) December 5, 2021
Oxford Strong
Detroit Lions safety Jalen Elliott wore the jersey of Oxford High School student Tate Myre. The 16-year-old star high school football player was one of four students tragically killed in Tuesday's shooting at Oxford High School, located just outside Detroit.
💙💛 4⃣2⃣ 💙💛#OxfordStrong | @Jae_Uno_ pic.twitter.com/tYxSvzm8e5

— Detroit Lions (@Lions) December 5, 2021
Winter wardrobe
Winter looks were on full display Sunday morning. Specifically, we are quite into Joe Mixon's all red suit — no big deal.
📍 The Jungle#ProBowlVote + @Joe_MainMixon #ProBowlVote + #TreyHendrickson#ProBowlVote + @Sam_Hubbard_ @Bose | #RuleTheJungle pic.twitter.com/M6GfmCwIUj

— Cincinnati Bengals (@Bengals) December 5, 2021
do you see this COAT???@e_moore03 pic.twitter.com/fG9wgMPZGk

— New York Jets (@nyjets) December 5, 2021
Howdy. 😈🤠 pic.twitter.com/hrj5ooODZK

— Indianapolis Colts (@Colts) December 5, 2021
Reporting for duty. 💼@Bose | #AZvsCHI pic.twitter.com/CXFEHhCw3g

— Chicago Bears (@ChicagoBears) December 5, 2021
Workin' on the weekend like usual.

📸 » https://t.co/f0KBGtsjgP | @FedEx pic.twitter.com/PFxMFN3Dbw

— Houston Texans (@HoustonTexans) December 5, 2021
Clock in. pic.twitter.com/V71plVjmHT

— Baltimore Ravens (@Ravens) December 5, 2021
Gardner Minshew is fired up to see dad after leading Philadelphia Eagles to victory
It has been quite an NFL journey for Philadelphia Eagles quarterback Gardner Minshew II, who added one more chapter to his already fun career book on Sunday.
The 2019 sixth-round draft pick by the Jacksonville Jaguars out of Washington State became a household name during the 2019 season when he took over the starting role due to an injury to Nick Foles. Minshew led Jacksonville to a 6-6 record and had an impressive rookie season by the time it concluded.
During Minshew's time as starting quarterback for the Jaguars, his swag, mullet and "jorts" were an instant hit among fans.
In the 2020 season, Minshew remained the Jaguars' starter until a Week 7 injury sidelined him for seven weeks. He returned to the field in Week 14 — throwing for 178 yards and a touchdown — after Mike Glennon was benched in a 31-10 loss to the Tennessee Titans. In Week 15, Minshew reprised his starting role again before losing the job to Glennon the following week. Then, in August, Minshew's journey started a new chapter when he was traded to the Eagles.
His latest time to shine came Sunday when Jalen Hurts was sidelined with an injury. In his first start as an Eagle, Minshew went 20-of-25 for 242 yards and two touchdowns as Philadelphia beat the New York Jets 33-18. His 133.7 passer rating was the highest for an Eagles starter since Foles (141.4) in the 2017 NFC Championship Game.
And the one person who has been there for all of Minshew's NFL career chapters? His father.
He and his father, Flint, shared a sweet moment after Minshew's big Sunday win.
You want to see how much this win and this moment meant to Gardner Minshew?

This is @GardnerMinshew5 after the game with an emotional moment with his dad, who tries to make it to every one of his games
🔥🔥❤️❤️ pic.twitter.com/lxOtlBmYrz

— John Clark (@JClarkNBCS) December 5, 2021
What will be the next chapter in Minshew's NFL career? We can't wait.
Logan Thomas' spectacular one-handed catch gets Washington Football Team off to fast start
LAS VEGAS — Washington Football Team tight end Logan Thomas has established himself as one of the best red zone targets, especially in traffic. Turns out he's capable of circus catches when wide open as well.
On Washington's first possession vs. the Las Vegas Raiders, Thomas capped a 75-yard touchdown drive with a leaping one-handed grab in the back of the end zone for a touchdown to give Washington a 7-0 lead.
Las Vegas lost sight of Thomas, Washington's top red zone target, who simply ran from his spot alongside the right tackle to the back left part of the end zone. But nobody from the Raiders' defense ran with him and he was all alone. However, quarterback Taylor Heinicke's pass was high, requiring Thomas to jump and grab the ball with his right hand as if going up for a rebound.
L😳GAN TH🤯MAS

📺 » FOX | #WASvsLV pic.twitter.com/QYW9ghN78F

— Washington Football Team (@WashingtonNFL) December 5, 2021
Thomas entered Sunday with 144 receiving yards in the red zone since joining Washington in 2020; that leads the NFL, despite him having missed five games this season. Thomas now has nine touchdowns in the red zone, including three this season.