MLB awards week – MVP, Cy Young, Rookie of the Year experts' picks, results and analysis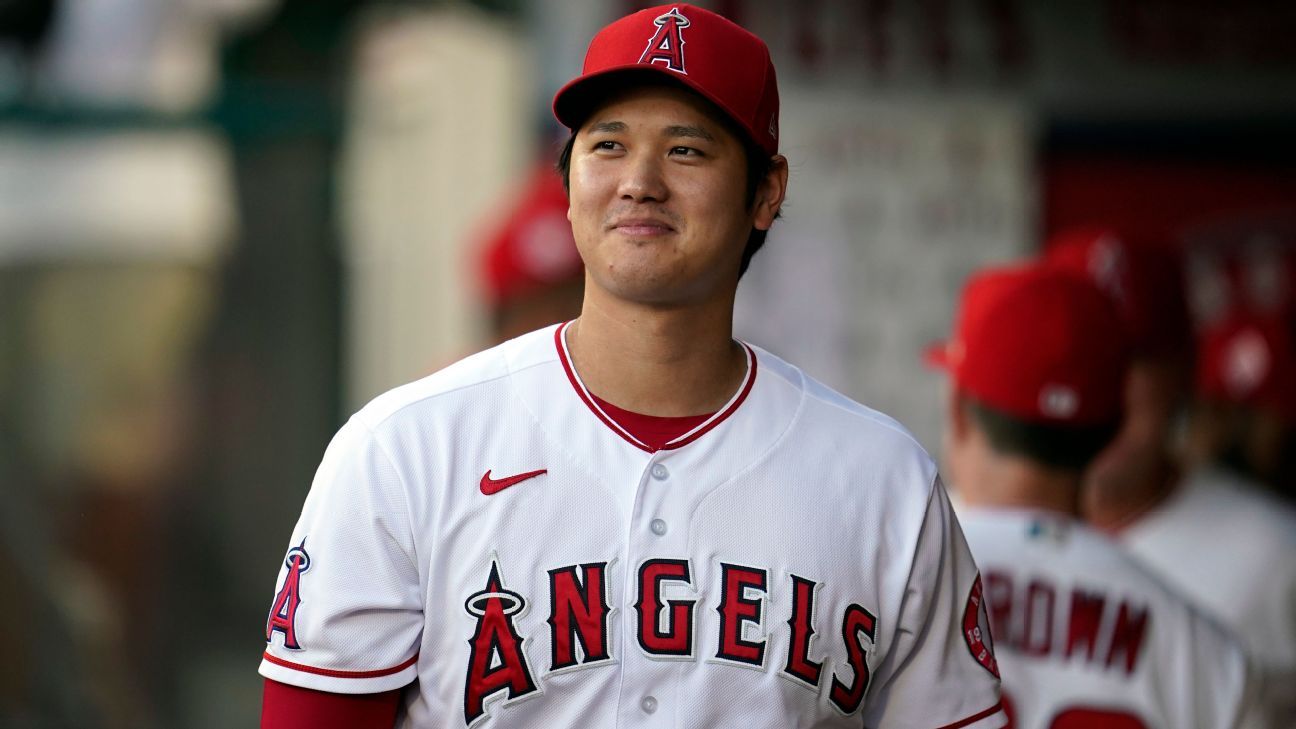 We've been heading in this direction over the past decade, but it's now official: The Most Valuable Player Award has become, to the delight of analytics aficionados across baseball land, the best player in the league award. Traditionally, the writers based MVP honors on some sort of undefined fusion of on-field performance and team performance. The MVP winner usually — but not always — came from a playoff team.
This season, none of the six finalists reached the postseason. This is especially glaring with the National League finalists, as Bryce Harper's Phillies finished 82-80, Fernando Tatis Jr.'s Padres finished 79-83 and Juan Soto's Nationals went 65-97. At least the Phillies finished with a winning record — barely. This will be the first time since 1987, when Andre Dawson of the Cubs and George Bell of the Blue Jays won, that both MVP winners failed to reach the postseason. The only other two times this happened since the BBWAA began voting in 1931 were 1977 (George Foster and Rod Carew) and 1978 (Dave Parker and Jim Rice).
So the debate is essentially over. That doesn't mean it makes it any easier to select the winner.
Let's preview awards week, along with our ESPN MLB experts' picks for each award — and be sure to check back throughout the week as this page will be updated with results and analysis as each award is handed out. — David Schoenfield
Jump to … :
Rookie of the Year: NL | AL
Manager of the Year: NL | AL
Cy Young: NL | AL
MVP: NL | AL
---
National League Rookie of the Year
Announced Monday, Nov. 15
Finalists: Dylan Carlson (Cardinals), Jonathan India (Reds), Trevor Rogers (Marlins)
ESPN MLB experts' picks: India (11 votes), Rogers 2
Schoenfield's take: A third baseman in college and in the minors, India started the season at second base when the Reds tried Eugenio Suarez at shortstop. He didn't get off to a great start with a sub-.700 OPS through the end of May, but injuries kept him in the lineup and he hit .281/.390/.493 the rest of the way to finish at .269/.376/.459 with 21 home runs, 98 runs and a league-leading 23 hit by pitches that helped boost his OBP. Rogers made the All-Star team with a dominant first half and might have been the favorite for the award if the Marlins had kept him in the rotation, but they limited his innings in the second half and he finished 7-8 with a 2.64 ERA over 133 innings with 157 strikeouts. Carlson likely finishes third in this race.
Overlooked: Ian Anderson of the Braves (9-5, 3.58) made his biggest impact in the postseason (ballots are submitted before the playoffs).
---
American League Rookie of the Year
Announced Monday, Nov. 15
Finalists: Randy Arozarena (Rays), Wander Franco (Rays), Luis Garcia (Astros)
ESPN MLB experts' picks: Arozarena 10 votes, Franco 3
This was a unique race. Do you vote for the partial-season player in Franco who established himself as a future superstar after hitting .288/.347/.463 as a 20-year-old in 70 games (3.5 WAR)? Or a 26-year-old in Arozarena who was already known from his huge postseason in 2020 and had a solid season with a .274 average, 20 home runs and 94 runs (4.1 WAR)? Sure, Arozarena's season was slightly more valuable since he played more games, but Franco's impressive debut at such a young age was more impressive. History has gone both ways on this debate. Garcia (11-8, 3.48 ERA, 2.6 WAR) figures to finish third.
Overlooked: The Orioles' Ryan Mountcastle hit .255 with 33 home runs and 89 RBIs.
---
National League Manager of the Year
Announced Tuesday, Nov. 16
Finalists: Craig Counsell (Brewers), Gabe Kapler (Giants), Mike Shildt (Cardinals)
ESPN MLB experts' picks: Kapler 13 votes (unanimous choice)
Schoenfield's take: Well, this is awkward. Shildt is a finalist — after getting fired following the Cardinals' wild-card loss to the Dodgers. He wasn't going to win anyway, not with Kapler guiding the surprising Giants to a franchise-record 107 wins and holding off the Dodgers in an epic division race. Manager of the Year usually goes to the manager of the team that most exceeded preseason expectations, not necessarily to the manager of the best team. In this case, Kapler did both — leaving Counsell, widely regarded as perhaps the best manager in the game, once again without the MOY award.
Overlooked: Atlanta's Brian Snitker will happily enjoy his World Series title.
---
American League Manager of the Year
Announced Tuesday, Nov. 16
Finalists: Dusty Baker (Astros), Kevin Cash (Rays), Scott Servais (Mariners)
ESPN MLB experts' picks: Cash 5 votes, Servais 5, Baker 3
Schoenfield's take: This should be a close race between Cash and Servais. Servais was a miracle man for the Mariners, who were in the playoff race until the final day of the season despite getting outscored by 51 runs. Seattle's 90 wins were the franchise's most since 2003. Cash, last year's winner, fielded 158 different lineups — most in the majors. His two pitchers with the most innings both had ERAs over 5.00. Fourteen different pitchers picked up a save. And yet the Rays won 100 games and won the toughest division in the majors. If Baker wins, he would join Tony La Russa and Bobby Cox as the only four-time winners.
Overlooked: Alex Cora guided the Red Sox back to the postseason after they went 24-36 in 2020 without him.
---
National League Cy Young
Announced Wednesday, Nov. 17
Finalists: Corbin Burnes (Brewers), Max Scherzer (Nationals/Dodgers), Zack Wheeler (Phillies)
ESPN MLB experts' picks: Wheeler 6 votes, Scherzer 4, Burnes, 3
Schoenfield's take: There would have been a time in the not-so-distant past when Julio Urias would have won based on his 20 wins and solid ERA, but voters now look beyond wins and focus on ERA, FIP, strikeout rate, walks and home runs (and WAR). Burnes has the edge if you look at those secondary metrics, as his 1.63 FIP (fielding independent pitching) was the lowest by a starter since Pedro Martinez in 1999. Burnes led the NL in ERA (2.43) and FanGraphs WAR (7.5) as well as ERA+, K's per nine and home runs per nine, and was second to Scherzer in walks per nine. The knock against him: He went 11-5 and pitched just 167 innings, which would be the fewest for a non-reliever Cy Young winner (not counting 2020).
Scherzer finished 15-4 with a 2.46 ERA and appeared to be the favorite — with Jacob deGrom long out of the race due to his season-ending injury in July — heading into his final two starts. But he allowed 11 runs over 10⅓ innings and his ERA rose from 2.08 to 2.46. That perhaps opened the door for Wheeler, who has the bulk advantage with his 213⅓ innings, most in the majors and a whopping 46 more than Burnes. He finished 14-10 with a 2.78 ERA — in front of a bad Phillies defense — and led in Baseball-Reference WAR (7.6) and was second in FanGraphs WAR (7.3).
Overlooked: Walker Buehler of the Dodgers ranked second in Baseball-Reference WAR and third in FanGraphs WAR while teammate Urias went 20-3 with a 2.96 ERA.
---
American League Cy Young
Announced Wednesday, Nov. 17
Finalists: Gerrit Cole (Yankees), Lance Lynn (White Sox), Robbie Ray (Blue Jays)
ESPN MLB experts' picks: Ray 10 votes, Cole 2, Lynn 1
Schoenfield's take: This might come down to how voters value Ray's season. Baseball-Reference has him leading with 6.7 WAR after he went 13-7 with a 2.84 ERA, leading the league in ERA, innings (193⅓) and strikeouts (248). FanGraphs looks at his inflated home run total (33) and credits him with just 3.9 WAR. Still, despite the home runs, Ray's run prevention was excellent and, coming off his horrid 2020 season, he stands to become one of the unlikeliest Cy Young winners in history.
Detractors will point to two of his final three starts, with the Blue Jays trying to make the playoffs, when he lost to the Rays (three runs in 4⅔ innings) and then the Yankees in his final start (five runs, including four home runs, in 5⅓ innings). Cole, however, had a 6.15 ERA over his final five starts. Indeed, Cole's ERA after the grip-substance crackdown was a mediocre 4.15 over the final four months. Then there's this: Against the other three rivals in the AL East, Cole went 5-6 with a 4.52 ERA while Ray went 4-6 but with a 3.40 ERA. (Not to dismiss Lynn, who had a 2.69 ERA but pitched just 157 innings.)
Overlooked: Boston's Nathan Eovaldi led in FanGraphs WAR.
---
National League MVP
Check out best moments at the plate and in the field from Phillies star Bryce Harper.
Announced Thursday, Nov. 18
Finalists: Bryce Harper (Phillies), Juan Soto (Nationals), Fernando Tatis Jr. (Padres)
ESPN MLB experts' picks: Harper 8, Soto 4, Tatis 1
Schoenfield's take: This is one of the weakest MVP races in a long time. Soto led NL position players with 7.0 WAR, but he put up his huge second-half numbers with the Nationals out of the playoff race and his overall power numbers (29 home runs, 20 doubles) are a little soft for an MVP winner, although his .465 OBP reigns supreme. Tatis led the NL with 42 home runs and hit .282/.364/.611 and drove in 97 runs in 130 games — the key figure being the 32 games he missed. If he had played 150 games, he likely goes 30-30 (he finished with 25 steals) and leads the NL in WAR (he finished at 6.5). He also struggled at shortstop with 21 errors in 102 games (after making just three in 57 games in 2020), eventually moving to the outfield to save wear and tear on his shoulder.
So maybe that makes Harper the favorite after he hit .309/.429/.615 with 35 home runs and led the NL in OPS, slugging and doubles. He carried the Phillies in the second half, hitting .338/.476/.713, and hit 19 home runs and drove in 46 runs the final two months to keep the Phillies in the race. On the other hand, Harper drove in just 84 runs, as he hit with less power with runners on base, and he hit .191 with just three RBIs in 19 games against the Braves, the team the Phillies had to beat to win the division.
Overlooked: Giants shortstop Brandon Crawford was the best player (6.1 WAR) on the best team.
---
American League MVP
Announced Thursday, Nov. 18
Finalists: Vladimir Guerrero Jr. (Blue Jays), Shohei Ohtani (Angels), Marcus Semien (Blue Jays)
ESPN MLB experts' picks: Ohtani 13 votes (unanimous choice)
Schoenfield's take: Really, the only question here is whether Ohtani will become the first unanimous AL MVP since Angels teammate Mike Trout won in 2014. His historic two-way season was one for the ages, something we haven't seen since Babe Ruth more than 100 years ago. He was one of the best hitters and one of the best pitchers in the league and that's no exaggeration. He hit .257/.372/.965 with 46 home runs, ranking third in home runs, second in OPS and slugging percentage, first in triples and fifth in stolen bases. As a pitcher he went 9-2 with a 3.18 ERA and 156 strikeouts in 130⅓ innings. Among AL pitchers with at least 100 innings he ranked ninth in ERA, sixth in strikeout rate and sixth in lowest batting average allowed. Add it up and Ohtani easily led the AL with 9.0 WAR.
In most seasons, Guerrero would have a stronger case after chasing a Triple Crown and finishing at .311/.401/.601 with 48 home runs, leading the AL in OBP, slugging, home runs (tied with Salvador Perez), runs scored, total bases and adjusted OPS. He was the best hitter in the league. Semien will end up with his second top-three finish in the MVP voting in the past three seasons after finishing third with the A's in 2019. He played every game for the Blue Jays, won a Gold Glove and his 45 home runs set a record for a second baseman.
Overlooked: Carlos Correa led AL position players with 7.3 WAR, edging out Semien's 7.2.
Wander Franco finalizes $182 million, 11-year contract in 'great day' for Tampa Bay Rays
ST. PETERSBURG, Fla. — Wander Franco and the Tampa Bay Rays have finalized a $182 million, 11-year contract that includes a club option for the 2033 season.
The shortstop's deal, which could be worth up to $223 million if the club option is exercised and incentives are reached, was announced Saturday.
"This is a great day for Wander and for the Rays, and is evidence of the mutual trust between Wander and our organization," Rays principal owner Stuart Sternberg said in a statement. "We are committed to fielding competitive teams year in and year out, and we all expect that Wander's presence and contributions will play a large part in maintaining our standard of excellence."
Tampa Bay won the AL East in 2021, but was eliminated by Boston in the ALDS.
The contract is the largest financial commitment to a player in the Rays' 24-year history. It's also the biggest deal in major league history for a player with less than a year of major league service time.
Franco is the fifth player with less than a year of big league experience to sign a long-term extension with the team. The others are third baseman Evan Longoria (2008), left-hander Matt Moore (2011), right-hander Chris Archer (2014) and second baseman Brandon Lowe (2019).
"The pace at which Wander has developed speaks to his potential," Rays president of baseball operations Erik Neander said in a statement. "We have seen him do special things on the field, particularly for a player that is only 20 years old. He's an exceptionally driven, budding superstar who can contribute to our success for a long time."
Franco made his major league debut June 22 and hit a three-run homer. He batted .288 with 18 doubles, five triples, seven homers and 39 RBI in 70 games. He finished third in the American League Rookie of the Year voting.
Franco put together a 43-game on-base streak to tie Cincinnati's Frank Robinson (1956) for the longest in major league history among players under 21. He went 7 for 19 (.368) with two homers and four RBI in four postseason games.
Franco would have been eligible for free agency after the 2027 season. He gets a $5 million signing bonus, with $2.5 million payments on Dec. 1 and June 1, 2022.
The yearly salary breakdown is: $1 million in 2022, $2 million in 2023 and 2024, $8 million in 2025, $15 million in 2026, $22 million in 2027 and $25 million in each of the last five seasons. The 2033 club option is $25 million, with a $2 million buyout.
Franco's deal also includes salary escalators if he finishes in the top five in voting for AL MVP. If he is traded before April 2, 2029, Franco receives a $3 million assignment bonus. It drops to $2 million if he is dealt on or after that date.
Hector Neris agrees to 2-year, $17M deal with Houston Astros
The Houston Astros have agreed to a two-year, $17 million deal with right-handed reliever Hector Neris, a source confirmed to ESPN.
Neris, 32, started the 2021 season as the closer for the Phillies but lost the job in June. He finished the season with a 4-7 record with 12 saves and a 3.63 ERA in 74 games.
In parts of eight seasons with the Phillies, Neris was 21-29 with a 3.42 ERA and 84 saves.
NBC Sports Philadelphia first reported the deal.
New York Mets add talent, depth with Starling Marte and more
Black Friday, a great American tradition, is supposed to be about a frenzied, wild-eyed scramble for bargains. And on this particular Black Friday, the Mets were certainly frenzied — we can only imagine what the eyes of Steve Cohen looked like as his club signed three free-agent hitters over the span of a few hours. Whether any of the deals for this trio qualifies as a bargain, though, we'll have to wait and see.
It's been an eventful offseason so far for the Mets, whose initial task after they wrapped up a 77-85 season was to find an executive to oversee all of this. It took them awhile, as they were linked in the rumor mill to everybody from Theo Epstein to Branch Rickey, but they landed on former Angels general manager Billy Eppler.
Meanwhile, as the early free-agent market heated up for starting pitchers, New York saw former rotation members Noah Syndergaard and Steven Matz sign elsewhere and watched from afar as Justin Verlander, Eduardo Rodriguez, Anthony DeSclafani and others came off the market. Then Cohen sounded off about Matz's agent on his always-entertaining Twitter feed.
It has all been, well, kind of frenzied and a little wild-eyed. In other words, the Mets have been in Black Friday mode all along — it just wasn't until the day after Thanksgiving that they finally got some players to show for it.