Miami Dolphins coach Brian Flores expects QB Tua Tagovailoa to start against New York Jets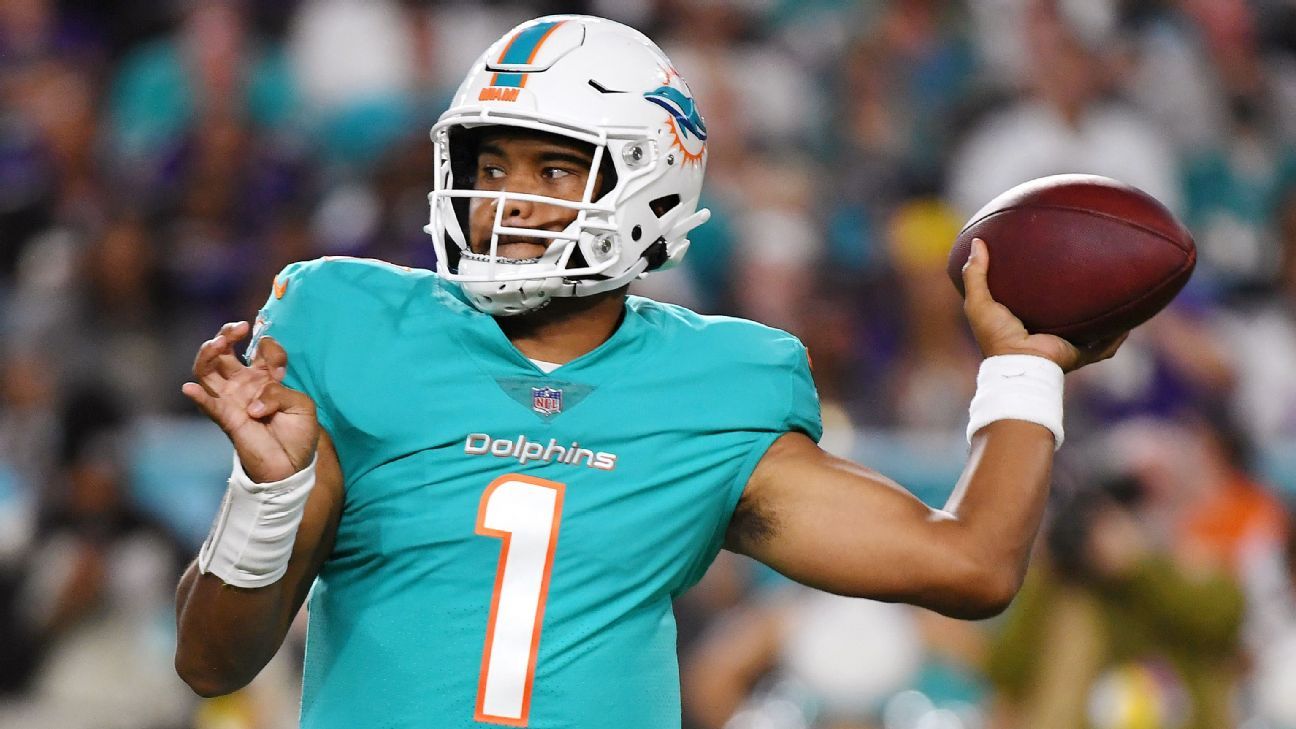 MIAMI — Dolphins quarterback Tua Tagovailoa is expected to start against the New York Jets, coach Brian Flores said Monday, after missing his past two starts with a fractured finger on his throwing hand.
Tagovailoa missed Miami's game against the Houston Texans in Week 9 and sat out the first half against the Baltimore Ravens in Week 10 before entering the game in relief on an injured Jacoby Brissett. The Dolphins won both games.
The former No. 5 overall pick suffered the injury against the Buffalo Bills in Week 8 but was able to finish the game. However, after aggravating his finger last week against Baltimore, Tagovailoa is not yet 100% healthy.
"He's definitely limited, there's definitely some discomfort," Flores said. "He hit the finger again so we've just got to monitor that as the week goes."
Flores said Tagovailoa had difficulty driving the ball downfield in practice last week, leading him to start Brissett for the second straight game. He also wanted to protect the second-year quarterback from injuring his finger any further — which he ended up doing against the Ravens.
Tagovailoa still finished the game completing 8-of-13 passes for 158 yards and rushing for a 1-yard touchdown to put the game out of reach in the fourth quarter. He confirmed his finger "doesn't feel good" following the 22-10 win and was grateful for the extra time to heal he would get before the Dolphins traveled to New York in Week 11.
"Obviously, he's going to have some discomfort with his finger. He banged it the other day, which we were trying to avoid," Flores said. "But he's had some time to rest it. He'll practice today and [Tagovailoa playing is] my expectation for this weekend."
Tagovailoa has missed four games this season — three due to fractured ribs he suffered early in Week 2 that landed him on injured reserve, and one due to his fractured finger. Brissett filled in for him in each instance but left Thursday's game with a knee injury.
Flores said Brissett was cleared to return but the team decided to stay with Tagovailoa. Brissett will be limited in practice throughout the week.
"It was kind of a scary situation but thankfully it wasn't everything serious," Flores said. "Let's call [Brissett] day-to-day."
Miami has won two straight games after snapping a seven-game losing streak earlier in the season. ESPN's FPI rankings give the Dolphins the third-easiest remaining schedule in the NFL but just a 1.7% chance at making the playoffs.
Minnesota Vikings' Everson Griffen goes on non-football illness list
EAGAN, Minn. — The Minnesota Vikings have placed defensive end Everson Griffen on the reserve/non-football illness list, the team announced Friday.
Griffen, 33, was transported to a mental health facility Wednesday after he refused to come out of his home following a disturbing series of posts he made on Instagram, including one in which he held a gun and said people were trying to kill him. Griffen called 911 shortly after 3 a.m. local time Wednesday and said someone was inside his home and that he needed help from the police. He told the 911 dispatcher that he fired a weapon but that nobody was injured.
Local law enforcement and Vikings team psychologists were on site and in communication with Griffen beginning around 7 a.m. Wednesday before the defensive end finally came out of his residence without incident around 1:30 p.m.
Griffen's wife and three children were not inside their Minnetrista, Minnesota, home at the time of the incident.
Coach Mike Zimmer did not provide any update on Griffen's condition Friday afternoon, shortly before the team placed him on the NFI list.
"You know, I don't know," Zimmer said. "I don't have much of an update on him. You know, we've been so busy with everything."
Griffen was officially ruled out of Minnesota's Week 12 game at San Francisco on Friday. His absence is considered indefinite in nature.
Dallas Cowboys consider sitting Ezekiel Elliott to heal injured knee, source says
The Dallas Cowboys will consider providing running back Ezekiel Elliott some time off to heal from the knee injury he has been managing, including the possibility of holding him out of next Thursday night's game in New Orleans, a source told ESPN.
The source does not believe that placing Elliott on injured reserve is a consideration at this time.
Elliott has consistently downplayed the significance of his injury. Asked last week whether he had discussed with the coaches taking time off, Elliott said it wasn't necessary.
"It's football," he said. "You get hurt. You aren't going to be 100%. I'm tough. Play through it."
However, in a conference call Friday, coach Mike McCarthy admitted concern about Elliott.
"It's that time of year, McCarthy said. "Zeke's running style is ferocious. He gives a pounding, and he takes some hits. We need to evaluate that, and this week we'll see what the preparation looks like for him."
The Cowboys have lost three of their past four games, and Elliott's rushing total has declined each of the past four weeks — from 51 to 41 to 32 to 25 yards against the Las Vegas Raiders.
After Thursday's 36-33 overtime loss to the Raiders, Cowboys owner Jerry Jones said Elliott has limitations and that the coaches went into the game seeking to establish the running game and planning 25 touches for Tony Pollard.
The Cowboys were averaging 152 rushing yards per game and nearly 5 yards per attempt through Week 8. That's down to 84.5 yards per game and 3.8 yards per rush over the past four contests.
Saquon Barkley, Kadarius Toney, Sterling Shepard among injured New York Giants
EAST RUTHERFORD, N.J. — The New York Giants may have a new play-caller, but much like the recently fired Jason Garrett, he will be working shorthanded.
Wide receiver Sterling Shepard was ruled out, wide receiver Kadarius Toney is doubtful and running back Saquon Barkley is questionable for Sunday's game against the Philadelphia Eagles.
The Giants fired Garrett on Tuesday because the injury-riddled offense hasn't been able to score enough points. Coach Joe Judge has said the role will be filled collaboratively, but senior offensive assistant Freddie Kitchens is expected to call plays now without some of the team's most potent weapons.
Toney and Shepard are nursing quad injuries. They did not practice this week. Barkley is dealing with an ankle injury that he admits could "nag" him throughout the remainder of the season.
Barkley returned on Monday night to face the Tampa Bay Buccaneers after missing four straight games. He was a limited participant at practice this week.
"The ankle is something that anytime you hurt that ankle is going to nag throughout the season," Barkley said. "But that is just something you have to stay on. You have to keep up and it gets better week by week."
Barkley said he expects to play on Sunday; that is his mindset. He played last week and insists the ankle is improving, according to Barkley.
While the Giants (3-7) are expecting Barkley on the field, they are going to be without Shepard, tight end Kaden Smith (knee) and fullback Cullen Gillaspia (calf).
Toney and tight end Kyle Rudolph (ankle) are doubtful. It would also be a surprise if safety Logan Ryan (reserve/COVID-19) were cleared to return this week.
Toney is the Giants' leading receiver with 35 catches for 392 yards. Shepard is second on the team with 32 receptions for 324 yards, despite being sidelined three different times by injuries.
Shepard has dealt with injuries to each hamstring and now his quad. This will be his third straight game missed, and the sixth this season.
Toney, the Giants' first-round pick out of Florida earlier this year, suffered his quad injury in the second half of Monday night's loss to the Tampa Bay Buccaneers. He also missed time earlier this season with an ankle problem that sidelined him for two games.
The Giants seem to be holding out some hope that Toney can play.
"He's in key with the game plan. KT's a real smart guy in terms of being in the meetings, going through some of the stuff internally in the bubble with some walk-through stuff and all," Judge said. "He understands the concepts of what he has to do. It's been a couple of weeks as a young player that he's been able to get out there on a Friday and practice for us at a good level and get him into the game and make plays for us."
The problem, in this case, is that Toney did not get to practice on Friday. It makes it unlikely he plays Sunday against the Eagles.