F1 Brazilian Grand Prix 2021, winner, results, Max Verstappen, Lewis Hamilton, drivers championship, tie breaker, points, next race, calendar
There are three races to go and only two title contenders remaining. This Formula 1 season is going to go right down to the wire.
Lewis Hamilton's stunning last-to-first victory at the Brazilian Grand Prix on Monday morning (AEDT) means the closest title fight since 2016 is set to go all the way down to the wire.
Only Hamilton and leader Max Verstappen are mathematically able to win the title now, with the Dutchman's lead cut to 14 points.
The two have dominated the championship this season, appearing together on the top two steps of the podium in 11 of the 19 races to date.
Verstappen has accumulated 332.5 points through those 19 races, while Hamilton has 318.5, with just three to go before the season – and the turbo-hybrid era – are complete.
Stream Every Practice, Qualifier & Race of the 2021 FIA Formula One World Championship™ Live & On-Demand on Kayo. New to Kayo? Start Your Free Trial >
Max and Lewis go at it again on turn 4! | 00:57
READ MORE:
'MASTERCLASS': HAMILTON PENALTY CAUSES PANIC AS CHAMP OVERCOMES UGLY MAX RUN IN DURING F1 DRAMA
'WE COULDN'T FIX IT': DISASTER STRIKES TO END RICCIARDO'S 34-RACE STREAK IN DOUBLE MCLAREN BLOW
'BRUSHED IT UNDER THE CARPET': MERCEDES FUME AT 'LAUGHABLE' DECISION IN F1 CHAOS
Hamilton has dominated that era, winning six of the seven titles up for grabs, with the only one missing going to his then teammate Nico Rosberg in 2016.
That season was decided at Abu Dhabi, which is likely to decide this season too, but there are is plenty to happen between now and then.
Technically, it is still in the hands of both drivers.
Should Hamilton win the remaining three races, even if Verstappen finished second in all three, he will overhaul the 14-point difference to win the championship by a point.
But it could be even closer than that, with three bonus points on offer for the fastest lap between now and the chequered flag in Abu Dhabi to throw a mathematical spanner into all possible permutations.
There is of course the very realistic chance that both Hamilton and Verstappen could end up on identical points totals by the end of the season – all it would take is for three more Hamilton-Verstappen 1-2s but the Dutchman to take one more fastest lap than his rival.
Should that happen, F1's tie breaker is simple: Whoever won the most races over the course of the season is champion.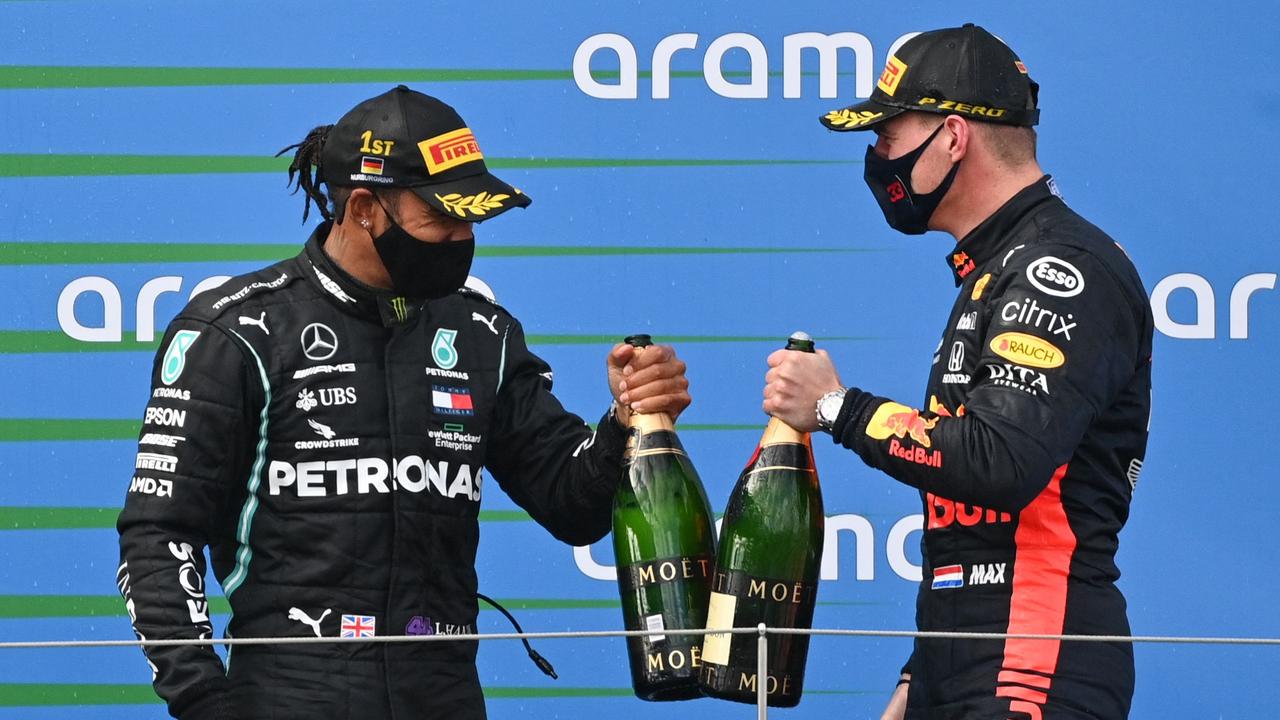 Currently, Verstappen leads that statistic 9-6, but for this permutation to happen, Hamilton would need to win all three of the remaining races, which would mean they'd be tied 9-9 on races won.
In that incidence, we'd go to second-place finishes, which Hamilton currently leads 7-6, but Verstappen would overtake him on to lead 9-6 and therefore become champion.
In fact, other than finishing ninth in Hungary, second is the lowest finish Verstappen has had all season excluding retirements.
Of course, one more win for Verstappen would mean Hamilton would be relying on another one of those retirements to have any chance of overhauling him from there.
The further twist in the tail is that of the final three races, two are at tracks none of the drivers have ever raced at before.
Qatar, which is the next race up this weekend, was called in at the eleventh hour to replace the Australian Grand Prix before it joins the F1 calendar permanently in 2023 on a 10-year contract.
Is Max too close for comfort? | 00:27
It is also the debut of the Saudi Arabian Grand Prix the following weekend, which again no driver has ever driven at before either and will provide further uncertainty.
The season finale is in Abu Dhabi as it has been for the last few seasons but will have some tweaks and modifications to the track the drivers know so well. Hamilton has been on the podium there 9 times since 2009, including five wins. Verstappen won it in 2020, second in 2019 and third in 2018.
All three are night races and bound to involve huge levels of tension and – inevitably – drama.
Game on.
Saudi Arabia Grand Prix, Lewis Hamilton, Max Verstappen, championship race, leaderboard, crash, reaction
Lewis Hamilton edged out Max Verstappen to win a chaotic and controversial Saudi Arabian Grand Prix that had the F1 world divided on Monday morning.
There were a number of flashpoints during the race that only intensified the ongoing tension between Hamilton and Verstappen, who are now level on points ahead of the decider.
Hamilton had sped away from pole position before the balance of power shifted after 10 laps when Mick Schumacher buried his Haas in a barrier.
Hamilton and Mercedes teammate Valtteri Bottas pitted under the safety car but Verstappen stayed out.
Stream Every Practice, Qualifier & Race of the 2021 FIA Formula One World Championship™ Live & On-Demand on Kayo. New to Kayo? Start Your Free Trial >
'I didn't understand what was going on' | 01:27
Four laps later, the race was red-flagged to allow the barriers to be repaired which enabled Verstappen to pit, change tyres and resume the race in the lead.
On the restart, Hamilton reclaimed the lead but claimed he was forced off the track by Verstappen.
Moments later there was another red flag as Sergio Perez, George Russell and Nikita Mazepin all collided at the rear of the field.
The stewards decided that Verstappen's manoeuvre was illegal and promoted Alpine's Esteban Ocon to pole for the third start of the race, with Hamilton in second and Verstappen in third.
Amazingly, Verstappen then took the lead again with Hamilton following through.
However the drama and controversy continued when they collided late in the race. Hamilton said he had been brake-tested and Verstappen was penalised by the stewards before the Briton swept past and onto victory.
"It has been a dirty race in terms of tactics," Martin Brundle said on Sky Sports F1.
"This is absolutely crazy. It's kind of like we're making it up as we go along.
"But it's so many unusual situations. It's more like an obstacle course than a race track."
The F1 world was just as stunned by what unfolded on Monday, with the constant chaos proving hard to keep up with.
Lewis Hamilton slams Max Verstappen, Saudi Arabian Grand Prix, reaction, quotes, result
Seven-time world champion Lewis Hamilton lashed out at title rival Max Verstappen after Sunday's gripping Saudi Arabian Grand Prix, describing the Dutchman as "over the limit".
Mercedes driver Hamilton won a dramatic race under lights on the Jeddah street circuit but only after several close run-ins with Red Bull's Verstappen.
Stream Every Practice, Qualifier & Race of the 2021 FIA Formula One World Championship™ Live & On-Demand on Kayo. New to Kayo? Start Your Free Trial >
"I really had to try and keep my cool out there which was really difficult to do," said Hamilton.
"I have raced a lot of drivers in my 28 years of racing, I have come across a lot of characters. There's a few that are over the limit, the rules don't apply.
"He (Verstappen)'s over the limit for sure. I have avoided collision on so many occasions with the guy.
"I don't mind being the one who does that because you get to live another day. It doesn't matter for him if we don't finish. It does for me."
'Rules don't apply' – Lewis RIPS Max | 01:03
MORE F1 NEWS
'GUY IS F***ING CRAZY': Bitter F1 rivals ordered to front stewards as title race EXPLODES
'CHILDISH': Max Verstappen torched over 'pathetic' podium snub
The tense battle culminated in a late collision when Hamilton, apparently unaware that Verstappen had been ordered to give up the lead after an illegal manoeuvre shortly before, hit the Red Bull as it braked in front of him.
Red Bull maintained that Verstappen was simply following instructions while Mercedes intimated that the Dutchman was 'brake-testing'.
"I don't understand why he hit the brakes quite so heavily so I ran into the back of him," said Hamilton.
"I didn't get the information. It was very confusing."
Did Lewis intentionally hit Verstappen? | 01:50
A visibly annoyed Verstappen, however, denied any wrong-doing in the incident. "I slowed down, I wanted to let him by, I was on the right but he didn't want to overtake and we touched," said Verstappen.
"I don't really understand what happened there." Stewards, who gave Verstappen a five-second penalty for an earlier incident, were investigating the decision.
"It was quite eventful! A lot of things happened, which I don't fully agree with, but it is what it is," said the 24-year-old Dutchman.
'I didn't understand what was going on' | 01:27
He later stormed off the podium, refusing to take part in the traditional end of race champagne spraying with Hamilton and his Mercedes teammate Valtteri Bottas who took third.
The two drivers are now level on points as they head to the final race of the season in Abu Dhabi next weekend, although Verstappen has the advantage of having won more races.
"It's a straight fight as it has been all year," said Red Bull principal Christian Horner.
"The form is with Mercedes but Max has fought like a lion this weekend, he has given it everything."
Hamilton has now won three races on the bounce and is primed to become the first man to win eight world titles, one more than the record he currently shares with Michael Schumacher.
"I am personally chilled," he said. "I feel like I am in the boxing ring and I am ready to go."
Lewis Hamilton vs Max Verstappen, crash, stewards, ruling, update, reaction, video, radio, Toto Wolff
It was just one flashpoint in a drama-filled race with major repercussions on the Formula 1 championship race.
But the collision between Lewis Hamilton and Max Verstappen on Monday morning had been brewing long before lap 48 and its dramatic fallout is far from over too.
Hamilton took out the victory at the Saudi Arabian Grand Prix to draw level on points with Verstappen despite suffering wing damage in a late collision with his tense rival.
Stream Every Practice, Qualifier & Race of the 2021 FIA Formula One World Championship™ Live & On-Demand on Kayo. New to Kayo? Start Your Free Trial >
'Rules don't apply' – Lewis RIPS Max | 01:03
Verstappen had been ordered to give up the lead after an illegal manoeuvre shortly before but an oblivious Hamilton hit the Red Bull as it braked in front of him.
It left Toto Wolff fuming, with the Mercedes boss erupting as he tossed his headset onto the desk while Hamilton was simply puzzled.
"I didn't get the information, so I didn't really understand what was going on, it was very very confusing," Hamilton told Sky Sports post-race.
"All of a sudden he started backing up and started moving a little bit [across the track], I was like: 'Is he trying to play some crazy tactic? I don't know'.
"The message started coming through just as he … like, he hit the brakes so hard that I nearly went up the back of him and took us both out."
Verstappen did not have an answer either, telling Sky Sports: "I don't really understand what happened".
So, what exactly happened?
Well, a tense radio exchanged seemed to suggest Hamilton and Verstappen had every right to be confused.
MORE F1 NEWS
'RULES DON'T APPLY': Hamilton tears Max to shreds in 'over the limit' F1 spray
'CHILDISH': Verstappen torched over 'pathetic' podium snub
'TOO MUCH': Why ugly clash in F1 feud was 'inevitable'… and only going to get worse
Hamilton and Verstappen collide! | 00:57
Mercedes team manager Ron Meadows and FIA F1 race director Michael Masi engaged in a verbal disagreement over whether the move had been properly communicated.
MEADOWS: "Are we allowed to go by him?
MASI: "You are allowed to go by him.
MEADOWS: "Well, he needs to slow down and let us. We had no idea he was going to do that.
MASI: "Excuse me, Ron. I came over and told you.
MEADOWS: "No, no, no. You told me as it happened.
MASI: "Ok, well Ron I can only push as many buttons as I can."
"I think it was a misunderstanding, frankly," F1 great Martin Brundle told Sky Sports.
"Red Bull will say we tried to give him the place back, and he ran into us… Mercedes will say he brake-tested us."
Fellow commentator David Croft described it as a "bit of a mess", questioning whether Verstappen even tried to make the space to let Hamilton through.
'I didn't understand what was going on' | 01:27
Michael Masi, the race director, is a man with an awful lot on his plate tonight but it sounds like a bit of a mess in terms of the communications," he said in commentary for Sky Sports.
"Ron Meadows, the sporting director at Mercedes, is saying you didn't tell us at the time. We didn't have time to tell our driver the place was being handed back.
"Max didn't look as if he was moving to one side or another to make it easy for Lewis to get past."
"I think there was enough space," Brundle replied.
"Lewis just didn't know what was going on. Obviously it's confirmed because the team didn't realise and hadn't given him that piece of information in time."
Breaking down the incident after the race, two Sky Sports experts questioned what role the DRS (drag reduction system) may have played in the collision.
"Verstappen pushes Hamilton wide and both go off and as a result of that, Verstappen was told to give the place back but was told by his team to do it strategically," Teddy Kravitz said.
"Now, is that a smoking gun? Not really.
"Red Bull learned from Bahrain at the beginning of the year, when they didn't give the place back strategically to Lewis Hamilton, do it in a place where you are going to get DRS afterwards.
"You can give the place back, stick there for a few seconds and then immediately take the place back, that is the way to do it strategically. Clearly that is what Verstappen was trying to do.
Did Lewis intentionally hit Verstappen? | 01:50
"Hamilton was confused, maybe he was trying to do that so he had the DRS. When Verstappen was told to give the place back, crucially, the FIA's Michael Masi hadn't told Hamilton before he told Verstappen.
"So Verstappen knew Hamilton was going to take the place back and was told to give the place back strategically.
"But they hadn't told Hamilton that Verstappen was going to slow down and let him pass."
Anthony Davidson agreed the DRS could be an additional factor to monitor in the motivation behind the move.
"There is one thing to remember here," he said.
"I think there might have been a little bit of gamesmanship going on because of the DRS detection point coming up and I believe this is what they are both playing at here.
"This line is the critical thing. That line there is the DRS detection point. If you are within one second of the car in front of you, you get DRS don't forget down that next straight.
"I think they were kind of racing towards this one and that is why in the re-pass that Max did in the second time around, he immediately went for it. He had the DRS to cover himself.
"I wonder, in desperation to get to that line and make sure you're behind that car to really attack them down the main straight, maybe that was what was going on and it adds another element to the confusion for all and the stewards as well."
Hamilton and Verstappen have both been called to the stewards for an alleged breach of FIA sporting regulations.