Aaron Rodgers left feeling emotional after Packers win in QB's return from 10-day absence
GREEN BAY, Wis. — Emotional and exhausted. That's how Aaron Rodgers said he felt after the Green Bay Packers' 17-0 win over the Seattle Seahawks in the quarterback's return from his 10-day absence because of COVID-19.
It won't go down on any list of Rodgers' greatest games, but he still walked off Lambeau Field on Sunday sounding satisfied and grateful, if not a little tired.
"A lot of emotions for sure," Rodgers said. "Good to be back with the guys, good to be back at home, good to be on the field, really. The most emotions from the whole night was probably walking off the field after the game. It definitely got me a little misty. It was good to feel those types of emotions and good to be back with the guys."
When asked why he got "misty" after the game, Rodgers said: "I just don't take these things for granted, walking off the field as a winner. It's fun beating that squad. We've had some battles over the years. Just walking out with [teammate] Preston [Smith], who I have so much love and appreciation for, and then hearing that type of response from the crowd — it was a little extra special today."
It was only Rodgers' second career win without a touchdown pass and at least one interception. He had previously been 1-5 in such games. He completed 23 of 37 passes for 292 yards. His interception came in the red zone on an un-Rodgers-like play, when he threw a ball up in desperation and was picked off in the end zone by Seahawks safety Jamal Adams. It was his second red zone interception of the season after not throwing any inside the 20-yard line all of last season.
Packers coach Matt LaFleur and the offensive staff did most of their game-planning work with Rodgers virtually until Saturday, when he was allowed back at Lambeau Field. Rodgers technically did not practice all week, although the team does typically hold a walk-through session the day before games.
"I wouldn't say it was tough to game plan but you're always wondering how it's going to look on game day when you haven't had any reps with him," LaFleur said. "But we've got so much confidence in his ability to go out there and execute. I thought there were a lot of plays, for whatever reason, that didn't quite work out."
Rodgers conducted his postgame news conference via Zoom after the Packers were fined $300,000 last week in part because Rodgers broke the COVID protocol that requires unvaccinated players to speak to reporters either virtually, or in person while wearing a mask.
Rodgers did not say why he chose the virtual option on Sunday.
He also spoke in somewhat hushed tones when compared to his usual postgame manner following victories, prompting a question about whether he was happy.
"I'm happy; I'm just so tired," Rodgers said. "It's been a long, long 10 days … I felt great on the field, but it's been a couple weeks since I've been out there playing. So it was fun to be back out there and I'm excited for our guys, I really am."
The Packers (8-2) still have two more games before their Week 13 bye.
Rodgers received both criticism and support for his comments on vaccinations and acknowledged last week he might have misled the public about his vaccination status when he said on Aug. 26 that he had been "immunized."
"Everybody has an opinion and I understand that it's a very polarizing issue for some individuals but I'm just focusing on the support that I got and it was deep and wide, and greatly appreciated," Rodgers said. "There's always going to be criticism in this world. I don't define myself by the criticism but I understand it's a part of this because this issue is definitely polarizing. But again, I'm just so deeply grateful for all the people that reached out."
Included among those who reached out, Rodgers said, were neighbors, teammates, coaches and even people in the organization that he referred to as "having a lot of the suits reach out and check on me was really, really special."
Rodgers is now cleared from the daily COVID testing for the next 90 days and also won't be subjected to the five-day quarantine if he's considered a close contact. Both are requirements of unvaccinated players.
However, he would return to those testing protocols and close contact rules during the off week between the NFC Championship Game and the Super Bowl, meaning Rodgers could be taken out if the Packers reached the Super Bowl.
"I don't really like playing the what-if games," Rodgers said. "So what I do know is I have more than two months right now where my protocol's not testing every single day. So that's kind of the only thing I'm thinking about. I don't like playing the hypothetical game. Obviously, you'd love to be playing the second weekend in February and hopefully we're in that position."
Mike Zimmer's underachieving defense may have sealed his fate in Minnesota – Minnesota Vikings Blog
DETROIT – When they needed to dig deep and display their very best, the Minnesota Vikings' defense made things easy on Detroit Lions quarterback Jared Goff on Sunday.
After the Vikings regained the lead – 27-23 – with a late fourth-quarter touchdown, Goff and the Lions' offense took the field at their own 25-yard line with 1:50 to go. Over the course of 14 plays, the Vikings blitzed Goff just once, and that play nearly resulted in an interception by Bashaud Breeland, who couldn't come down with the ball.
Instead of pulling out a stop, Minnesota let a Lions team that was on a 15-game winless streak – and had no timeouts – march 75 yards en route to an 11-yard touchdown and 29-27 win.
"It was as good as you can do it for us offensively, and we were able to walk down the field there on them and made that play at the end," Goff said. "It came down to one play, and we were able to make it."
It's become routine at this point, the Vikings playing "off and soft" – the way Goff described Minnesota's zone coverage – as a method of preventing a big play from happening, only to allow a team to come back and score at the end. Four times the Vikings have been beaten by their opponent's final drive.
Coach Mike Zimmer called two timeouts in the last eight seconds to help his defense get set at the 11-yard line, but it backfired and gave the Lions a chance to regroup and figure out how they were going to attack on that final fourth-and-2 play.
Zimmer said he probably should have dialed up more pressure on Detroit's final drive – Minnesota sent just three rushers on the Lions' TD – but the Vikings let Goff off the hook. Minnesota blitzed on just 14% of Goff's dropbacks, the lowest blitz rate they've ever had against him, according to ESPN Stats and Information.
Here's how the postseason bracket looks at the moment and what scenarios lie ahead.
• Playoff picture: Who is currently in? »
• ESPN's Playoff Machine »
• Standings » | Football Power Index »
"We weren't covering that great," Zimmer said. "So, I mean, everything is hindsight, I guess."
Make no mistake about a loss that drops the Vikings to 5-7 and cuts their chances of making the playoffs to 26%. Offensive playcalling deserves a bulk of the blame for the poor start Minnesota got off to Sunday, but Zimmer's defense – this once vaunted unit – has failed the Vikings again and again.
It happened in Carolina on Oct. 17, when the Vikings let Sam Darnold force overtime by going 96 yards in 1:27 to score a touchdown and convert a 2-point attempt. It occurred again when Dallas backup quarterback Cooper Rush strung together a 75-yard drive that ended with a touchdown in the final minute to give the Cowboys the win two weeks later.
It even happened against Detroit on Oct. 10, when the Vikings allowed the Lions to take a 17-16 lead with 41 seconds remaining in the fourth quarter and had to rely on a 54-yard field goal to narrowly escape.
Minnesota's two-minute defense has been a struggle all season, but now it's closing in on historic lows. The Vikings lead the NFL in points allowed in the final two minutes of any half with 101 (the next closest team is Seattle with 83). The most points allowed in the final two minutes of a half in the last 20 seasons is 107 – a record set by Minnesota in 2020.
For weeks they've tried to remedy this problem area by condensing their defensive playcalls and emphasizing the two-minute drill in practice to focus on preventing the pass interference penalties that have killed drives.
None of it has worked.
"That's been an area we've struggled in all year, and it bit us [Sunday]," safety Harrison Smith said. "We've got to fix it."
As they regroup for a short turnaround with Pittsburgh coming to Minneapolis for Thursday Night Football (8:20 p.m. ET, Fox), the Vikings face a stark reality about this defense. It appears this unit was never going to be good enough to stand up against the type of teams it would face in the playoffs, and it very well could be what seals Zimmer's fate after eight seasons in Minnesota.
There hasn't been a consistent return on investment for a defense that was the focal point of the offseason. In retooling this entire unit, Minnesota doled out north of $46 million in guaranteed money to defensive players.
Of course, injuries are an issue behind many of their struggles. The Vikings found out Sunday morning that they would be without linebacker Anthony Barr (knee/hamstring) in addition to Eric Kendricks (biceps) while top cornerback Patrick Peterson remained on the COVID-19/reserve list. And even though the Vikings got starting defensive tackles Dalvin Tomlinson and Michael Pierce back in Detroit, their pass rush remains thin, especially at defensive end.
But being the victim of Detroit's first win is inexcusable, no matter who is on the field. Goff went 6-for-10 for 124 yards and two touchdowns on throws traveling more than 10 yards down field Sunday. He threw one touchdown and four interceptions on throws traveling the same distance in his first nine games of the season combined.
The Vikings made a bottom-tier quarterback look competent and blew another late-game lead. The same issues for this defense in Week 13 were there in Week 1, but Sunday might have been the last straw on what's been a consistent pattern under Zimmer for years: This team hasn't been able to put away or stop teams when it matters, and it has regressed each year since losing the NFC Championship Game to Philadelphia in 2017 with a defense that was ranked No. 1.
In Jalen Hurts vs. Gardner Minshew QB debate, answer is clear for Eagles – Philadelphia Eagles Blog
EAST RUTHERFORD, N.J. — Monday marks the one-year anniversary of Carson Wentz being benched in favor of Jalen Hurts.
Calls for the Philadelphia Eagles to make a quarterback switch came weeks earlier than that, as Wentz struggled through the worst season of his career. Then-coach Doug Pederson resisted for a while, understanding the weight and potential consequences of such a decision. But with the Eagles trailing the Green Bay Packers 20-6 in Week 13, and the offense once again stuck in neutral, Pederson went to Hurts early in the third quarter.
Hurts brought the offense to life and pumped some juice back into the season. He beat the 10-2 New Orleans Saints the following week in his first career start, and despite up-and-down play over the final three games, he proved to be the more effective quarterback of the two. However, the move to Hurts set in motion a chain of events that led to a disgruntled Wentz being traded and Pederson and most of his staff being fired.
Lessons from that situation should be applied one year later with the Eagles quarterback position once again the subject of conversation. Gardner Minshew got the start Sunday in place of the injured Hurts and lit up the New York Jets, going 20-of-25 for 242 yards with two touchdowns in a 33-18 win. Tight end Dallas Goedert (six catches, 105 yards, two TDs) had a career day and the passing game was efficient, stoking curiosity about what the offense might look like with Minshew at the helm on a longer-term basis.
Coach Nick Sirianni did his best to end the debate before it had a chance to gain steam.
"He's played really good football when he's in," Sirianni said of Hurts, "so when he's healthy and he's back, he'll be our starter."
Hurts has earned that right.
He is coming off the first three-interception performance of his career against the New York Giants and has been inconsistent in the passing game — his 60.1 completion percentage ranked 28th in the NFL entering Week 13 — but overall, he's had the offense operating at a pretty high level. The Eagles rank eighth in red zone success rate (66 percent), fifth in third-down conversions (45.4%) and 10th in points per game (25.9) under Hurts. Hurts is second among quarterbacks with 695 rushing yards, behind only Lamar Jackson. From Weeks 7-11, Hurts was the No. 1-ranked QB in the NFL in QBR (75.0) before taking a step back against New York.
Here's how the postseason bracket looks at the moment and what scenarios lie ahead.
• Playoff picture: Who is currently in? »
• ESPN's Playoff Machine »
• Standings » | Football Power Index »
This is not a case of the starting quarterback holding a team back. There is not a similar desperation as last year to get things kick-started.
Even if there were, switching to Minshew would not be the right answer. Unlike other positions where you can change starters without much blowback, flipping quarterbacks can have an irreversible impact. It can cause split allegiances in the locker room and force players to second-guess the coaching staff and the entire operation. The chances of pushback are far greater when the demoted QB has cemented himself as a respected team leader, as Hurts has.
With Wentz, whatever trust he had left in the organization flew right out the window the moment he was replaced in the lineup. The risk is not worth the reward in testing the relationship with their current QB1.
With Wentz being granted a trade in the offseason, Hurts was handed the controls. The team has shifted into a state of transition, and with the Eagles holding upwards of three first-round picks in April's draft — capital they can use to pursue a quarterback if they so choose — this season became largely about figuring out whether Hurts could be the long-term answer.
That remains the most important question facing the Eagles. There are four games remaining on the regular-season schedule, giving Philadelphia four more opportunities to evaluate Hurts before making a franchise-altering decision.
Minshew can be an effective quarterback. He has 39 career touchdowns to 11 interceptions. He looked really good on Sunday. But it was against the Jets, who have a habit of making opposing quarterbacks look really good. Even before giving up 418 yards to the Eagles on Sunday, the Jets' defense was the NFL's worst through the first 12 weeks, according to ESPN's Football Power Index.
Minshew mania is fun. It's natural to wonder what the offense might look like in their next game against Washington with him at the controls.
But you don't have to look back very far at this team's history to know that short-sighted quarterback decisions often blow up in your face.
Bills have been carried by defense without stars, but now face their biggest challenge short-handed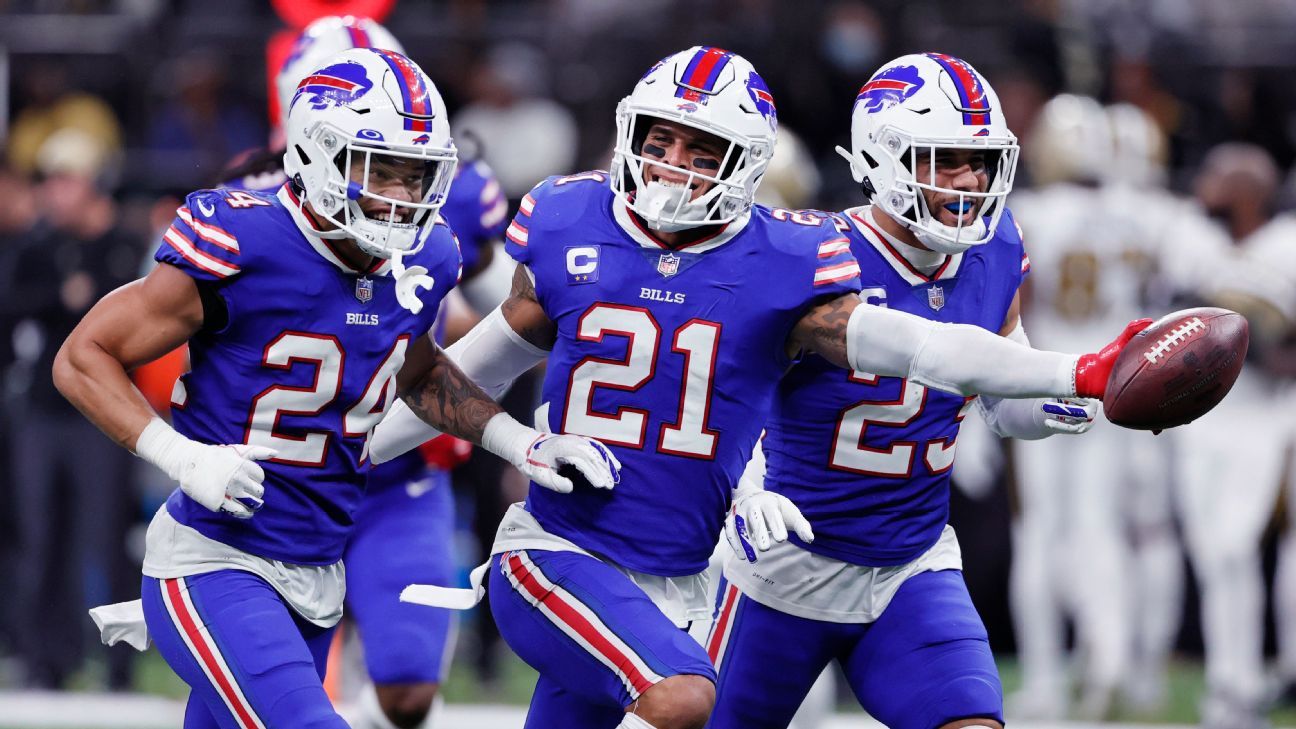 BUFFALO, N.Y. — With 1:15 left in the third quarter, down 38-3 to the Buffalo Bills, New York Jets quarterback Mike White threw a deep pass to the sideline intended for wide receiver Keelan Cole.
But safety Jordan Poyer picked it off, setting off a celebration among the Bills defensive backs, who counted to five on their fingers and then let the "money" rain. Five marked the number of turnovers the defense forced that day — four interceptions and one fumble — one by each of the starting defensive backs.
Per the Bills, it marked the first time five defensive backs for any one team had each gotten a takeaway since at least 1967.
And Poyer was plenty aware of the history he set.
"Heck yeah, that boy knew," fellow safety Micah Hyde answered for his teammate. Hyde wanted his defensive coordinator to know, too.
"I was joking around with [defensive coordinator Leslie] Frazier," Hyde said. "I said, 'Not the '85 Bears' [who accomplished that feat]. He thought that was funny."
Frazier, a cornerback on the Super Bowl champion 1985 Chicago Bears, has been the Bills defensive coordinator since 2017. This season, his defense is ranked No. 1 in yards allowed (275.2 per game), second in scoring defense (16.5 points per game) and tied for second in takeaways (25). But the offense gets most of the attention, led by stars such as quarterback Josh Allen and receiver Stefon Diggs.
The Bills' defense wasn't built around flashy acquisitions — although it did flirt with free agent J.J. Watt before he landed with the Arizona Cardinals. Instead, the team's focus has been on adding productive players who didn't fit elsewhere and developing its own draft picks and re-signing them to long-term deals.
One of the biggest tests for the Bills (7-4) comes against another top-ranked defense — and longtime division bully — the New England Patriots (8-4) on Monday night (8:15 p.m. ET, ESPN). And Buffalo will have to do it without one of its top players in All-Pro corner Tre'Davious White, who was lost for the season after tearing the ACL in his left knee in the win over the Saints.
But it's the lesser-known players on this defense who make it work, and will have to rise the occasion this week.
The challenge ahead
The Bills have a chance to beat the Patriots for the third straight time. New England has lost three times in a row to a single opponent (including playoffs) only five times under Bill Belichick, and not since the 2007-12 Giants.
Buffalo will have to do it without White, who allowed just a 50.8% completion percentage and 58.9 passer rating to opposing quarterbacks, both fourth best among defensive backs with 50-plus targets this season, per NFL Next Gen Stats. He was the only player who had not given up a passing touchdown this season among nearest defenders with at least 50 targets.
"We want to play for T. White. T. White was one of the best players on our team," Diggs said. "He's one of the hardest workers on our team, and not having one of your pieces or one of your guys out there, it's definitely a little different. … Because we knew at one point this season we was gonna need guys to step up."
Second-year corner Dane Jackson is expected to fill in for White. One piece of good news: The Bills are getting some help at defensive tackle with Star Lotulelei expected to return after missing three games on the reserve/COVID-19 list.
The game will be a measuring stick in multiple ways. Buffalo will be trying to take down the team that dominated the AFC East for so many years and has beaten the Bills in 35 of 42 games under Bill Belichick, with two of the Bills' wins coming last year. The Patriots won 17 AFC East titles under Belichick and spent 233 weeks in first place since 2000, nearly 200 more than anyone else.
With November's AFC rookie of the month in quarterback Mac Jones playing well, and the $163 million they invested in free agency, the Patriots are playing at a top level once again.
"[Jones has] grown throughout the year," Poyer said. "I think he's kinda found a rhythm, and he's got good players around him. They run well, he throws the ball well, and his receivers catch the football well. That's a good formula for a win right there."
It'll be another stiff challenge for a defense that has been dominant while the offense continues to find its identity. And it's the two players on the back end of the group who have played key roles in doing just that.
A top safety duo
Just before the start of the season, Hyde and his wife, Amanda, had their second child, a baby girl. The safety joked his newfound early-morning energy from the baby might annoy his teammates.
"I'm up in the morning getting the milk hot. I'm feeding her and I'm coming in the building already up for a couple hours, so the young guys are probably going to get tired of me soon because I'm motivated. I'm ready to go. I'm on a mission. I want to do whatever I can to help this team win a championship."
The two captains — Hyde and Poyer — are both in their ninth seasons. They epitomize the model coach Sean McDermott and general manager Brandon Beane have used to find defensive success, with both coming over in free agency in 2017 after having less success with former teams.
"They're interchangeable. They can both play in the box and they can both play on the back end," Greg Cosell of NFL Films, an analyst on ESPN's NFL Matchup, said. "… I think both of those guys have a great feel for what they see."
Since joining the Bills in 2017, Poyer, a seventh-round pick in 2013 by the Eagles, is tied for fourth in the league in interceptions (18) and is tied for the third most in the NFL this season (five). While Hyde doesn't get flashy takeaway numbers (three INTS in 2021), he has been a dominant member of the secondary, third in interceptions (12) and pass breakups (34) since joining the team.
The defensive backs have a group chat just for them and go out to dinner every week, another example of the extensive time spent together. Taron Johnson is one of the least involved in responding to text messages, while backup safety Jaquan Johnson is one of the players who responds often, while Poyer and Hyde are "just really telling us what to do most of the time," said Taron Johnson.
The most valuable nickel
While Taron Johnson might listen to advice from the two elder safeties, his own work and contributions to the defense have been vital. The Bills have a nickel corner — almost always Johnson — on the field for 94% of snaps. That's the highest amount by any team in a single season since personnel tracking began in 2007, and nickel defense wasn't used as commonly in the past.
For comparison, the Colts use it the second most this season at 79%. What's the reasoning? The Bills' trust in Johnson, who signed a three-year, $24 million extension in October.
When Johnson is the nearest defender in slot coverage, he allows a 46% completion percentage (ranks first in the league), an expected points allowed of minus-14.4 (first), a passer rating of 57.7 (second) and yards per attempt of 4.6 (third). He's playing at an incredibly high level, while also being asked to play linebacker at times for the Bills.
"I remember coming here my rookie year, and wanting to be on the field 100% of the time, because I was just playing nickel and at that time, my rookie year, it was about probably 65% nickel," Johnson told ESPN. "For them to have that kind of trust in me … hopefully I keep making them right."
It helps that Johnson has excelled playing wherever the Bills need him, often as the third linebacker on the field.
"Taron Johnson is critical," Cosell said. "I don't think they've played with three linebackers since Week 6. So, they play nickel on every snap. You can't do that unless your slot corner can do everything. And when I say everything, he has to be able to play the run, and we're going to really find out this week because the Patriots are a run-first team."
When Johnson steps up to help as the virtual third linebacker on the field, he works with a pair of strong linebackers in 2018 first-round pick Tremaine Edmunds and recently re-signed Matt Milano. Despite uncertainty on which position Milano would play when he got to the NFL because of his size (6-foot, 223 pounds), he has emerged as one of the defense's key pieces.
'A complete multidimensional linebacker'
Offensive tackle Dion Dawkins remembers meeting linebacker Milano for the first time. The two were part of McDermott's first draft class and were roommates for OTAs.
Milano is Dawkins' "guy" because of his ability to keep up with the offensive linemen at the dinner table.
"He gets the exact same order as me," Dawkins said. "If I get 20 wings, he's getting 20 wings. If I get waffle fries, he's getting waffle fries. And he is legit when it comes to food. I couldn't ask for any better of a skinny guy that likes to eat."
The linebacker doesn't quite agree with Dawkins' assessment.
"I don't know about to the full capacity, but [Dawkins] likes Bar-Bill and I enjoy Bar-Bill occasionally. … Not as much as him."
Milano had interest elsewhere as a free agent this offseason, but he re-signed with Buffalo and has been a key contributor. He leads the Bills in tackles for loss (10), which is twice as many as the second-ranked player on the team and ranks ninth in the league.
"He can play the run. He's very aggressive, he's got a good feel for what he sees," Cosell said. "He can match up man-to-man to tight ends, which they do with him a lot. He's a sideline-to-sideline player. Obviously, he can play in zone coverage.
"I just think he's a complete, multidimensional linebacker that really fits today's NFL game extremely well."
With the key pieces having played together for four or five years, this defense has the potential to finish as the best this season, despite the growth that still needs to occur from a young pass rush. The experience in the back end plays a key part in that.
"Whenever we're, like, clicking on defense, you can feel it as a team when everybody's playing together, everybody's doing their job, everybody's making plays," Milano said. "Then when we have an off couple plays or something, you can feel it. So I think just guys knowing each other's strengths and weaknesses and kind of where they're going to be and … everybody's on the same page communication-wise."