Supercars 2021, race 28, news, finish, Will Brown Erebus, Shane van Gisbergen, podium, Anton de Pasquale, results, video, highlights, Jamie Whincup
The final sprint race of the 2021 Supercars season delivered an absolute war between Red Bull Ampol Racing teammates and title rivals Jamie Whincup and Shane van Gisbergen.
But it was 23-year-old Erebus rising star Will Brown who held them off for a sensational first-ever victory – before ecstatically enjoying burnouts in celebration.
The Erebus team boss Barry Ryan said: "It's incredible and it's great to see Red Bull don't work together. To hear what was going on in their garage, I was just laughing. It's just unbelievable to get a win like that!"
Brown echoed his manager's thoughts on the Red Bulls, saying: "I think they were annoyed with each other. I'm glad they fought."
He later added: "All I can say was keep doing it. I was loving it. I heard them up on the podium there, they didn't seem to happy with each other."
The rookie's victory came in his 38th career start, with Brown helping Erebus Motorsport to the team's first win since Darwin 2020.
Stream Every Practice, Qualifier & Race of the 2021 Repco Supercars Championship Live & On-Demand on Kayo. New to Kayo? Start Your Free Trial >
An elated Brown declared: "It was just a bloody awesome race… It was great. It was just awesome at the end."
He added: "The best part was just getting to do burnouts. That was sick!"
He said his celebrations would be: "One beer then I'm going to bed. I'm knackered."
Brown started fourth but rose to third off the line, leaving him behind the two title-winning drivers. But he pitted early and the undercut worked, moving him ahead of the two Red Bulls after all the cars had stopped.
Then it was a case of holding on as the duo attempted to hunt down the young gun – something he only just managed to achieve in sensational, gritty fashion.
'Awesome' finish as SVG storms to podium in 'go kart' battle
Bold pit call pays off for sizzling ADP as young gun shines again in crazy Supercars sprint
'Didn't think he'd keep driving me to the wall': Supercars feud boils over in wild start
RACE CENTRE: Full session results
Brown started brilliantly, getting past Races 26 and 27 victor Anton de Pasquale in the first two corners to move into third.
There was chaos behind them with Mark Winterbottom's car enjoying a miraculous recovery after his left rear bumper caved in on his left rear tyre in a shunt – unleashing plenty of smoke – before somehow righting itself after a lap. He had moved up to 12th in the opening lap despite the bump.
De Pasquale pitted for all four tyres – in just 7.8 seconds – in the 12th lap, but he was well out of contention as he slid down the pack later in the race.
Van Gisbergen pitted later used fresher tyres to get past de Pasquale. Whincup and van Gisbergen both stormed past Mostert – into third and fourth respectively on lap 22. But Tim Slade out in front had not pitted, leaving Will Brown the effective leader.
Brown took the lead when Slade pitted after lap 22, with van Gisbergen clawing right at the back of Whincup in a thrilling battle. The two touched, and van Gisbergen apologised over team radio: "Sorry about that, sorry."
They touched again with nine laps to go on turn three, before van Gisbergen was forced wide and into the turf off the next corner. Soon after the duo ran each other well off the road as Whincup ran well wide of the racing line to force his teammate even wider.
Van Gisbergen was stunned, asking his team: "Why am I being run off the road?"
A commentator declared: "There is real animosity between those two right now. That is not fake, that is authentic."
Whincup was told to let his teammate pass as he had a better chance of catching Brown for the win. But Whincup refused – and drops of rain hit with seven laps to go.
Rival teams were seen laughing in the pit lane as the Red Bulls battled. Whincup hit back on radio: "How about he works with me to get up to Brown?"
That strategy worked, with the duo putting away their own battle – briefly at least – to try and chase the victory. With five laps remaining the gap from Brown to the chasing duo was less than a second. The next lap it was half a second. From there on, it was touch-and-go for the final laps as Brown stoutly defended the lead and van Gisbergen always looked to take both of his rivals for a shock win.
Brown only just managed to hold on for a stunning victory – but the Red Bulls were furious with each other.
Whincup said: "We were good for the win. SVG wanted to have a battle… I've only got a couple of races left so I'm not going to give anything away. There was plenty going on. We raced hard right to the end. It was a good opportunity to get a race win… I've only got a few left so dog eat dog!"
Their race engineer Mark Dutton declared: "I think I got fired during the race!"
SVG said: "It was a tough one. It was obviously a good battle but I feel like we lost the chance for a race win."
"At one point I was enjoying the battle but I was thinking we had to win the race."
De Pasquale keeps winning into race 27! | 05:27
QUALIFYING REPORT
Saturday's action was highlighted by a near-wipe-out on the run to the first corner of the race between former teammates Will Davison and Jamie Whincup, continuing a bitter battle between the Shell V-Power Racing and Red Bull Ampol Racing teams that has ignited in recent weeks. Their fight has also spread to a host of barbed comments off the track.
And it was those two teams who were battling at the top of the qualifying times on Sunday's double-qualifying for the two sprint races.
In hotter conditions than Saturday, lap times were slightly slower across the field in the first session. But one thing didn't change: the man topping the timesheets.
Anton de Pasquale claimed his tenth pole of the season with a 1:29.201, 0.257 seconds over Davison, his Shell V-Power Racing Team stablemate. Whincup finished third but said the Shell drivers were "down the road" in terms of pace, while his teammate and championship leader Shane van Gisbergen was pipped by 0.042s to fourth place by Erebus rising star Will Brown, who claimed a second podium in three weekends on Saturday. But van Gisbergen copped a three-place grid penalty which saw him bumped down to eighth due to impeding Jack le Brocq.
The Anton de Pasquale story! | 07:48
De Pasquale – with less fresh tyres on offer – was caught in traffic during the qualifying session for Race 28 and couldn't repeat the feat. Instead it was Whincup on pole ahead of van Gisbergen by 0.210s, with de Pasquale just 0.018s behind him in third ahead of Brown.
It was seven-time champion Whincup's 92nd pole position of his career and his third of the 2021 season.
Whincup declared: "We maximised our set-up. It was interesting car 11 (De Pasquale) got back in the pack and might have got held up."
"We just stuck to our guns, clean air in front and happy days."
De Pasquale claims win in race 26! | 02:17
He said he had been 'spewing' at his lack of pace on Saturday when he finished fourth.
De Pasquale said: "It's not a bad day if a shocker is a third. It's all good … a pole and a third, we'll take that any day of the week."
Cam Waters qualified sixth – his best of the last three rounds – despite crashing in Saturday's race, which required his engineers to repair the car until 1.30am overnight.
Max Verstappen podium snub, result, Lewis Hamilton
Max Verstappen has walked off the Saudi Arabian Grand Prix podium without any celebration or recognition of Lewis Hamilton in a moment that has incensed Formula 1 commentators.
The Red Bull star was involved in one of the most heated, controversial battles in recent years as he twice made contact with his championship rival.
Verstappen and Hamilton now head to the Abu Dhabi Grand Prix locked even at 369.5 championship points.
The gloves are off in their rivalry as Red Bull and Mercedes accused each other of dodgy driving and questionable tactics in the wildest race of the year.
Stream Every Practice, Qualifier & Race of the 2021 FIA Formula One World Championship™ Live & On-Demand on Kayo. New to Kayo? Start Your Free Trial >
'Rules don't apply' – Lewis RIPS Max | 01:03
The drama continued off the track, with a series of monster developments, including:
— Verstappen being called to front a stewards investigation over accusations he "brake-tested" Hamilton at the moment the reigning world champion crashed into the back of the leading Red Bull.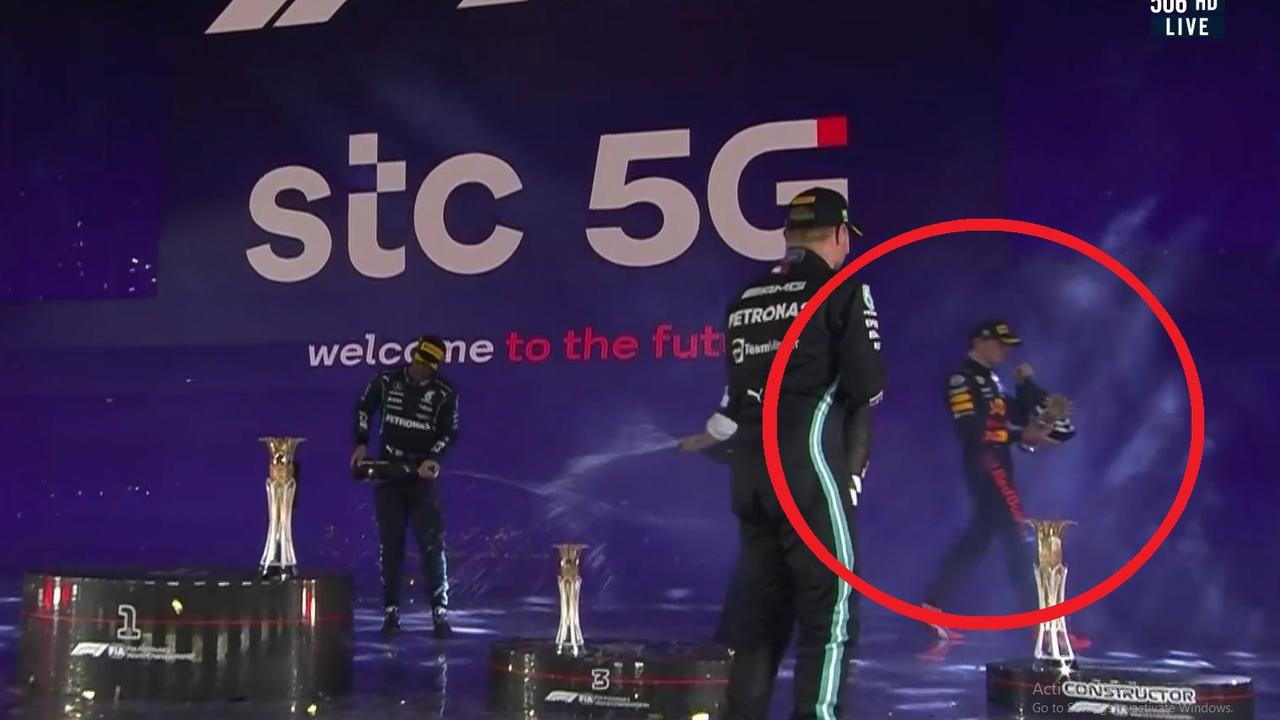 — Hamilton accused Verstappen of crossing the line over the two incidents where they made contact. The title race exploded on Lap 37 when the Dutch driver drove Hamilton off the track from the inside line. The pair were fighting wheel-to-wheel but the seven-time world champion couldn't get past as they made slight contact. Verstappen's defending was ruled to have been illegal and he was ordered to let Hamilton through. However, Verstappen hit the brakes, slowed down and Hamilton ran into the back of his biggest rival, damaging his front wing. Verstappen was also given a five second penalty.
— Verstappen snubbed the podium ceremony, walking away following the playing of 'God Save the Queen'.
The 24-year-old has been roasted by commentators with accusations of poor sportsmanship.
He was seen picking up his champagne bottle and exiting the stage without any eye contact between him and Hamilton.
Did Lewis intentionally hit Verstappen? | 01:50
F1 guru Martin Brundle said on Sky Sports: "He walked off the back. He does not want any part of that. He clearly feels very aggrieved that he had to give the lead back — having offered the lead back, but there was contact".
David Croft said: "Verstappen doesn't want to celebrate on that podium tonight. If the gloves weren't off before, they certainly are now."
Twitter was scathing of Verstappen's behaviour.
BBC sports commentator Sulaiman Folarin wrote: "Max Verstappen just confirmed he is a BAD sportsman. He walked off the stage without celebrating as customary. Where are his Apologists?"
Sports science doctor Rajpal Brar posted on Twitter: "Max Verstappen – cmon man. Understandable to be disappointed but after some of today's tactics and then to walk off the podium & not celebrate in the customary celebration – that's just poor sportsmanship".
Sports marketing professional Arvindi Hickman posted: "Verstappen showing his class by storming off from the podium celebrations. Very childish".
Journalist Antonello Guerrera wrote: "After all the dirty tricks on track, Verstappen even abandons the podium. Just pathetic".
Mercedes boss Toto Wolff said after the race his team had the telemetry data to prove Verstappen was slowing down before he accelerated and then slowed again to catch Hamilton off guard at the moment he had into the back of his rival.
Sky Sports analyst Anthony Davidson said the contact could be the result of Hamilton hoping to follow Verstappen to reach the DRS zone in a move that would have allowed him to jump his rival on the following corner.
"There was a little bit of gamesmanship going on, because of the DRS detection point," he said.
"This is the critical thing, that line there is the DRS detection point. If you're less than one second behind the car in front of you, then you get DRS down the next straight. He went for the DRS, maybe that adds another element to the confusion for all and the stewards as well."
The controversy has overshadowed an extraordinary race.
Hamilton was behind Verstappen for much of the 50-lap race which was stopped twice because of crashes and interrupted numerous times by the safety car and virtual safety car.
But Hamilton, nursing a damaged front wing caused by a collision with Verstappen, came through late, to claim his eighth win of the season and the 103rd of his career.
The title will be settled in Abu Dhabi, although if neither finishes in the points it will be Verstappen, who has nine victories, who will take the title.
"I have been racing a long time but that was incredibly tough," said Hamilton who gained an extra point for the fastest lap.
Verstappen finished second, 11.825secs behind in spite of being given a five-second penalty after colliding with the Mercedes star.
Hamilton's teammate Valtteri Bottas pipped Alpine's Esteban Ocon on the line for third place to give Mercedes a 28-point lead in the constructors' championship.
The season wraps up next weekend with the Abu Dhabi Grand Prix on Monday morning (AEDT).
— with AFP
Enzo Fittipaldi crash, Theo Pourchaire, video, Oscar Piastri wins
Enzo Fittipaldi, grandson of former Formula One world champion Emerson Fittipaldi, was airlifted to hospital after a serious crash at the start of the Formula 2 race in Jeddah, the FIA said.
French driver Theo Pourchaire, 18, who was also taken to hospital, was involved in the accident which happened when his ART car stalled on the grid.
Brazilian Fittipaldi, 20, then hit him hard from behind.
Stream Every Practice, Qualifier & Race of the 2021 FIA Formula One World Championship™ Live & On-Demand on Kayo. New to Kayo? Start Your Free Trial >
"The drivers were immediately attended to by emergency and medical crews," Formula 2 said in a statement.
"The drivers were conscious and extricated by the attending medical crews. Both have been transferred by ambulance and helicopter to King Fahad Armed Forces Hospital, Jeddah."
"Theo is fine, he has no fracture," Alfa Romeo F1 boss Frederic Vasseur told an AFP journalist at the starting grid for the Formula One Grand Prix.
The Formula 2 race was swiftly red-flagged with the rest of the field returning to the pits.
It restarted 40 minutes later before another accident and red flag brought it to a premature end, with Australian Oscar Piastri declared the winner as his world title edges closer.
Born in July 2001 in Miami, Enzo Fittipaldi graduated from karting through the levels to Formula 3 with Charouz Racing in 2021.
In September, he stepped up to Formula 2 for the second part of the season, making his debut for Czech team Charouz at Monza.
He finished seventh on Saturday in Race 2 in Jeddah, scoring his first points in F2.
He was a member of the Ferrari driver academy from 2017 to 2020. His grandfather Emerson won two F1 world championships with Lotus in 1972 when he was just 25, the youngest champion up to then, and two years later with McLaren.
Enzo's older brother Pietro, 25, made his Formula One debut with Haas at the 2020 Sakhir Grand Prix, replacing the injured Romain Grosjean.
Oscar Piastri world championship, results, Saudi Arabia, standings, Australian driver, F1 prospect
Australia's Oscar Piastri could become Formula 2 world champion overnight after a stellar start to the second-last race weekend of the season.
Piastri claimed victory in the second sprint race in Saudi Arabia, extending his lead at the top of the championship for the F1 feeder series, and will be on pole for Monday's feature race (1:25am AEDT).
The Melburnian, who will be Alpine's reserve driver next season after missing out on an F1 seat at Alfa Romeo, leads the championship on 200 points.
Stream Every Practice, Qualifier & Race of the 2021 FIA Formula One World Championship™ plus Formula 2 Live & On-Demand on Kayo. New to Kayo? Start Your Free Trial >
Guanyu Zhou, who was picked for the Alfa seat, has struggled all weekend and sits third on 143 points, while Robert Shwartzman has moved into second on 153 points.
If Piastri can extend his current 47-point lead out to 66 points, he will clinch the world title before next week's finale in Abu Dhabi.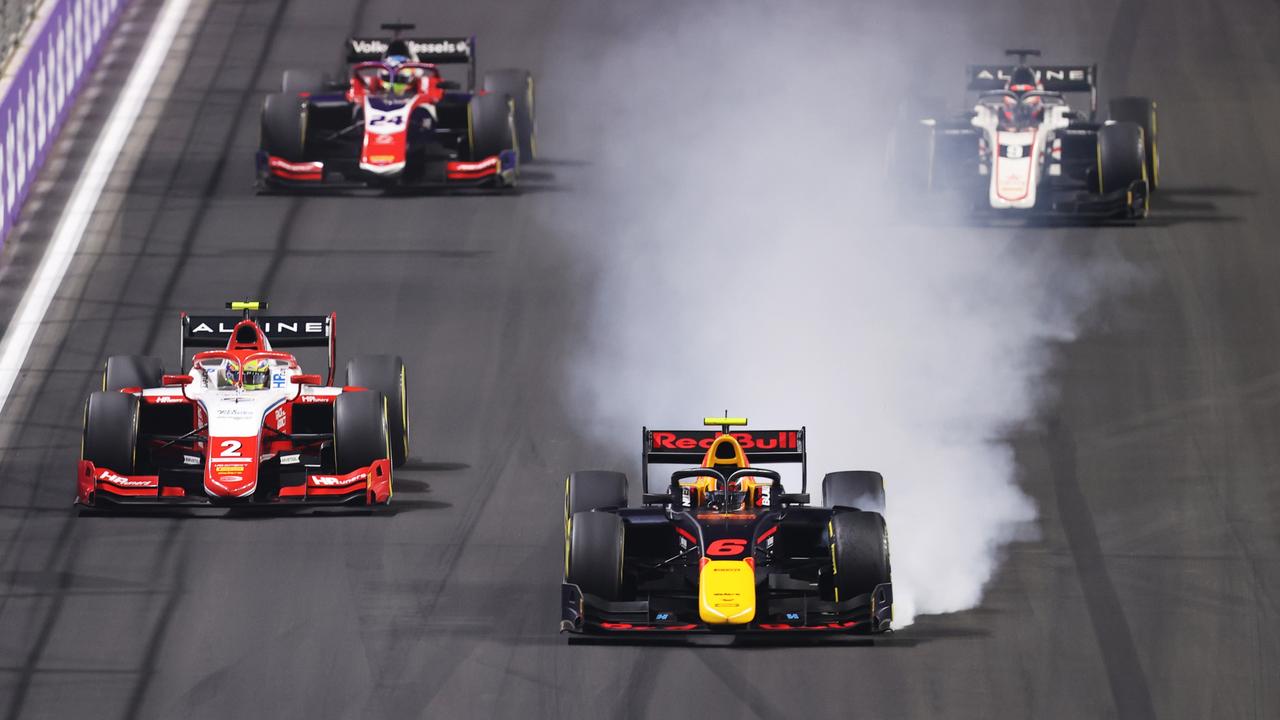 With Shwartzman starting second in the feature race behind Piastri and Zhou sixth, that appears somewhat unlikely, though possible.
The Aussie would need to win the race with the fastest lap while Shwartzman finishes sixth or worse (without the fastest lap, seventh or worse), as Zhou finishes third or worse.
No Australian has ever won the Formula 2 title, nor of its predecessors GP2 or International Formula 3000.
Piastri would become the third driver to win the Formula 3 and Formula 2 titles consecutively, following George Russell and Charles Leclerc.
Meanwhile Jack Doohan, the son of motorbike great Mick, finished fifth in the second sprint race – just his second F2 appearance – after making the jump up from F3.