Los Angeles Rams receiver Robert Woods suffers torn ACL, sources say
Los Angeles Rams wide receiver Robert Woods is out for the remainder of the season after suffering a torn ACL in practice Friday, sources told ESPN's Adam Schefter and Dianna Russini.
Woods went down with the knee injury and then got up and finished practice, sources told ESPN. After conducting media interviews after practice, he underwent tests which confirmed the injury, sources told ESPN.
The Rams (7-2), in search of depth at the position after releasing DeSean Jackson, signed free agent Odell Beckham Jr. on Thursday following his release from the Cleveland Browns.
Beckham will make his Rams debut against the San Francisco 49ers on Monday Night Football, sources told ESPN.
As a receiver, a blocker and an occasional jet-sweep runner, Woods is a vital component of the Rams' offense alongside NFL receiving leader Cooper Kupp and fellow starter Van Jefferson. Woods is second on the roster with 45 catches for 556 yards and four touchdowns while also rushing eight times for 46 yards and another TD.Woods' 70 targets this season were tied for 15th in the NFL entering Week 10.
Woods' injury is a big blow to the NFL's top-ranked passing offense led by new quarterback Matthew Stafford. It leaves Kupp, Beckham and Jefferson as the only accomplished, healthy wideouts on the roster.
In recent weeks, the Rams lost rookies Tutu Atwell and Jacob Harris to season-ending injuries. Earlier this week, a waiver claim to bring back released wideout Josh Reynolds fell short.
The only other receivers on the roster are Ben Skowronek and J.J. Koski, a pair of first-year wideouts who have a combined three catches for 30 yards.
A team captain, Woods has been a model of durability in his nine-year NFL career, never missing more than three games in a season due to injury.
Woods began his career in Buffalo before the Southern California product returned to his hometown with the Rams in 2017. Early last season, Woods agreed to a four-year, $65 million contract extension that begins in 2022.
In 4 1/2 seasons with the Rams, Woods has 367 catches for 4,626 yards and 23 touchdowns while also rushing for 485 yards and five scores.
ESPN's Nick Wagoner and The Associated Press contributed to this report.
NFL Week 13 fashion – Kyler Murray is back in style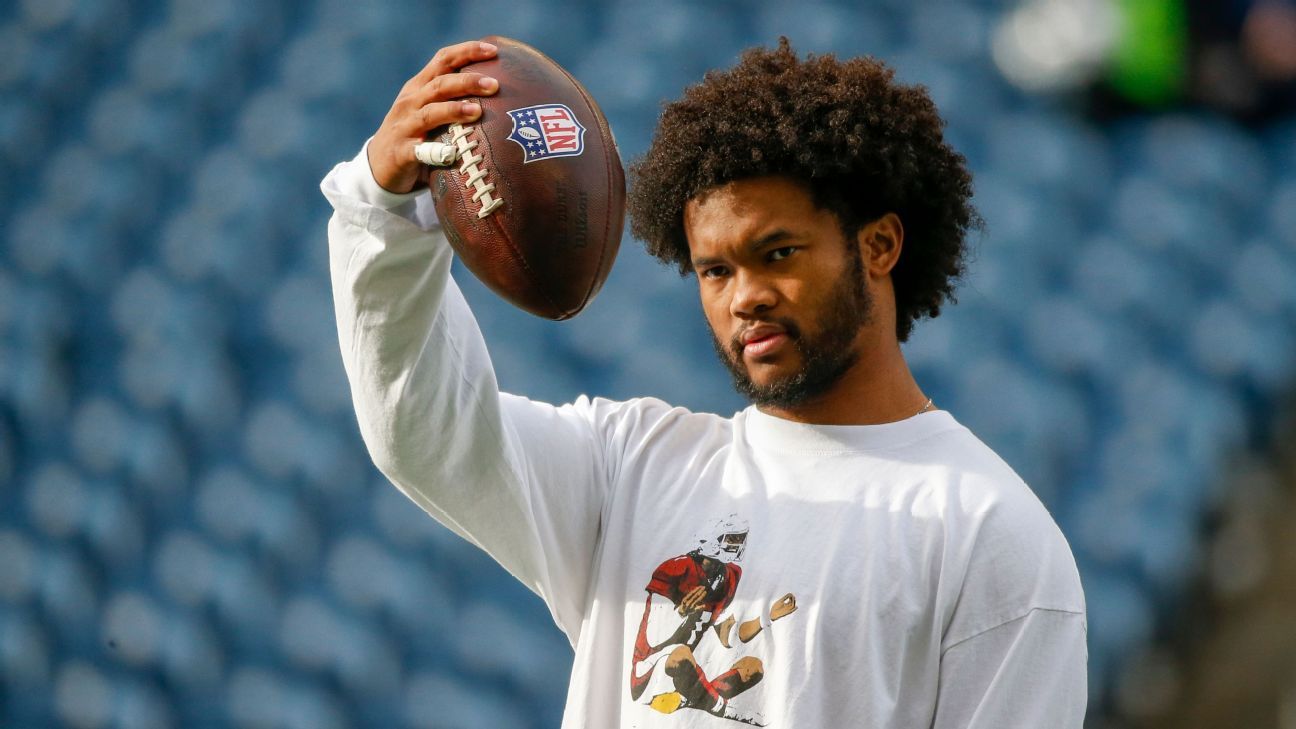 It's December, which means in addition to there being just four weeks left to the 2021 NFL season, it's also time for the winter wardrobe.
All eyes will be on key AFC matchups, as the Cincinnati Bengals host the Los Angeles Chargers and the Pittsburgh Steelers host the Baltimore Ravens. Can a now-surging Washington Football Team keep its three-game winning streak alive? How will the return of quarterback Kyler Murray and wide receiver DeAndre Hopkins impact the Arizona Cardinals?
With a great slate of games in Week 13, there must also be a great slate of outfits to match.
The return
Murray and Hopkins look fly in their return. Murray was out for the past three games with an ankle injury and Hopkins missed the same amount of time with a hamstring injury. The Cardinals are 9-2 and hosting a struggling Chicago Bears team.
k y l e r pic.twitter.com/YoWL3EjOiS

— Arizona Cardinals (@AZCardinals) December 5, 2021
Hop. pic.twitter.com/xqBmTwgzQd

— Arizona Cardinals (@AZCardinals) December 5, 2021
Oxford Strong
Detroit Lions safety Jalen Elliott wore the jersey of Oxford High School student Tate Myre. The 16-year-old star high school football player was one of four students tragically killed in Tuesday's shooting at Oxford High School, located just outside Detroit.
💙💛 4⃣2⃣ 💙💛#OxfordStrong | @Jae_Uno_ pic.twitter.com/tYxSvzm8e5

— Detroit Lions (@Lions) December 5, 2021
Winter wardrobe
Winter looks were on full display Sunday morning. Specifically, we are quite into Joe Mixon's all red suit — no big deal.
📍 The Jungle#ProBowlVote + @Joe_MainMixon #ProBowlVote + #TreyHendrickson#ProBowlVote + @Sam_Hubbard_ @Bose | #RuleTheJungle pic.twitter.com/M6GfmCwIUj

— Cincinnati Bengals (@Bengals) December 5, 2021
do you see this COAT???@e_moore03 pic.twitter.com/fG9wgMPZGk

— New York Jets (@nyjets) December 5, 2021
Howdy. 😈🤠 pic.twitter.com/hrj5ooODZK

— Indianapolis Colts (@Colts) December 5, 2021
Reporting for duty. 💼@Bose | #AZvsCHI pic.twitter.com/CXFEHhCw3g

— Chicago Bears (@ChicagoBears) December 5, 2021
Workin' on the weekend like usual.

📸 » https://t.co/f0KBGtsjgP | @FedEx pic.twitter.com/PFxMFN3Dbw

— Houston Texans (@HoustonTexans) December 5, 2021
Clock in. pic.twitter.com/V71plVjmHT

— Baltimore Ravens (@Ravens) December 5, 2021
Gardner Minshew is fired up to see dad after leading Philadelphia Eagles to victory
It has been quite an NFL journey for Philadelphia Eagles quarterback Gardner Minshew II, who added one more chapter to his already fun career book on Sunday.
The 2019 sixth-round draft pick by the Jacksonville Jaguars out of Washington State became a household name during the 2019 season when he took over the starting role due to an injury to Nick Foles. Minshew led Jacksonville to a 6-6 record and had an impressive rookie season by the time it concluded.
During Minshew's time as starting quarterback for the Jaguars, his swag, mullet and "jorts" were an instant hit among fans.
In the 2020 season, Minshew remained the Jaguars' starter until a Week 7 injury sidelined him for seven weeks. He returned to the field in Week 14 — throwing for 178 yards and a touchdown — after Mike Glennon was benched in a 31-10 loss to the Tennessee Titans. In Week 15, Minshew reprised his starting role again before losing the job to Glennon the following week. Then, in August, Minshew's journey started a new chapter when he was traded to the Eagles.
His latest time to shine came Sunday when Jalen Hurts was sidelined with an injury. In his first start as an Eagle, Minshew went 20-of-25 for 242 yards and two touchdowns as Philadelphia beat the New York Jets 33-18. His 133.7 passer rating was the highest for an Eagles starter since Foles (141.4) in the 2017 NFC Championship Game.
And the one person who has been there for all of Minshew's NFL career chapters? His father.
He and his father, Flint, shared a sweet moment after Minshew's big Sunday win.
You want to see how much this win and this moment meant to Gardner Minshew?

This is @GardnerMinshew5 after the game with an emotional moment with his dad, who tries to make it to every one of his games
🔥🔥❤️❤️ pic.twitter.com/lxOtlBmYrz

— John Clark (@JClarkNBCS) December 5, 2021
What will be the next chapter in Minshew's NFL career? We can't wait.
Logan Thomas' spectacular one-handed catch gets Washington Football Team off to fast start
LAS VEGAS — Washington Football Team tight end Logan Thomas has established himself as one of the best red zone targets, especially in traffic. Turns out he's capable of circus catches when wide open as well.
On Washington's first possession vs. the Las Vegas Raiders, Thomas capped a 75-yard touchdown drive with a leaping one-handed grab in the back of the end zone for a touchdown to give Washington a 7-0 lead.
Las Vegas lost sight of Thomas, Washington's top red zone target, who simply ran from his spot alongside the right tackle to the back left part of the end zone. But nobody from the Raiders' defense ran with him and he was all alone. However, quarterback Taylor Heinicke's pass was high, requiring Thomas to jump and grab the ball with his right hand as if going up for a rebound.
L😳GAN TH🤯MAS

📺 » FOX | #WASvsLV pic.twitter.com/QYW9ghN78F

— Washington Football Team (@WashingtonNFL) December 5, 2021
Thomas entered Sunday with 144 receiving yards in the red zone since joining Washington in 2020; that leads the NFL, despite him having missed five games this season. Thomas now has nine touchdowns in the red zone, including three this season.