Kansas City Chiefs' Chris Jones playing at 'home' thanks, in part, to addition of Melvin Ingram – Kansas City Chiefs Blog
KANSAS CITY, Mo. — Chris Jones returned to his former spot at defensive tackle for the Kansas City Chiefs in last week's game against the Green Bay Packers and to his teammates, something felt comfortable. For one of the first times this season, something felt right.
"That's where home has been [for Jones]," defensive end Frank Clark said. "I feel like it's an automatic mismatch for him. Those guys slide just one person on him and hope for the best when they've got him rushing against just one guard. It opens up the game for the other players as well.
"We started off the season with Chris at end. [With] that alone, the scheme is different now. What you're getting from the opposing offenses is different. Getting back to what we know best and Chris getting back to [playing on the interior] and him being dominant in there and me doing what I've got to do on the edge, I feel like it all works hand in hand."
The Packers had the season's lowest scoring total against the Chiefs, who won the game 13-7. Not all of that can be traced to Jones playing mostly at tackle for the first time all season. Green Bay, after all, had Jordan Love playing in place of Aaron Rodgers and making his first career start at quarterback.
• Prescott knows how to bounce back
• Ingram lets Jones play at 'home'
• WFT's Young answers critics
• 49ers' rookies lack production
• Colts still confident in Paye
But Jones had a season high for snaps at tackle against the Packers with 40. He also had a season low for snaps at end with two. Those numbers, combined with the addition of veteran end Melvin Ingram, had the Chiefs feeling good about their pass rush.
"Having all of those guys on the line, it felt strong," defensive tackle Derrick Nnadi said. "It's fun when we get the job done. It's a little frustrating when we miss out."
The Chiefs had one sack against the Packers, and it came from safety, Tyrann Mathieu. But the Chiefs were happy with the amount of pressure they were able to get on Love.
After acquiring tackle Jarran Reed in the offseason, the Chiefs felt comfortable switching Jones, who has for years been one of their best defensive players from an inside position, to end. The idea was that Reed could replace Jones' production inside while Jones and Clark would be a dynamic set of edge rushers.
Jones endorsed the idea.
"My favorite gap is any gap I can get to the quarterback in," Jones said during training camp. "But I feel good rushing off the edge."
The idea didn't work as planned. Reed hasn't done much with eight solo tackles and no sacks. Between injuries to Jones and Clark that kept each out of the lineup for at least two games, the Chiefs' pass rush was one of the least productive in the league. The Chiefs heading into the Green Bay game had 11 sacks, second lowest total in the league.
"There's a lot that goes into rushing the passer: hand placement, eye coordination, skill, a little luck, a little playcalling," Jones said. "When all of that comes together, when all of it works together for you, then you're able to reach the quarterback. Sometimes it doesn't work, sometimes it does."
It wasn't working for the Chiefs, so they traded for Ingram, who played for the first time against the Packers. Ingram and Clark were the edge rushers with Jones moving inside.
"We talked to Chris and he just wants to do what's best and help out wherever he can," coach Andy Reid said. "He sure did a nice job in there … and I appreciate his attitude on that as he goes forward."
Defensive coordinator Steve Spagnuolo didn't commit to Jones playing exclusively at tackle in Sunday night's game at the Las Vegas Raiders (8:20 p.m. ET, NBC).
"We're still going to have some flexibility with Chris," he said. "I don't think we're going to lose that. … We're not going to restrict him to one spot."
But with Ingram and Clark, there's little room for Jones on the edge, at least in pass-rush situations. Spagnuolo also acknowledged what Jones is capable of from an interior position.
"We know when he's in there, he can do some dominant things," Spagnuolo said.
San Francisco 49ers' Trenton Cannon ruled out with concussion after scary collision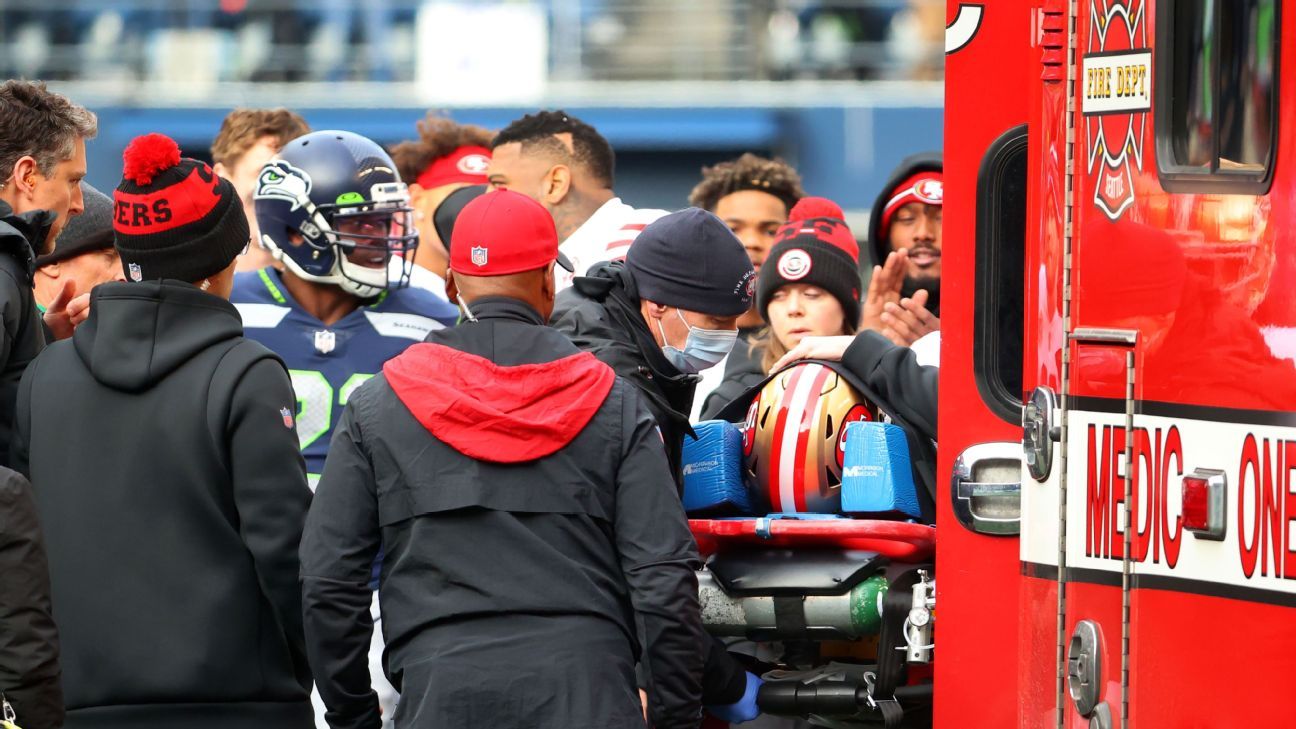 SEATTLE — San Francisco 49ers running back Trenton Cannon departed Sunday's game against the Seattle Seahawks with a concussion after a scary collision on the game's opening kickoff.
Cannon, who is one of San Francisco's primary special teams players, was chasing down Seahawks returner DeeJay Dallas when he collided with 49ers safety Talanoa Hufanga. On the play, Cannon attempted to tackle Dallas from one side as Hufanga converged from the other.
Both Cannon and Hufanga missed Dallas, and Hufanga's left thigh hit Cannon in the head as his neck bent backward. Cannon stayed on the field for minutes as medical personnel tended to him. After bracing Cannon's neck, medical officials removed his face mask, and he was loaded on to an ambulance and taken off for further observation.
Soon after, Cannon was ruled out for the rest of the game with a concussion.
Minnesota Vikings WR Adam Thielen ruled out with ankle injury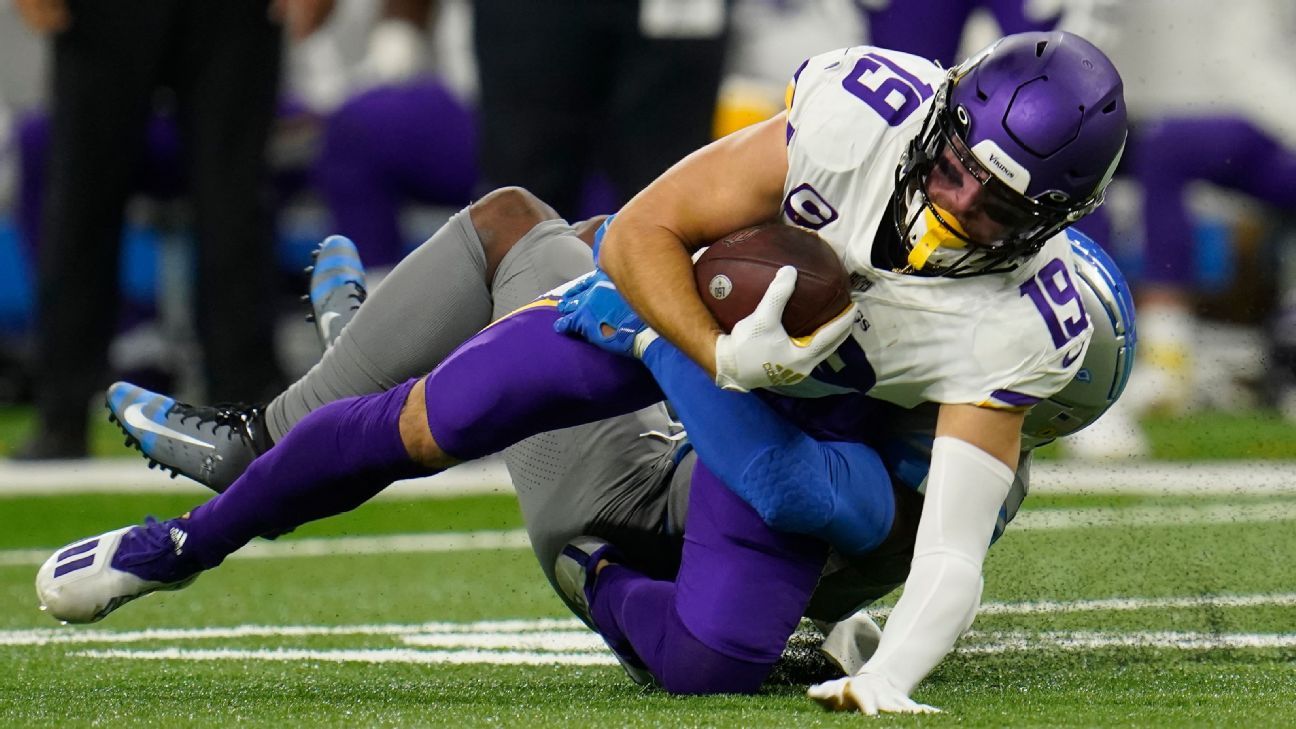 DETROIT — Vikings wide receiver Adam Thielen was ruled out for the second half of Sunday's game against the Lions, a matchup Detroit ended up winning 29-27 for its first win of the season.
Thielen injured his left ankle on the Vikings' first offensive series when he was tackled by Lions cornerback Jerry Jacobs after catching a screen pass on third-and-9.
The wideout fell to the ground and ripped his helmet off before being tended to by athletic trainers. After a short visit to the medical tent on the sideline, Thielen tested out his injured ankle behind Minnesota's bench but never returned to the field.
Minnesota trailed Detroit 20-6 at halftime, rallied but ultimately surrendered a last-second touchdown to the previously winless Lions.
Detroit Lions get first win of season with walk-off TD to beat Minnesota Vikings
DETROIT, Mich. — Inside Ford Field on Sunday, Detroit Lions fans experienced something that hadn't happened there in over a full calendar year: a win.
First-year Lions coach Dan Campbell will no longer have to field questions about a winless season, as Detroit upset Minnesota, 29-27, for their first regular-season win since Dec. 6, 2020, behind a walk-off, game-winning touchdown by rookie wide receiver Amon-Ra St. Brown from Jared Goff as time expired.
It also marked their first victory at home since Nov. 15, 2020.
Even without their dynamic running back D'Andre Swift (shoulder), the Lions were playing inspired football on the heels of the Oxford High School shooting on Tuesday where four teenagers were killed by a fellow student. The school is located a little more than 30 miles outside of Detroit. The Lions honored the victims with a moment of silence ahead of the kickoff, while also wearing T-shirts and helmet decals as a tribute.
At halftime, the Lions held their largest lead of the season after going up 20-6 and ended their drought of going 10 straight games of being held under 20 points. Quarterback Jared Goff controlled the offense, going 25-for-41 with 296 passing yards and three touchdowns.
"Those guys are on our minds. We want to represent them on Sunday," Lions coach Dan Campbell said during Friday's practice. "I know there will be a group of those students and kids and people that have been affected that will be watching this game. Right now, that's the best way to help them."
Detroit (1-10-1) also snapped an eight-game losing streak against the Vikings, dating back to 2017.