How J.J. Watt made WWII veteran and Chicago Cardinals star Marshall Goldberg relevant again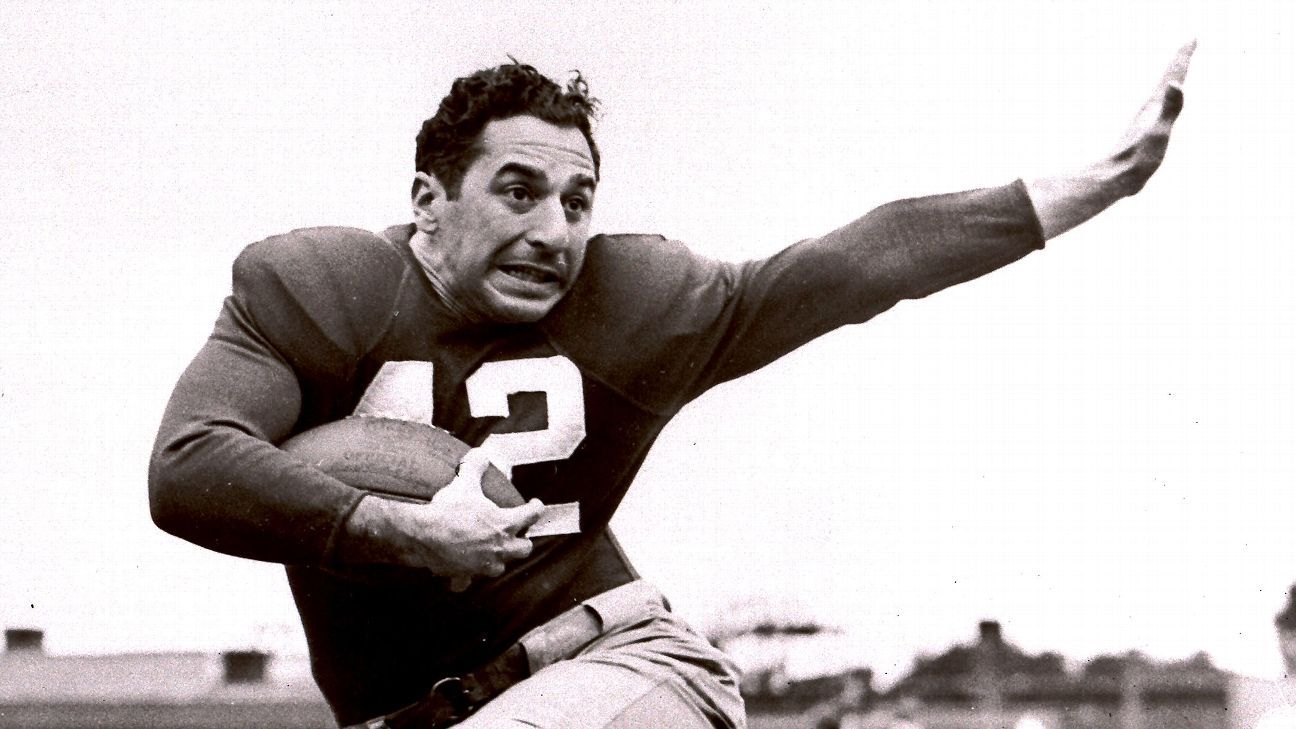 TEMPE, Ariz. — Ellen Tullos was asleep in her bed at home in Killeen, Texas, on this past March when her phone rang.
It was TMZ.
Tullos, 73, knew instantly who they were calling about — her father, former Chicago Cardinals two-way star Marshall Goldberg — she just didn't know why.
Turns out, TMZ was wondering if Tullos would be willing to give new Arizona Cardinals defensive end J.J. Watt, who had signed with Arizona the day before, permission to wear her father's number — No. 99. It was the number Watt had worn during his 10 years with the Houston Texans but one that had been retired by the Cardinals. Tullos didn't hesitate.
"I thought it was fine," Tullos told ESPN. "I understood that it was a number that was important to J.J. while he was playing sports, and it didn't seem like an unreasonable request.
"As it was, Dad got all the honors that he really deserved and needed to have his number retired and he's gone and J.J. is here, and he's dying to play and why not?"
For the next two hours, Tullos said she took five different phone calls, with about five minutes between each.
Once the TMZ story posted, Goldberg went from a mostly forgotten star of professional football's early days to the forefront of the NFL landscape. The day before the TMZ story, "Marshall Goldberg" ranked as a two on Google's 1-100 scale of search interest. On March 2, that number skyrocketed to 87. A day later, it was at 100, which Google equates to "peak popularity."
Goldberg is a College Football Hall of Famer out of Pitt who played eight seasons with the Cardinals — a tenure split up because of his stint in a special Navy unit from 1944 to '46 — and was part of the Cardinals' only championship in 1947. And now, 15 years after his death following an eight-year struggle with dementia he was remembered again, all because of Watt.
A Navy man, a family man
Goldberg's granddaughters got a kick out of their aunt being quoted on a tabloid entertainment site.
"Oh, my god," said Diane Elliston, Goldberg's oldest granddaughter. "I thought it was hilarious. So funny."
Elliston hasn't talked much about her grandfather recently, busy with four kids and a life in Colorado.
He's been gone a decade and a half, but the more she started talking about him, the more wistful she became. Her memories quickly came flooding back. She looked at photos and told stories.
She remembered a quiet man, even long before dementia took his memory and ability to communicate. He was efficient with his words and never sought the spotlight for his football accolades. Others did that for him.
As he got older, Goldberg began to watch football with his granddaughters and also opened up a bit about his time in the Navy.
Goldberg hit pause on his football career after the 1943 season to be a lieutenant in the South Pacific for two years during World War II. He joined the scouts and raiders, a special unit of the Navy that was a precursor to the SEALs. He rarely talked about his service, no matter how much Tullos asked; however, she remembered him being a "hell of a swimmer." He had given a Japanese rifle to his son, Marshall Jr., but never explained why he had it or where he got it.
"He would not speak of the war at all," Tullos said.
That started to change as he got older.
Goldberg took his other granddaughter, Laura Aranda, to a luncheon with about 10 of his Navy friends when she got a little older, peeling back some of the layers of mystery around his service. He used to show her a piece of pottery with a pebble that he picked up in Hiroshima that sat on a bookshelf in his den. That was all he'd talk about, though.
However, Cardinals owner Michael Bidwill said Goldberg was part of a group that walked through Hiroshima after the atomic bomb was dropped in 1945 that essentially ended World War II.
"He still felt like it was important for the policymakers to see what he saw because he was really taken aback by the devastation," Bidwill said.
Goldberg preferred to stay private yet positive.
The man from Elkins, West Virginia, loved to sing, from John Denver's "Thank God I'm a Country Boy" to Sinatra's "Chicago." If someone around Goldberg said something that was part of lyric, he'd pick up the song where they left off. Sometimes he'd be singing as early as 5 a.m.
Goldberg also had a versatile sense of humor that "was a big part of who he was," Aranda said. "He just was so jovial."
For as long as anyone could remember, Goldberg had a contagious positivity about him. He always tried to find a silver lining, his daughter remembered, and had a "don't give up" outlook on life.
It's how he lived life and it helped him become a star football player.
A force on the football field
One memory that's seared in Elliston's memory are her grandfather's hands.
"He had great hands, just beautiful hands," she said. "… They were just strong."
Elliston remembered noticing his hands because he would always hold a football on the laces while sitting on his Herman Miller lounge chair.
And football was always on TV in his 42nd-floor apartment in Chicago. He'd sit on the chair with his granddaughters on the couch next to it. They'd snack on mixed nuts and a bowl of berries, and he'd teach them the game.
"I used to say all the time that football was my dad's first love, despite my mother or me or my brother or anybody else," she said. "Football was his first love. So, you don't give that up. He wasn't extreme about staying involved but he always knew what was going on."
Like so many of his teammates in the 1930s and '40s, Goldberg played two ways.
And he was a force on both sides of the ball.
He began his pro career as a fullback, halfback and returner, and in 1941 he led the NFL in five statistical categories, but solidified his name as a safety late in his career, becoming one of the first defensive backs to blitz, said Joe Ziemba, a Cardinals' historian who wrote the book "When Football Was Football: The Chicago Cardinals and the Birth of the NFL."
"He could do it all and even despite some injuries he had throughout his career," Ziemba said.
At Pitt, Goldberg was a two-time All-American and two-time national champion. He held Pitt's rushing record from 1938 until 1974, when Tony Dorsett broke it. He was, perhaps, the most popular player in college football at the time, Ziemba said.
Goldberg was part of two "Dream Backfields" — one at Pitt with John Chickerneo, Dick Cassiano and Harold Stebbins and one with the Cardinals alongside Paul Christman, Pat Harder, Charley Trippi and Elmer Angsman.
He spent his entire pro career with the Cardinals, beginning in 1939 and ending in 1948, with a stint in the Navy between. When Goldberg returned from his service in 1946, Ziemba said he had lost a step offensively but was dominant as a defender, which manifested itself in the 1947 NFL championship game. Goldberg sealed the Cardinals' only title in 123 years with a late-game interception against the Philadelphia Eagles.
He was elected to the College Football Hall of Fame in 1958 and is also in the International Jewish Sports Hall of Fame in Israel.
One accolade missing, however, is induction into the Pro Football Hall of Fame. Goldberg has been a finalist twice — in 1979 and 2008.
His family spent more time thinking about the Hall of Fame than he did, Aranda said.
"I don't think he ever cared about that," she said. "It was something that I cared about for him, but I think that he was just fine with how he lived and proud of what he did, but never boasted about it."
Reaching the heights he did on the field, however, came with a cost he discovered later in life.
Dealing with dementia
Elliston started writing her grandfather letters in middle school.
Goldberg wasn't one for deep conversations, so writing back and forth to each other became their way of staying in touch beyond occasional phone calls and visits. Toward the end of high school, though, Elliston noticed he wasn't replying as often as he once had.
Unbeknownst to her, Goldberg was in the beginning of a cognitive decline, the early signs of dementia. Looking back, Tullos started seeing signs about five to 10 years before he went into a Chicago nursing home when he was 80. He would look off into space or get angry.
"We weren't sure what we were seeing," Tullos said. "It's hard to identify."
It was the NFL that started putting the pieces together for Goldberg's family. It sent him a questionnaire about head injuries. One question asked how many concussions he had. Goldberg remembered 18.
"It was the most chilling thing," Tullos said. "And that's 18 with a leather helmet. It's just inconceivable what he went through."
While Tullos worked as an interior designer in Chicago, she remembered clients telling stories about her dad getting knocked unconscious during games and being carried off the field on a stretcher to lay on the sideline until he came to, only to put on his leather helmet and run back on the field.
He used to talk about his concussions like they were badges of honor, Elliston said. He never talked about them with Tullos, though. It was too negative, she said.
Tullos said Goldberg wasn't one who wanted help.
"He certainly wouldn't have wanted somebody to take him to the hospital," she said. "That was the last thing he would ever want."
The brutality of the early days of the NFL led to Goldberg spending the final eight years of his life in a nursing home in downtown Chicago, where his third wife, Rita, kept him out of the public — and private — eye.
Yet as his memory waned, moments of lucidity would flicker, toggling Goldberg back to the father or grandfather his family knew and loved. He'd watch football games on TV intently and perk up and sing along whenever he heard the Pitt fight song.
Eventually the disease took over, though.
"It was shocking to see him in that way, and I always saw my father as a rather strong, commanding figure," Tullos said. "And the person I saw toward the end was pretty near helpless."
The one time Aranda visited the nursing home, in 2004, she couldn't hold it back. Seeing him in a state of silence led to tears. His only words to her that day: "Chin up."
Elliston brought her son, and Goldberg's great-grandson, Jack, then 10 months old, to visit Goldberg the year before he died. She put the infant on his lap and the two sat there, still, watching a football game on TV.
"They definitely had, maybe, like some unknown, unconscious or subconscious connection," Elliston said. "It was sweet. It was very, very sweet."
Goldberg died on April 3, 2006. He was 88.
A decade after his death, Goldberg was included in the $1 billion concussion settlement from the NFL. Goldberg's share of the settlement was five figures, Tullos said.
In the wake of his passing, the family established the Marshall Goldberg Fund for Traumatic Brain Injury at the University of Illinois Chicago, which Watt donated to shortly after talking to Tullos.
Just another way Goldberg's legacy was revived and continued.
"It was extremely important [to establish the fund] because it validated a situation that we knew was real," Elliston said. "To help protect young people from having that happen to them is really the goal. … The consequences of getting hit … are so dire."
Always a star
Watching Goldberg's legacy become prominent again 15 years after his death and 73 years after he played his last game has been an unexpected surprise for his family. But they've experienced his fame before.
Post-football, Marshall Goldberg went from working for a machine tool company to buying it and then crisscrossing the world for his second career. He dabbled in the stock market, was a "very serious, cosmopolitan, big-city businessman" but a "country boy" at heart, his daughter said.
Tullos and her nieces only knew about his playing days from what they watched and read or what he and others told them. But Goldberg's daughter and granddaughters all saw, firsthand, just how big of a star he was through what he meant to fans.
Elliston, 54, and Aranda, 51, remember dinners out with Goldberg in Palm Springs being interrupted because fans wanted to shake his hand or to ask if he watched the game the other night. Aranda remembered being introduced to some of Goldberg's friends who made sure to point out that "your grandpa's a big deal."
It seemed like any place Tullos went with her father growing up, all she heard was: "Marshall Goldberg, the football player."
She remembers fans stopping her dad on the streets of Chicago to say hello, and going to the movies as a child and seeing old-fashioned newsreels showing highlights of her dad's career on the big screen. When she'd tell the people sitting around her that the football player on the screen was her dad, she'd usually get the same response: "Sure, it is."
Watching others fawn over Goldberg became a way of life for Tullos and her family. Tullos still can't get over watching young boys, she guessed around 5 years old, recognizing Goldberg at Pitt games.
"It just floors me that it's gone on for so long," Tullos said.
When Aranda was a young girl, one of her friends asked for her grandfather's autograph. He obliged but she still remembers how awkward it was to ask him.
"He's just my grandpa," Aranda said. "So, I don't really know that I understood at the time the scope of his greatness. As I got older, I started understanding the stats and stuff, but we would enjoy games together, just sitting in his apartment in Chicago, and he'd do the play-by-play, and we'd just have a good old time."
The recognition waned over the years outside of certain pockets, like Chicago, where he lived, worked and raised a family after football; Palm Springs, where he had a second home; and Pittsburgh, where he went to school and finished in the top three of Heisman Trophy voting twice.
And to see it return has been "a little bit surreal," Aranda said.
Watt's call
The day the story hit TMZ, Tullos' phone didn't stop ringing. She talked to Bidwill, who thanked her for letting Watt wear Goldberg's number, did multiple media interviews and heard from most of her family.
"My cousins, everybody was calling me," she said.
"My head was spinning. It was wild."
Then Watt called. He had seen the TMZ report when he woke up in Arizona that morning and wanted to ask Tullos for the number himself. Their conversation was "very casual, very comfortable," making Tullos feel like they had talked before.
"He was charming, he was very kind and very low-key," Tullos said.
Watt had thought No. 99 was available when he initially looked at the Cardinals' roster. A high school friend explained it was retired — after being the third of three numbers Goldberg wore for the Cardinals. Watt considered picking a different number but then read what Tullos had told TMZ.
"I wanted to have a conversation with her to make sure and confirm that," Watt said in March. "Not that I don't trust sources, but I just wanted to make sure and hear it for myself. We had a great conversation. She was super sweet.
"She said that she believes her father would be honored, and she believes that her father, he was all about the players. So, she thought he would want me to wear it. I'm very honored and touched that they thought of me in that way, and that I can do that. I told her that I would do everything in my power to honor him and to make him proud and make his legacy proud."
Notable Bets – November among worst months ever for betting public
The proud and confident American betting public just turned in the worst month of NFL gambling that veteran bookmakers can remember.
Entering Monday Night Football, underdogs have covered the spread nearly 60% of games in November. Twenty-three underdogs pulled outright upsets during the month, and heavily-bet primetime favorites seemed to go down on a weekly basis.
"From week to week, things appear to change dramatically," Chuck Esposito, a veteran Las Vegas bookmaker with Station Casinos, said. "Dominant teams earlier in the year have come down to earth, and dogs have been covering at a much higher clip. There are 24 teams that are still fighting for playoff spots."
Public bettors have struggled to figure it out and got crushed in November.
"There was one week where the players had only one game that they won, and another week they only won two games," Jeff Stoneback, a 30-plus-year Las Vegas bookmaker, who oversees BetMGM's sportsbook in Nevada, said. "We did have big wins, yes, but the number of wins, percentage-wise for us, was unbelievable. I was shocked."
Sportsbooks' net profit or loss on bets is known as the "hold," as in the amount of money that bookmakers hold onto after everything is settled. Over the last three decades, Nevada sportsbooks on average have held around 5.5% of the money bet. The SuperBook at Westgate Las Vegas was on pace to hold around 6.25% this November.
"It looks like it will wind up being one of our best hold months in Nevada on record," John Murray, executive director of the SuperBook, told ESPN.
For the betting public, the unfortunate November came directly after a hot streak. In October, sportsbooks endured three consecutive losing Sundays. But all that did was plumpen bankrolls in time for a bookmakers' Thanksgiving feast.
Jay Croucher, head of trading for sportsbook PointsBet, said Week 9 was when the season turned against bettors, pointing to the Jaguars' upset of the Bills as two-touchdown underdogs as "especially notable" for his book.
Murray said Nov. 7, the Sunday featuring the Jags' upset of the Bills, was the SuperBook's best day of the season by far.
"There were some terrible Sundays for NFL favorites this month and that meant great returns for the house," Murray said.
November also brought a string of heavily-bet favorites losing in primetime. The Titans and 49ers each beat the Rams on primetime in consecutive weeks, and the Dolphins upset the Ravens on a Thursday night, producing books' biggest wins in November.
"It's been an excellent November so far for the book," Croucher added.
NFL notables
• Home teams are 77-101-1 against the spread) this season, which is on pace to the worst ATS mark in the Super Bowl era.
• Underdogs are 99-77-1 against the spread, which is on pace to be the best mark since 1980.
• With fewer games, betting handle on Sunday was lighter than in previous weeks, and there not many big decisions. Multiple bookmakers described Sunday's results as "insignificant."
• BetMGM offered a proposition wager on the Bears-Lions game on Thanksgiving: "Will both teams score 40 or more points?" A bettor placed a $227,026 bet on the "No" at -10,000 odds and won a net $2,270, with the Bears' 16-14 win.
• Biggest reported bets at Caesars Sportsbook:
$445,000 on Packers money-line +115 vs. Rams (Win)
$402,500 on 49ers -3 (-115) vs. Vikings (Win)
$385,000 on Browns +3.5 vs. Ravens $220,000 on Titans +7.5 vs. Patriots (Loss)
College football notables
• Sunday opening conference championship game lines at Las Vegas sportsbook Circa Sports:
Conference USA: Western Kentucky vs. Texas-San Antonio PK, 71.5
Pac-12: Oregon vs. Utah -2, 59.5
Big 12: Baylor vs. Oklahoma State -5, 46.5
MAC: Kent State -3, 72 vs. Northern Illinois
MWC: Utah State vs. San Diego State -5, 51.5
Sun Belt: Appalachian State -3, 53.5 vs. Louisiana-Lafayette
AAC: Houston vs. Cincinnati -12, 54.5
SEC: Georgia -6, 49.5 vs. Alabama
ACC: Wake Forest vs. Pittsburgh -3, 72.5
Big Ten: Iowa vs. Michigan -11, 41.5
• Georgia was around a 4-point favorite over Alabama before the weekend's games. But after the Crimson Tide struggled to pull out a win against Auburn, the SuperBook reopened Georgia a 6.5-point favorites. The early action on the game was relatively even, with 56% of the money bet on the game as of Sunday on the favored Bulldogs.
• Michigan's upset of Ohio State on Saturday produced the biggest win of the college football season to date for PointsBet.
What were the odds?
30-1: Alabama's odds to beat Auburn late in the fourth quarter, trailing 10-3. The Crimson Tide would tie the score on a late Bryce Young touchdown pass and win the game in the fourth overtime. [odds via Caesars Sportsbook]
-200: Bryce Young's odds to win the Heisman Trophy. Young is the odds-on favorite at Caesars Sportsbook, followed by Ohio State quarterback C.J. Stroud (4-1) and Michigan defensive end Aidan Hutchinson (15-1). Hutchinson was not listed last week, but caught the attention of oddsmakers-and bettors-after his three-sack performance in the Wolverines' upset of Ohio State on Saturday. He now has the third-best odds.
-9: Duke closed as a 9-point underdog to Gonzaga in their college basketball showdown on Friday. It's the first game the Blue Devils were more than a 7.5-point underdog, when ranked in the top 5, since at least the 1993-94 season. Duke won 84-81.
+14: The New Orleans Pelicans beat the Utah Jazz 98-97 as 14-point underdogs on Friday. It's the largest upset, point spread-wise, of the NBA season so far.
---
Q&A with a bettor
Cal Spears is a Tennessee-based entrepreneur in the fantasy sports and betting space, who hit a $1,000, six-leg same-game parlay on the Raiders-Cowboys game on Thursday that paid $266,566.27. Talk about a fulfilling Thanksgiving!
The six legs were:
•DeSean Jackson any time touchdown scorer
•Ezekiel Elliott over 19.5 receiving yards
•Josh Jacobs over 19.5 receiving yards
•Michael Gallup over 100 receiving yards (alternate line)
•Tony Pollard over 16.5 receiving yards
•Elliott any time touchdown scorer
Spears communicated with ESPN's David Purdum this week about his improbable win. The interview has been organized and edited for clarity.
Q: Take us through your process when creating this parlay. What was the thinking behind it?
While looking at late swaps for my DFS lineups during the Bears game it dawned on me Desean Jackson's chances of catching a bomb were underestimated. I opened Fanduel to check his yardage prop and they didn't even offer one. So I bet him to score a TD at +700 and then added on the other legs I liked. I actually hit another parlay that didn't include the Zeke TD and the Pollard Over for $91,000.
Q: Were you at Thanksgiving dinner when it all played out?
My girlfriend and I had plans to do Thanksgiving with my family in Madisonville, Kentucky, but we both came down with colds. We got negative COVID tests on Wednesday but still did not feel well Thursday morning. So we scrapped our plans and ended up laying on the couch all Thanksgiving watching football. I would not have made this bet if we made the trip to Kentucky; betting is not yet legal there.
Q: Takes us through the sweat, please.
The sweat couldn't have started any better with a DeSean touchdown just a few minutes into the game. Three quarters later it looked completely dead then Gallup came to life with catches of 41, 32, and 17 to cross 100 yards. Going into overtime I just needed one catch each from Zeke and Jacobs. I watched in disbelief as things fell exactly how I needed and then triple sanity checked stats to make sure.
Q: How did you celebrate and what will you do with the winnings?
The endorphins kicked in immediately and I was ready to celebrate but then I remembered it was Thanksgiving night and I had a cold. A proper celebration is pending.
The first thing I did on Friday morning was donate $10,000 each to five non-profits that make an impact locally here in Nashville. I was unbelievably lucky to hit this and am very happy to share my good fortune. Not sure what we will do with the rest but there will definitely be a big Christmas for friends and family.
Suzann Pettersen to captain European team at 2023 Solheim Cup
FINCA CORTESIN, Spain — Suzann Pettersen, who won the Solheim Cup for Europe in 2019 with the last shot of her career, will captain the team four years later for its second straight title defense.
The Norwegian's 7-foot putt for birdie at the final hole at Gleneagles saw Europe reclaim the biggest prize in women's team golf and she retired immediately afterward.
Pettersen was vice captain when the Europeans retained the title at the Inverness Club in Ohio in September, also under Catriona Matthew, and now she has taken over as captain.
"This is the biggest honor of my career," Pettersen said.
The next edition of the Solheim Cup will be played at Finca Cortesín in Andalucía from Sept. 18-24, 2023.
Washington's Jamin Davis motivated by former teammate Chris Oats, who suffered stroke in 2020
ASHBURN, Va. — When Kemberly Gamble watched the 2021 NFL draft at the urging of her son, one thought raced through her mind: My baby should be there. Instead, her baby, Chris Oats, was beside her in their two-bedroom apartment, fighting to regain full control of his body after a stroke he suffered in 2020.
And it was Oats' University of Kentucky teammate Jamin Davis hearing his name called in the first round instead of Oats. Davis had replaced his close friend and teammate in the lineup and turned himself into the 19th overall pick by the Washington Football Team.
As Oats works to do things like walk, talk and regain the use of his left side, Davis works to become a quality starter in the NFL for Washington, which plays the Seattle Seahawks on Monday night (8:15 p.m. ET, ESPN).
"The only thing Jamin could have done wrong," Gamble said, "is messed it up. You don't have to honor my son, just please remember him. That's what Jamin stands for. He doesn't owe my son anything. All he has to do is keep working. This is an opportunity that can be taken away at the drop of a hat."
Nobody knows that better than Oats. Nobody feels that responsibility more than Davis. They are tied together by friendship and the opportunity created by Oats' misfortune.
"The way the situation unfolded is just heartbreaking," Davis said.
In truth, Davis would have received an opportunity for more playing time his junior season after finishing strong as a sophomore. In his final three games of the 2019 regular season, he finished with a combined 19 tackles, including two for a loss. He's been steadily developing as a rookie starter for Washington.
"He's made a lot of progress," Washington linebackers coach Steve Russ said, "especially when it comes to keying and diagnosing and trusting his keys and responding quickly to what he knows. … He's headed in the right direction. Very accountable; wants to be really, really good, has good work habits."
Dreaming of the NFL
Oats, a four-star recruit out of high school, was outstanding at times in his second season at Kentucky and the clear leader for one of two starting jobs available for the 2020 season. Oats' and Davis' close friend, DeAndre Square, was expected to win the other starting job. In one three-play sequence at the Belk Bowl vs. Virginia Tech at the end of the 2019 season, Oats shot through the line for consecutive tackles for a loss and then made an open-field tackle on third down.
"You're like, OK, this kid is about to take off," said Jon Sumrall, Kentucky's inside linebackers coach and co-defensive coordinator. "Chris was uniquely gifted. He's long, rangy, could run really well. In coverage, he did some stuff very easily because of his length and athleticism."
Said Davis: "We can talk for hours about how good a player Chris was. I remember the Belk Bowl. … It was like, man, this mofo is going to the league."
That was Oats' dream since he was young, he said via text. In fact, Davis said he, Oats and Square — a senior at Kentucky — used to discuss becoming first-round picks. Right before the 2020 draft, the three were on a group text vowing to have their name called in future years.
Sumrall called them the three amigos.
"I wasn't out at the bars and partying or anything like that, so when I came across someone extremely similar to me in a lot of ways, I instantly clicked with Chris," Davis said.
They would talk, play video games (Fortnite, Madden and NBA 2K) and go to Buffalo Wild Wings once a week. Davis would order the boneless wings with barbecue sauce, mostly to provide more choices to the table. Oats would order barbecued chicken and potato wedges with cheese and bacon. Square opted for the garlic parmesan.
"I get memories on my Snapchat all the time," Davis said, "from when we were sitting in the locker room laughing or playing videos of Square dancing and me and Chris making fun of him. Outside of ball, all just going over to his house and playing video games or watching film together. Things like that made us closer."
Which made their next chapter more difficult.
Making Oats proud
The stroke occurred two days before Mother's Day in 2020, while Kentucky's players were at home because of the coronavirus pandemic. Sumrall informed his players, dispensing whatever information he could that Gamble OK'd. Players eventually realized the severity of the situation.
"I thought it was a sick joke," Davis said. "Then my thought was, 'Is he OK? Is there any way we can see him?'"
Sumrall noticed an almost immediate change in Davis when they returned to campus. His practice effort was never in question, but he started watching more film — sometimes arriving a half-hour or 45 minutes early before meetings.
"It became like a snowball rolling down a hill," Sumrall said. "Every day he came into the meeting room with more intentional focus than ever before."
Davis felt it, too.
"It was like a reality check," he said. "Going forward we knew [Oats] wouldn't want us to sit around bummed out about the situation and feel pity or anything like that. So in my mind it's like you've got to step up and make him proud."
Square told Davis: It's your time now.
"He knew what he had to do," Square said. "We all knew Jamin was probably the best linebacker on the team. He had freakish athletic ability. We always said if he mentally gets the plays down, he'll probably start over any of us. We were just waiting for him to show it.
"He was ready for the moment."
Last season, Kentucky would rotate having a defensive player wear Oats' No. 22. Before a game against Mississippi State, Davis saw the 22 jersey in his locker. He looked to the locker next to him — Oats' old nook that contained a picture of Chris.
"I said, 'I'll do my best to represent you tonight,'" Davis said.
He finished with 11 tackles and an interception.
Kentucky discontinued that practice this season — it became difficult for the Oats family to see the No. 22 on the field. Instead, the team breaks down every practice with a "22!" Everyone has Oats Strong T-shirts made by Gamble; they're selling hoodies now, too.
Davis wears a 22 Oats Strong band on his wrist, leaving it on for some games. Sumrall said when Oats attends games, he takes the freshmen over to see him; he wants them to know someone who he said "will forever be a Wildcat."
'This is not your end'
While it's a constant battle for Oats, he isn't jealous of his friend. He watches Washington's games when he can and seeks out YouTube highlights. He will text Davis reminders to play fast, play smart. They text weekly; sometimes Davis checks in with Gamble. Oats said Davis' effort is there and "he just needs more time on that level."
"I'm not the selfish type," Oats said. "He got there because he is a freak athlete and his talent, and what I've learned during this hard time is that I will get there. It will just take time."
Oats was the one who pressed his family to watch the draft. They wanted to support Davis.
"We talked to Jamin before the draft," Gamble said. "We've always been supportive of everything, so [Chris] never felt, 'Man, that should have been me.' When Chris was able to talk after his stroke, or text, he told him, 'Go out and ball, this is your time.'"
But there is a definite understanding of his own situation.
"He knows where he could have been to change all our lives," Gamble said. "But I explained to him: As a mom, you being here and being able to touch you and not being six feet under — because we've lost so many people this year — that's all I need. He's an awesome kid; never in trouble. He went to school, got his scholarship and went to class and to be a year away from your dream and something like this happens, he doesn't understand what he did wrong for this to happen to him. That's where we encourage him and let him know, 'This is not your end; you have a bigger testimonial in your life.'"
Oats has 100% control of his right side and has increased his left side to 50% — it was 40% just a month ago. He's able to stand on his own and they're working on strengthening his core to help him walk again. For now, he's doing occupational therapy twice a week, allowing him to slowly regain independence. They would like to get him into a physical therapy facility that deals mostly with athletes, key for his 6-foot-3, 227-pound frame.
He attended Kentucky's home games this season and saw the Wildcats play Georgia last year. His mom found it too tough to attend last year, but has gone this season. She reads her son for clues as to his emotions.
"I make sure I pay attention to his eyes and facial expressions," she said. "I can tell when it's too much. He does this thing with his eyes, they get real big and he bites on his fingernails. He's been like that since he was a kid. That hasn't changed since the stroke. When he's getting ready to tear up or holding back tears, his eyes get big."
He's constantly watching games, whether of Kentucky or other teams, and he attends high school games on Friday nights. Oats said he tries not to cry while watching games, "but I do get in my thoughts."
When that happens, he said he turns to a prayer from the book of Isaiah: "No weapon formed against me shall prosper."
He needed that prayer the first time he watched an NFL game after the stroke. He told his mom: "I should be playing." She said: "Just get healthy; it's a blessing you're alive. Football is just a job; it's not who you are."
The simple things
Gamble needed to quit her $11-an-hour florist job to take care of her son full time. She also moved the family into a larger apartment, though that increased her rent by $400. Her 26-year-old daughter, KeAirra, also helps, and Davis has chipped in. Insurance pays some of Oats' medical costs and a GoFundMe has raised more than $150,000 that helps with living expenses and allows them to buy a custom-made van.
Gamble proudly says they live within their means. But she does splurge for him once a year when it comes to sneakers. She would take some of her tax return money and buy him a pair of size 15 LeBrons, something she did again this past spring for $189. Though he's still on scholarship and gets shoes from Kentucky, he uses these in therapy.
"I don't spoil him or give everything he wants," she said, "but the simple things that people take for granted is joy for him."
This was the best birthday smile ever pic.twitter.com/j0EqhP8Uci

— Kcoats22 (@kcoats22) November 10, 2021
Oats wants to become an announcer or a coach; he wants to stay around the game. He wants to get back to himself.
"Football is his first love, and it hurts," Gamble said. "I tell him to talk it out. He has anxiety over things. It was rough. This is a rough season for us, but he's making it."
Last month, Oats posted a picture on Twitter of himself, Square and Davis from a practice. Oats is sitting on the ground, his boys on either side. They are smiling. Sometimes he posts photos of the past; sometimes it's of the present.
But Davis said he doesn't need the photos to remember Oats' impact. He thinks of Oats, whether it's at practice or even on game day: "All the time; literally, it's all the time."
"It's a constant reminder that this could be taken at any given moment," Davis said. "There's no reason why you shouldn't go out and play like every snap will be your last. You should be early to meetings, doing whatever you can to go out and play ball and have fun. … The only thing you can do in this situation is make him and his family proud. We'll always be close."
Oats said football remains a part of him. Right now, though, his proudest moments aren't about his tackles but rather something basic yet profound: "That I will be able to walk and talk again."