DeSean Jackson says he's ready to play whatever role fits with Las Vegas Raiders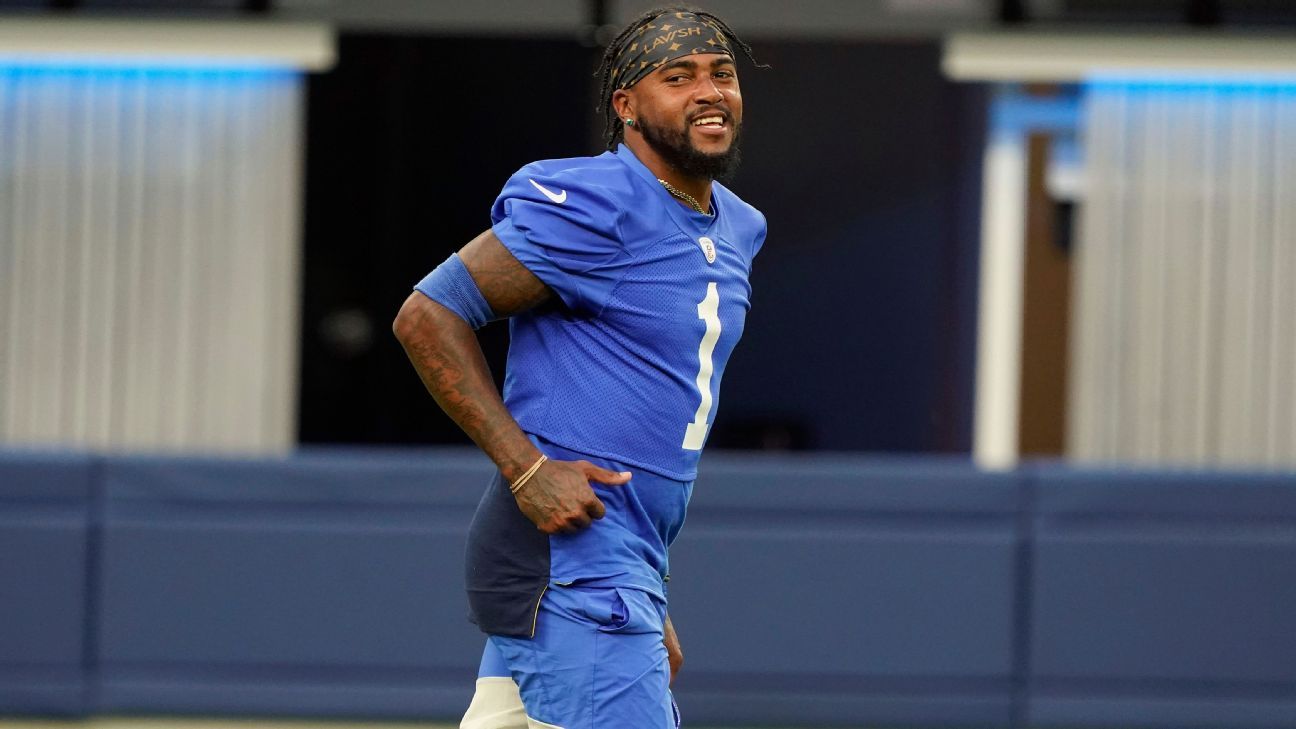 HENDERSON, Nev. — It was a decidedly kinder, gentler DeSean Jackson who showed up at the Las Vegas Raiders' podium Wednesday afternoon, after his first official practice with the newest team in an oft-star-crossed 14-year career.
Diva? Don't even. Not on this day.
"It's really not about myself at this point," said Jackson, a three-time Pro Bowler who will turn 35 on Dec. 1.
"I'm not asking to get the ball 100 times. I'm not asking to play 100%," he said. "Whatever that role is that fits, just let me play it to the best of my ability."
Jackson, a second-round draft pick of the Philadelphia Eagles in 2008 out of Cal who has also played in the NFL for Washington and the Tampa Bay Buccaneers, asked for and received his release from the Los Angeles Rams on Nov. 2 after seven games.
After clearing waivers, he chose the team he first saw live as a kid, in 1995 at the Oakland Coliseum. The Raiders' opponents' that day? The Kansas City Chiefs — the Raiders' opponents Sunday, when Jackson will make his Raiders debut? The Chiefs.
"He's very fast," Raiders quarterback Derek Carr said of Jackson. "He can still run. That definitely showed up today. … Everyone's watching. I want to watch him run. I want to watch him catch the ball. Even in pat-and-go [drills], I'm just excited to throw him the ball. Watching him work today gives you a lot of confidence as a quarterback.
"When you can add a talent like that, I think we're in the business of adding good football players. I've always loved him … just being around him today on the practice field, actually working, it's going to be hard not to get along with that guy. Especially, again, the way that guy can run, it was nice to see that No. 1 jersey flying down the field."
Jackson was signed to help fill the Raiders' deep-threat role with last week's release of Henry Ruggs III in the wake of his arrest and facing felony and misdemeanor charges after a car crash that claimed the life of 23-year-old Tina Tintor and her dog.
Still, Jackson said he was not trying to replace Ruggs, the Raiders' top draft pick in 2020.
"But being that spark, what I've been able to do my whole career — deep threat, vertical threat — and having the defense having to account for that," Jackson said. "So, if it's being a decoy, opening it up for other guys like [tight end Darren] Waller, [receiver] Hunter [Renfrow], whatever it is I need to do to be a spark, that's what I'm here for."
At 5-3, the Raiders are still in the thick of the AFC West race, and Jackson noted Las Vegas' playoff potential as a reason for his choosing to come to the desert.
"Being an L.A. guy, being close to home, the weather, all that good stuff, I didn't want to go nowhere cold," he said. "I just felt like the Raiders fit, matched perfect."
The Raiders expect Jackson to be a quick enough learner this week to make an impact in "certain packages" Sunday night. Plus, the Raiders' offense is similar to what the Rams run, in terms of verbiage and concepts.
Jackson has led the NFL in yards per catch average four times — in 2010, 2014, 2016 and 2018 — and was averaging 27.6 yards per catch, on 8 receptions, for the Rams. He has 620 catches for 10,877 yards and 57 TDs in 167 career games.
"I know it's a lot of adversity going on with the organization, but sometimes that's what builds character," he said. "Right now is the best time for everybody to gel together and come together. Best thing about life is you can always better yourself and move forward."
Jackson was asked how different he is mentally as a player now than before.
"Back then I used to make crazy decisions, I wasn't as smart … as I am now," he said. "I lived a lot. I have two kids, that's obviously made me grow up a lot and really, just really knowing the rights from the wrongs. Every time you get the opportunity to go out there and play this game, it's a privilege. I think when you're young, you take it for granted. You really don't know that it can be a snap of a finger and it can be done.
"Now, where I'm at, just knowing some of them dumb decisions I made when I was younger, you can't really do that."
New York Giants QB Daniel Jones (neck) unlikely to play vs. Los Angeles Chargers, sources say
EAST RUTHERFORD, N.J. — After further visits with team doctors and specialists to have his neck injury evaluated, New York Giants quarterback Daniel Jones is unlikely to play Sunday vs. the Los Angeles Chargers, sources told ESPN's Adam Schefter.
Jones missed Sunday's loss to the Miami Dolphins. He was injured the previous week in a win over the Philadelphia Eagles. The Giants (4-8) remain hopeful he won't miss much more time and will return this season.
Mike Glennon started in Jones' place on Sunday, but was diagnosed with a concussion after the contest. That puts newly acquired quarterback Jake Fromm potentially in line to start against the Chargers. It only adds to questions about whether Jones has done enough in his first three professional seasons to convince the Giants — and potentially a new general manager — that he is a true franchise quarterback they should build around.
Fromm, a University of Georgia standout, was signed off the Buffalo Bills' practice squad last week. He has never played in an NFL game and could be making his first start 11 days after joining the team.
"It's the beauty of the NFL. It's next man up. Jake is getting his opportunity," said Giants left tackle Andrew Thomas, who was also his teammate at Georgia. "I'm excited for him to get his chance. But like I said, next man up, and we're doing everything to help him."
The Giants also have former Michigan State quarterback Brian Lewerke on their practice squad. He seems to have been immediately jumped by Fromm on the depth chart.
Judge said that Fromm would be next in line this week at practice with Jones and Glennon sidelined. The Giants might still add additional contingencies.
"We're talking internally about a lot of options personnel-wise to see what we can do and build in depth for a multitude of reasons," coach Joe Judge said.
Judge said after the game in Miami that Glennon would remain the starter if healthy while Jones remained sidelined. But Glennon's status is in doubt and might not be decided until late this week.
He's currently in the concussion protocol.
"The optimistic view would be to have [Glennon] ready for the game on Sunday," Judge said during a Monday afternoon conference call from Arizona, where the Giants are practicing this week.
New York is also dealing with COVID-19 issues. Offensive lineman Wes Martin and quarterbacks coach Jerry Schuplinski tested positive on Monday, per Judge.
Martin was placed on the reserve/COVID-19 list on Monday afternoon. Schuplinski was involved in meetings virtually throughout the day as the Giants try to get Fromm coached up quickly for a potential start.
Having Fromm start would provide some limitations.
"For a guy who has only been in your system for a couple days, you have to go ahead and select more of a menu what he can operate with in a game," Judge said. "That is not always based on what he's capable of with his ability, it's just based on being new in a scheme and system and what he's comfortable going out there and playing aggressively and making the right decisions within."
Fromm has crammed hard since joining the Giants. He stayed after practice on Friday last week and did extra work with Jones there to provide input.
The fifth-round pick by the Buffalo Bills last year has made a positive first impression.
"He's an intelligent guy. He's demonstrated that already," Judge said. "He has very good poise out there and he has a very good presence. Once thing that is very impressive about this guy is you talk to former teammates of his, like we did before he got in here, most of those Georgia guys, and every single one lit up and said we'd absolutely love to have that guy on the team."
The bar won't be especially high. The Giants failed to score a touchdown on Sunday in Miami. They have one touchdown in the two games since offensive coordinator Jason Garrett was fired.
Glennon went 23-of-44 for 187 yards with an interception against the Dolphins.
Jones has completed 64.3% of his passes for 2,428 yards with 10 touchdowns and seven interceptions this season.
New Orleans Saints WR Deonte Harris suspended three games; DE Cameron Jordan put on COVID-19 list
METAIRIE, La. — The hits keep coming for one of the NFL's most depleted rosters.
New Orleans Saints receiver/kick returner Deonte Harris was officially suspended three games Monday for a summer DUI arrest after his appeal was unsuccessful. And defensive end Cameron Jordan was placed on the reserve/COVID-19 list — putting one of the NFL's longest iron man streaks in serious jeopardy.
Jordan has played in 172 consecutive regular-season games — the longest active streak of any nonspecialist in the NFL. He will need two negative tests 24 hours apart to be able to return in time for Sunday's game at the New York Jets. Ironically, Saints linebacker Demario Davis would replace Jordan atop that list if he can't play. Davis has played in 156 consecutive games.
Jordan, 32, has never missed a game since being drafted in the first round in 2011. He has four sacks this season and 98.5 in his career.
The Saints (5-7) are already thin at defensive end, with fellow starter Marcus Davenport having missed the past two games with a shoulder injury and veteran backup Tanoh Kpassagnon having been placed on injured reserve last week.
Their offense has also been seriously banged up during their current five-game losing streak — though they are hoping to get at least some from the group of running back Alvin Kamara and offensive tackles Terron Armstead and Ryan Ramczyk back from knee injuries this week.
Quarterback Taysom Hill will also be playing through the pain of a mallet finger injury in his right throwing hand and a partially torn plantar fascia in his foot.
The 24-year-old Harris, a third-year pro who has taken on a bigger role on offense this year, leads the Saints with 523 receiving yards and has three long touchdowns on 31 catches.
Harris' DUI case was resolved earlier in November when he was sentenced to one year of supervised probation. Maryland court records show that Harris pleaded not guilty but agreed to the statement of facts in the police report. According to that police report, which was obtained by NOLA.com, Harris registered a blood alcohol content of 0.246% after driving more than 20 miles per hour over the speed limit and swerving across three lanes of traffic on the interstate at 1:30 a.m.
Green Bay Packers quarterback Jordan Love placed on COVID-19 list
GREEN BAY, Wis. — Green Bay Packers backup quarterback Jordan Love, who has been taking most of the midweek practice reps while Aaron Rodgers treats and rests his fractured pinkie toe, was placed on the reserve/COVID-19 list on Monday.
The team made the announcement on the day players returned to the facility from their bye week. Love, who has said he is vaccinated, would have been part of the group of players tested upon their return for their week off. Unvaccinated players who have not had COVID in the last 90 days would have been tested daily during the bye.
Love has taken only one game snap since his Nov. 7 start against the Kansas City Chiefs, the game Aaron Rodgers missed while he was on the COVID list. It was a kneel-down play on Nov. 21 against the Vikings, when Rodgers went into the locker room shortly before halftime to get treatment on his toe.
However, Love handled all the starting quarterback practice duties leading up to the Nov. 28 game against the Rams.
Rodgers elected not to have surgery on his toe during the bye week, but coach Matt LaFleur wasn't ready to say whether Rodgers would practice much, if at all, this week in advance of Sunday night's game against the Chicago Bears.
"I know he was getting treatment and doing everything he can to be 100 percent," LaFleur said Monday. "I still think it's a process like anything, and we'll see where he's at this week. Hopefully we can get him out there at practice, but if not, we've got a lot of confidence in just his ability to go out there and play at a high level."
The only other quarterback the Packers have is Kurt Benkert, who is on the practice squad. He, too, was on the COVID list this season, but returned to the team on Nov. 15.