Daniel Ricciardo says Michael Schumacher moment changed his career, F1 news 2021
Michael Schumacher may not have been the powerhouse he was with Benetton or Ferrari, but the German still cast a shadow over the rest of the F1 grid in 2012.
It's why his fierce battle — and subsequent classy interaction — with a young Daniel Ricciardo meant so much to the West Australian, who credits Schumacher with giving him the belief he belonged in the elite level of racing.
Stream Every Practice, Qualifier & Race of the 2021 FIA Formula One World Championship™ Live & On-Demand on Kayo. New to Kayo? Start Your Free Trial >
Appearing on an episode of The Helwani Show — hosted by respected UFC journalist Ariel Helwani — Ricciardo, who is a massive MMA fan, revealed how a race alongside the man many consider the greatest driver of all time was the confidence booster he needed to build an F1 career for himself.
Having made his F1 debut in 2011, Ricciardo was racing with Red Bull's junior outfit Toro Rosso in 2012. In his first 14 races that year, he hadn't finished higher than ninth — but just getting in the points during those early days was an impressive achievement.
The drivers headed to Suzuka in October for the Japanese Grand Prix and in the dying stages of the race, Ricciardo found himself just ahead of Schumacher — the seven-time world champion who was driving for Mercedes after coming out of retirement.
The ensuing fight is what convinced Ricciardo he was made of the right stuff to make a mark in F1.
"I had Michael Schumacher behind me. He was still racing when I started, which was surreal in itself. I still can't really believe that because he was a hero of mine growing up," Ricciardo told Helwani when asked about the defining moment that gave him belief he belonged in F1.
"He was behind me and at the time he was in a better car and this and that, and he was also Michael Schumacher. I defended him for the last 10-15 laps and it was for the last point, so it was a top 10 (finish) which was big for me at that time in my career.
"It was then when I didn't fall under the pressure and I wasn't overwhelmed by the fact that it was Schumacher behind me. I knew that was an internal moment for me where I was like, 'OK, I do have what it takes to sustain the pressure and everything'."
Ricciardo held on for 10th, earning himself a solitary point while Schumacher finished 11th, less than a second behind the Honey Badger.
Schumacher was renowned for his ruthless killer instinct on the track but he was all class when he and Ricciardo came face-to-face at the Korean GP — surprising the Australian with a rare approach.
"Probably what was even cooler was at the following race, we have the drivers' parade a couple of hours before the race and we're all together going around and waving to the crowd and that," Ricciardo told Helwani.
"He (Schumacher) came up to me — and I hadn't really spoken to him yet — and he came up and goes, 'Good job in Japan, you defended really well' and I was just like, 'Wow, cool'.
"That was really the first moment where I was like, 'OK, maybe I do belong'."
Tragically, Schumacher suffered a traumatic brain injury during a skiing accident in December 2013 and hasn't been seen in public since as his family keeps the F1 legend's condition private.
Close friend and former Ferrari boss Jean Todt said this week "we can only hope" Schumacher improves.
"I can understand why his family and friends are protecting him because we should leave him in peace," Todt told the Mail on Sunday. "Michael is fighting, he is fighting and we can only hope that he will improve."
When asked by the whether Schumacher recognises him during his visits, Todt's reply was telling as he reportedly gave a shrug, a smile and a hand gesture — but no answer.
Saudi Arabian Grand Prix, qualifying, start time, how to watch, grid, results, video, championship race, Lewis Hamilton vs Max Verstappen
All eyes will be on Lewis Hamilton and Max Verstappen on Saturday night as the two race it out for pole position for the penultimate race of the season.
Red Bull's Verstappen currently holds the lead in the Formula 1 championship race but Mercedes' Hamilton is just eight points behind.
Verstappen could take out the championship this weekend if he pockets 18 points more than Hamilton, although the seven-time title holder himself could leapfrog the current leader if results go his way.
Stream Every Practice, Qualifier & Race of the 2021 FIA Formula One World Championship™ Live & On-Demand on Kayo. New to Kayo? Start Your Free Trial >
Hamilton closes the gap with Qatar win | 01:29
It makes for an intriguing qualifying as Hamilton looks to secure pole position again having done so two weeks ago at Qatar before going on to take out the main race that weekend.
Hamilton clocked the fastest time in both practice sessions on Saturday but admitted he is concerned about Mercedes' short-run pace compared to Red Bull.
"We're not rapid on the single lap, I would say, compared to the others, but our long-run pace seemed like it was not too bad," he said.
"Who knows what's going on?
"As I said, we made some changes between sessions, and I'm unsure which one I want to stay with but we'll study through it tonight and work with the guys back at the factory to try and make sure that we come with the correct set-up for tomorrow. It's definitely not in a bad place.
"I think I said over a single lap, [Red Bull] are quite quick, so we've got a bit of work to do."
Working in Hamilton's favour will be a switch to a fresher power unit for the rest of the weekend after topping practice despite racing with an older engine.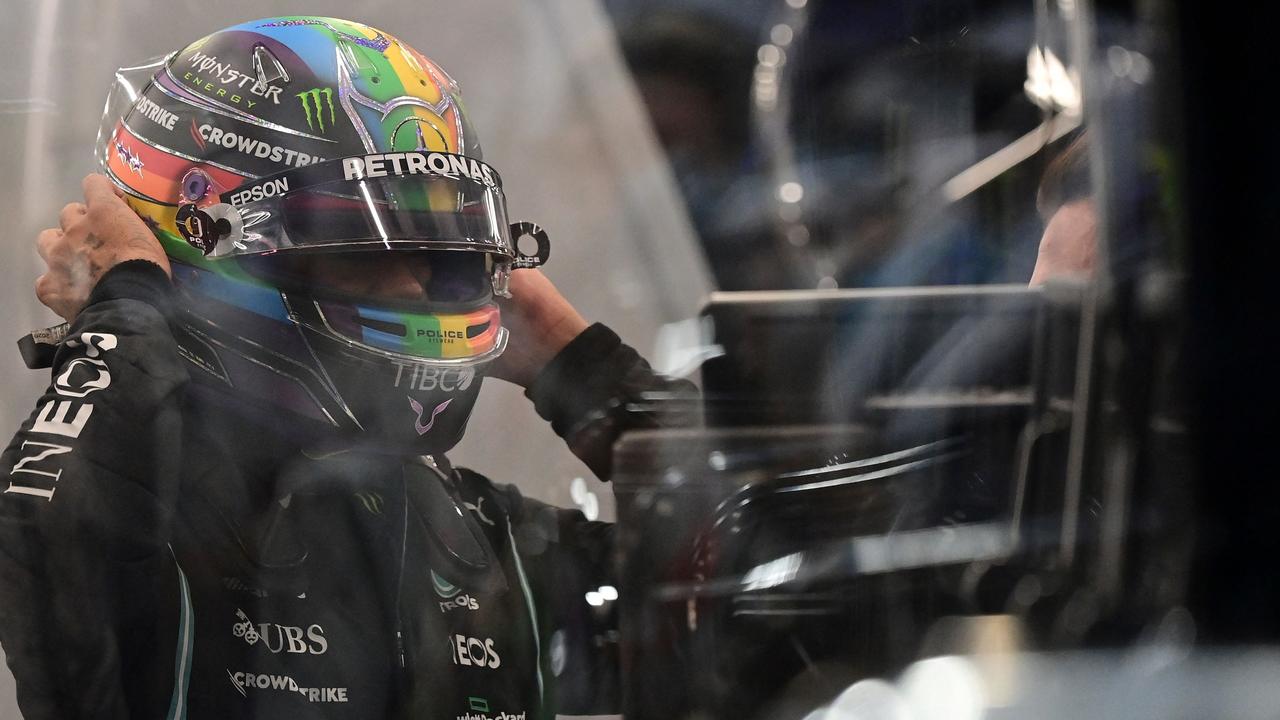 "It's another step in the right direction," Mercedes trackside engineering director Andrew Shovlin told Sky Sports of the change.
"It will be a measurable step. Tomorrow we need to get all the performance possible on the car."
Red Bull has struggled to match Mercedes for straight-line speed in recent races but team boss Christian Horner does not think it will be as important this time around.
"The circuit's a little bit tighter than the data suggested," Horner told Sky Sports.
"The corners are a little bit tighter. It's not all the emphasis on horsepower that we thought it was going to be. So that's encouraging.
"You could see there's a tenth or two between the two cars, between the drivers. On this type of circuit, you can find that, and that's really encouraging for us."
Follow all the action in our live blog below! Can't see the blog? Click here!
start time, how to watch, warm-up, main race, when does it begin?
Bathurst weekend is here with plenty of action already behind us at Mount Panorama.
Chaz Mostert demolished an all-time Bathurst record in the Top 10 Shootout while an epic fireball and frightening head-on headlined huge crashes over the weekend.
Now though all attention turns to the main event, with the race itself to start later than ever.
Stream every practice, qualifier & race of the 2021 Repco Bathurst 1000 Live & On-Demand on Kayo with no ad-breaks during racing. New to Kayo? Start your free trial now >
Mostert fastest to qualify for Bathurst | 03:03
So what time will the Bathurst 1000 actually start?
Well, warm-up will take place at 9.10pm and wrap up by 9.30pm before all the cars get out on the track for the race at 12.15pm.
It means the Bathurst 1000 is set for a twilight finish.
You can catch the main race LIVE and AD-BREAK FREE on the FOX SPORTS BATHURST Channel (Foxtel Channel 503).
Sunday's coverage begins at 8.15am for everything Bathurst 1000.
ULTIMATE GUIDE: Full schedule, weather forecast and favourites as action begins
Stuck throttle sends driver into wall | 01:46
Bathurst 2021, crashes, news, video, results, watch, highlights,
This Bathurst 1000 weekend has delivered a host of massive crashes even before Sunday's race arrived, and Saturday offered up three scary crashes from three different categories.
First it was S5000 open-wheeler category which saw a 290km/h head-on crash at The Chase.
Then there was a TGRA 86 Series four-car crash with one car bursting into flames.
Then the Super 2 series saw another nasty shunt as a car slammed into the wall and ended up accelerating head-first into a tyre barrier.
Stream every practice, qualifier & race of the 2021 Repco Bathurst 1000 Live & On-Demand on Kayo with no ad-breaks during racing. New to Kayo? Start your free trial now >
Terrifying high-speed head-on crash! | 02:24
MASSIVE CRASH IN S5000
The Chase is the fastest stretch of tarmac in Australian motorsport – and when drivers crash there, it's always scary. Saturday was no different, as four cars flew through the dirt.
In the first lap of a S5000 Tasman Series race, Joey Mawson was trying to get past Jordan Boys (who would win a Super2 series race later in the day) heading into the chase at nearly 290km/h.
But he clipped the rear of Boys and sent him spinning across the sand and back across the track, throwing up a mountain of dust for following drivers to contend with.
Roberto Mehri was forced to run wide at the corner and across the grass, but managed to continue. Mawson recovered from his spin and limped on as a Safety car was called.
But Japanese driver Yoshi Katayama, blinded by the cloud of dust, ran straight off the track and into the prone car of Boys in a monster shunt. The race was red flagged but eventually restarted.
It's not the first time Mawson and former Japan F3 champion Katayama crashed, having both wiped out in Friday's race. Katayama found the wall at Griffins Bend, before Mawson crashed out at The Cutting.
LIVE: 'Bloody full on' qualifying battle on 'really greasy' Mt Panorama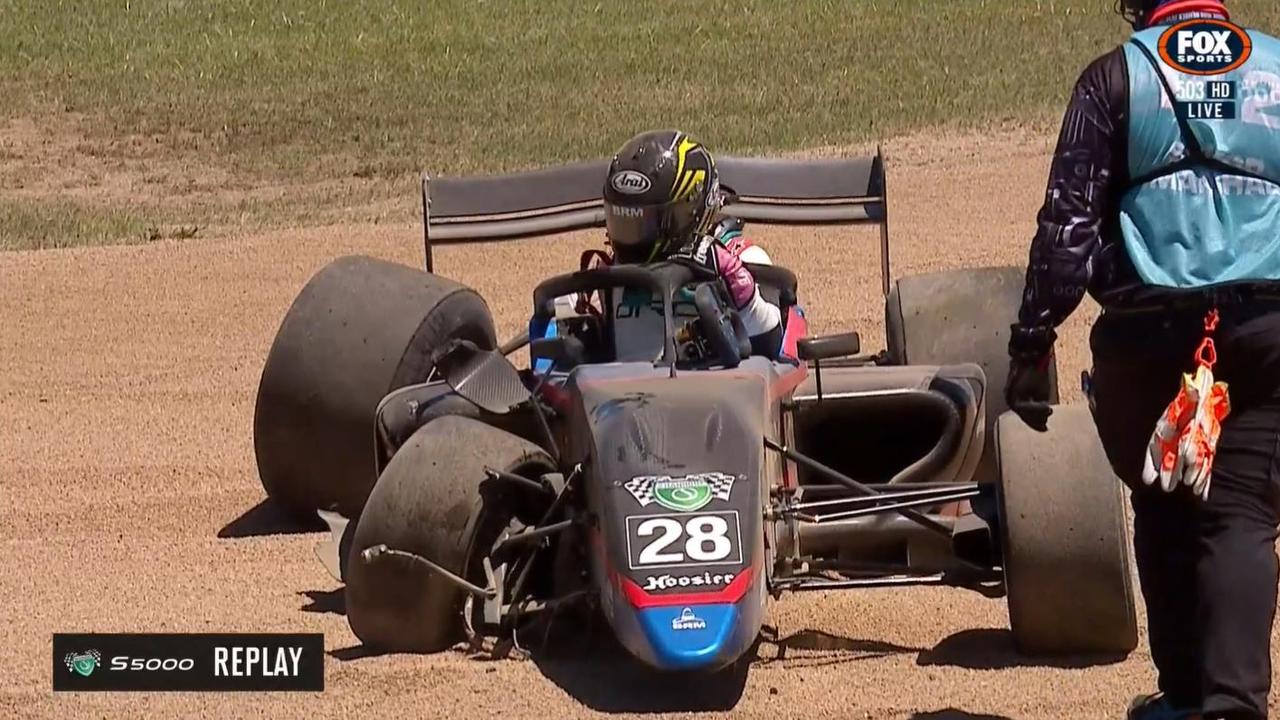 CRAZY FIREBALL CRASH
There was another massive crash in the TGRA 86 Series, on the first lap of Saturday's Race 2. Lachie Bloxsom lost his rear end at The Dipper and spun out, causing chaos in a multi-car crash that left one car on fire.
Kai Allan made heavy contact and his car lit on fire – only to quickly extinguish itself in bizarre fashion.
One commentator declared: "That's remarkable. That's unreal!"
Ryan Hadden took huge contact on the driver's side door, while Michael Sherwell also crashed out as a result. Rossi Johnson was another to wreck their car – his having recently been completely rebuilt after a crash in Townsville. Johnson was seen slamming his door and kicking at the car as well as headbutting the front bonnet in frustration.
PAYNE FEELS THE PAIN
Finally, in the Super 2 series, Steve Page suffered a horrible solo crash on the top of the mountain.
Page missed the apex of Turn 8 and smashed the wall at around 180km/h, before sliding along the wall and eventually launching head-first into a tyre barrier.
It was revealed shortly afterwards that he had lost control of his wheels and brakes on the initial collision, with the throttle stuck open – meaning he powered forward into the tyre wall, rather than slowing down.
The packed gallery of fans watching on cheered and roared at the massive shunt.
The race finished behind a safety car, with second-place Broc Feeney doing enough to seal the Super 2 championship. 19-year-old Feeney not only became the first driver to win both the Super 3 and Super 2 series, but also was the youngest-ever victor of both championships (at 16 then 19 respectively).
Feeney will replace retiring legend Jamie Whincup for Red Bull Ampol Racing in the Supercars series next year.