Atlanta Braves GM Alex Anthopoulos details watching World Series win from quarantine
CARSLBAD, Calif. — Stuck at home while his Atlanta Braves won the World Series last week, Alex Anthopoulos wasn't sure how to celebrate when his two young kids offered an idea:
"They wanted us to pull out the Sprite and spray it all over the place," he said.
The age-appropriate bubbly was a no-go on a school night, but the Anthopoulos family found other ways to be festive after the general manager was forced to quarantine at home with COVID-19 as the Braves ended Atlanta's 26-year championship drought in the big four major sports.
Anthopoulos arrived at the general managers' meetings in Southern California on Tuesday night, and, a day later, he smiled wide recounting the siloed-yet-celebratory 12-day stretch in which he won his first championship.
Anthopoulos, who is vaccinated, had a sniffly nose and tested positive for the coronavirus on the morning of Game 4 in Atlanta. Days later, he stayed at home while the team traveled to Houston for Game 6 with a chance to clinch.
The 44-year-old said he was a nervous wreck at the start of Game 6, telling wife Cristina he wanted to go for a drive instead of watching the first pitch.
She talked him out of that plan, but when Atlanta put runners at first and second in the first inning, Anthopoulos grabbed the remote and turned on a Toronto Maple Leafs hockey game.
"As I have gotten older, I have a harder time watching a game that's close," he said, adding he couldn't shake off thoughts about the 3-1 series lead the Braves blew in the 2020 National League Championship Series to the Los Angeles Dodgers and the Atlanta Falcons' infamous collapse from a 28-3 edge in the 2017 Super Bowl.
Anthopoulos tuned back in time to see Jorge Soler's third inning, three-run homer, and he shouted loud enough to wake his 11-year-old daughter, Julia. His anxiety eased when Atlanta led 6-0 through five innings, and 9-year-old John was pulled out of bed in the eighth.
"We counted down the outs," Anthopoulos recalled. "We just kind of yelled and cheered."
No Sprite, though. The kids were put to bed, and Anthopoulos returned to the TV, eager to watch postgame interviews with players and manager Brian Snitker. A few people FaceTimed him from the field, and he said he stayed up until around 5:30 a.m. responding to some 400 text messages and even more emails.
His last act before turning in: jotting down notes with memories from the playoff run.
"You want to soak all that up," he said.
Anthopoulos' family got its own truck during the team's parade last Friday, and he addressed a crowd at Truist Park from a suite while the team partied on the field.
A day later, the family returned to empty Truist Park and took photos on the field with the World Series trophy.
"It's really heavy," he said. "Really, really heavy."
Anthopoulos has been praised by peers this week for a string of moves at the trade deadline that pushed the sub-.500 Braves back into postseason contention and set up their Series run.
He added outfielders Joc Pederson, Eddie Rosario, Adam Duvall and Soler in July, and the quartet crushed it down the stretch. Rosario won NLCS MVP and Soler was named World Series MVP.
"Yeah, that was impressive. Alex did an extraordinary job," said Indians president of baseball operations Chris Antonetti, who traded Rosario to the Braves.
"Alex, they did a phenomenal job with their acquisitions," Phillies boss Dave Dombrowski said.
Anthopoulos received the John Schuerholz Award this week, given to GMs who serve at least 10 years in the role. Schuerholz was the general manager in Atlanta from 1990 to 2007.
The Braves pivoted quickly into offseason mode. Anthopoulos said the team will try to re-sign free agent slugger Freddie Freeman, and he also has to once again reconfigure the outfield with Pederson, Rosario and Soler no longer under contract.
But Anthopoulos is not quite done with the party yet. He is excited to visit the White House and is looking forward to bringing the trophy back to Canada over the holidays — the Montreal native even joked that he and Braves pitcher Mike Soroka, a fellow Canadian, should arrange a visit with the prime minister in Ottawa.
Anthopoulos is the first Canadian GM to win a title.
"I want to bring it to my family to see it, my wife's family to see it, that will be really cool," he said. "You're reminded what it means to a lot of people in the community."
Why Wander Franco is worth every penny of his new $182 million deal with Tampa Bay Rays
Wander Franco's 12-year contract extension with the Tampa Bay Rays that guarantees him $182 million and could pay a maximum of $223 million is shocking in only one regard: that the Rays would make that kind of financial outlay, even to a burgeoning superstar like Franco.
It is not just the largest contract in Rays history, blowing away the six-year, $100 million extension Evan Longoria signed after the 2012 season, but easily the largest ever given to a player with less than one year of service time, topping the eight-year, $100 million contract Ronald Acuna Jr. signed with the Atlanta Braves. If Franco receives the 12th-year option, it becomes the 24th $200 million contract in major league history.
This is a franchise that since in its inception in 1998 has given out a combined $348 million in free agency, according to Cot's Contracts. Now the Rays are committing more than half that figure to just one player. It is a franchise-altering move and shows their belief that Franco will continue to build on his impressive rookie performance, when he hit .288/.347/.463 as a 20-year-old, including .338/.393/.541 over his final 33 games — part of a stretch in which he reached base in 43 consecutive games.
Bill Virdon, who starred as MLB player and manager, dies at 90
Bill Virdon, the 1955 National League Rookie of the Year who later won manager of the year awards in both leagues, has died at the age of 90, the Pittsburgh Pirates announced Tuesday.
Virdon was given his first opportunity to be a manager in 1972 by the Pirates — with whom he made his mark as a Gold Glove outfielder during his playing days — and guided Pittsburgh to the National League Championship Series that season.
"Bill Virdon was a man who took such great pride in being a member of the Pittsburgh Pirates family," Pirates chairman Bob Nutting said in a statement. "Every fan who followed our 1960 team will always remember the instrumental role that he played to bring a third World Series championship to the city of Pittsburgh.
"We are also eternally grateful for everything that Bill did representing the Pirates following his playing days not only as a successful manager, but also in helping a countless number of our young players that he so proudly instructed and mentored as a coach and one of our long-time Spring Training guest instructors."
Virdon won the AL Manager of the Year Award with the New York Yankees, and he won the NL award in 1980 with the Houston Astros, with whom he remains the winningest manager in franchise history with 544 wins. Overall, he finished with a record of 995-921 in 14 seasons, which ended in 1994 with the Montreal Expos.
"Bill Virdon was an extremely vital part of the Astros success, leading the franchise to its first two postseason appearances," the Astros said in a statement released Tuesday. "He was respected throughout baseball for his intensity and knowledge of the game and enjoyed a long, successful career both as a player and manager."
As a player, Virdon broke into the majors with the St. Louis Cardinals and won NL Rookie of the Year honors after batting .281 with 17 home runs and 69 RBI.
He was traded to the Pirates in 1956 and developed into a Gold Glove center fielder. He still ranks sixth in games played at the position (1,376) for the franchise.
In 12 MLB seasons, Virdon had a .267 batting average with 1,59 hits, 91 home runs and 502 RBI.
MLB free-agency tracker — Latest moves, grades and analysis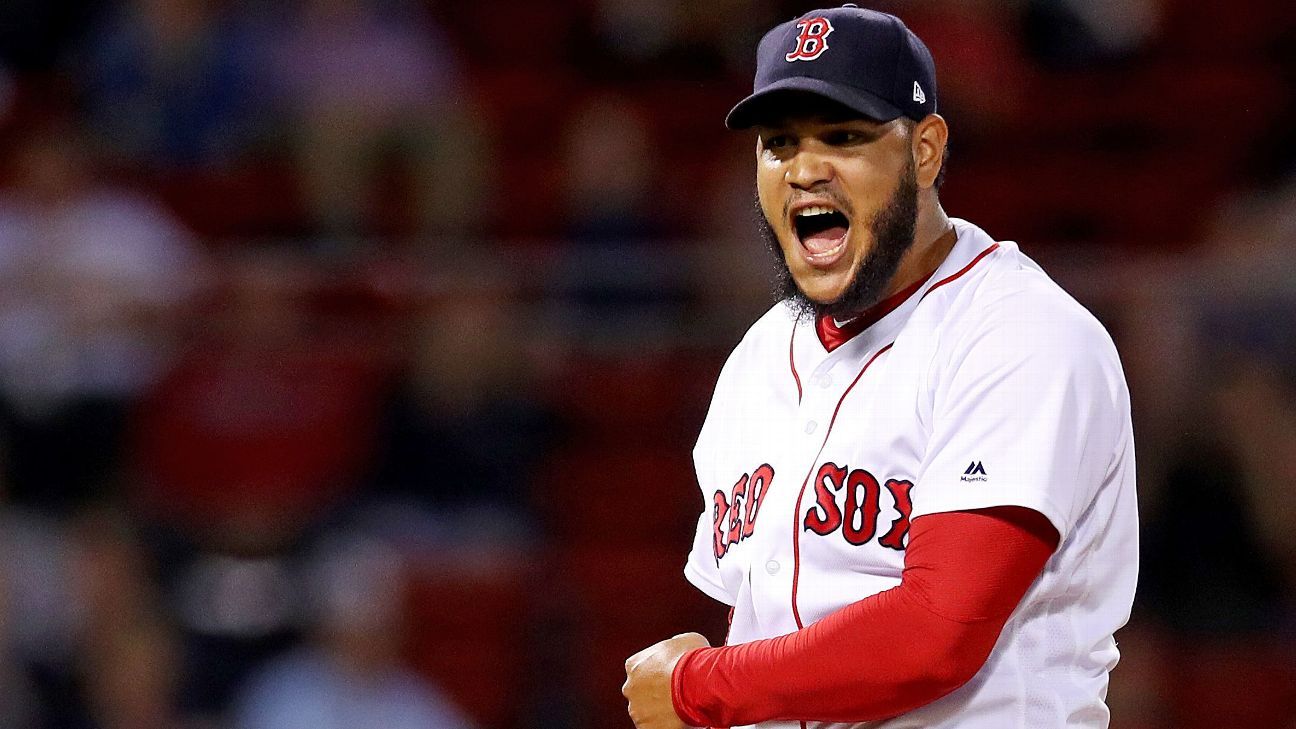 The 2021-22 MLB free-agency hot stove is cooking, with teams already making some major moves in an effort to win a title next season.
Below is a running list of notable transactions, along with analysis and grades for the most important ones. Remember: Trades and signings can happen at practically any hour of the day, so make sure to check back regularly.
Key links: Everything you need to know about the MLB offseason | All free-agent signings

Nov. 23
Rays go all-in on SS Wander Franco
Sources confirm to ESPN that Wander Franco, 20, has agreed to a 12-year contract with the Tampa Bay Rays that guarantees him around $185 million. The deal is worth a maximum of $223 million. Story »

Nov. 22
Angels add LHP Aaron Loup
Aaron Loup and the Los Angeles Angels have agreed to a two-year, $17 million contract. Story »
---
Giants keep RHP Anthony DeSclafani
Anthony DeSclafani and the San Francisco Giants have agreed to a three-year, $36 million contract. Story »

Nov. 21
Brewers add C Pedro Severino
Pedro Severino and the Milwaukee Brewers have reportedly agreed to a one-year, $1.9 million contract. Story »

Nov. 17
Astros bring back RHP Justin Verlander
The Houston Astros and Justin Verlander have agreed to a one-year, $25 million contract with a player option for a second season. Story »
Grade: Astros bet on more greatness from Verlander. Bradford Doolittle (ESPN+)
---
Giants retain 1B Brandon Belt
Brandon Belt accepted a $18.4 million qualifying offer from the San Francisco Giants, the only one to accept among the 14 free agents who received the offers from their former clubs on Nov. 7. Story »

Nov. 16
Angels add RHP Noah Syndergaard
Joon Lee breaks down what Noah Syndergaard's contract with the Angels means for the free-agent pitching landscape.
Right-hander Noah Syndergaard and the Los Angeles Angels are in agreement on a one-year, $21 million deal, pending physical. Story »
Grade: Is Thor the hero the Angels need? Alden Gonzalez (ESPN+)
---
Blue Jays extend RHP Jose Berrios
Jose Berrios has reached agreement on a seven-year, $131 million extension with the Toronto Blue Jays. Story »

Nov. 15
Tigers add LHP Eduardo Rodriguez
Joon Lee breaks down how Eduardo Rodriguez signing with Detroit affects the Tigers and Red Sox.
Former Boston Red Sox left-hander Eduardo Rodriguez and the Detroit Tigers are in agreement on a five-year deal worth $77 million. Story »
Analysis: Under-the-radar Eduardo Rodriguez brings competitive fire to the Tigers. Buster Olney (ESPN+)
Grade: Tigers add E-Rod, make offseason's first splash. Bradford Doolittle (ESPN+)
---
Braves add C Manny Pina
Manny Pina signed with the World Series-champion Braves on a two-year, $8 million deal after hitting 13 home runs in 75 games with the Brewers in 2020. Story »

Nov. 14
Marlins add RHP Louis Head
The Miami Marlins acquired right-hander Louis Head from the Tampa Bay Rays on Sunday for a player to be named later or cash. Story »

Nov. 13
Rays trade INF Mike Brosseau to Brewers
The Milwaukee Brewers acquired infielder Mike Brosseau from the Tampa Bay Rays for minor league pitcher Evan Reifert on Saturday in a trade between division winners. Story »
---
Rockies keep RHP Jhoulys Chacin

Jhoulys Chacín is staying with the Colorado Rockies, agreeing Saturday to a guaranteed $1.25 million, one-year contract that allows him to earn an additional $500,000 in performance bonuses. Story »

Nov. 10
Yankees keep LHP Joely Rodriguez
Left-hander Joely Rodriguez and the New York Yankees agreed to a $2 million, one-year contract, three days after New York declined a $3 million option in favor of a $500,000 buyout. Story »

Nov. 8
Dodgers add LHP Andrew Heaney
The Los Angeles Dodgers, who entered this offseason with several holes to fill on their pitching staff, signed Andrew Heaney to a one-year contract worth $8.5 million. Story »
---
Cardinals keep LHP T.J. McFarland
Left-handed reliever T.J. McFarland became the first of this year's major league free agents to reach an agreement, getting a one-year, $2.5 million contract to stay with the St. Louis Cardinals. Story »