Source — Carolina Panthers QB Sam Darnold has incomplete fracture of shoulder blade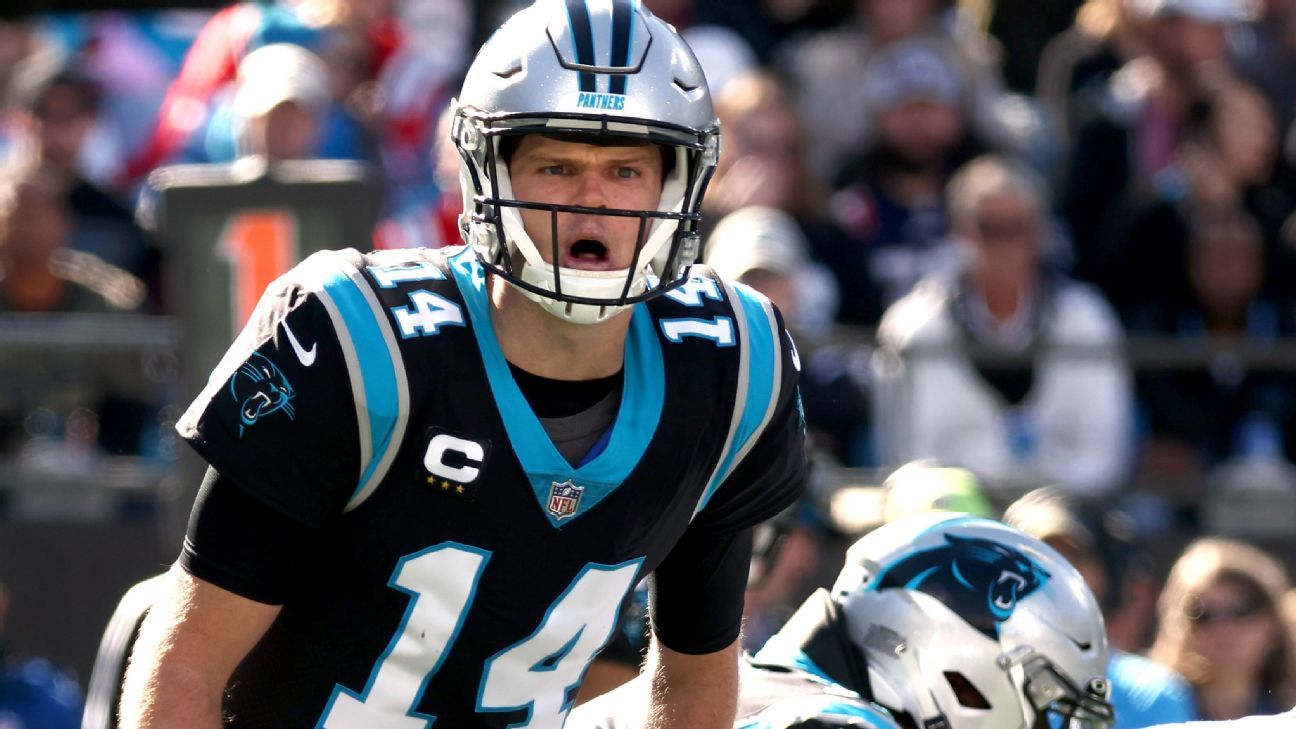 Carolina Panthers quarterback Sam Darnold has an incomplete fracture of his right shoulder blade and is likely to miss several weeks with the injury, a source confirmed to ESPN on Tuesday.
The Panthers believe the injury happened in the second quarter of the team's 24-6 loss to the New England Patriots on Sunday. Darnold threw three interceptions in the loss, including one returned 88 yards by J.C. Jackson for a touchdown, when he missed tight end Ian Thomas, who was wide open.
Panthers coach Matt Rhule said Monday that Darnold reported soreness in his shoulder after the game and was sent for an MRI.
Darnold, acquired by the Panthers in an offseason trade with the New York Jets, has thrown 10 interceptions in the past six games, five of them losses. He is tied with Joe Burrow for the NFL lead with 11 interceptions this season.
P.J. Walker will replace Darnold as the team's starting quarterback, starting with Sunday's game against the Arizona Cardinals.
The Panthers announced Tuesday that they planned to sign veteran quarterback Matt Barkley off the Tennessee Titans' practice squad, pending a physical.
In nine games this season, Darnold has thrown for 1,986 with seven touchdowns while completing 59.5% of his pass attempts. He also has five rushing touchdowns.
The Panthers are 4-5 after starting the season 3-0.
The news of Darnold's injury was first reported by NFL Network.
ESPN's David Newton contributed to this report.
New York Jets RB Michael Carter out at least two weeks with ankle injury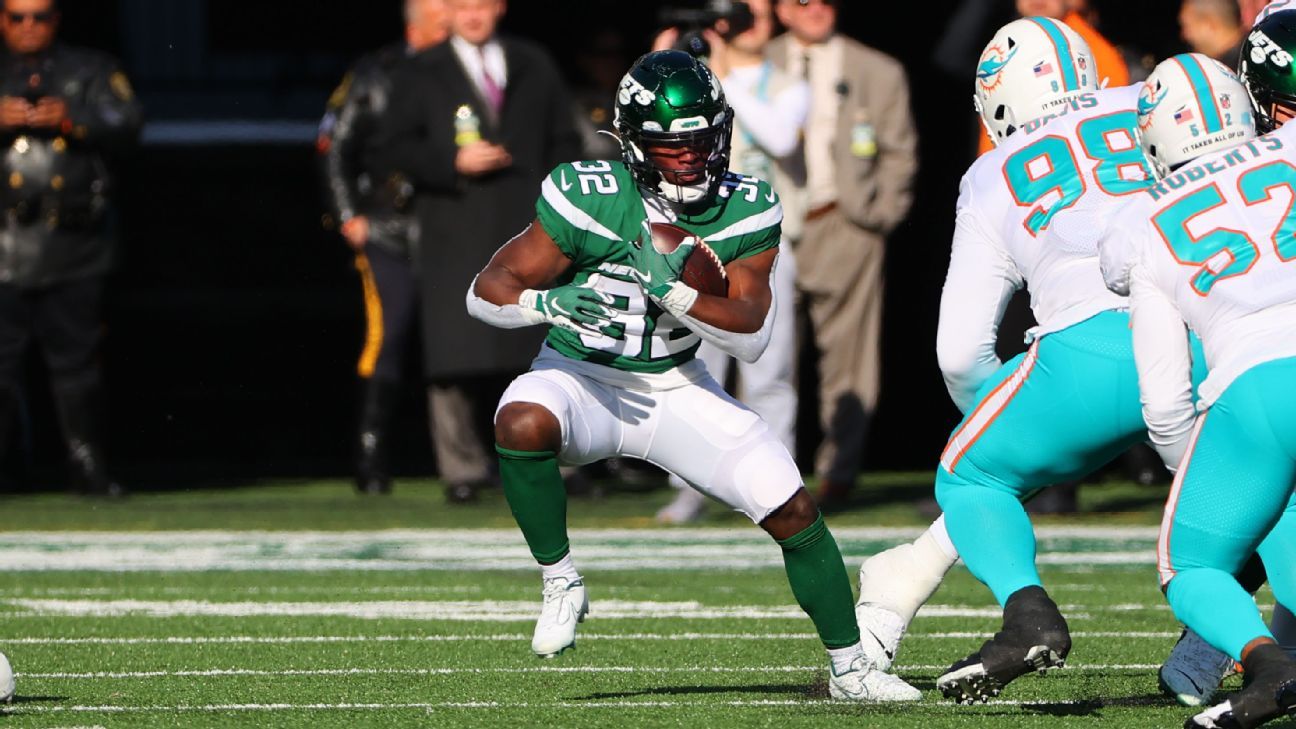 FLORHAM PARK, N.J. — Rookie running back Michael Carter, one of the bright spots in a mostly dismal season for the New York Jets, will miss at least two weeks because of a mild high ankle sprain.
Coach Robert Saleh said Carter could be sidelined anywhere from two to four weeks, although he didn't rule out the possibility of a longer timetable. Carter, the Jets' leading rusher, was injured Sunday in a 24-17 loss to the Miami Dolphins.
The Jets (2-8) are hoping for the return of rookie quarterback Zach Wilson, who has missed the past four games because of a sprained right knee. Wilson, who has practiced the past two weeks on a limited basis, was evaluated Monday. After another evaluation Tuesday, the team is expected to make its quarterback decision for Sunday against the Houston Texans.
"We're going to make sure we protect this young man," Saleh said Monday. "When he's fully healthy and he feels like there's no limitations with his ability to play where he's not thinking about the knee, we'll get him back out there. But he has to be 100% healthy before we get him back on the football field."
The Jets initially called it a two-to-four-week injury. Without Wilson, the Jets started Mike White three times, then benched him in favor of Joe Flacco, who passed for 291 yards and two touchdowns against the Dolphins.
Wilson, the No. 2 overall pick, will be one of the keys to the final seven games. He mostly struggled in six starts, and the organization is hoping he can play well down the stretch to salvage something positive from the season.
Carter, a fourth-round draft pick, has emerged as the No. 1 back. He leads the team with 430 rushing yards on 111 carries, a 3.9 average. He also has been a factor in the passing game, with 32 catches for 308 yards. He leads the team with 738 yards from scrimmage.
"He's been getting better every week," Saleh said. "Every time he touches the ball, he makes someone miss. If the offensive line blocks for run for nothing, he's finding 3 yards. If they block for 5, he's finding 8, 9 and 10. He's so dynamic with the ball in his hands."
New Orleans Saints, Taysom Hill agree to four-year deal that pays according to position, sources say
New Orleans quarterback-running back Taysom Hill signed a unique four-year, hybrid-type of contract extension with the Saints Monday that could be worth anywhere between $40 million and $95 million depending on the position he plays, sources told ESPN's Adam Schefter.
The deal, which comes a day after the Saints' loss to the Philadelphia Eagles, also includes $22.5 million guaranteed, sources told Schefter.
Hill's hybrid deal is unique and unlike other contracts because it pays him a $40 million base salary for the role that he's currently playing, and up to an additional $55 million if he does become the Saints' starting quarterback for the next four seasons.
New Orleans, which lost starting quarterback Jameis Winston to injury during the Saints' 36-27 win over the Tampa Bay Buccaneers, has lost three in a row since that game.
Trevor Siemian, who finished the win over Tampa Bay, has started those three losses. He has completed 82 of 144 pass attempts this season, for 920 yards and eight touchdowns.
Hill, hobbled by injury, has appeared in seven games this season, completing seven pass attempts for 56 yards. He has 20 carries, as well, for 104 yards.
Lamar Jackson 'felt good' a day after missing Baltimore Ravens' victory with illness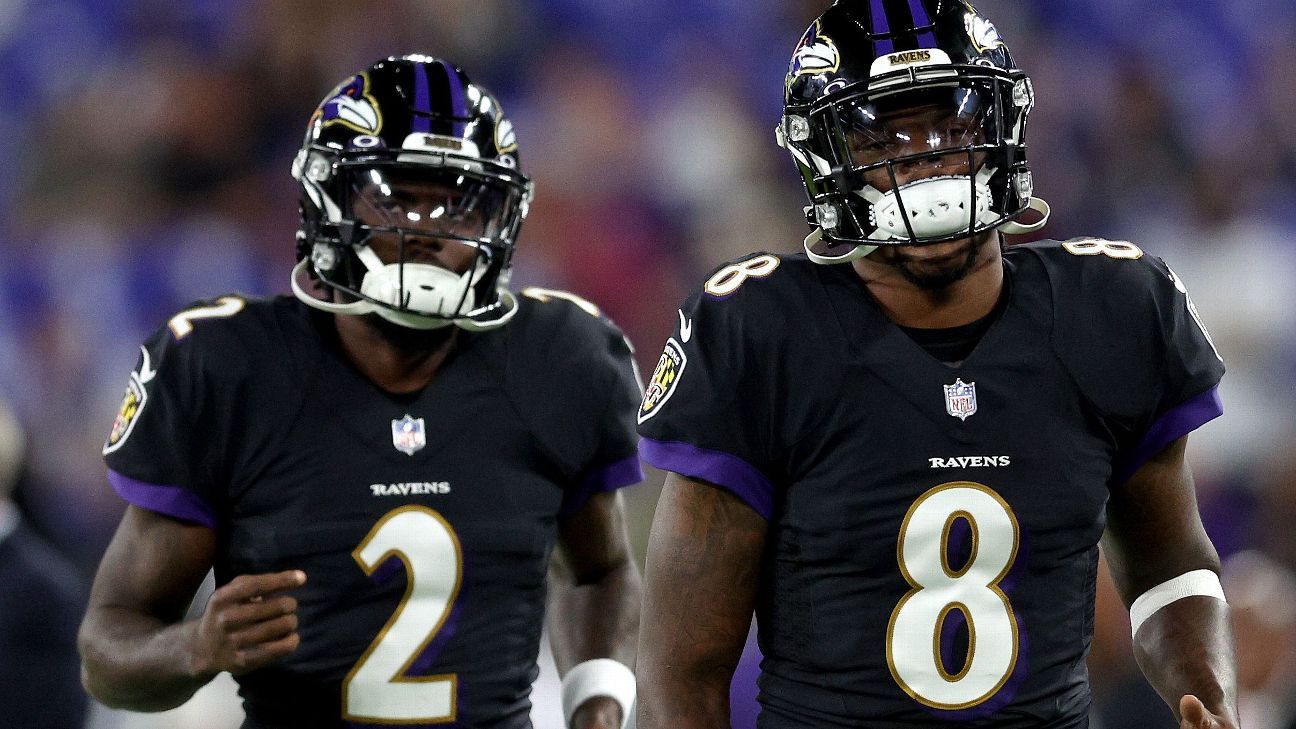 OWINGS MILLS, Md. — Baltimore Ravens coach John Harbaugh said he's "very hopeful" that quarterback Lamar Jackson will be able to participate in Tuesday's walk-through.
Jackson was sidelined from Sunday's 16-13 win over the Chicago Bears because of an illness. Tyler Huntley filled in for Jackson and guided a last-minute comeback for the Ravens (7-3), who lead the AFC North by a game.
"He felt good today," Harbaugh said Monday. "I don't know how good. But he feels much better today, from what I was told. I haven't seen him."
Baltimore plays host to the Cleveland Browns (6-5) Sunday night. Jackson is 4-1 as a starter against the Browns, throwing 10 touchdowns and two interceptions.
Sidelined for only the third game of his four-year career, Jackson started to feel sick last Tuesday. He missed practices on Wednesday and Thursday before returning for a full practice Friday. But the symptoms came back on Saturday.
Jackson has never missed back-to-back games.
Asked if the expectation was for Jackson to participate in Tuesday's walkthrough, Harbaugh said, "The hope is. I won't say expectation because, you know, who knows?"