Russell Wilson not being limited in Seattle Seahawks' practice this week, and 'looks pretty good'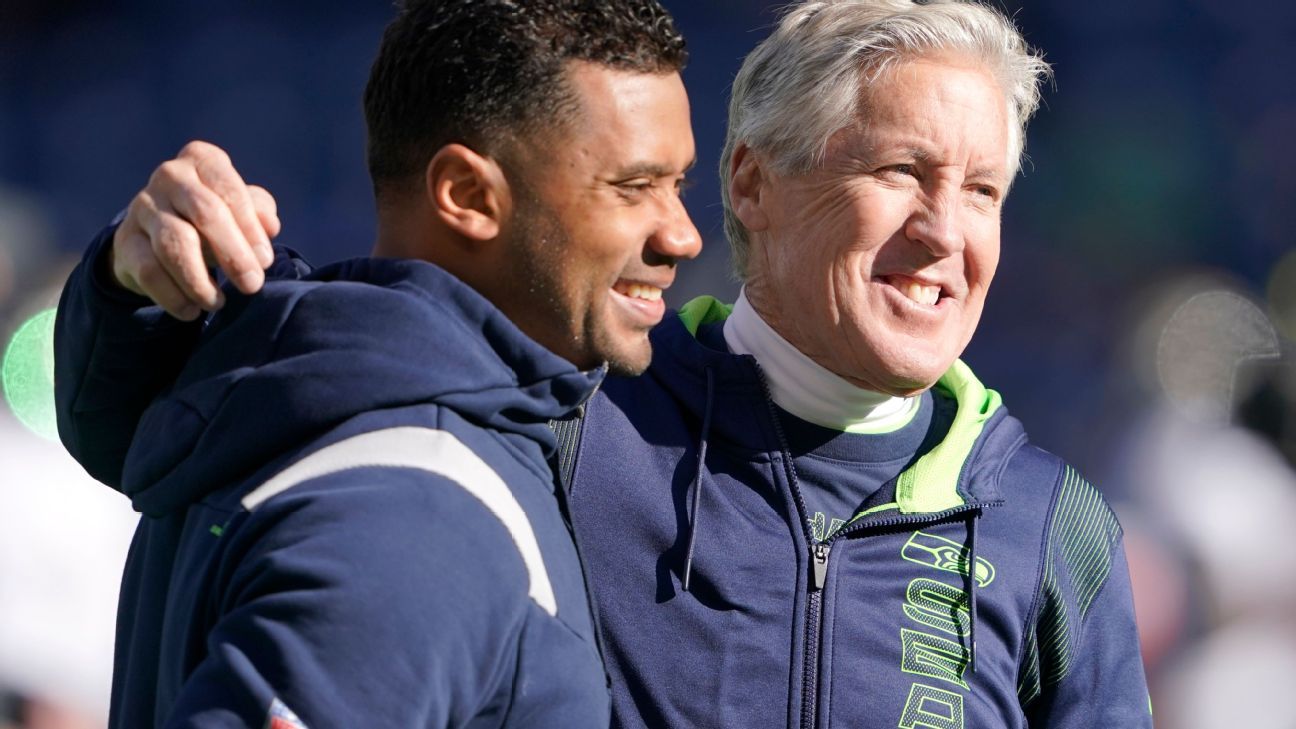 RENTON, Wash. — Seattle Seahawks coach Pete Carroll said quarterback Russell Wilson is not being limited in practice this week in his return from an injury to his right middle finger.
Wilson practiced on Monday for the first time since his Oct. 8 surgery.
"I've just seen him in the walk-through since then and you would never have known," Carroll said before Wednesday's practice. "So I don't know what that means yet, but he looks pretty good."
Carroll said earlier in the week that the plan was for Wilson to play Sunday against the Green Bay Packers assuming all goes well this week. The Seahawks would need to activate Wilson off injured reserve by Saturday to make him eligible.
Because he is not on the active roster, the Seahawks aren't required to include Wilson's level of participation on their daily practice reports. But Carroll answered in the affirmative when asked whether Wilson is a full participant.
Wilson was not seen wearing a glove during the portion of Monday's practice that was open to reporters.
"He doesn't have to wear anything unless he chooses to," Carroll said. "He has been experimenting with some stuff just to see what's out there for him."
The Seahawks on Wednesday designated running back Chris Carson for a return to practice. Carson has missed the past four games with a neck injury and was placed on IR the same day as Wilson, making both players eligible to return for the Green Bay game.
"He's got to make it through the week of work and like we always talk about, it's a one-day-at-a-time thing," Carroll said. "He'll get banged around a little bit tomorrow, but just see how he responds to it. It's pretty important to get a good bead on this one. He'll feel good physically running around and all that because he's in great shape and he's been working really hard, so it's just how he responds — same old thing — and how his body reacts to the workload."
Carroll said Carson has gotten through the discomfort he was dealing with in his neck.
"That's why he's back and hopefully it'll stay that way," the coach said. He said he didn't know whether Carson would have to be on a so-called pitch count whenever he returns.
The Seahawks designated rookie receiver Dee Eskridge for a return to practice on Monday. Seattle's second-round pick hasn't played since suffering a concussion in the opener. He made two trips to a concussion specialist in Florida to work through issues he was having with his vision.
Eskridge practiced Monday and was feeling good enough to practice again Wednesday, per Carroll.
New Orleans Saints WR Deonte Harris suspended three games; DE Cameron Jordan put on COVID-19 list
METAIRIE, La. — The hits keep coming for one of the NFL's most depleted rosters.
New Orleans Saints receiver/kick returner Deonte Harris was officially suspended three games Monday for a summer DUI arrest after his appeal was unsuccessful. And defensive end Cameron Jordan was placed on the reserve/COVID-19 list — putting one of the NFL's longest iron man streaks in serious jeopardy.
Jordan has played in 172 consecutive regular-season games — the longest active streak of any nonspecialist in the NFL. He will need two negative tests 24 hours apart to be able to return in time for Sunday's game at the New York Jets. Ironically, Saints linebacker Demario Davis would replace Jordan atop that list if he can't play. Davis has played in 156 consecutive games.
Jordan, 32, has never missed a game since being drafted in the first round in 2011. He has four sacks this season and 98.5 in his career.
The Saints (5-7) are already thin at defensive end, with fellow starter Marcus Davenport having missed the past two games with a shoulder injury and veteran backup Tanoh Kpassagnon having been placed on injured reserve last week.
Their offense has also been seriously banged up during their current five-game losing streak — though they are hoping to get at least some from the group of running back Alvin Kamara and offensive tackles Terron Armstead and Ryan Ramczyk back from knee injuries this week.
Quarterback Taysom Hill will also be playing through the pain of a mallet finger injury in his right throwing hand and a partially torn plantar fascia in his foot.
The 24-year-old Harris, a third-year pro who has taken on a bigger role on offense this year, leads the Saints with 523 receiving yards and has three long touchdowns on 31 catches.
Harris' DUI case was resolved earlier in November when he was sentenced to one year of supervised probation. Maryland court records show that Harris pleaded not guilty but agreed to the statement of facts in the police report. According to that police report, which was obtained by NOLA.com, Harris registered a blood alcohol content of 0.246% after driving more than 20 miles per hour over the speed limit and swerving across three lanes of traffic on the interstate at 1:30 a.m.
Green Bay Packers quarterback Jordan Love placed on COVID-19 list
GREEN BAY, Wis. — Green Bay Packers backup quarterback Jordan Love, who has been taking most of the midweek practice reps while Aaron Rodgers treats and rests his fractured pinkie toe, was placed on the reserve/COVID-19 list on Monday.
The team made the announcement on the day players returned to the facility from their bye week. Love, who has said he is vaccinated, would have been part of the group of players tested upon their return for their week off. Unvaccinated players who have not had COVID in the last 90 days would have been tested daily during the bye.
Love has taken only one game snap since his Nov. 7 start against the Kansas City Chiefs, the game Aaron Rodgers missed while he was on the COVID list. It was a kneel-down play on Nov. 21 against the Vikings, when Rodgers went into the locker room shortly before halftime to get treatment on his toe.
However, Love handled all the starting quarterback practice duties leading up to the Nov. 28 game against the Rams.
Rodgers elected not to have surgery on his toe during the bye week, but coach Matt LaFleur wasn't ready to say whether Rodgers would practice much, if at all, this week in advance of Sunday night's game against the Chicago Bears.
"I know he was getting treatment and doing everything he can to be 100 percent," LaFleur said Monday. "I still think it's a process like anything, and we'll see where he's at this week. Hopefully we can get him out there at practice, but if not, we've got a lot of confidence in just his ability to go out there and play at a high level."
The only other quarterback the Packers have is Kurt Benkert, who is on the practice squad. He, too, was on the COVID list this season, but returned to the team on Nov. 15.
Las Vegas Raiders RB Kenyan Drake to have season-ending ankle surgery
HENDERSON, Nev. — Las Vegas Raiders running back Kenyan Drake will travel "in a few days" to undergo season-ending surgery on his broken right ankle in Birmingham, Alabama, Raiders interim coach Rich Bisaccia said Monday in his weekly news conference.
Drake, who was carted off the field after being tackled and twisted down awkwardly from behind by Washington's Daniel Wise midway through the second quarter of the Raiders' 17-15 loss, took to Twitter Sunday night to say that the tackle that injured him "should be an illegal form of tackling like a horse collar."
Bisaccia said Monday that Drake was frustrated since he suffered a similar injury last season, when he had a high right ankle sprain in Week 7 while playing for the Arizona Cardinals against the Seattle Seahawks. He missed one game with that injury.
"When you look at the play on tape, it did not look intentional," Bisaccia said. "I think he got himself in a funky body position at the end, when he went to finish … the guy kind of rolled him over, got his ankle caught underneath there.
"Certainly, it ended up being a roll-up position at the end."
Drake, 27, signed a two-year free-agent contract worth $14.5 million with $11 million guaranteed with the Raiders this offseason. A versatile change-of pace back to complement starter Josh Jacobs, Drake rushed for 254 yards and two touchdowns on 63 carries and caught 29 passes for 283 yards and a TD. He also returned 10 kickoffs for 192 yards for the Raiders.
The Raiders have also lost fullback Alec Ingold for the season with a torn ACL in his right knee and backup running back Jalen Richard was placed on the COVID list the morning of the Washington game.