Odell Beckham Jr. eyeing Kansas City Chiefs, Green Bay Packers, New Orleans Saints, sources say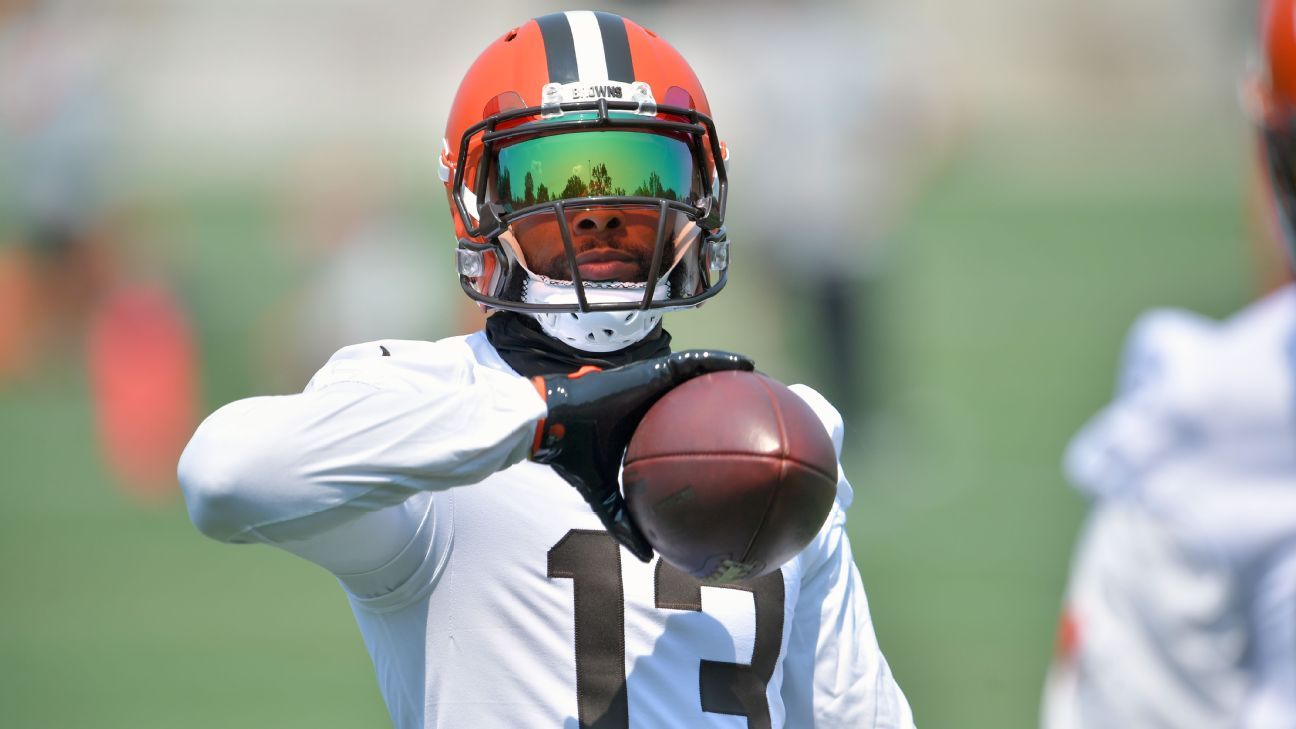 Free agent wide receiver Odell Beckham Jr. is considering the Kansas City Chiefs, Green Bay Packers and New Orleans Saints as potential landing spots, league sources told ESPN's Dianna Russini on Wednesday.
Beckham cleared waivers Tuesday after being released by the Cleveland Browns on Monday. The veteran wants to spend the rest of this season with a playoff contender and in a winning environment, sources told ESPN's Adam Schefter earlier in the week.
The Packers are the only one of those three teams still on the Browns' schedule. Cleveland visits Lambeau Field on Christmas Day.
The Browns excused Beckham from practice last week while the sides negotiated his exit. He asked to be traded and never developed an on-field connection with Browns quarterback Baker Mayfield, and Beckham essentially forced his release last week when his father shared an 11-minute video on social media — hours before the trade deadline — of plays in which Mayfield didn't pass him the ball.
Cleveland must pay Beckham $4.25 million but will save $3 million from his renegotiated contract.
Beckham, 29, had 17 catches for 232 yards and zero touchdowns in six games this season. He had only two 100-yard games in 29 games after joining Cleveland in the 2019 blockbuster trade with the New York Giants.
The three-time Pro Bowler had 1,035 receiving yards in his first season with Cleveland but suffered a season-ending knee injury in 2020 and was out when the Browns ended a long playoff drought and won their first playoff game in 26 years.
The Associated Press contributed to this report.
Seattle Seahawks rookie CB Tre Brown might need season-ending surgery, coach Pete Carroll says
SEATTLE — Tre Brown's promising rookie season appears to be over.
Seahawks coach Pete Carroll said early indications are that Brown, Seattle's starting left cornerback, needs season-ending surgery on the patellar tendon injury he suffered Sunday in Seattle's 23-13 loss to the Arizona Cardinals.
It happened in the third quarter when Brown was about to contest a third-down throw to A.J. Green. He went down immediately in pain and eventually walked into the locker room with a pronounced limp.
Brown had been a bright spot in Seattle's dismal 3-7 season. The fourth-round pick from Oklahoma began the year on injured reserve after hurting his knee in the preseason, then had a strong NFL debut in Week 6, which included a third-down stop in overtime of Seattle's loss to the Pittsburgh Steelers. As Seattle continued to rotate on the left side, Brown continued to play well enough to earn the starting job over Sidney Jones.
Jones started on the right side Sunday as D.J. Reed was inactive. Carroll had no update Monday on when Reed will return but said his knee injury isn't severe. Carroll was happy with how Jones played against Arizona and said Bless Austin, who came in when Brown went down, was "pretty solid for his first time out" save for a play in which he slipped while breaking on a completion.
Austin, a former starter with the New York Jets, hadn't played a snap on defense for the Seahawks this season before Sunday. Their cornerback depth also includes John Reid, whom they acquired in a preseason trade with the Houston Texans.
Carroll shed some light on running back Chris Carson's upcoming neck surgery, saying it's his understanding that Carson has a disc issue that needs to be fused. He reiterated that the team has been told that Carson will able to return next season.
"That's a surgery that can get him back somewhere late in the spring," Carroll said. "That's what I've heard. So we'll see what happens with that."
Carroll described Rashaad Penny's hamstring injury from Sunday as "slight."
Alex Collins has been the Seahawks' primary running back since Carson last played in Week 4, but they gave Penny his first career start against Arizona. Seattle's oft-injured first-round pick from 2018 gained 18 yards on the game's opening play but hurt his hamstring in the process. He got only one more carry and seven more snaps after that.
"We don't know how extensive it'll be," Carroll said. "It's not a bad injury but there's something there, so we've just got to make sure and take care of him and see what happens."
Collins and DeeJay Dallas tied for the lead among Seattle's running backs Sunday with 18 snaps apiece. Penny played eight snaps, while Travis Homer played five.
NFL gives nod to Taylor Swift's 'Red' re-release with '(Jonathan Taylor's version)'
It's a good time to be named Taylor.
Just ask Taylor Swift, whose new re-recorded LP, "Red (Taylor's Version)," is sitting at No. 1 on the Billboard 200 albums chart. The singer-songwriter released the re-recorded album earlier in November after she was unable to get ownership of the masters of her first six studio albums.
A few NFL teams are tipping their cap to how big of a deal it is that Swift is challenging the music industry's norms.
On Nov. 14, just two days after the album was released, the New England Patriots and Gillette Stadium made sure to shout out the "red" seen around during game day on Twitter.
Red Sleeves (Matthew's Version) pic.twitter.com/EpYJgSif51

— New England Patriots (@Patriots) November 14, 2021
Red (Gillette Stadium's Version) pic.twitter.com/ybHqrqfjDs

— Gillette Stadium (@GilletteStadium) November 14, 2021
The Buffalo Bills also gave Swift a little shoutout after a big AFC win right after "Red (Taylor's Version)" came out.
Offense was RED hot today. (Josh's version)#BUFvsNYJ | #BillsMafia pic.twitter.com/bJKnwnEB7w

— Buffalo Bills (@BuffaloBills) November 14, 2021
And more recently, the NFL fully embraced Swift following Jonathan Taylor's big game this past weekend.
The Indianapolis Colts running back had five touchdowns against the Bills in Sunday's game, giving them their third win in a row. Now, the NFL's official Twitter account's bio reads: "He knows the end zone All Too Well (Jonathan Taylor's Version)" with a picture of one of those touchdown runs. What's more, Taylor is wearing a Photoshopped red scarf in the picture, a nod to infamous lyrics in Swift's song "All Too Well."
It's NFL bio official now. 🖼️ pic.twitter.com/XZc3oPyIdV

— Indianapolis Colts (@Colts) November 22, 2021
Taylor became just the fourth player in NFL history to have 200 scrimmage yards and five touchdowns in a single game on the road. After contact, he rushed for 96 yards, the second-highest total of any player this season. He earned fantasy football players a whopping 53.4 points on Sunday.
This isn't the first time Taylor Swift — who is known for the numbers 13 (her lucky number) and 22 (the title of a song on "Red") — has had an NFL crossover.
According to Pro Football Reference, there have been four NFL players in league history named "Swift." While none of them have worn Nos. 13 or 22, there have been two players with the last name Taylor to wear No. 13: Jacksonville Jaguars WR Kerry Taylor in 2013 and Tennessee Titans WR Taywan Taylor in 2017-18. Washington Football Team DB Rosey Taylor (1972), Chicago Bears RB Cliff Taylor (1974), New Orleans Saints DB Derrick Taylor (1987) and Miami Dolphins DB Jamar Taylor (2013-15) are four Taylors to wear No. 22.
Swift was also interviewed by ABC during the 2019 NFL draft.
JUST IN: @taylorswift13 announces what will be revealed at midnight: "It's going to be a new song and music video!" The song is called "ME!" and it will feature @brendonurie. WE CAN'T WAIT! https://t.co/zJcGoGMulD #TaylorSwiftApril26 pic.twitter.com/SbJtVfxnHZ

— Good Morning America (@GMA) April 26, 2019
Sounds like Taylor Swift and the NFL are a potential "Love Story" in the making.
New Orleans Saints TE Adam Trautman to miss 4-6 weeks with MCL sprain
METAIRE, La. — New Orleans Saints tight end Adam Trautman is expected to miss the next four to six weeks after suffering a sprained MCL in Sunday's loss to the Philadelphia Eagles, a source told ESPN's Adam Schefter.
Trautman has battled inconsistency in his second NFL season. But he was having his best game to date on Sunday with five catches for 58 yards and a touchdown before suffering the injury while being tackled hard to the turf after a leaping catch.
The 6-foot-5, 253-pound tight end, who was drafted in the third round out of Dayton in 2020, had just 25 catches for 241 yards and one TD this season. But he is an exceptional run-blocker who was New Orleans' clear No. 1 tight end, playing more than 50 snaps per game.
Veterans Nick Vannett and Garrett Griffin, second-year pro Juwan Johnson and possibly Taysom Hill will be among those filling the void in his absence.
This is also the latest in an overwhelming barrage of injuries on the Saints' offense this year. Wide receiver Michael Thomas has missed the entire season with an ankle injury. Quarterback Jameis Winston suffered a season-ending ACL tear in Week 8. And running back Alvin Kamara and offensive tackles Terron Armstead and Ryan Ramczyk were all sidelined last week, among several other injuries this year.
The Saints did not practice on Monday, but they were required to release an estimated injury report since they play on Thursday night against the Buffalo Bills. Kamara (knee) and Ramczyk (knee) were listed as not practicing, but Armstead (shoulder/knee) was listed as a limited participant.
It's possible that all three could be back as soon as Thursday since none of them was placed on short-term injured reserve.