Minnesota Vikings' Dakota Dozier hospitalized for COVID-19 issues
A Minnesota Vikings player who is vaccinated was hospitalized Tuesday because he was having trouble breathing because of COVID-19, coach Mike Zimmer said Wednesday.
According to a source, the player is offensive guard Dakota Dozier, who was placed on the reserve/COVID-19 list on Friday.
He is in stable condition now, per Zimmer, but remains hospitalized.
"It's serious stuff, so, I don't know," Zimmer said. "Like 29 guys are getting tested because of close contact, including myself. Just do what we do."
When asked whether the player's reaction was to the vaccine (booster) or COVID-19, Zimmer said: "No, it was COVID. I'm not a doctor, but it was COVID pneumonia or something — he had a hard time breathing."
The Vikings have five players on the reserve/COVID-19 list, including starting center Garrett Bradbury and starting safety Harrison Smith, who was placed on the list 90 minutes before Sunday's 34-31 loss at Baltimore after he tested positive. The Vikings are operating under the league's intensive protocols, which means more testing teamwide to help contain the outbreak.
Russell Wilson's misfires most striking among Seahawks' offensive woes – Seattle Seahawks Blog
SEATTLE — Inside a quiet and sullen visitors' locker room Monday night, after the Seattle Seahawks' playoff hopes all but died with their 17-15 loss to the Washington Football Team, quarterback Russell Wilson was among the players who spoke up.
As coach Pete Carroll described it on 710 ESPN Seattle, Wilson held himself accountable with a brief and heartfelt message to teammates.
"He just said he's got to play better to them and he told them … 'I've got to be better,'" Carroll said. "Guys know. They don't have to say a lot. It's not a lot of words. It's just the sincerity and the care that he brought to it."
The list of reasons why the Seahawks lost Monday night go well beyond a few more errant throws from Wilson. His recent struggles don't solely explain why their offense has only scored 28 points during a three-game losing streak that has coincided with his return from finger surgery, nor why they continue to be the NFL's worst team at converting on third down.
Their pass-protection has been spotty and they haven't mounted a consistent running game — or, as was the case against Washington, any running game — without running back Chris Carson.
But those have been issues in the past.
• Cowboys' Parsons hungry to be great
• Saints have dilemma with QB future
• Improving Tua gives Dolphins boost
• Misfiring Wilson alarming for Seahawks
• Wellness center helps players recover
Wilson's accuracy hasn't.
Yet one of the NFL's most pinpoint passers has been missing throws that he rarely, if ever, missed before suffering a finger injury in Week 5 that required surgery and sidelined him for a month.
"I think we saw Russ make some incredible plays and throws and then some throws that are really routine for him not be completed," Carroll said Tuesday on his radio show while reiterating that nothing has looked amiss with Wilson in practice. "He missed the first third-down play when the ball took off on him and there was a couple other ones on third-down situations where really we didn't need to do anything different. We just needed to throw and catch it."
That first third-down throw Monday night went well over tight end Gerald Everett's head in the flat. Wilson sailed a similar throw to Everett later in the first half and missed him again on his other head-scratching misfire. That one was on a third-and-4 play in the third quarter, when a stationary Everett was open over the middle at the line to gain but had no chance to catch a short throw that was off to the right.
According to ESPN Stats & Information research, Wilson has the highest off-target rate (23.7%) among all qualified quarterbacks since his return in Week 10. That metric measures the percentage of incompletions (excluding throwaways and spikes) that were uncatchable. Wilson had the 10th-lowest off-target rate (14.4%) from Weeks 1-9.
Seventeen of his 22 off-target incompletions since week 10 have been overthrown, tied with Trevor Lawrence for the most overthrows in the NFL in this span. Wilson had 15 overthrows in his first five games of the season.
In illustrating how perplexing Wilson's misses have been, Carroll noted on his radio show that he's had his typically-excellent touch on deep throws — like the two he hit to receiver Tyler Lockett on Monday night — and that the issue has seemed to be when he's had to drive the ball on a line. Then again, his first touchdown pass against Washington was short laser to Everett in the tightest of windows. His 32-yard TD pass to receiver Freddie Swain in the closing seconds, which completed a 96-yard drive that gave Seattle hope of overtime, was also on a rope.
After reviewing the Washington game with Wilson, Carroll felt his misfires were the result of trying to put too much heat on shorter throws.
"There's just a few plays in there, really on the shorter passing game that he just really tried to drill the football and maybe threw it a little too hard, threw it harder than normal trying to make sure the ball was there and crisp and all of that," Carroll said Wednesday. "The balls down the field, he threw the ball really well. On the move, really well. But we weren't as sharp as we need to be … It's easily corrected. Easily corrected. He feels great. He does not feel like he's burdened by the surgery from the past and all that. He's ready to go."
Pass-protection was also a factor against Washington, with Wilson airmailing one deep throw to receiver DK Metcalf off his back foot as right guard Gabe Jackson was being driven back into him. A third-and-10 play late in the game had no chance when Wilson was immediately pressured and sacked on a four-man rush.
"We need to protect better," Carroll told 710 ESPN Seattle. "We need to keep guys out of his chops — [they were] right in front of him a couple times; we got knocked back — so that he has the room to throw."
The Seahawks rank 12th in ESPN's Pass Block Win Rate this season (61.4%). They've been sixth (65.8%) in the three games since Wilson's return but ranked 25th for Week 12 (56%).
Asked about Everett's postgame remark that the Seahawks have "struggled in protection and the whole league knows that," Wilson said "it's not the O-line's fault." He also reiterated that his finger "is not the issue."
"I think today I missed a couple," Wilson said on Monday. "There's one that I threw really high because I was getting knocked back … Earlier on I think, [I needed to] adjust my eyes a little bit. It wasn't like I didn't feel confident with it … You're battling every day just to find a way to make plays and do what we need to do. I've been practicing my butt off every day and we've been practicing great. I know that sometimes you shoot and it doesn't go in. So I'm going to keep shooting."
What's behind Cowboys rookie Micah Parsons' surge? 'I'm hungry within myself to be great' – Dallas Cowboys Blog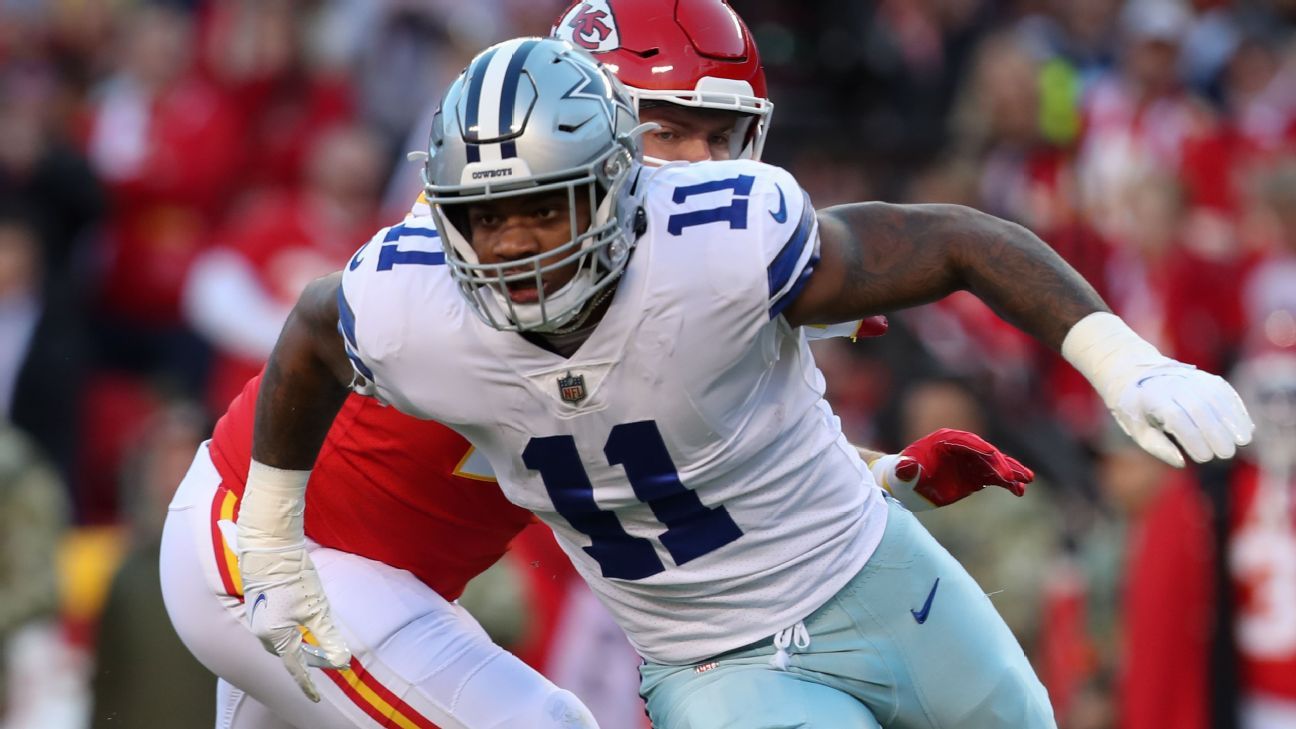 FRISCO, Texas — The match between Micah Parsons and the Dallas Cowboys has been just about perfect so far.
The rookie linebacker (or defensive end, depending on the moment) loves the spotlight and few teams in the NFL gain more attention than the Cowboys, good or bad.
On Thursday night at the Caesars Superdome against the New Orleans Saints (8:20 p.m. ET, Fox/NFL Network), the bright lights will find Parsons.
"I mean, let the eyes be on me," Parsons said. "It ain't going to change my preparation, ain't going to change nothing I did because I was already ready for the moment. Some people are born for it. I believe I was born for it and I just got to play like that."
Playing for the Cowboys can be overwhelming because of the attention. On and off the field, every move is dissected. Some players can deal with the pressure. Others wilt with sensitivity. Parsons, who was the No. 12 overall pick in the 2021 draft, has flourished.
Coach Mike McCarthy said the club has a character breakdown in scouting reports to ascertain whether draftees can handle the rigors of playing for the Cowboys.
"It's very different working for the Dallas Cowboys," said McCarthy, who has been with the Green Bay Packers, San Francisco 49ers, the Saints and the Kansas City Chiefs in his NFL career. "It's a spotlight like none other."
Parsons is not just a product of the hype that can turn some Cowboys into household names before they ever truly accomplish anything. His production, especially since the bye week (36 tackles, 6.5 sacks, 2 forced fumbles in the last five games), comes after adding more to his preparation after what he believed were too many subpar moments.
The morning of the first practice following the Oct. 24 bye, defensive coordinator Dan Quinn walked into The Star — the Cowboys' headquarters and practice facility — about 6 a.m. He saw Parsons, who would normally get there about 7 a.m., right behind him.
"I said, 'What do we got going on here?'" Quinn said. "He said, 'I'm changing some things.'"
Parsons used the extra time to get more treatment, study opponents more and work out.
"I didn't think I had to change something. I had to find something all by myself," Parsons said. "That's something I had to do on my own. Nobody forced me to do it. I had to go do it because I challenge myself every week to go out there and be great and find a way to impact the game, whether that's at end or linebacker. And I feel like it shouldn't matter where I'm at. I've got to find a way to make the money, you know what I mean? And help my team win. So I'm hungry within myself to be great."
The results have been noticeable.
In the first game after the bye against the Minnesota Vikings, he had four tackles for loss, a season high. A week later in a loss to the Denver Broncos, he had seven tackles and 2.5 sacks. He had another sack and another tackle for loss against the Atlanta Falcons.
He had two more sacks and a forced fumble against the Chiefs. According to ESPN Stats & Information data, he finished with 12 pressures, tied for the most of any player of the past five seasons, tying Nick Bosa and J.J. Watt, who had similar 12-pressure games in 2019.
In the overtime against the Las Vegas Raiders on Thanksgiving, he had a tackle for loss and a sack in consecutive plays, but a pass interference penalty on third-and-18 kept the Raiders' game-winning drive alive.
"Micah's continued to make big plays for us in big time moments," Quinn said. "And so we count on him for that."
"I feel like I should shine in that moment," Parsons said. "I wanted to be in that moment. I wanted to make the play. I wanted that on my back. I ain't want to shy from it. Those are the moments I live for because those are the moments you remember forever."
Parsons has 67 tackles and 9.0 sacks and is on pace for 103.5 tackles and 14 sacks. While he will play a 17-game season, the last player to hit both marks in a season was Buffalo Bills Hall of Famer Bruce Smith in 1993. Parsons is the 12th rookie since 1999 to have at least nine sacks and 15 tackles for loss in a season and the only rookie defender with more through 11 games was Von Miller, who had 10.5 sacks and 16 tackles for loss in 2011 for Denver.
"What jumps out to me is his hand usage, very developed as far as his technique, using countermoves to win and then you see his high-level traits," said former NFL safety Matt Bowen, who is an analyst on ESPN's NFL Matchup show. "A lot of guys have high-level traits. They're explosive, but they can't get home to the quarterback because they can't create that separation. With Micah Parsons, you see that and then you go to his high-level traits. His ability to bend is ridiculous. He has the short-area speed, which is much more important than long speed for pass-rushers. And then when he closes, you're done."
Big time. @MicahhParsons11 sets the @DallasCowboys rookie sack record!

📺: #LVvsDAL on CBS
📱: NFL app pic.twitter.com/2nuc6yuDt2

— NFL (@NFL) November 26, 2021
Parsons' 9.0 sacks are a team rookie record, breaking the mark held by DeMarcus Ware in 2005 but equal to Willie Townes (1966) and Harvey Martin (1973) before sacks became an official stat in 1982. Parsons' 15 tackles for loss are the most by a Dallas defender since Sean Lee had 13 in 2017. His 6.5 sacks in the month of November are tied for the second-most in a single-month in team history. Ware had seven in October 2011.
"He jumps off the tape at you," Saints coach Sean Payton said. "I think more recently at the end position, he's impressive when he rushes. Obviously when he plays at linebacker the same way. I think when he gets on the tackles though and is rushing, he's a handful. You see in different games where he's playing at different spots. Obviously he's fit into their system well."
Parsons is the only player to rank in the top 15 in pass rush win rate and run stop win rate this year, among 109 players with at least 100 pass rushes and 100 run stop plays, according to ESPN Metrics/NFL Next Gen Stats.
Defensive Rookie of the Year seems assured at the moment. What about Defensive Player of the Year? New York Giants Hall of Famer Lawrence Taylor (1981) is the only rookie to win the award.
Some of that will depend on if the Cowboys can get out of their current funk having lost three of four. Some of it will depend on how the rest of the current candidates, like the Los Angeles Rams' Aaron Donald, Cleveland Browns' Myles Garrett, New England Patriots' Matthew Judon and, potentially, Cowboys teammate Trevon Diggs, who leads the NFL in interceptions, fare in the final six weeks.
Most of it will depend on how Parsons performs, especially as the games get bigger.
"I think he can because of the production," Bowen said. "And what you are seeing on top of that now, if [you] had a discussion with someone and asked, 'Who's the best edge rusher?' and a lot of people will say Myles Garrett and I'd agree with that. But if you take Myles Garrett out, is Micah Parsons next? I think that's a valid argument."
After the Saints' game, the Cowboys have one more prime-time game, Dec. 26 against the Washington Football Team. A week later, they play the NFC-leading Arizona Cardinals in a game that could determine playoff seeding.
As the games get more important, more attention will be paid to Parsons. That's fine with him.
"At the end of the day, it's just football," Parsons said. "It's something I've been doing my whole life and people have been watching me play football my whole life. It's just a few extra eyes."
New Orleans Saints' future at QB even cloudier now than when Drew Brees retired – New Orleans Saints Blog
NEW ORLEANS – The New Orleans Saints' transition into life after quarterback Drew Brees retired has been … well … more painful than expected.
First Jameis Winston tore the ACL in his left knee in Week 8 after helping the Saints to a promising 5-2 start. Then, Trevor Siemian went 0-4 as starting quarterback, in part because of an overwhelming barrage of injuries throughout the lineup around him.
Now, Taysom Hill will take his turn in the rotation Thursday night (8:20 p.m. ET, FOX/NFL Network) against the Dallas Cowboys (7-4) — while battling his own lingering foot injury.
The Saints (5-6) could also be without running back Alvin Kamara and offensive tackles Terron Armstead and Ryan Ramczyk because of knee injuries. They were all listed as questionable Wednesday.
Perhaps there's still time to revive their bleak playoff hopes if they get healthy in December. But New Orleans' long-term outlook at quarterback will be even cloudier heading into 2022 than it was when Brees retired in March.
Here is a look at the options and hurdles:
Taysom Hill
Hill might not have the best chance at this job long-term — but he has the next chance. So the 31-year-old could theoretically take it and run with it if he exceeds expectations and leads New Orleans into the playoffs. That will be a tall order, though, especially considering the health of the Saints' roster and the fact that Hill's greatest asset – his running ability – could be limited by the partially torn plantar fascia in one of his feet.
• Cowboys' Parsons hungry to be great
• Saints have dilemma with QB future
• Improving Tua gives Dolphins boost
• Misfiring Wilson alarming for Seahawks
• Wellness center helps players recover
Hill lost out on his first chance at the starting gig when Winston outperformed him in training camp and the preseason.
Hill, meanwhile, just signed a unique four-year contract extension that will pay him a base value of $40 million if he remains in his versatile role as a part-time QB/RB/TE/WR – and up to $95 million if he becomes the starting QB and reaches several lofty incentives.
Hill showed some potential in 2020 by going 3-1 as a starter while Brees was injured. He was better than expected as a passer, completing 71.9% of his throws during that span for 834 yards, 4 touchdowns and 2 interceptions. He also ran the ball 39 times for 209 yards and 4 scores.
However, Hill lost three fumbles and got into trouble when he held onto the ball too long when his early reads weren't open or the pocket broke down.
Hill and coach Sean Payton both need to make better use of his skill set over the next six weeks to revive hope for his long-term QB prospects.
Jameis Winston
Winston showed his potential before the ACL injury, throwing 14 touchdown passes with three interceptions and one lost fumble — proving he could overcome the turnover issues that derailed his career with the Tampa Bay Buccaneers. He also ran for 166 yards and a score of his own. The idea Winston's best football is yet to come still has merit.
However, he completed just 59% of his passes and averaged 186 passing yards in his six complete games while working with New Orleans' depleted group of receivers and tight ends. Dropped passes didn't help. But if Winston returns (he will be a free agent in 2022), he will need to be more efficient on short and intermediate routes to go with his big-play ability.
It remains to be seen if both sides are interested in a reunion. Unfortunately for the 27-year-old, his knee injury will limit his value in free agency. It's possible the Saints could sign him to a one-year, incentive-laden deal for the third straight year — despite severe salary-cap limitations.
Trevor Siemian or Ian Book
Siemian, who turns 30 this month, has performed better than his record suggests — starting with a victory over the Buccaneers in Week 8 after he replaced Winston in the second quarter. However, Siemian's performance regressed a little each week. And he seems better suited to manage an established offense than rescue a flailing one. He could certainly return as a backup, but it's hard to envision him as the top option.
Likewise, Ian Book showed promise this summer as a rookie fourth-round draft pick out of Notre Dame — especially with his ability to move outside of the pocket. He could compete for the No. 2 role but won't head into 2022 as the projected No. 1.
Splash acquisition of a big-name QB?
Aaron Rodgers, Russell Wilson or Jimmy Garoppolo?
This absolutely cannot be ruled out — even though the Saints already have about $270 million in salary-cap commitments for 2022, with the cap scheduled to max out at $208.2 million per team.
The Saints could actually convert more than $90 million in cap space into future years through their usual bookkeeping practices, even if they don't release any players. And we have yet to see any indication that Payton or general manager Mickey Loomis is interested in a full rebuild anytime soon, since they have continued to invest heavily in re-signing current elite players.
Obviously this is a long shot, though. The Saints would have to make the highest offer, and they would have to decide it's worth investing mega-millions at QB despite several other pressing needs – starting with the wide receivers and tight ends that any new quarterback will require. At some point the Saints need to think seriously about rebuilding a roster that includes several standouts aged 30 and older (Armstead, defensive end Cameron Jordan, linebacker Demario Davis and safety Malcolm Jenkins).
One intriguing "in-between" possibility is current Denver Broncos and former Saints starter Teddy Bridgewater, who is scheduled to be a free agent.
A first-round draft choice?
This would be ideal, but it's much easier said than done. For one, most draft analysts don't see this as a great class for quarterback talent. For another, the Saints could be picking outside of the top 10, or even the top 20, if they stay competitive down the stretch.
If only they could find their own version of Mac Jones, who fell into the New England Patriots' lap with the 15th pick this year.