Injuries, penalties biggest roadblocks in Buccaneers' quest to win another title – Tampa Bay Buccaneers Blog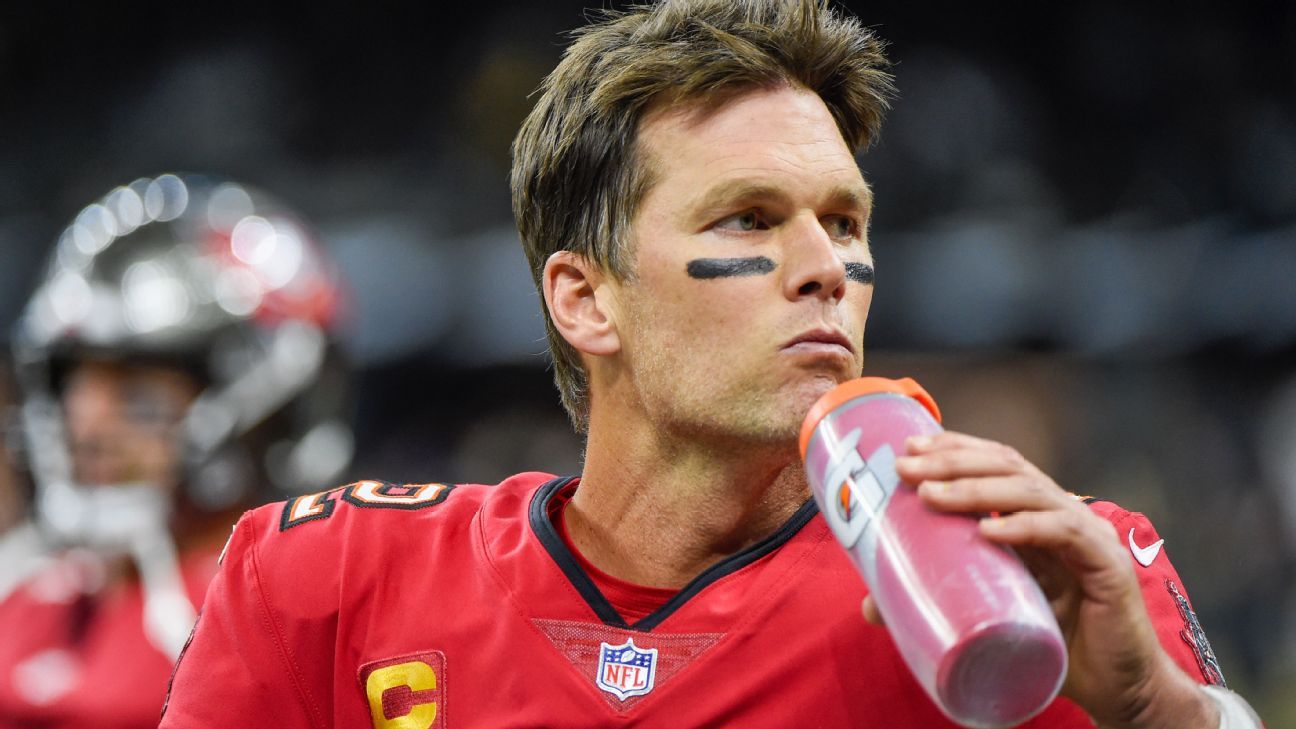 TAMPA, Fla. — Coming out of their late bye last year, the Tampa Bay Buccaneers were 7-4, with their best hope — even with quarterback Tom Brady at the helm — grabbing one of the final NFC wild-card spots, before orchestrating an eight-game win streak that resulted in a Super Bowl.
This year, they're 6-2 coming out of the bye at the NFL halfway point, and they're sitting atop of the NFC South with a little bit of cushion thanks to the New Orleans Saints' 27-25 loss to the Atlanta Falcons.
The Bucs are a much better team than they were a year ago. The offense has found its identity and has established a rhythm with Brady. Now, at the age of 44, he's having an MVP-caliber season. He's second in the NFL with 2,650 passing yards — behind Los Angeles Rams quarterback Matthew Stafford by 121 yards — and he's first in yards per game (331.3) and touchdowns (25). Vegas actually now has him as the favorite at +350 to win the award, ahead of Josh Allen (+400), Kyler Murray (+550), Stafford (+700) and Aaron Rodgers (+900).
Offensive coordinator Byron Leftwich has managed to successfully merge Bruce Arians' offense with what Brady likes to do best. And on the other side of the ball, they have established themselves as an aggressive, punishing defense.
But what will it realistically take to repeat? We'll take a look at several of the factors affecting them, in what's shaping up to be a tightly contested NFC.
Movement in the NFC standings
The Bucs benefitted in the standings during the bye week. In addition to the Saints' loss, the Green Bay Packers fell to 7-2 after a loss to the Kansas City Chiefs, the Rams lost to the Tennessee Titans to also drop to 7-2, and the Dallas Cowboys lost to the Denver Broncos, falling to 6-2.
The only team ahead of them in the NFC standings that won last week was the Arizona Cardinals — who defeated the San Francisco 49ers to improve to 8-1. Quarterback Kyler Murray's ankle injury remains a question mark though, as does wide receiver DeAndre Hopkins' hamstring. And receiver A.J. Green, whom they were also without last week, is on the reserve/COVID-19 list.
• NFL midseason report for all 32 teams
• Tyreek Hill offers more than just speed
• Biggest roadblocks for Bucs' title quest
• Herbert's second-year ups and downs
• Belichick, facing Browns, still evolving
• Dan Quinn has remade himself in Dallas
But there will be movement in the teams ahead of the Bucs and close behind because they play each other. On Nov. 28, the Rams play at Green Bay, which, by that time, should have quarterback Aaron Rodgers, who is currently on the reserve/COVID-19 list as well. On Dec. 2, the Cowboys play at New Orleans. On Dec. 13, the Rams play at Arizona. On Dec. 19, New Orleans travels to Tampa. Then on Jan. 2, the Cardinals and Cowboys square off. Also happening that day — the Rams play at the Baltimore Ravens (6-2).
Based on ESPN Football Power Index ratings, which are composed of predicted offensive, defensive and special teams efficiency, as measured by expected points added per play, the Rams have the second-toughest schedule to finish the season, while the Bucs have the 28th toughest, with only two of their remaining nine opponents (Saints and Buffalo Bills) above .500, with both of those opponents at home.
FPI also gives the Bucs a 99.4% chance to make the playoffs, and a 90.5% chance to win their division. They also have a 6.2% chance of winning out — the highest in the NFL. The Cardinals are right behind them in this department, with a 5.3% chance of winning out. It also gives the Bucs a 50.4% chance of making the NFC Championship and the Cardinals a 55.7% chance.
"Having home-field advantage is going to be huge with having fans and the traveling and all that," center Ryan Jensen said. "Staying on top of the NFC is something that obviously [you want]. You want to win your division and you want to secure home-field advantage throughout the playoffs. It's been all season for us focusing on that, especially with these last nine games with how tight that race is. It's going to be huge."
Health is biggest concern
The Bucs might be paying the price for playing four additional games in 2020 — as many defending Super Bowl champions do — as they have been decimated by injuries. They've been without starting cornerback Sean Murphy-Bunting since Week 2 and their other starter, Carlton Davis, since Week 5. But Murphy-Bunting started his 21-day window to return from injured reserve last week, along with wide receiver Scotty Miller (turf toe), and there's a possibility he returns Sunday against the Washington Football Team, (1 p.m. ET, Fox) depending on his level of soreness. Arians also said veteran cornerback Richard Sherman would be "good to go" after suffering a hamstring injury in Week 6.
On offense, tight end Rob Gronkowski remains a huge question mark. After starting the year off with an NFL-leading four touchdowns in the first two games, Gronkowski suffered cracked ribs and a slightly punctured lung against the Rams in Week 3. He returned in Week 8 against the Saints — initially with the intention of just playing in the red zone — but wound up only playing five snaps because of back spasms, which are connected to the rib injuries. To make matters worse, wide receiver Antonio Brown is still in a walking boot.
"You still have to worry a little bit about Gronk, and I don't know if AB is going to make it back," Arians said. "And Carlton will stay on IR. We'll see if [Murphy-Bunting and Miller] are game-ready. It's one thing to practice, it's another thing to throw them out there in a game."
Penalties remain a huge problem
The Bucs are hoping that the 11-penalty game against the Saints will serve as a catalyst for change, the same way their 11-penalty loss at the Chicago Bears in Week 5 did last year. In Weeks 1-5 last year, the Bucs led the NFL with 48 penalties. After that? The Bucs had the fewest penalties in the league in Weeks 6-17 with 48.
"It definitely put a bad taste in our mouth when you lose a game like that because of those situations," inside linebacker Lavonte David said. "We definitely have a group of mature men that understand what it was that cost us, so we're definitely going to get better from it."
But the penalties they're dealing with this year are different. Last year during the early part of the season, they had a lot of false starts, which can be attributed to lapses in concentration. This year, they've had 10 defensive pass interference penalties — second-most in the league — when they had seven last season. They only had four defensive holding calls last season, and they've already reached that number in 2021. Getting more continuity again in their pass defense will help, versus throwing in new pieces each week with guys not having as many reps during their lead-up time.
But it's also going to be up to players like inside linebacker Devin White, who was fined $25,750 for taunting and unnecessary roughness against the Saints, to control their emotions. David said he's spoken with White about the best way to harness that energy.
"That's just the basic thing: No Bucs beating Bucs," David said. "That stuff is just old. We can't have that creeping back up for us to be a team that we want to be. We're a good football team, and we're capable of beating a lot of teams when we go out there and play. At the end of the day, we can't win if we're out there with 10 penalties a game and stuff like that."
Dallas Cowboys' Mike McCarthy calls win over New Orleans Saints 'great experience' for team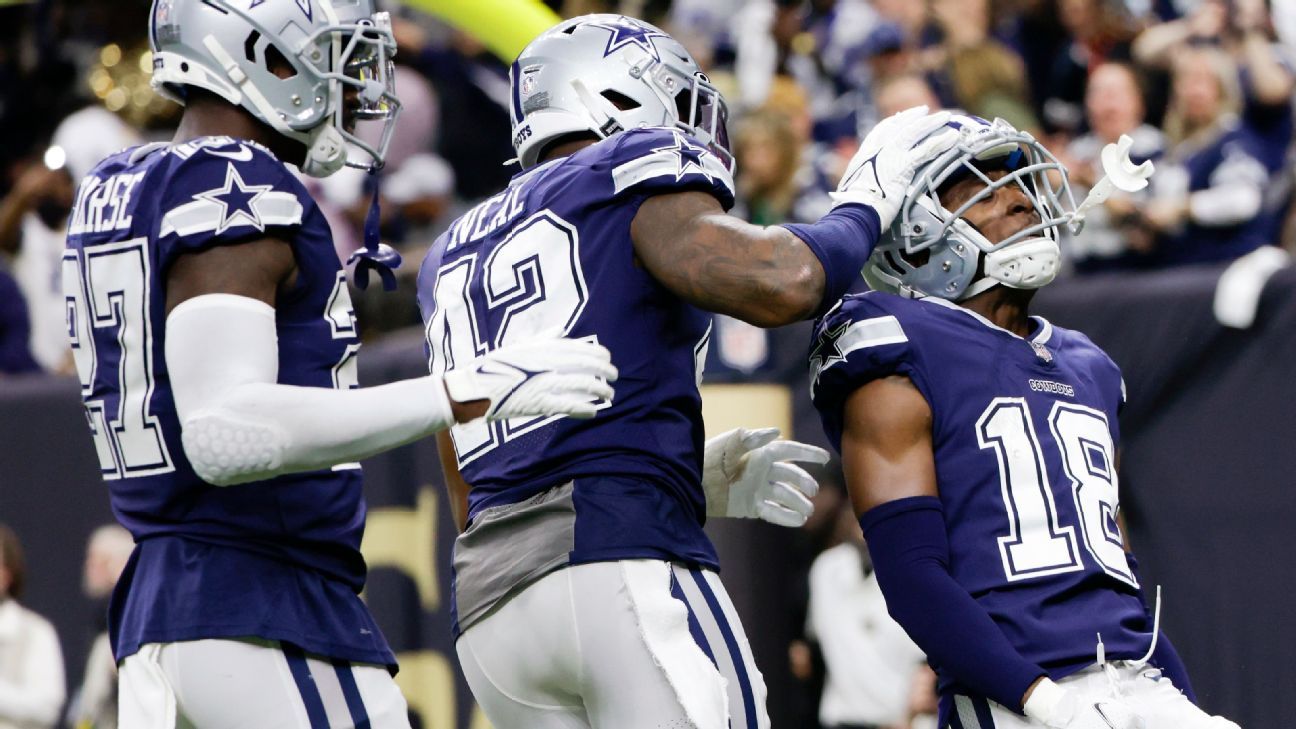 NEW ORLEANS — Dallas Cowboys coach Mike McCarthy knew watching Thursday night's game from a hotel in Frisco, Texas, would be difficult. He just didn't know how difficult.
The good news is McCarthy's Cowboys beat the New Orleans Saints 27-17 to end a two-game losing streak and open up more room over the Washington Football Team in the NFC East with five games to play.
"It was rough, I'm not going to lie," McCarthy told ESPN via phone after the game. "I'm proud of the guys and how it all turned out, but I don't ever want to do this again."
McCarthy was placed in COVID-19 protocols over the weekend after testing positive, and Dan Quinn took over the head-coaching role Thursday. Five other coaches, including offensive line coach Joe Philbin and assistant offensive line coach Jeff Blasko, and two players (Terence Steele and Nahshon Wright) missed the game.
"Adversity win, ugly win, however, you want to define it, you have to have these wins, especially when you get to later in the year when you're playing teams that are trying to get in the playoffs or make a run," McCarthy said. "This is a great experience for us. Let's face it, this is today's NFL. You've got to be able to win with change."
The Cowboys had plenty of change.
Quinn is normally in the coaches' booth for the game, calling defenses, but he was on the sideline Thursday. Tight ends coach Lunda Wells took over the offensive line responsibilities. Offensive assistant Chase Haslett worked with the tight ends. Vice president of player personnel Will McClay was on the sideline, as was consultant Ben McAdoo. Assistant head coach Rob Davis was on a headset for the first time with McCarthy out.
"One thing you've heard me say before is I love doing hard things with a group of people, and this was one of those moments," said Quinn, who was the Atlanta Falcons' head coach for parts of six seasons and had a 2-3 record inside the Superdome. "We got great people to get the job done. We wanted to make sure Mike and all the guys who missed, let them know we got their backs. So honestly, that was the only thing I was nervous about. I didn't want to let him down. He's done a great job leading us, to how it's going to go down, the play style that we wanted. But it was just a cool win."
Quinn's defense contributed four takeaways, all interceptions, including a pick-six by defensive tackle Carlos Watkins. Running back Tony Pollard made it a two-score game in the third quarter with a 58-yard touchdown run, the longest run of his career and the longest scoring run since Ezekiel Elliott had a 60-yarder as a rookie in 2016.
It was the culmination of a week that forced the Cowboys to adjust on the fly. McCarthy ran the meetings all week virtually, and he held his normal pregame meeting via the internet on Thursday. Players and coaches met virtually before and after practices leading into the game and had to grab their meals at The Star to go. With the three strength coaches in COVID protocols, the players did not have access to the weight room all week and had to work out on their own.
"This is one of those weeks where no job is not your job right now," Quinn said.
Owner and general manager Jerry Jones had a funny line ready for Quinn after the game.
"I just told him with a win he's right there with Tom Landry," Jones said, referencing the Hall of Fame coach and Cowboys' all-time win leader. "He can now say he's head coached the Cowboys."
But Quinn will be glad to be back in the coaches' booth for next week's game against Washington.
"I'm hopeful that you guys won't see me again and I'll be back on the top here hopefully by the next game and Mike will make all the progress that we need to have him back on the field and a lot of other guys too," Quinn said. "We missed a number of guys today from the staff and a couple players as well, so hopefully this is hitting us with some time to see if we can get back and get back to our normalcy."
McCarthy said he is feeling much better and hopes to be back in the office early next week once he either posts two negative tests separated by 24 hours or reaches the 10-day quarantine.
He just knows he does not want to have to watch his team play from afar again.
NFL playoff picture 2021 – Standings, bracket, scenarios after Cowboys-Saints, plus Week 13 outlook
Your Thursday night NFL playoff picture update for Week 13, following the Cowboys-Saints game, goes a little like this:
The Cowboys are almost certainly going to win the NFC East, whether you think they are good or bad, in disarray or coming together, balanced or with glaring holes. They took care of business Thursday night against a depleted Saints team, winning 27-10 and snapping a two-game losing streak.

The Saints missed a major opportunity to get back into the playoff picture and now face steep odds of returning to the postseason.
This weekend's games won't really change the current trajectory of either team. When Week 13 is completed, the Cowboys will still be in a commanding spot in their division, and the Saints will be looking up at too many teams in the NFC wild-card race. What follows is a look at where the NFL stands with six weeks remaining until the playoffs begin. As always, we lay out the possibilities and likelihoods. Our next update will post after Sunday night's game between the Broncos and Chiefs, and then again after an important Patriots-Bills game on Monday night.

AFC

The quarterback of the AFC's top seed threw four interceptions Sunday night — and his team still won. You can view that as a sign of strength for Lamar Jackson's Ravens. Their presence at the top of the rankings reflects a conference that is truly up for grabs among a half-dozen teams. Can the Ravens truly hold off the Patriots, Titans, Chiefs and Bills? We don't often say this, given the competitiveness of the rivalry, but the Ravens have a strong chance of advancing their quest when they play the reeling Steelers on Sunday.
Next up: at Steelers
---
The Patriots keep giving us reasons to think they're one of the best teams in the NFL. They've won six in a row and by at least 18 points in five of those. And overall, they lead the NFL with a point differential of plus-144. It's additionally wild that this has all come with rookie quarterback Mac Jones, who is playing well but isn't among the league's top 10 in Total QBR. Amazingly, at least to some, the Patriots can begin the process of locking down the AFC East in Week 13 when they travel to Buffalo. FPI doesn't like their chances of winning the division, much less earning home-field advantage, but they're all legitimate possibilities for the Patriots.
Next up: at Bills
---
The good news for the Titans is that a two-game losing streak hasn't really damaged their standing in the AFC South, where they have a two-game lead with five games left to play. They'll have a bye in Week 13 and then return to play the Jaguars and Steelers, two teams who are going in the wrong direction. The question with the Titans is not whether they'll make the playoffs, but rather — given their health and the results of their past two games — whether they can be considered likely to make a deep run. At the moment, the answer is very much in doubt.
Next up: vs. Jaguars (Week 14)
---
The Chiefs will return from their bye week with their playoff positioning unchanged. But they now have a full game lead in the AFC West, where the other three teams are all 6-5. With that said, the division remains very much in play. Four of the Chiefs' final six games will be against AFC West foes, including two against the Broncos and one each against the Raiders and Chargers.
Next up: vs. Broncos
---

The Bengals look like a different team than the one that lost consecutive games heading into its Week 10 bye. Since then, they've defeated the Raiders and Steelers by a combined 57 points. They've gotten themselves to the point where FPI likes their chances of at least making the playoffs, and they have a roughly one-in-four chance of winning the AFC North.
Next up: vs. Chargers
---

The Bills better hope they've figured things out, because they're about to head into a brutal stretch of their schedule. They will play the red-hot Patriots twice in four weeks, with a game at the Buccaneers mixed in there, as well.
Next up: vs. Patriots
Dianna Russini and Bart Scott preview the AFC East showdown between the Patriots and Bills on Monday Night Football.
---

The Week 12 loss to the Broncos was the Chargers' fourth defeat in their past six games. They've clearly turned in the wrong direction after a 4-1 start, but for now, they're still among the AFC's top seven thanks to their head-to-head victory over the Raiders in Week 4. As to whether they can stay here is another story. All told, the Chargers haven't been playing consistent playoff-level football since mid-October. They're teetering on the edge.
Next up: at Bengals
---
In the AFC hunt
Las Vegas Raiders (6-5)
We can do nothing but tip our cap to the Raiders, whose post-Jon Gruden slide seemed well underway during a three-game losing streak entering Thanksgiving's game at the Cowboys. But they went into AT&T Stadium and won a war of attrition and now have a winnable home game against Washington.
Denver Broncos (6-5)
The Broncos came out of their bye with a dominant performance against the Chargers, their third win in their past four games. It drew them even with the rest of AFC West and set them up to at least have a chance down the stretch. Four of the Broncos' remaining six games are against divisional rivals, starting Sunday at the Chiefs.
Indianapolis Colts (6-6)
The Colts' three-game winning streak ended with an odd home loss that featured 27 consecutive pass plays from their offense, presumably in part to beat a Buccaneers defense that was geared to stop tailback Jonathan Taylor. We found out, to no surprise, that quarterback Carson Wentz can't carry this team. They'll have a chance to get back on track, however, against the Texans.
Pittsburgh Steelers (5-5-1)
Yeesh. The Steelers don't look like anything close to a playoff team. The path won't get any easier Sunday against the Ravens.

Cleveland Browns (6-6)
The Browns head into their bye with losses in two of their past three games, and they will face the Ravens when they return in Week 14.

NFC

The Cardinals presumably return quarterback Kyler Murray and receiver DeAndre Hopkins back in the lineup. They'll need to be at full strength. Their strength of their remaining schedule ranks No. 18 in the NFL, based on FPI, but the eyeball test suggests it's more difficult than that. Three of the five games are on the road, and two are against teams that currently have winning records (Rams and Cowboys). Plus, their Week 16 opponent (Colts) will be a tough out, as well. Fortunately for the Cardinals, they have the league's best record on the road (6-0) through Week 12.
Next up: at Bears
---
The Packers are right on the heels of the Cardinals, with whom they own the head-to-head tiebreaker. And of their five remaining games, three will be at Lambeau Field, where the Packers are 5-0 this season. One of the two road games will be at Ford Field, where they'll play the winless Lions. The Packers are very much in the running to be the NFC's top team, both on the field and in the playoff standings.
Next up: vs. Bears (Week 14)
Domonique Foxworth and Tim Hasselbeck argue that they trust Aaron Rodgers to lead the Packers to the Super Bowl more than Tom Brady with the Buccaneers.
---
The Buccaneers have now won consecutive games, scoring 68 points in the process, since a two-game losing streak had everyone around the NFL panicking. It's hard to argue that the Buccaneers aren't back on track. Their remaining strength of schedule ranks No. 22, and at the moment, it includes only one opponent with a winning record (Bills, Week 14).
Next up: at Falcons
---

It wasn't pretty, but the Cowboys snapped a two-game losing streak on Thursday night in New Orleans and took another step toward locking down the NFC East title. Even if the Eagles, the Giants and Washington all win this weekend, FPI would still put the Cowboys' chances to win the division at 92.4%. There will be a lot of takes about the way the Cowboys played, including a botched two-minute drill at the end of the first half to a failure to close the game out when taking over possession midway through the fourth quarter. But we should probably refrain from judging anything but the final result, given the absence of five coaches — including head coach Mike McCarthy — and two players because of COVID-19 protocols.
Next up: at Washington
---
At this point, it's fair to ask if the Rams are going to make the playoffs at all. They have now lost three games in a row, with quarterback Matthew Stafford throwing a pick-six in each of them, and appear in significant disarray. The Rams will get the best chance they could to regroup on Sunday, with a home game against Jacksonville, but overall, their remaining schedule is the fourth-most difficult in the league.
Next up: vs. Jaguars
---

The 49ers are figuring things out at just the right time. They have won three consecutive games and four of their past five, and Week 12's victory over the Vikings will supply them with an important head-to-head tiebreaker should it be needed at the end of the regular season. The strength of their remaining schedule ranks No. 24, and an argument could be made that they're playing better right now than all but one of their final six opponents (Bengals in Week 14). At this rate, they'll overtake the Rams in the NFC West and the playoff standings in a matter of weeks.
Next up: at Seahawks
---
Yep, you read that correctly. Washington's victory Monday night over the Seahawks allowed it to supplant the Vikings for the final wild-card spot, thanks to the best conference record (5-2) of the NFC's three 5-6 teams. The win was Washington's third in a row, and its remaining schedule is pretty interesting. After playing the Raiders on Sunday, it will finish the season on a five-game run against NFC East opponents: two games against the Cowboys, two versus the Eagles and one with the Giants.
Next up: at Raiders
---
In the NFC hunt

Minnesota Vikings (5-6)
The Vikings are fortunate to be facing the Lions on Sunday, a game they're playing without tailback Dalvin Cook.

Atlanta Falcons (5-6)
The Falcons started 1-3 and then went on another 1-3 bender before holding on for a seven-point victory in Week 12 over the Jaguars. As improbable as it might seem, the Falcons are barely out of the sloppy NFC wild-card situation, thanks to a head-to-head tiebreaker with the Saints. Stranger things have happened, but they have a pretty significant obstacle on Sunday when they host the Buccaneers.

Philadelphia Eagles (5-7)
There's no way to sugarcoat it. The Eagles flunked a pretty basic test of playoff worthiness in Week 12, scoring just seven points in a loss to the equally anemic Giants. It's fair to ask if they'll squander one of the NFL's easiest remaining schedules, which continues on Sunday at the Jets.

Carolina Panthers (5-7)
The Panthers have now lost seven of nine games since a 3-0 start. Their fade from the playoff picture is nearly complete, but they'll have a bye week followed by a winnable game in Week 14 against the Falcons to delay the inevitable for a little longer.
New Orleans Saints (5-7)
Thursday night was a high-leverage game for the Saints, who would have moved into the No. 7 spot and raised their chances for a playoff spot to 54.2%, according to FPI. Instead, they lost a winnable game, and FPI now puts their playoff chances at 20% heading into a Week 14 game at the Jets.
Now with the Seattle Seahawks, running back Adrian Peterson still playing for 'love of the game'
RENTON, Wash. — Four days after he was waived by the Tennessee Titans last week, Adrian Peterson went to see his alma mater, Oklahoma, play rival Oklahoma State in Stillwater. He was getting out of his car to begin tailgating when his agent called to tell him the Seattle Seahawks were interested in signing him.
Peterson's response: "I'll be good to go. Obviously, I still want to play."
On Thursday, a day after joining Seattle's practice squad, the veteran running back was asked why he still wants to play at 36 years old and more than 14 seasons into a Hall of Fame career.
"Just the love for the game," he said. "I love the game. I feel like I can still compete at a high level. Just having the opportunity to help teams, to inspire guys. That's one of the most rewarding things. When I see guys, and they say to me, 'Man, just keep doing what you're doing,' it's so inspiring."
When asked what he still wants to accomplish, Peterson said "winning a championship." He's not going to get that opportunity with the Seahawks (3-8) now that their chances of making the playoffs are down to 1%, according to ESPN's Football Power Index.
But he might get to contribute in a banged-up backfield that's dealing with injuries to Rashaad Penny and Travis Homer. They've been backing up Alex Collins, who has been the starter since Chris Carson went down with a season-ending neck injury.
Peterson, who signed with the Titans after they lost star Derrick Henry to a foot injury, carried 27 times for 82 yards and a touchdown in three games before he was waived.
"I don't really feel like I showed too much in Tennessee," he said. "But before I got released, I was feeling my legs were back under me. I felt like going into the Patriots [game last week], that was the week I was going to be able to blossom and unfortunately I got released."
With Penny and Homer out Monday night, Collins and DeeJay Dallas combined for only 18 yards on 10 carries in the Seahawks' loss to Washington. Seattle ranks 25th in rushing this season and has scored only 26 points on offense during its three-game losing streak.
"This style offense and how their run game is, it kind of fits my style a little more than I would say Tennessee," Peterson said. "So I think it'll be an easy adjustment for me."
Behind Collins, Penny, Dallas and Homer on their active roster, the Seahawks have rookie Josh Johnson and now Peterson on their practice squad.
"I felt like it's a lot that I can add to the run game and inspire these young guys as well, make those guys work harder," Peterson said. "When they see me out there pretty much going full speed during the walk-through 14 years in, that makes them kind of pick up their tempo a little more as well. I feel like I'll be able to add to the running back room and help get this running game going."
As for when that might happen, Peterson wants to play Sunday against the San Francisco 49ers, though it's not clear if he'll be ready in time on a short week, or if the Seahawks will need him right away as Penny and Homer were both listed as full participants on Thursday.
"It's a goal for me," Peterson said of playing Sunday, "but that's up to the coaches and staff to see how I finish off this week and then they'll make a decision based off that."
The Seahawks are Peterson's seventh team. After spending his first 10 seasons in Minnesota, he had stints with Arizona, New Orleans, Washington and Detroit before his most recent one in Tennessee.
Peterson ranks fifth in NFL history with 14,902 career rushing yards. According to Spotrac.com, he has made over $103 million in on-field earnings over his 14-plus seasons. However, an attorney for Peterson said in 2019 that the running back was in debt after "trusting the wrong people and being taken advantage of by those he trusted."