Cleveland Browns agree to 3-year extension with Pro Bowl LG Joel Bitonio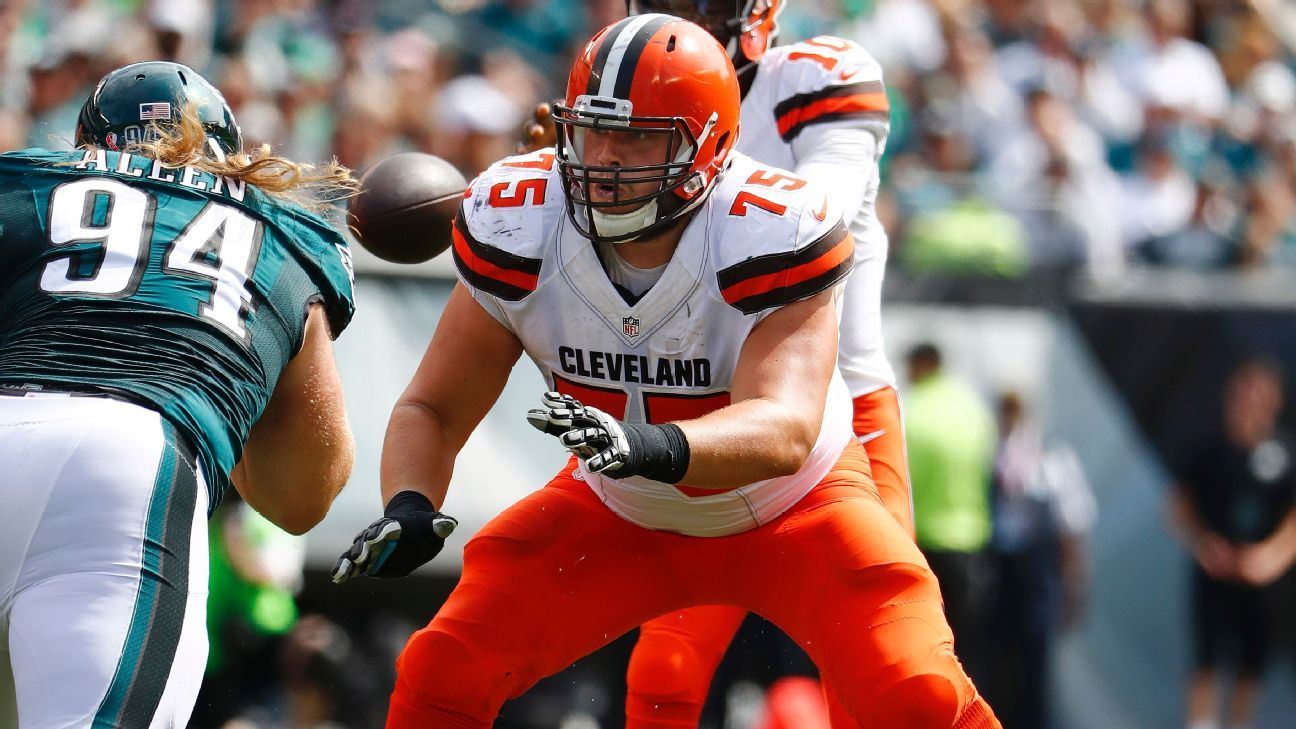 BEREA, Ohio — The Cleveland Browns solidified their future at right guard Tuesday.
On Wednesday, the Browns accomplished the same at their other guard spot.
One day after signing right guard Wyatt Teller to a four-year, $56.8 million extension, the Browns agreed to a three-year extension with Pro Bowl left guard Joel Bitonio, the team announced.
Bitonio, 30, was previously under contract through the 2022 season. The extension is worth $48 million in total, a source told ESPN.
"After last season, we decided that one of our major football priorities would be to make Joel Bitonio a Brown for the rest of his career," said Browns general manager Andrew Berry. "Joel is one of our most decorated players and is the ideal personification of our 'Tough, Smart, Accountable' mantra. We value Joel's high-level performance, leadership, consistency and durability."
Bitonio, who was drafted in the second round by Cleveland in 2014 out of Nevada, is the longest-tenured Browns player, starting 104 games for Cleveland over the past eight seasons.
Last year, he became the first Cleveland guard to make three consecutive Pro Bowls since Pro Football Hall of Famer Gene Hickerson made six in a row from 1966 to 1971.
In two years as Cleveland's GM, Berry has invested heavily in the offensive line. Last offseason, he signed All-Pro right tackle Jack Conklin to a three-year deal worth $42 million, including $30 million guaranteed. Berry also spent the 10th overall pick in the 2020 draft on Alabama's Jedrick Wills Jr., who immediately became Cleveland's starting left tackle.
This week, Berry moved to shore up the long-term future of the interior of the Browns' offensive line, which has been among the best in the NFL. Behind it, Cleveland leads the NFL with 1,442 rushing yards and a rushing average of 5.28 yards per carry.
The Browns also rank No. 1 in pass block win rate and ninth in run block win rate. Individually, Bitonio ranks No. 3 in pass block win rate (97%) among all offensive linemen, and he is 19th among all guards in run block win rate (71.8%).
Why the NFL in 2021 feels more balanced — and unpredictable — than ever before
KANSAS CITY, Mo. — The Minnesota Vikings are like a lot of NFL teams in 2021 in that their game days have been stressful. They've just taken it to an extreme.
The Vikings beat the Seattle Seahawks 30-17 in Week 3, but their other 10 games have been settled by one score, with many of those coming down to one play determining the result.
"That's the NFL, and that's kind of how it is," Vikings coach Mike Zimmer said with a shrug. "We had several games come down to one play."
The NFL's other 31 teams haven't had it quite like the Vikings but can relate. Consider:
Twenty-five games this season have been decided on the final play, the most through 12 weeks since the 1970 merger.

Thirty-five games have had the winning score come in the final minute of regulation or overtime, the fourth most through 12 weeks since 1970.
So while the Vikings might be ground zero for close games determined by one play, they're not alone.
The race for this year's Super Bowl championship seems as open as ever. Through 12 weeks, nine teams had Super Bowl odds at 13-1 or shorter, matching the most teams with odds that short in the past six years.
"The league is always meant to have teams that [are] pretty equal," Arizona Cardinals defensive coordinator Vance Joseph said. The Cardinals beat the Vikings 34-33 in Week 2 when Minnesota missed a 37-yard field goal attempt on the final play.
"They don't want teams running away with this thing. They want competition; they want teams to battle down to the end. … To see the league pretty much even, I'm not surprised by that. That's the way they want it. That's the way it should be. And it keeps everyone grinding, and that makes it fun."
In the first two weeks of the season, the Kansas City Chiefs experienced the full spectrum of close-game emotions.
They rallied from nine points down in the fourth quarter to beat the Cleveland Browns 33-29 but only after intercepting a pass to kill a Browns drive late in the game.
The next week they led the Baltimore Ravens by 11 points in the fourth quarter and lost 36-35 but only after a late Chiefs fumble killed a potential game-winning drive in the final moments.
Chiefs coach Andy Reid said no lead is ever safe, but he said he feels that way more than ever this year.
"The league has strived like crazy for the last how-many-ever years for parity," Reid said. "I'm just looking at the way this season has gone for different teams, and it seems to me that there's a tremendous amount of parity in the league. Every given weekend, every town, every city, in the NFL has an opportunity to win a game.
"That's a great thing. We're in it for the competition, and there's great competition."
Unexpected results everywhere
The NFL also has had more than its normal share of lopsided games this season. Thirty-five have been decided by 22 points or more, the second-highest total through 12 weeks since 1970.
But even the league's better teams aren't immune from getting blown out. The Cardinals have the league's best record at 9-2, followed closely by the Green Bay Packers (9-3), Tampa Bay Buccaneers (8-3) and Ravens (8-3). The Cardinals lost a game by 24 points. Green Bay lost by 35. Baltimore lost by 24. The Bucs have two double-digit losses on their résumé.
Strange and unexpected results are everywhere, turning the standings upside down weekly. The Browns recently went through a 63-point swing from one week to the next, beating the Cincinnati Bengals by 25 points then losing by 38 to the New England Patriots.
The Dallas Cowboys one week trailed the Denver Broncos at one point by 30 points then beat the Atlanta Falcons the next week by 40.
There might be no better example of this season's unpredictability than the Bengals. Five of their games have been decided by exactly three points (2-3 in those games). Their remaining six games have been decided by 14 points or more (5-1), including all four of their divisional matchups (3-1).
More than ever, it seems, taking a result for granted is trouble for just about any of the 32 teams.
"It's a week-to-week [league], and you've got to come to play each and every week," Buffalo Bills wide receiver Stefon Diggs said.
Diggs and the Bills, then 5-2, lost to the 1-6 Jacksonville Jaguars in Week 9 in one of the season's biggest upsets. Neither team scored a touchdown, and the Jaguars won 9-6 by kicking one more field goal than the Bills.
"You just can't get comfortable," Bills tackle Dion Dawkins said after the contest. "You have to stay hungry and everybody is going to give us their best ball. We're in a position now that everybody is going to give us their best ball every week. Everybody's coming for the Buffalo Bills.
"You have to go through the ups and downs of life in football and wins and losses to honestly feel that and understand that. It's a kill or be killed world, and now that we know that everybody has their best effort against us, then we just know that we have to be at our best every time. We can never take our foot off of that gas pedal."
No Goliaths
There's more evidence the competition around the league is what the NFL is striving for. Betting underdogs have a 71-106-1 record straight up this season. That .402 winning percentage for teams that are supposed to lose would be the highest in a season since 2006.
There are no Goliath teams opponents wish to avoid in the playoffs for as long as possible. The defending Super Bowl champion Tampa Bay Buccaneers have rebounded from losing two straight games, but those defeats weren't to top-level competition. One came to the New Orleans Saints and backup quarterback Trevor Siemian and the other to lowly Washington.
The Chiefs, who won 26 games in the past two regular seasons and represented the AFC in each of the previous two Super Bowls, have come back to the pack. They're 7-4, and one of their losses, 27-3 to the Tennessee Titans in Week 7, was by the biggest losing margin since Patrick Mahomes became their quarterback in 2018.
Twelve of the 16 teams in the AFC are .500 or better, including all of the teams from the West and North divisions. That's the most teams .500 or better in a single conference through Week 12 in NFL history. Leaguewide, 21 teams are at least within a game of .500, so the scramble for a division championship or a wild-card playoff berth might be as, well, wild as ever.
The Vikings are one of those 21 teams. They're 5-6 overall and 4-6 in those games decided by one score.
The Vikings are among the many teams wondering what their record might be if they had just been better on all of the game-deciding plays.
"We were right there," Minnesota center Garrett Bradbury said after that missed field goal cost the Vikings a win against the Cardinals in Week 2. "We're going to do the things we need to correctionwise so when we're in that position again — because we will be — we're going to finish the game and come out on top."
ESPN Stats & Information as well as NFL Nation reporters Courtney Cronin, Alaina Getzenberg and Josh Weinfuss contributed.
Jalen Reagor, after critical drop, faces pivotal moment in career with Eagles – Philadelphia Eagles Blog
PHILADELPHIA — The moment to play hero arrived, and Philadelphia Eagles receiver Jalen Reagor just wasn't able to secure it.
With Philadelphia trailing the New York Giants 13-7 Sunday, quarterback Jalen Hurts dropped back on fourth-and-10, scrambled around and then let one fly over the middle for Reagor, who attempted a leaping catch at the 1-yard line, only to have the ball carom off his hands and hit the turf.
He dropped a more difficult would-be catch in the end zone earlier in the drive as well — miscues that have made him a focal point of criticism in the fallout from the stinging loss.
That's familiar territory for Reagor, who has had a slow start to his pro career (56 catches, 597 yards, 3 TDs) compared to the other first-round receivers in the 2020 draft class, a group that includes Justin Jefferson, CeeDee Lamb, Jerry Jeudy, Brandon Aiyuk and Henry Ruggs III. Jefferson's meteoric rise has been particularly problematic for Reagor from a perception standpoint. The Eagles passed on Jefferson to select Reagor 21st overall, believing Jefferson would be primarily a slot receiver in the NFL and that Reagor's skill set was a better fit for the offense. Jefferson was taken one pick later by the Minnesota Vikings, and went on to set a new rookie record for receiving yards (1,400) to go with seven touchdowns en route to a Pro Bowl berth.
Limited by injuries, Reagor ended with 31 catches for 396 yards and a touchdown in 11 games his rookie season.
The combination of dealing with the Jefferson comparisons and the injuries took its toll.
"His mental health was in a bad place last year," a source close to Reagor told ESPN. "Mentally, it beat him down. Big time."
Reagor ditched social media, and instead of focusing on the outside noise, tuned into his inner circle. This offseason, he said he felt like a "totally different person" and that fans in turn would see a different player — one who was having more fun.
The celebrations, though, have been few and far between. Reagor (25 catches, 201 yards, 2 TDs) has not been featured much in the offense, playing a secondary role to rookie receiver DeVonta Smith and tight end Dallas Goedert in the passing game. With the Eagles leaning heavily on the run of late, Reagor was targeted just eight times total over a four-week span before getting seven targets against New York, resulting in two catches for 31 yards and a pair of crucial drops.
Still, Reagor's mindset "is in a great place right now," a source said. His decision to be the first player out of the locker room Sunday to address the media and take responsibility was submitted as evidence.
"You've got to take the heat. [Outside criticism] doesn't hold as much weight to me, so it's fine. This was for me to take ownership. Whatever is going to be said is going to be said regardless," Reagor said.
"You just have to move forward because tomorrow is still going to be there. I still have to go practice, I still have to play next week. You can't too much dwell on it. Just me taking ownership and then moving forward."
Reagor caught 148 balls for 2,248 yards and 22 touchdowns over three seasons at TCU while posing a threat in the run and return game. He ran an unofficial 4.28 40-yard dash at his pro day after a disappointing 4.47 time at the scouting combine, while ranking in the 97th percentile among draft prospects with a 42-inch vertical jump. Those skills have surfaced on the playing field at times, including in joint practices against the New England Patriots this summer when he made an Odell Beckham Jr.-like one-handed catch and and his soaring 21-yard snag in the first half against the Giants Sunday.
But to this point, it's only been flashes.
The appetizer.@jalenreagor | #EaglesCamp pic.twitter.com/YGdaCugbdv

— Philadelphia Eagles (@Eagles) August 17, 2021
"He does work extremely hard in practice to get himself better," coach Nick Sirianni said. "What you want out of every player, not just Jalen, is consistency, and I think what we saw yesterday is he wasn't consistent throughout the game. He knows that. We've already talked to him about that. Consistency is when you're making the next step in your development. He showed that he has playmaking ability. He shows that he can make some big-time plays. You just want to see that more consistently."
Asked whether he has considered sitting Reagor for at least a game following Sunday's late struggles, Sirianni said he hadn't "because I don't think that's in the best interest of the team, because I think Jalen Reagor gives us the best chance to win." Sirianni added postgame that the coaches "have to do some things to get him some touches because he is an explosive player."
The Eagles have poured a lot of resources into the receiver position in recent seasons, including using first-round picks on Smith and Reagor in back-to-back drafts. Reagor, 22, still has two years remaining on his rookie contract after this season. Best-case scenario, he and Smith become a formidable tandem, allowing the Eagles to invest at other positions of need.
Time, though, is running out on this season. The Eagles' offseason plans will be shaped in full before long, and it seems likely a veteran receiver will be part of them at this point. Growth happens at different rates in the NFL, particularly at receiver. Giving up on a talent like Reagor too early could come back to bite them. But if he wants to send a message to the organization heading into free agency and the draft, and if he intends on changing the narrative and the trajectory of his career, now is the time to get going.
Why has the Dallas Cowboys' run game come to a halt? – Dallas Cowboys Blog
FRISCO, Texas — Ezekiel Elliott wasn't exactly breaking news when he talked about what makes the Dallas Cowboys' offense successful.
"Running the football has to be important to us," the running back said. "I think it helps this offense. I think we're a better football team when we can run it well."
Elliott's assessment came before the Thanksgiving Day game against the Las Vegas Raiders where the Cowboys gained 64 yards on 20 carries in the 36-33 overtime loss. That's fewer yards than Elliott had by himself five times in the Cowboys' six-game winning streak earlier this season.
The drop-off is stark from the winning streak to the Cowboys' last four games.
Maybe some of it has to do with Elliott's knee injury that could be more severe than he is letting on and has the Cowboys at least considering resting him a source told ESPN, although that suggestion has not reached the running back yet.
Elliott has totaled 149 rushing yards in the last four games, the lowest four-game total of his career, and it is the first time he has gone four straight games without topping 51 yards.
But it's not like Tony Pollard's running has been that much different. Take away a 31-yard run against the Kansas City Chiefs out of a Wildcat formation, and he is averaging the same 3.5 yards per carry. A 30-yard run against the Raiders by Pollard was wiped out by penalty.
"Obviously something that we certainly would hope that would be better right now," offensive coordinator Kellen Moore said. "Something we got to look at in many different ways, schematically first, personnel wise."
The Cowboys are entering Week 13 with Thursday's game at the New Orleans Saints (8:20 p.m. ET, Fox) — without several coaches due to COVID-19, including head coach Mike McCarthy — so there is no reinvention at this point.
"We're not going to run the triple option all of sudden or anything like that," Moore joked, "but I think it's something that you find what kind of little tweaks and adjustments we can make. They may be subtle but I think they can be very effective if we find the right pieces and make our adjustments necessary to progress this thing the right way."
Opposing defenses have adjusted to the Cowboys' scheme. In the loss to the Raiders, McCarthy said it "was more about some individual breakdowns. I think it was almost across the board. We need to take a hard look at that."
"When you have the success — we've obviously been very successful running the football in the first part of the season — people are gearing up for it," McCarthy said. "We need to stay on top of our self-scout because I think just like anything at this point in the year people are locked in to your formations and your run tendencies and when we run and how we run. That's all part of the chess match."
McCarthy believes offensive line continuity plays a huge part in a team's success. Left tackle Tyron Smith missed three games with an ankle injury, which moved Terence Steele to left tackle. Connor McGovern replaced Connor Williams at left guard two games ago after the coaches had enough with Williams' penalties (13). Upon Smith's return, the Cowboys went with Steele over La'el Collins.
Against the Raiders, the Cowboys used Collins and Williams for one series for Steele and McGovern. The Cowboys went three and out.
This week, Collins will go back to right tackle with Steele on the COVID list. And the Cowboys won't have either offensive line coach with Joe Philbin and Jeff Blasko in COVID protocols.
"I think you've got to look first and foremost at our room," Pro Bowl right guard Zack Martin said. "We take a lot of pride in that run game and over the last few weeks it hasn't been what we want it to be, so we've just got to get back to basics."
Elliott said defensive line movement and run blitzing have caused issues, but Martin said the line has seen it all in the past.
"That's the first thing a defense will do if it's in there getting blown off the ball," Martin said. "They're going to start moving the line and you just have to be on top of it to react and kind of change some of your combination blocks on the fly."
The rub this week is the Saints' run defense uses a lot of line movement and is stellar whenever it doesn't face the Philadelphia Eagles. In their last 72 games, New Orleans has allowed two 100-yard rushers — both Eagles (quarterback Jalen Hurts and running back Miles Sanders last year). Two games ago, the Eagles ran 50 times for 242 yards with three scores from Hurts in a 40-29 win against the Saints.
This might not be the week to try to pound it out.
"We've got to make sure we stay within the plan of what we need to do to be successful against these guys," McCarthy said. "But I think there are fundamental situations we can learn from and do a better job."