Clayton Kershaw 'will always have a spot' with Los Angeles Dodgers, Andrew Friedman says
CARLSBAD, Calif. — The Los Angeles Dodgers' decision not to tender a qualifying offer to Clayton Kershaw is not an indication that the team is predisposed to letting him leave.
Quite the opposite, it seems.
"We've made it very clear that if Kershaw wants to come back, he will always have a spot," Dodgers president of baseball operations Andrew Friedman said Tuesday from the site of the general managers meetings.
The Dodgers extended qualifying offers to shortstop Corey Seager and utility man Chris Taylor on Sunday, a method that rewards teams with draft-pick compensation if those players sign elsewhere. Players have until the middle of next week to decide whether to accept the offer, which will pay them $18.4 million for the 2022 season, or reject it. Kershaw, a three-time Cy Young Award winner who is arguably the greatest player in Dodgers history, didn't receive one, largely because of the uncertainty surrounding the health of his left arm.
Kershaw, 33, missed more than two months with elbow/forearm inflammation that popped up around the All-Star break. He returned in the middle of September, but exited his Oct. 1 start with a recurrence of the same issue and was unavailable throughout the postseason. Dodgers manager Dave Roberts said then that Kershaw's ulnar collateral ligament is structurally sound and that he does not require Tommy John surgery, but it seems as though there is still a fear that he could be dealing with a long-term injury.
"I know he wants to take a little time with Ellen [his wife] to figure out what's best for them, and also more importantly get to a point where he feels good health-wise," Friedman said. "We have no reason to believe that he won't. But in his mind, he wants to get to that point, where he feels good from a health standpoint, and go from there. This [the qualifying offer] would have accelerated the timeline in a way that he wasn't ready for, and I think just from our respect for him, and what he's done for this organization, that wasn't something that we wanted to do and put him on that kind of clock when he wasn't ready for it."
The Dodgers agreed on a one-year, $8.5 million contract with another left-handed starter, Andrew Heaney, over the weekend, adding him to a 2022 rotation that is currently fronted by Walker Buehler and Julio Urias. Tony Gonsolin and David Price also could be part of the mix, but the Dodgers will express heavy interest in bringing back Max Scherzer and might be in play for other big names in free agency. Trevor Bauer, who remains under criminal investigation over sexual assault allegations, is not expected to return to the team, regardless of the length of a potential suspension by Major League Baseball, though the Dodgers have yet to comment on the matter publicly.
Friedman expressed enthusiasm about the emerging crop of young starting pitchers at the organization's minor league levels and said his goal in filling out the 2022 rotation is to "bridge the short term, not lock up pitching spots looking out and preventing opportunities."
Kershaw, who would probably prefer a short-term deal, perfectly fits that strategy — if he's healthy, if he wants to keep pitching and if his hometown Texas Rangers don't ultimately sway him.
"We've been very outspoken that we really want Kersh to come back," Friedman said. "Not only what he's meant to us looking back, but also what we think he will mean for us looking forward. That being said — just like every free agent, but Kersh even a little bit more so — he has earned the right to be in this position and figure out what's best for him and his family. So there's like a personal and a professional tug of war for me. Professionally I really hope he's back, personally I want them to do what makes the most sense for their family, and we'll figure out what that means."
Daisuke Matsuzaka ends 23-year career, surprised by Ichiro Suzuki in ceremony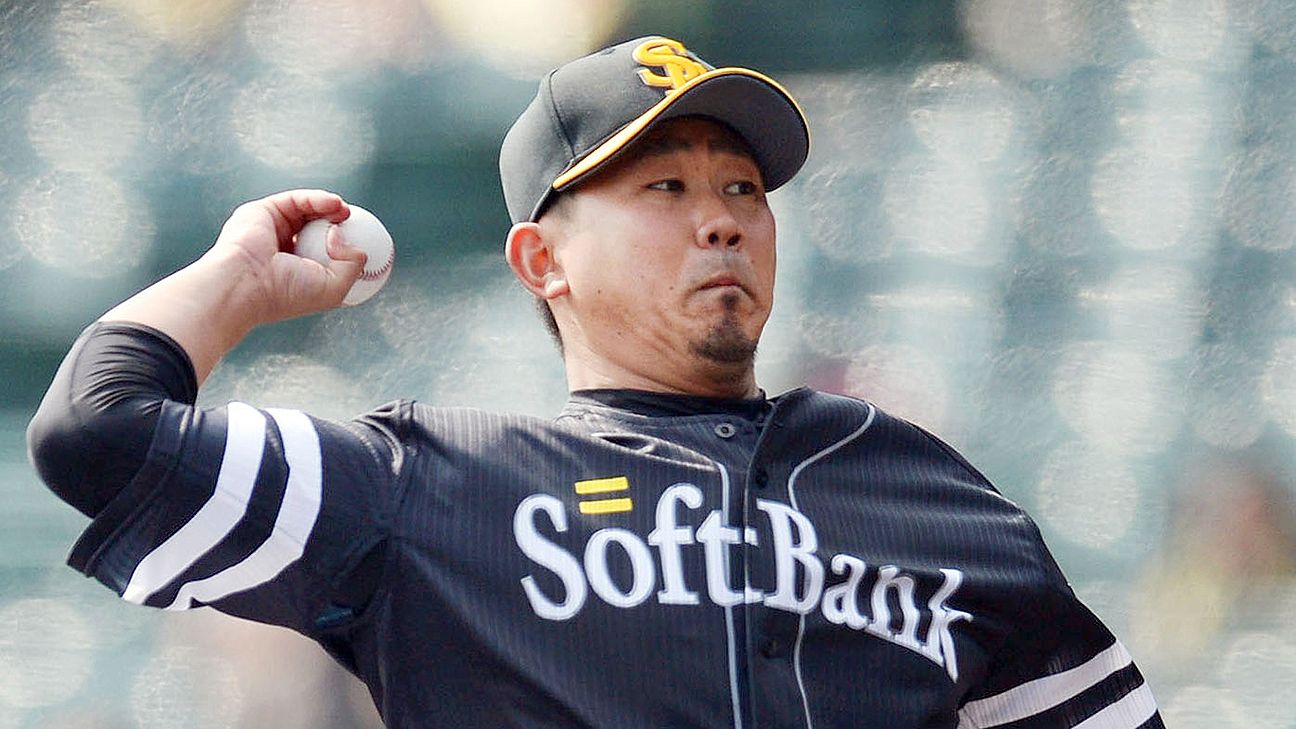 Daisuke Matsuzaka brought his 23-year professional baseball career to a close Saturday in a ceremony that included a surprise appearance by Ichiro Suzuki.
Matsuzaka, who faced only one batter this season for the Saitama Seibu Lions — issuing a walk in an October appearance — told fans at Seibu's MetLife Dome that he was happy to leave the sport on his terms.
"I'm content that I was able to keep playing baseball until I could no longer throw normally in the end," Matsuzaka said, according to Kyodo News.
A video from Suzuki was played, ending with the longtime Seattle Mariners outfielder surprising Matsuzaka on the field and giving him a flower bouquet.
"I hadn't imagined this. It was crazy," Matsuzaka said, according to Kyodo News. "At first I was able to hold up, and then the tears came and I was done for.
"I was surprised and just overjoyed that, at the end, Ichiro-san came to see me. I'm happy I was able to come so far."
Suzuki and Matsuzaka faced each other both in Japan and Major League Baseball over their careers. They were also teammates for Japan's World Baseball Classic titles in 2006 and 2009.
Matsuzaka, 41, was 56-43 with a 4.45 ERA in 132 career MLB starts with the Boston Red Sox and New York Mets from 2007 to 2014. He won a World Series title in his rookie season with the Red Sox in 2017.
He started and ended his career with the Lions, pitching for them from 1999 to 2006 and the past two seasons. He also played for the Fukuoka SoftBank Hawks and Chunichi Dragons after returning to Japan in 2015.
Atlanta Braves shortstop Dansby Swanson and USWNT soccer player Mallory Pugh announce their engagement
Atlanta Braves shortstop Dansby Swanson earned a ring last month. U.S. women's national team forward Mallory Pugh got one this month.
The World Series champion and the World Cup winner announced their engagement on Instagram Thursday night. The two have dated since 2017.
The couple met through Swanson's former teammate Jace Peterson, now with the Milwaukee Brewers, who is married to Pugh's sister.
Pugh plays with the Chicago Red Stars of the NWSL and has been with the U.S. national team since 2016. She played in the 2016 Summer Olympics and the 2019 World Cup, scoring a goal against Thailand.
Swanson made his major league debut with the Braves in 2016. This season, he hit .248 with 27 home runs and 88 RBIs.
The couple is just the latest power couple with connections to the U.S. team. They join Megan Rapinoe and her partner, WNBA star Sue Bird, and Julie Ertz, who is married to Arizona Cardinals tight end Zach Ertz.
Time to put Minnie Minoso in Cooperstown (finally) and more on this weekend's Baseball Hall of Fame vote
As much as it might feel like it, the baseball world has not completely shut down. While the thrilling rush of free-agent signings and trades from the past few days will cease for now because of the lockout, there is a lot of baseball business still to be conducted.
One of the more important items comes this Sunday, when the biggest void in the membership of the Baseball of Hall Fame can be filled: The omission of White Sox legend Saturnino Orestes Armas (Arrieta) Minoso, remembered by history as Minnie.
Minnie Minoso is one of 20 greats who will be under consideration at the winter meetings this weekend for induction to the Hall of Fame. And, yes, the winter meetings will go on even without the presence of Major League Baseball. The minor league portion of the meetings will still take place, and those appointed to consider the Hall's two era-committee ballots will convene, as scheduled.
The ballots are as follows:
• The Early Baseball committee (covers the beginning of time to 1950) will consider Bill Dahlen, John Donaldson, Bud Fowler, Vic Harris, Grant "Home Run" Johnson, Lefty O'Doul, Buck O'Neil, Dick "Cannonball" Redding, Allie Reynolds and George "Tubby" Scales.
• The Golden Days committee (covers 1950 to 1969) will consider Dick Allen, Ken Boyer, Gil Hodges, Jim Kaat, Roger Maris, Minoso, Danny Murtaugh, Tony Oliva, Billy Pierce and Maury Wills.
This is a big weekend for the Hall, which is hoping that 2022 will bring with it the full Hall of Fame induction experience, including the annual Parade of Legends, the induction ceremony itself and the scores of fans who make their way to Cooperstown, New York, each July. After the festivities were canceled because of the pandemic in 2020, 2021 saw a scaled-down version in September in which Derek Jeter, Larry Walker, Ted Simmons and the late Marvin Miller were inducted without parades and with smaller crowds than otherwise would have flocked to upstate New York, particularly for Jeter.
The thing is, Induction Weekend is a heck of a lot more fun — and a bigger draw — when there are actual inductees. And there is no guarantee that this year's BBWAA ballot will produce any new Hall of Famers.
Sadly, of this group of 20, the only candidates still living are Kaat, Oliva and Wills, so obviously it would be great for one or all of that trio to get in. We'll get to that, but for now I want to really focus on Minoso, the most egregious omission in the Hall's plaque room, at least among those not still on the BBWAA ballot.