Attorneys for Henry Ruggs III fight to keep medical records from prosecutors
LAS VEGAS — Attorneys for former Raiders wide receiver Henry Ruggs III are fighting to keep his medical records out of the hands of prosecutors charging him with driving under the influence in a fiery crash that killed a woman and cost Ruggs his NFL job.
Ruggs, 22, didn't appear in person in court Wednesday, as prosecutors filed additional charges that could mean additional prison time if the 2020 first-round NFL draft pick is convicted.
He is accused of driving 156 mph with a blood alcohol level twice the legal limit in Nevada when his sports car slammed into the rear of Tina Tintor's vehicle early Nov. 2.
Tintor's funeral is scheduled for Thursday. Ruggs is being held on house arrest with strict conditions while his criminal case proceeds.
Ruggs' attorneys, David Chesnoff and Richard Schonfeld, cited state privacy law and persuaded a judge to at least temporarily block access to Ruggs' medical records. Chesnoff said state law supersedes federal health records privacy requirements.
Attorney Peter Christiansen obtained the same temporary block on behalf of Ruggs' girlfriend, Kiara Je'nai Kilgo-Washington. She was with Ruggs and was also injured in the crash.
The judge set a Dec. 8 hearing date to decide whether their medical records must be turned over to police and prosecutors.
Dallas Cowboys haven't asked me to sit vs. New Orleans Saints
FRISCO, Texas — Dallas Cowboys running back Ezekiel Elliott does not want to take a game off despite a bruised right knee.
"No one's came to me and asked me to rest," Elliott said Sunday as the Cowboys opened up preparation for Thursday's game against the New Orleans Saints.
If they do, Elliott said he would listen.
"I've just got to go with what they believe is best for the team," he said.
Elliott said he has been dealing with the injury since banging it in the Oct. 3 win against the Carolina Panthers.
A day after the Thanksgiving Day loss to the Las Vegas Raiders, coach Mike McCarthy expressed concern for Elliott's health after Elliott had just 25 yards on nine carries. The running back has not topped 51 yards in his last four games, the lowest-output of his career.
"It's that time of year," McCarthy said. "Zeke's running style is ferocious. He gives a pounding and he takes some hits. We need to evaluate that and this week we'll see what the preparation looks like for him."
A source told ESPN the Cowboys will consider providing Elliott some time off to heal, including the possibility of holding him out of Thursday's game. The source does not believe placing Elliott on injured reserve is a consideration at this time. That would require him Elliott to miss at least three games.
The Cowboys have scaled back Elliott's snaps in the last four games to help manage the injury. He has played 164 of 280 offensive snaps (58.5%) after playing in 379 of 451 snaps (84%) in the first seven games of the season.
Elliott has missed just one game in his career because of injury (calf strain last December vs. the San Francisco 49ers). He was held out of the season finales in 2016 and '18 because the Cowboys' playoff position was set, and he was suspended for six games in 2017.
"He's the ultimate competitor," right guard Zack Martin said. "We see it on a day in, day out basis and I think everyone is seeing it. He takes great pride in being there for his teammates and doing whatever he can in his power to help this team win. For me, he's one of the top competitors I've been around, and he's going to keep doing that."
Follow live: Lamar returns for Ravens in AFC North showdown vs. Browns
Groin injury ends Randall Cobb's most productive day since his return to Green Bay Packers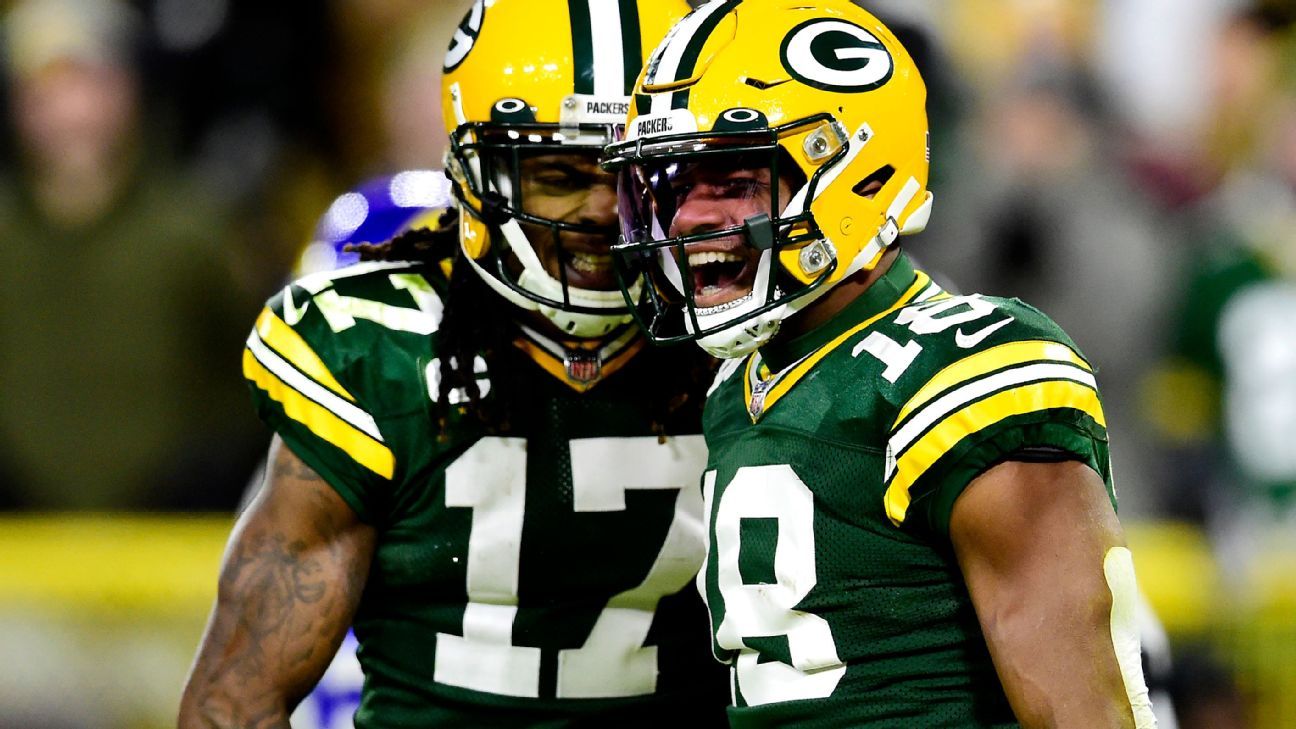 GREEN BAY, Wis. — Randall Cobb's most productive day since his return to the Green Bay Packers this season ended at halftime of Sunday's game against the Los Angeles Rams.
Cobb was ruled out at the start of the second half because of a groin injury.
He set a season high for receiving yards in the first half with 95 on four catches, including a 7-yard touchdown that was his fifth score of the season. Previously on that drive, Cobb had a 43-yard reception to move the Packers into the red zone. It was not immediately clear when Cobb suffered the injury. He muffed a punt in the second quarter but stayed in the game.
The Packers traded for Cobb this past summer at the request of quarterback Aaron Rodgers. Cobb played for the Packers from 2011 to 2018. They let him go in free agency, and he spent one season each with the Cowboys and Texans.
The Packers finally had their full complement of receivers back with the return of Allen Lazard from a shoulder injury. It lasted for one half.
Cobb's previous best game came in Week 4, when he caught six passes for 69 yards and two touchdowns.