New York Mets' Sandy Alderson says New York City a deterrent in team's GM search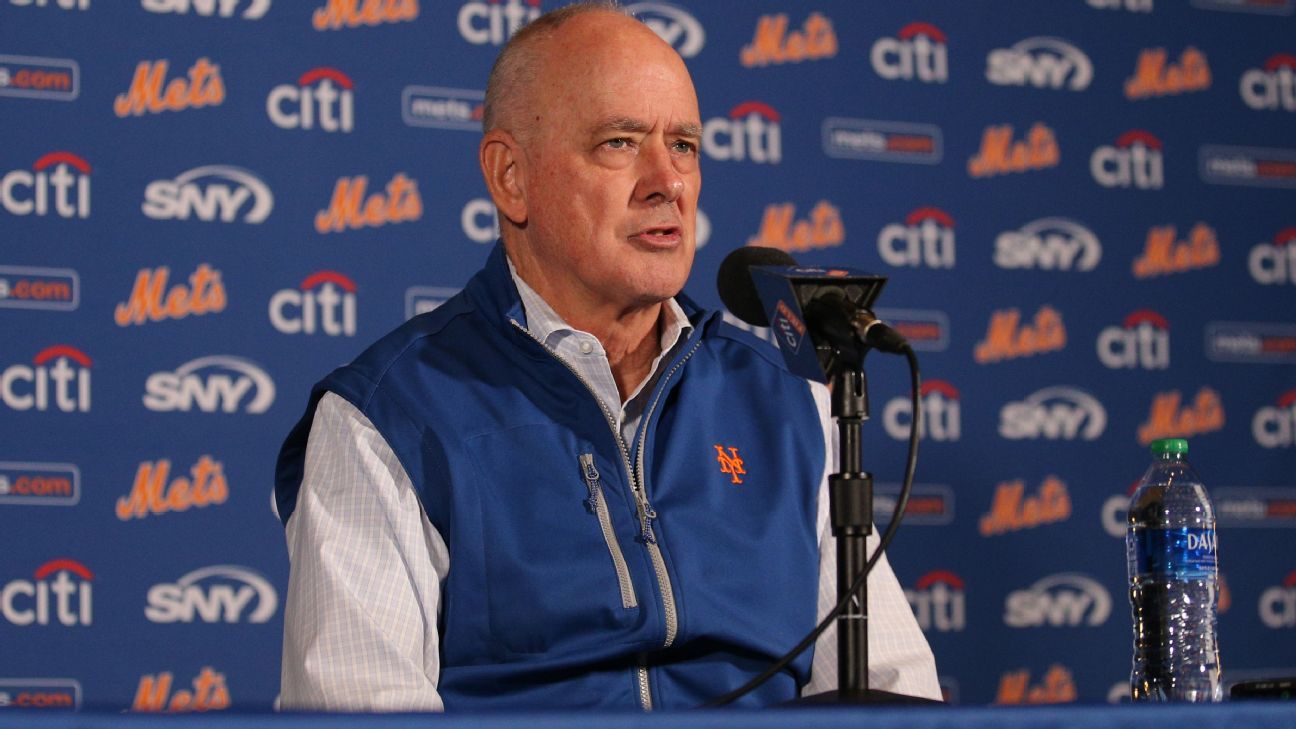 CARLSBAD, Calif. — New York Mets president Sandy Alderson says the biggest impediment in the club's dragging search for a general manager isn't his presence nor owner Steve Cohen, but the spotlight created by the New York market.
"I think it's mostly about New York, and not about, you know, Steve or the organization or what have you," he said Tuesday. "It's a big stage and some people would just prefer to be elsewhere."
Alderson said the team is considering several candidates for its vacancy, but he does not have any interviews lined up during baseball's general manager meetings this week in Southern California. He hopes to have some clarity by the end of the week but did not want to set a deadline for when New York will end its ongoing search.
"I don't want to give you a timeline," he said. "We've already blown through what most people would say is a reasonable timeline."
New York fired acting general manager Zack Scott on Nov. 1, two months after he was arrested on charges of drunken driving. Scott was promoted to the role in January when Jared Porter was fired after fewer than 40 days on the job following revelations he sent sexually explicit text messages and images to a female reporter in 2016 while working for the Chicago Cubs.
Porter and Scott were hired last offseason after Alderson and Cohen failed in their search for a president of baseball operations. Alderson said the club has hit a similar roadblock this offseason.
Alderson said several candidates were unable to get permission from their current club to interview for the job, while others have declined because they are too comfortable personally or professionally where they are.
Largely, though, he thinks New York itself is keeping people away.
"There are a lot of factors that come into play, but I would say it's, you know, it's not unforgiving, but it's a demanding place," he said. "Which I enjoy, by the way."
Alderson said he has interviewed many candidates and Cohen has interviewed some. He believes the organization will make just one hire, for a general manager. He did not rule out the possibility that a president of baseball operations could be hired above that GM in future offseasons.
"Assuming we only hire one person, there will be at least a year runway for that person to demonstrate their ability and their potential," he said. "I've said this to others in the past, that's the opportunity. That's all you can ask for. And demonstrated ability tends to get rewarded.
"If you're looking to be comfortable, this is probably not the place, the Mets are probably not the place to come," he added.
Alderson said he was a little surprised by how many candidates had turned them down.
He also denied that concerns about autonomy have led to some of those nos. Alderson, who has 40 years of baseball experience, will oversee whoever is hired, and his son, Bryn, is an assistant general manager.
He called concerns about Bryn's position "a red herring" and said he isn't even telling his son who is under consideration. Alderson also said he believed his working relationship with Scott this season was strong and demonstrated the freedom an incoming GM would have.
"Am I there to advise? Yes," he said. "But if you look at my relationship with Zack over the last year, it was probably more of that oversight early, but as he got involved in the day to day operation, there was less and less and that."
Alderson said during the season he would wait for Scott's legal issues to be resolved before acting on his employment, but with Scott scheduled for a December court date, the team fired him this month due to the uncertainty entering the offseason.
He said Tuesday that Scott is "a good man" and the club strongly considered bringing him back.
"In my view, Zack did an excellent job for us," he said. "I thought he was constantly working the wire and trying to make the club better."
Character is a concern for Alderson and the Mets, which in recent years have hired Porter as well as former manager Mickey Callaway, who last May was banned by Major League Baseball through at least 2022 following an investigation of sexual harassment allegations.
Alderson defended his hiring of Callaway in 2018 by saying he was the "hottest commodity on the market to manage."
"Could we have done more to uncover some facts in retrospect? I think that's always, almost always the case," he said.
"I'm the head of the operation, so I take full responsibility and I'm accountable for that," he added. "You know, the captain goes as the captain goes."
The Mets are also without a manager after firing Luis Rojas last month, and Alderson said he will wait until a GM is hired before picking up that search.
Despite all that, Alderson said the Mets "continue to function." The club extended $18.4 million, one-year qualifying offers over the weekend to free agents Noah Syndergaard and Michael Conforto, and he said Tuesday that Conforto's agent has already informed him the outfielder will decline.
The Mets sent a small delegation to the GM meetings this week, and Alderson said he wasn't worried about being here without a general manager as leaders from all 30 baseball operations departments gather.
Alderson joked that he's interviewed so many candidates for the Mets job that "probably half the people are going to be here today."
Still, he said, "I'm confident that we're going to find somebody very capable and right for the job."
Kenneth Moffett, federal mediator of 1981 baseball strike and former MLBPA executive, dies at 90
ALEXANDRIA, Va. — Kenneth Moffett, the federal mediator during the 1981 baseball strike who briefly succeeded Marvin Miller as the second head of the players' association, has died. He was 90.
Moffett died Nov. 19 at his home in Alexandria, Virginia, said his wife, the former Mary Taddeo. He had been ill with dementia for about six months and the death certificate cited natural causes, she said Monday.
His death was first reported by The New York Times.
Moffett was part of the Federal Mediation and Conciliation Service in 1980, when baseball players and owners reached an agreement that put off a work stoppage until the following year. As deputy director of the FMCS during the 50-day strike that interrupted the 1981 season, he shuttled between the parties, set up bargaining sessions and suggested frameworks for settlement.
He also worked at the FMCS during the August 1981 strike by the Professional Air Traffic Controllers Organization against the Federal Aviation Administration. President Ronald Reagan ordered the firing of workers who did not return to their jobs.
Moffett said in 1994 that baseball negotiations were different from all other types of collective bargaining.
"It is done in a fishbowl," Moffett told The Associated Press. "Every statement, every press release — anything — is for public consumption. In most negotiations, you don't hear a peep until there's a settlement."
As the union's 1994 strike deadline approached, Moffett said: "My gut reaction is it seems like nothing's changed. … The issues are still the same."
Moffett was hired in December 1982 as the second executive director of the Major League Baseball Players Association and took over on Jan. 1, 1983, when Miller retired ahead of his 66th birthday. Moffett was given a three-year contract but lasted just 10 1/2 months and was fired that Nov. 22 by the union's executive board.
Donald Fehr, then the union's general counsel, took over as acting executive director on Dec. 8, became executive director on a full-time basis in January 1986 and held the top spot until retiring in December 2009.
Moffett became assistant to the president of the National Association of Broadcast Employees and Technicians in 1985. That union merged with the Communications Workers of America in 1994. He retired in 2003 as the CWA's human resources director.
Moffett is survived by his fourth wife, whom he married in 1999; and three children from his first wife, Barbara: son Kenneth Jr., director of negotiations at the National Treasury Employees Union; son John; and daughter Laura Tornell. Moffett's three previous marriages ended in divorce.
The Mets spent, the Yankees didn't and more
When MLB free agency began, as I was comparing notes with agents and executives, a popular discussion was how many players would sign big deals before the collective bargaining agreement expired on Dec. 1. The common opinion was that only a couple of guys would sign for $75 million or more — and some legitimately thought zero would. They also expected slower-than-usual overall volume.
All of that turned out to be … wildly wrong!
Now we're in the midst of a lockout that will likely freeze the market for months, but before Dec. 1, we had tons of action to a degree that no one expected. Over the course of about three weeks, teams handed out 51 MLB deals with guaranteed money totaling $1.974 billion. If you include extensions occurring in the 2021 calendar year, another $1.655 billion was spent, and nearly $1.1 billion of that went to five players: Byron Buxton, Wander Franco, Jose Berrios, Francisco Lindor and Fernando Tatis Jr. Let's go on a journey of the lessons learned from this incredibly entertaining and active first part of the offseason.
The Mets went hard.
The 2021 season didn't go that well for the New York Mets, who ended the season in third place in the National League East with 77 wins and watched the Atlanta Braves win the World Series. But since the clock turned to November, things have turned around. Robinson Cano's season-long suspension ended, Jacob deGrom should be healthy by the time the season starts, and they added Max Scherzer ($130 million guaranteed), Starling Marte ($78 million), Mark Canha ($26.5 million) and Eduardo Escobar ($20 million) in free agency. With these additions, FanGraphs' depth charts now have the Mets in a dead heat with the best teams in baseball. The Mets, a team that posted 34.6 WAR in 2021, are projected to post 48.0 in 2022 — behind (and just slightly) only the Dodgers and Yankees.
Buck O'Neil joins Gil Hodges, Minnie Minoso, others in being elected to baseball's Hall of Fame
Buck O'Neil, a champion of Black ballplayers during a monumental, eight-decade career on and off the field, joined Gil Hodges, Minnie Minoso and three others in being elected to the baseball Hall of Fame on Sunday.
Former Minnesota Twins teammates Tony Oliva and Jim Kaat, a longtime television analyst after his playing days, also were chosen along with Bud Fowler by a pair of veterans committees.
Oliva and Kaat are the only living new members. Dick Allen, who died last December, fell one vote shy of election.
Kaat pitched 25 seasons with a host of teams, including the Phillies, Yankees and Cardinals, winning 283 games. He served as an analyst for the Yankees before moving on to the MLB Network.
The 16-member Early Days and Golden Days committees met separately in Orlando, Florida. The election announcement was originally scheduled to coincide with the big league winter meetings, which were nixed because of the MLB lockout.
The six newcomers will be enshrined in Cooperstown, New York, on July 24, 2022, along with any new members elected by the Baseball Writers' Association of America. First-time candidates David Ortiz and Alex Rodriguez join Barry Bonds, Roger Clemens and Curt Schilling on the ballot, with voting results on Jan. 25.
The Associated Press contributed to this report.