Miami Dolphins deserve to celebrate win, even against lowly Houston Texans – Miami Dolphins Blog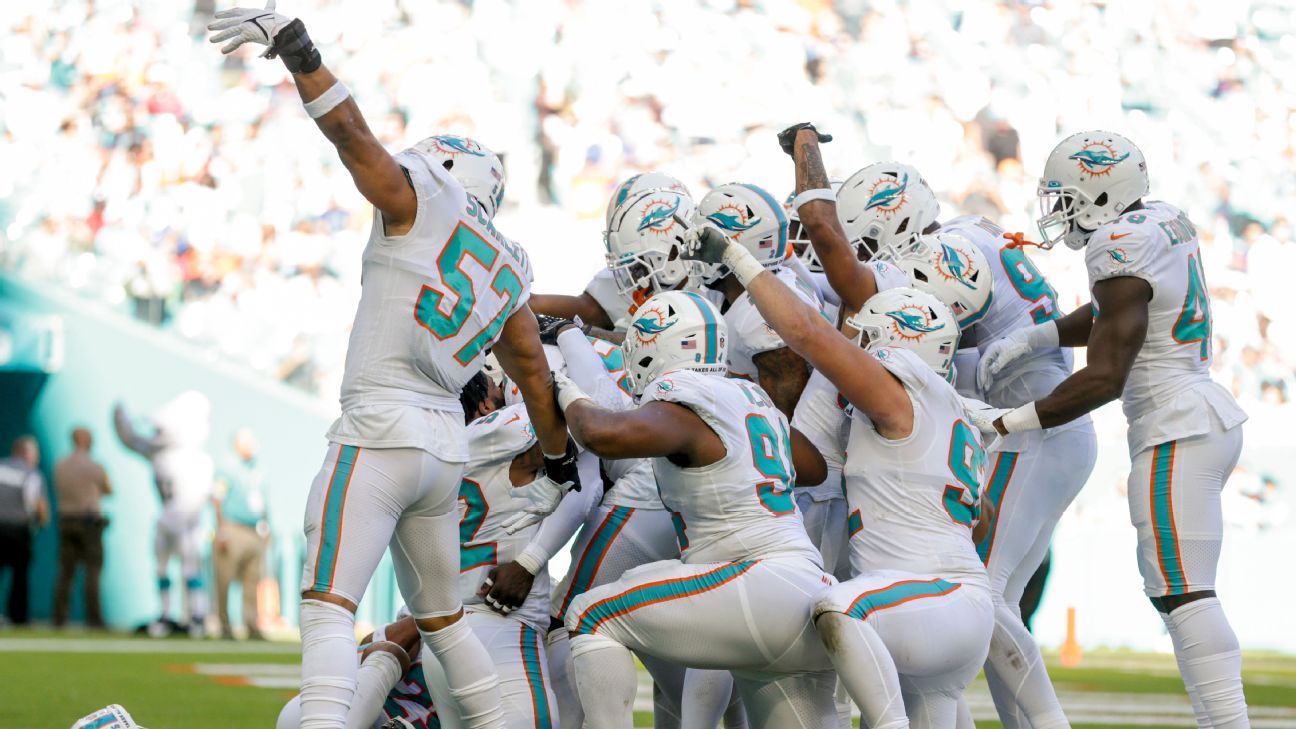 MIAMI — There was a familiar feeling to the Miami Dolphins' 17-9 victory against the Houston Texans (1-8) on Sunday. Quarterback Jacoby Brissett found receiver Mack Hollins for a 5-yard touchdown late in the second quarter to give Miami a multiple-score lead for the third time this season.
That's where the familiar feeling came to an end.
Unlike the previous two occurrences, Miami (2-7) held on to its multiple-score lead against Houston and ended its seven-game losing streak, overcoming five turnovers and an inability to move the ball on the ground.
"I think we just played 60 minutes of football today, so whether it was we turned the ball over, our defense goes out and helps us out," tight end Mike Gesicki said. "You know, we just kind of kept pushing, kept going out there and not letting this one slip away.
"It's something to build on."
Let's throttle back the praise for a second, because for a large portion of the game, it seemed like the Dolphins were hell-bent on losing.
Against the NFL's second-worst run defense, Miami averaged 1.9 yards on 25 carries. Three of the five turnovers were in the first half and its offensive line allowed 22 pressures on 44 dropbacks and continued to be one of the worst pass-blocking units in the league.
But the Dolphins did enough to win after dropping three games this season when opponents made field goals on the final play. Even against one of the worst teams in the NFL, that warrants celebration.
"It gives [us] a lot of confidence that the work we're putting in is not going to waste," safety Eric Rowe said. "That's the biggest thing, because once you start believing that all the hard work you are putting in is not going anywhere, then ultimately you stop working hard, and then you lose even worse."
The Dolphins don't get long to relish the victory. They play host to quarterback Lamar Jackson and the Baltimore Ravens (6-2) on Thursday night (8:20 p.m. ET, Fox).
Defensive tackle Christian Wilkins, who has repeatedly said the team gets a "24-hour rule" to be upset about a loss before moving on, said he would enjoy the win for about "an hour or so" before getting back to work.
Coach Brian Flores said the team needed to get "a lot of things corrected offensively" before Thursday's game.
Ultimately, the quick turnaround is exactly what the Dolphins say they need; it keeps them from getting too high and forgetting there's still half a season to play.
"It allows guys to just put it behind you, because I think sometimes on a long week you get a win and you forget to put in the work," Hollins said. "You don't come in [on] the off day and do as much as you usually do.
"I think it's good to have a short week and be able to still celebrate it, but make sure we're off Houston and on to Baltimore."
NFL makes change to Sunday night matchup in Week 13, flexes two games to Saturday in Week 15
The NFL has filled the blanks for its previously scheduled Week 15 Saturday doubleheader by moving the Raiders at Browns and Patriots at Colts from Sunday.
Las Vegas will be at Cleveland at 4:30 p.m. ET on Dec. 18, followed by New England at Indianapolis at 8:20 p.m. Both games will be televised by NFL Network.
The league also made a change to Week 13, flexing the 49ers at Seahawks game out of the Sunday night slot in favor of the Broncos at Chiefs matchup. Seattle at San Francisco will be played at 4:25 p.m. ET on Dec. 5 and televised by CBS, and Denver at Kansas City will be played at 8:20 p.m. and be televised by NBC.
The three other Week 15 games that potentially could have been moved will remain on Sunday, Dec. 19. They are the Jets at Dolphins, Washington Football Team at Eagles, and Panthers at Bills. All three games will be played at 1 p.m. ET.
NFL schedule makers frequently place games on Saturdays in mid-to-late December when college football's regular season has concluded. On Christmas Day, also a Saturday, the league will have Browns at Packers, followed by Colts at Cardinals.
The Associated Press contributed to this report.
Emotional Dallas Cowboys remember strength coach Markus Paul, who died a year ago
FRISCO, Texas — Dallas Cowboys coach Mike McCarthy took time to celebrate the life of former strength and conditioning coach Markus Paul on Tuesday as the one-year anniversary of Paul's death approaches.
"The first thing when you talk about Markus Paul, you talk about his faith, you talk about his family and you talk about his fatherly presence that he had to the players," McCarthy said. "I think that's really a big part of our message just when you want to celebrate somebody and he's part of the building blocks of our culture … It was more about the person and he exemplified that to the highest level so and we just want to make sure our team, particularly our locker room, has an understanding that he's part of the foundation of what we've got going on here."
Paul collapsed in his weight-room office at The Star and was rushed to a local hospital two days before the Cowboys played the Washington Football Team on Thanksgiving. He was pronounced dead on Nov. 25, 2020. He was 54.
In 2020, Paul was promoted to strength and conditioning coordinator after serving as an assistant on Mike Woicik's staff since 2018. He spent 23 years as a strength coach for the New Orleans Saints, New England Patriots, New York Giants and Cowboys after his playing career ended. He earned three Super Bowl rings (three with the Patriots, two with the Giants).
Running back Ezekiel Elliott said the meeting was emotional as McCarthy and strength and conditioning coordinator Harold Nash, who was one of Paul's assistants last year, addressed the team.
"(For) the guys that weren't able to be around Coach Markus, just shed light on the type of man — not only was he a great coach but the type of man, father, brother, person he was," Elliott said. "And he's someone we definitely miss, someone we think about every day and definitely miss Coach Markus."
Cornerback Anthony Brown said Paul was more than just a football coach.
"His time was more just teaching me how to be a father, teaching me how to do things the right way, be respectful and how to go to work every day and do right," Brown said. "I'll never forget him. I always keep him in my prayers. I always keep him in the back of my head coming out here. I always think about him all the time."
Players said Nash and assistants Kendall Smith and Cedric Smith try to keep Paul's legacy alive. They run certain stretches the way Paul did before practice, as well as adopt the same attitude in the weight room.
"When we come in there, just being cherry having a smile on your face, welcoming somebody into the church because Markus always said stuff like that because he was very religious as well," wide receiver Michael Gallup said. "But he always called his weight room his sanctuary. Just good times, always keeping it upbeat, but that's what Markus brought to the table and that's what they're trying to keep here."
Chicago Bears coach Matt Nagy says he's focused on Detroit Lions, not his job status after report
Chicago Bears coach Matt Nagy denied a report that he had been informed he would be fired after Thursday's game against the Detroit Lions, saying he has not spoken to the team's leadership about his job status.
"That is not accurate," Nagy said Tuesday afternoon during a 10-minute meeting with reporters focused largely on a Patch.com report that quoted a "top source."
Nagy said he has not spoken to owner George McCaskey, team president Ted Phillips or general manager Ryan Pace this week. The group has regularly scheduled meetings, Nagy said, but skipped it this week because of an already-short week of game preparations.
The Bears (3-7) have lost five consecutive games and are reverting to quarterback Andy Dalton this week because of a rib injury suffered by rookie Justin Fields on Sunday against the Baltimore Ravens. Nagy said that Fields would return to the starting role once he is healthy enough to do so.
It would be highly unusual for an NFL team to inform a coach of his imminent firing but still allow him to coach the next game. But whether Nagy will be fired later this season, or after its completion, is another question — one that he declined to address Tuesday.
When asked whether he had received assurances that he would keep his job moving forward, Nagy said: "My focus is on these players and Detroit, and that's it. That's my job as a head coach and a leader, is to do that. These players have been amazing. They've been great. You have this quick turnaround after a loss like [Sunday's to the Ravens], and now here you go. The only thing we can do is focus on the now and do everything we can. Thursday is going to be here quickly."
The Bears did not immediately make McCaskey, Phillips or Pace available to address the report. Asked whether he would have preferred to hear a public denial from one of them, Nagy said: "We all have our own decisions as to how we do things, and I think this whole entire time, for me and for ownership, we've had great communication. Again, it's focused on Detroit. That's what it is."
Nagy led the Bears to a 12-4 record and a playoff appearance in his first season in 2018. The Bears finished 8-8 in 2019 and in 2020.