Martin Brundle snub sparks F1 grid change: Megan Thee Stallion video
F1 bosses have reportedly introduced a "Brundle clause" to stop celebrities from snubbing grid interviews.
The Sun reports former driver turned respected Sky Sports commentator Martin Brundle thinks the sport's chiefs have put in a new rule for the rich and famous.
Did you know you can catch up on the 2021 F1 Mexican Grand Prix for FREE with Minis on Kayo Freebies? Register now, no credit card required
It came after an awkward exchange between Brundle and Megan Thee Stallion at the United States Grand Prix last month. The broadcaster was ushered away by the rapper's security when he tried to ask a question.
One of the rapper's protectors told Brundle: "You can't do that."
But the renowned analyst, whose pre-race grid walks have become synonymous with the sport, snapped back: "I can because I just did."
Brundle called for manners from celebrities attending races in a post on social media after the incident.
"I have felt under pressure on the grid before but by people called Senna, Prost, Schumacher, Mansell, Piquet and so on," he tweeted.
"Bodyguards visiting the grid for the first time don't bother me, everyone's got a job to do, but they could maybe learn some manners and respect on our patch."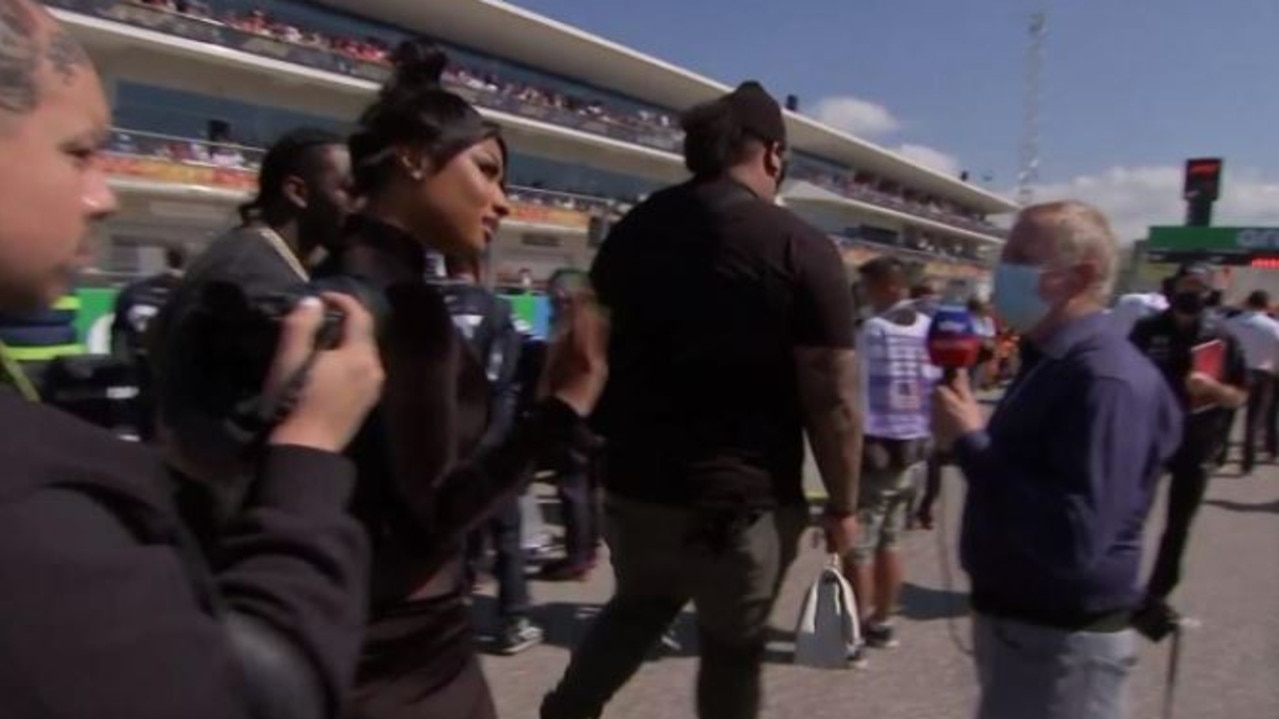 It looks like the broadcaster has got his way, according to multiple reports, and Brundle suggested as much with his latest comments on the matter.
Brundle said: "There have been new rules introduced, that any celebrities on the grid must not have bodyguards any longer.
"It must be the 'Brundle clause', and they're obliged to talk to me. I sort of like it if they ignore me, to be honest.
"I like to call out some of the celebs that I think are just using the grid a little bit if I'm honest. They don't really have a passion.
"I know there are millions of fans at home going, 'I should be on that grid. I'm a massive Formula 1 fan, not them'.
"But my claim to fame at last. I get ignored by Megan Thee Stallion, I get biffed out of the way by a man mountain and then told off by a Malfoy lookalike who doubtless was on his first-ever time to a Formula 1 grid.
"I put out a simple tweet about it and got five million impressions. I don't understand any of that, to be honest."
This article first appeared on The Sun and was reproduced with permission
Scott Morrison slammed for shameless Bathurst appeance, Mark Skaife, booed, reaction, Supercars
Prime Minister Scott Morrison has been criticised for making a "shameless" political appearance at the Bathurst 1000.
The most famous race in Australian motorsport got underway on Sunday and the Prime Minister was in the thick of the action, touring pit lane and even posing for photos in one of the Supercars in the garage.
Stream every practice, qualifier & race of the 2021 Repco Bathurst 1000 Live & On-Demand on Kayo with no ad-breaks during racing. New to Kayo? Start your free trial now >
Morrison presented retiring seven-time Supercars champion Jamie Whincup with his Hall of Fame trophy.
He didn't miss the chance to herald Australia's vaccination rates as Mount Panorama welcomed back a capacity crowd after only 4000 fans could attend last year's race due to the pandemic.
"I want to thank all Australians," he said.
"We're well over 80 per cent, we'll be above 90 per cent double vaxxed around the country very shortly and the fact that Australians did that means everybody can be at Bathurst for the best race in Australia."
But the PM's Bathurst roadshow didn't stop there. He hopped in a Ford Mustang five-time with Bathurst 1000 champion Mark Skaife for a flying lap around the mountain.
Morrison, who had been a passenger with Skaife at a previous race, was hanging on for dear life as the Supercars legend put the pedal to the floor, flying around the circuit reaching a top speed of 230km/h.
"I think my fingernails you can see from last time," Morrison said as he buckled in for the ride.
"Thankfully, we're in a different car this time. It's a real thrill to be driving along here with you, a legend of the sport."
Skaife was doing his best to rattle his high-profile passenger.
"This up here is ScoMo and Skaifey territory, the top of the hill!" he exclaimed.
"And what about this ride down here PM. This is skyline. You can't see a thing and you arrive at 220km/h, down the hill.
"What a cool piece of road. We love this place. People talk about it around the world. We're doing 230km/h with the Prime Minister!"
Morrison looked understandably nervous and let out several cries of "Whoa!" as they rocketed around the track.
But he made sure to talk up the great race with some racing puns.
"It's one of Australia's great institutions and great historical races and one of if not the best course in the world," he said.
"It's absolutely magnificent. The fact that there'll be people beaming in from all over the world and what they're going to see is Australia open — we're double-vaxxed, people are back, they're in their trailers, they're together again.
"It's just showing where we're heading — looking out the front windscreen not in the rear view mirror."
Morrison was so excited he dropped one of his classic lines: "How good's Bathurst!"
"It's the second time out there with Skaifey and I really enjoyed it. It's great to be here. It's great to have the crowds back at Bathurst."
But not everyone was impressed by the Prime Minister's appearance at the Bathurst 1000, with many observers accusing him of using the iconic race as a political stunt.
"Shameless from the #Bathurst1000 to allow their event to be hijacked and turned into a cheap votes grab," sports editor Simon Brunsdon tweeted.
Journalist Oliver Caffrey added: "Less than a year ago Scott Morrison said: 'I think a bit more focus on cricket, and a bit less focus on politics would be my message to Cricket Australia.' Today he inducts Supercars legend Jamie Whincup into the hall of fame at the #Bathurst1000".
Viewers also noticed Morrison was booed by the crowd in attendance at Bathurst.
Reporter Miles Kemp said: "I listen intently when politicians get called up at sports. Booing is common at Jackie Howe gatherings. Based on reax to PM at #Bathurst1000 I think a lot of people are kidding themselves thinking poll will be a cakewalk."
Bathurst 1000 2021, latest results, updates, Chaz Mostert, puncture, timesheets, timings, live, winner, leader
The race leader for nearly the entirety of the first third of the Bathurst 1000 encountered huge problems as Chaz Mostert's No.25 car tumbled from first all the way down to 12th.
Mostert and his teammate Lee Holdsworth had been setting the pace at Mount Panorama and were looking relaxed as they opened up a 10-second gap over second-placed Cameron Waters.
However, disaster struck when Mostert began slowing and making a "fiercely ugly sound" according to commentator Neil Crompton as he was forced to return to the pits.
Stream every practice, qualifier & race of the 2021 Repco Bathurst 1000 Live & On-Demand on Kayo with no ad-breaks during racing. New to Kayo? Start your free trial now >
Tander FLIES, Moffat falls on first lap | 01:35
BATHURST LIVE: FOLLOW ALL THE ACTION AS IT HAPPENS HERE
By the time he pulled off the track, Waters had made up the whole 10-second deficit on him such was the drop off in speed Mostert was experiencing.
"No way," Crompton said in commentary. "He is slowing. He has a bigger problem than just fuel and tyres."
"Oh my God… this is such a cruel race isn't it," Mark Skaife added.
"It will take a safety car or two or three stints to get him back in the race," Crompton replied.
The team changed the tyres and it became clear that a bit of debris had hit the rear left one, leaving it hugely blistered.
Skaife commentated that Mostert was up on everybody by a net 17 seconds but estimated that the cost of the unplanned stop was around 16 seconds.
He would still maintain the lead once everyone else had completed their extra pit stop but only by a second, rather than the huge lead he previously held.
Echidna forces safety car at Bathurst 1000, video, wildlife at Bathurst, albino wallaroo, kangaroo, reaction
Here's the most Australian sentence ever: An echidna forced a safety car at Bathurst.
The 2021 edition of the Great Race was forced to slow down with 56 laps remaining after the native monotreme was spotted on track near the top of the mountain.
Yellow flags were waved and the race was brought to a crawl before resuming three laps later.
Stream every practice, qualifier & race of the 2021 Repco Bathurst 1000 Live & On-Demand on Kayo with no ad-breaks during racing. New to Kayo? Start your free trial now >
Champion in waiting Shane van Gisbergen led Bathurst from Chaz Mostert and Jamie Whincup when the race resumed.
Mostert and Lee Holdsworth were leading the race before the delay, with Garth Tander and van Gisbergen staying out on track during the safety car, as did Whincup who is partnered by Craig Lowndes.
Earlier in the race an Albino wallaroo was spotted while kangaroos have made their way onto the track in previous years.
Tander FLIES, Moffat falls on first lap | 01:35