Mexico Grand Prix Australia race start time, updates, news, blog, grid, Daniel Ricciardo position
Valtteri Bottas will start in pole position for the Mexico Grand Prix on Monday morning (AEDT) with "shocked" world champion Lewis Hamilton next to him in a Mercedes front-row lockout.
Championship leader Max Verstappen, who has a 12-point edge over Hamilton in the title race with five events left, qualified third fastest, while Red Bull driver Sergio Perez was fourth in front of his home fans in Mexico City.
RACE CENTRE: Mexican Grand Prix live results
Watch the Race of the 2021 Mexican Grand Prix live & exclusive on Kayo. New to Kayo? Start your free trial today.
"Valtteri did an amazing job, he has been driving so well for the team. To lockout the front row is so special," said Hamilton of his teammate who clocked 1min 15.875sec, the only driver to dip below 1:16.
"They (Red Bull) were six-tenths ahead at one stage but when we got to qualifying we had better pace. I am as shocked as everyone."
For Bottas, it was a career 19th pole position, bettering the 18 of Rene Arnoux as the driver on most poles without ever winning the world title.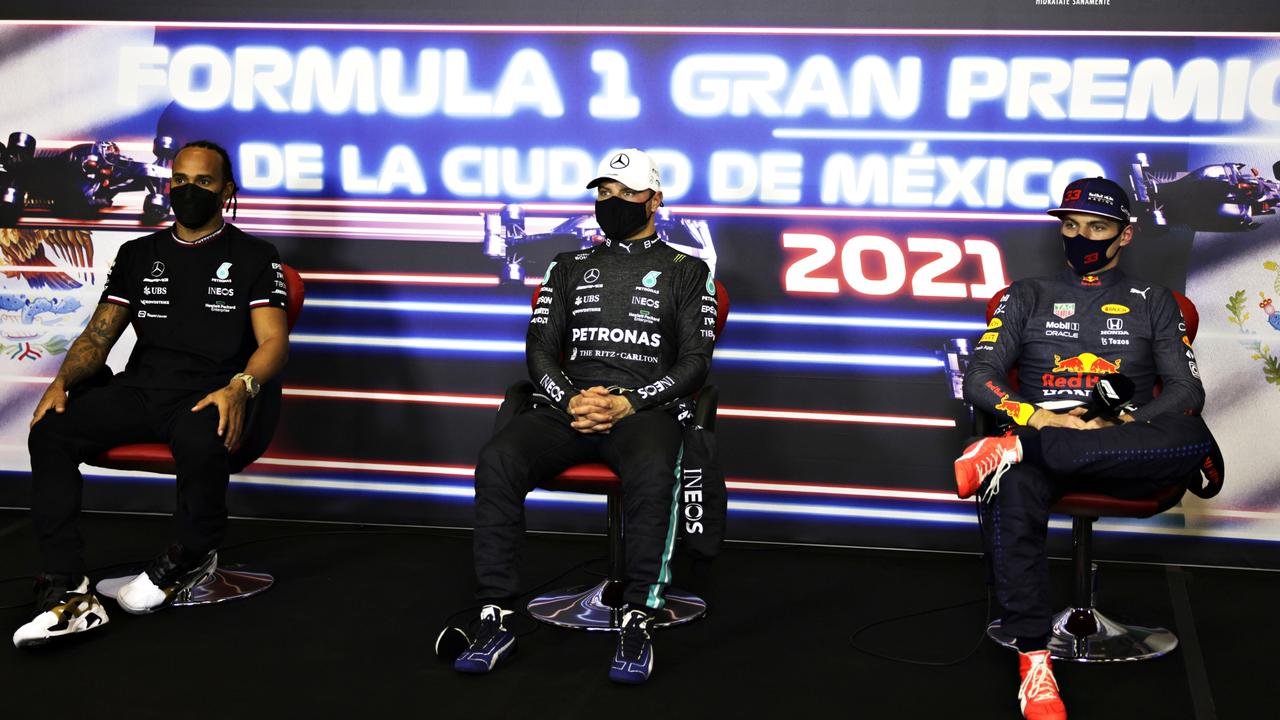 "Honestly that first run in Q3 was one of my best laps. It's a good feeling," said the Finn.
AlphaTauri's Pierre Gasly, Ferrari driver Carlos Sainz, Daniel Ricciardo in a McLaren, Charles Leclerc in the second Ferrari, Yuki Tsunoda of AlphaTauri and Lando Norris in a McLaren filled out the top 10 on Saturday.
Ricciardo, who qualified seventh, was slightly disappointed at a minor error on Turn 13 that ruined his chances of a higher result, but was still pleased given Ferrari's significant struggles.
"I think clean side of the grid might be a blessing in disguise … I think seventh should be alright," he said.
"I'm happy to be in the mix today. We feared Ferrari might be fourth-fifth and we'd be eighth-ninth or something."
Japan's Tsunoda clocked an impressive 1:16.071 in the Alpha Tauri to be third fastest in the session at one stage.
However, he already knew he was starting Sunday's race from the back of the grid, along with Stroll, for taking too many engine parts after both also changed engines this season.
HOW TO WATCH
Watch the Race of the 2021 Mexican Grand Prix live & exclusive on Kayo. New to Kayo? Start your free trial today.
WHAT TIME DOES THE RACE START?
The 2021 Mexican Grand Prix race starts at 6am (AEDT), with coverage on Fox Sports at Kayo Sports from 4.30am.
Follow all the action in our live blog below. If you can't see the blog, tap here.
Brazil Grand Prix result, McLaren power loss, chassis crack
Daniel Ricciardo's McLaren team has revealed a cracked chassis was the reason he was forced to quit the Brazil Grand Prix on Monday morning.
The Australian suffered a cruel nightmare when he was forced to retire late in the race as a result of his MCL35M experiencing power loss.
Did you know you can catch up on the 2021 F1 Mexican Grand Prix for FREE with Minis on Kayo Freebies? Register now, no credit card required.
He said after the race he had been optimistic about finishing ahead of Ferrari rivals Charles Leclerc and Carlos Sainz, possibly finishing as high as fifth in Monday's dramatic Grand Prix won by Lewis Hamilton.
Despite being out-performed by Ferrari all weekend, the team's strategy of running a one-stop race on harder tyres had appeared like a stroke of genius before the day was ruined instantly by his fading power.
McLaren has now announced the team investigated the loss of power inside the garage and found a crack had formed within components related to its power unit installation.
McLaren team principal Andreas Seidl said the team will continue to investigate why the problem occurred.
"We had a power loss on track," he said.
"In the initial investigation we found a technical issue, a crack on the chassis side of the power unit installation, which we need to now investigate. I can give you a better update next week in Qatar."
It ended Ricciardo's run of 34 consecutive races of reaching the finish line. Ricciardo was called into the garage on lap 51, just 20 laps short of the chequered flag.
He said after the race it was a new problem he had not experienced since joining the team for the start of the 2021 season.
"We were looking like we were going to get a few points and the race was going pretty well, we were coping pretty well – potentially a one-stop strategy could have worked out for us strongly," he said.
"It was definitely a better day than yesterday and I was happy with how we were going but it was just out of our control today.
"We knew they had to two-stop. I think they had a bit more pace but maybe through strategy we could've disrupted them.
"But then we had a loss of power and had to retire the car. Definitely a shame, but it was a much more promising day than [Saturday]. We'll take the positives from that, and we've got another chance next week."
It capped off a miserable weekend for McLaren with Lando Norris only able to score one championship point after finishing 10th.
The team struggled to find a quick set-up through Saturday's qualifying and Sunday's sprint race.
Ricciardo dropped from eighth to 11th during the sprint race after dropping down the field in the opening lap.
Qatar stages the next chapter of 2021's gripping title battle next Sunday.
With AFP
Brazilian Grand Prix, Constructors championship, leaderboard, Max Verstappen, Lewis Hamilton, feud, Toto Wolff, Christian Horner, engine, rear wing
Just three rounds are left in the race for the Formula 1 title and two challengers remain.
Max Verstappen and Lewis Hamilton – the same two that have been caught up in a simmering feud that has been escalating all season.
A rivalry that has already reached boiling point and yet is far from settling down as the crescendo climax awaits at Abu Dhabi in December.
Hamilton's dream of a record-breaking eighth world championship remains very much a possibility after his incredible resurgence in Brazil.
Stream Every Practice, Qualifier & Race of the 2021 FIA Formula One World Championship™ Live & On-Demand on Kayo. New to Kayo? Start Your Free Trial >
Hamilton clinches dramatic win in Brazil | 03:05
It leaves him just 14 points behind Red Bull's Verstappen and with the stakes only set to get higher, the competition will subsequently become even fiercer.
Both team principals have refused to interfere too much in the drama, instead describing the conflict back in September as the coming together of two equally-competitive combatants.
"Max is a no-quarter kind of guy; Lewis has demonstrated that he doesn't want to give anything either and when you get two racers of that mentality, you get incidents," Red Bull's Christian Horner said.
Mercedes' Toto Wolff was equally diplomatic at the time adding: "The point is that these two are racing for a drivers' championship and you can't expect them to have velvet gloves on".
That all changed on Monday morning though, with even Wolff taking his velvet gloves off.
"I think we've just had many, many punches in the face this weekend," he said.
"Decisions that could have swung either side against us or for us. It's something that I'm just angry about and I will defend my team, my drivers to what comes.
"I've always been very diplomatic in how I discuss things, but diplomacy has ended today."
What exactly sparked the change in mood from Wolff?
Well, there were a host of incidents that all came to a head of Monday as the ongoing feud between Mercedes and Red Bull spilled over.
It started when Hamilton was disqualified from qualifying classification after the FIA deemed his rear wing not to be legal, with the Drag Reduction System opening greater than the maximum 85 millimetres allowed.
RACE IS ON: Title twist could see Hamilton and Verstappen go to historic tie-breaker
Is Max too close for comfort? | 00:27
Wolff could hardly believe it, telling reporters he thought Mercedes sporting director Ron Meadows "was joking" when the news came through on WhatsApp.
Earlier in the day Verstappen had walked over to Hamilton's car and briefly touched the rear wing, copping a hefty fine for his actions.
It was Verstappen's defensive driving on the track though on Monday morning that really sent Wolff over the edge, particularly given the punishment handed down to Hamilton a few days earlier.
It was turn three on lap 48 and Hamilton had long been closing in on Verstappen, who held a slender lead.
Like Wolff had said back in September, these were two drivers competing for a championship and willing to do whatever it takes in the pursuit of that goal.
What Verstappen did next though crossed a line according to the Mercedes boss.
It was another flashpoint in the pair's ongoing duel, with Verstappen seeming to deliberately push his championship rival off the track to keep hold of his lead.
F1 race director Michael Masi has since hinted Verstappen could face a retrospective penalty for the incident once all footage is reviewed but at the time no punishment was laid down.
Given Hamilton's previous disqualification, Wolff was left livid by the decision.
Verstappen and Hamilton flare once again | 00:31
"That was just over the line – should have been a five-second penalty at least – and probably Max knew that," he said.
"Just brushing it under the carpet is just the tip of the iceberg. I mean, it's laughable."
Wolff though was in no laughing mood when it also emerged that Red Bull made wing changes under parc ferme conditions on the same weekend Mercedes was denied that chance.
"No I'm not [happy], it is being judged two different ways here in the sport at this time," he said of that development.
Horner later clarified from Red Bull's standpoint that the two requests were "completing different", telling Sky Sports Mercedes had failed a legality test on their repair.
It changed little for Wolff though, only intensifying the siege mentality which saw him declare: "Lewis – brilliant job. Damage limitation. F*** them all" on the team radio after the sprint race.
"I don't want to claim anything on the stewards… I think they have a difficult life anyway and they are only there to lose," Wolff later added.
"But in a certain way when you're taking punches all weekend and you have such a situation on top of everything, you're just losing faith."
When Hamilton and Verstappen crashed back at the British Grand Prix and Horner launched a scathing attack at the Brit's driving, it seemed tensions between Mercedes and Red Bull had reached boiling point.
Bottas takes pole in Brazil | 01:11
Instead, four months later, the drama is still bubbling away and with the championship yet to be decided it is unlikely to go away anytime soon.
Particularly when you consider the added mystery of Mercedes' engine problems.
Rules allow teams to make changes to the engine provided it improves reliability as opposed to the performance advantage.
Mercedes had already previously hinted at the need for additional power unit parts at the end of the season and on the weekend, they took the gamble.
With Hamilton already trailing Verstappen in the race to the title, a grid penalty was the last setback Mercedes needed but the sudden jump in pace was needed.
It ended up giving the Brit a significant boost to his straight-line speed and helped Hamilton secure a remarkable victory.
It also, along with the rear wing of Hamilton's car, left Verstappen suspicious and Red Bull searching for answers.
A late protest could provide them but not just yet.
"We need to look at where that speed comes from," Horner said.
"It's not normal and we need to look at it, but it's too early to protest."
Just another ongoing drama as Hamilton eyes history with the entire F1 world watching.
Red Bull in particular it seems will be keeping a close eye on it all.
F1 Lewis Hamilton vs Max Verstappen Brazil Grand Prix incident, camera footage missing
The FIA has confirmed race officials did not look at footage from Max Verstappen's on-board camera before announcing his fiery incident with Lewis Hamilton in Brazil would not be investigated.
The wheel to wheel tussle in Monday's Brazil Grand Prix left the Formula 1 world with its heart in its mouth as the two world championship rivals nearly made contact on Lap 48 at Turn 4.
Hamilton produced one of the greatest drives in recent memory to win the Brazil Grand Prix on Monday morning, but the big talking point was the moment his rivalry with Verstappen almost exploded.
More than 24 hours after the race was won, the footage from Verstappen's Red Bull is still yet to see the light of day.
Conspiracy theories surrounding the missing footage are growing louder following a Daily Mail report Mercedes is still considering launching an official protest of the decision not to penalise the 24-year-old.
Stream Every Practice, Qualifier & Race of the 2021 FIA Formula One World Championship™ Live & On-Demand on Kayo. New to Kayo? Start Your Free Trial >
Hamilton is now 14 points behind Verstappen — but the margin could easily have been even further reduced if action had been taken against Verstappen.
Mercedes boss Toto Wolff said after the race it was "laughable" that Verstappen avoided any penalty for the moment the Red Bull star appeared to run Hamilton off the track.
Formula 1 commentators on Sky Sports unanimously agreed action should have been taken against Verstappen after he took a shallow line into Turn 4 when Hamilton had already passed him entering the corner and controlled the racing line. Verstappen didn't give an inch.
Sky Sports first revealed after the race the broadcaster was yet to download the footage from Verstappen's Red Bull that would have revealed his dashboard and steering wheel movement throughout the incident.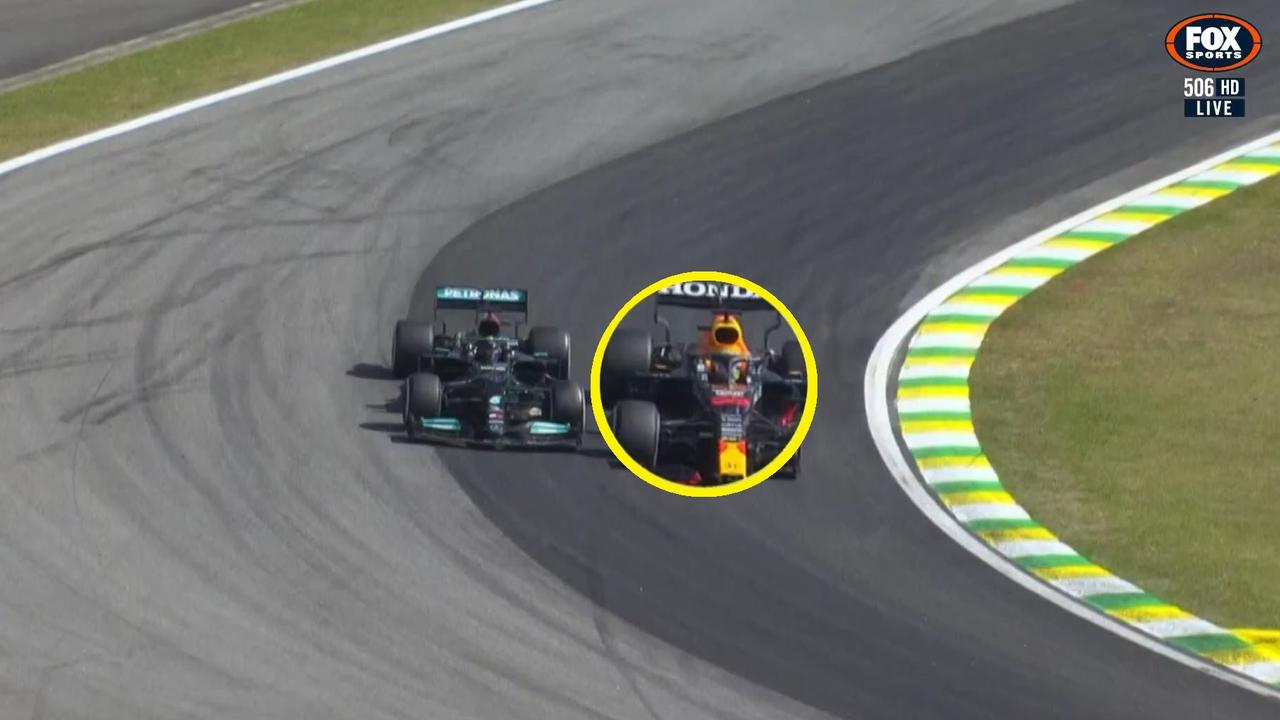 Sky sports technical analyst Anthony Davidson said after the race available camera angles of the incident appear to show Verstappen failing to attempt to steer his car towards the apex of the turn — a clear suggestion Verstappen deliberately forced Hamilton off the track.
He said footage from Verstappen's on-board camera would be crucial to see if Verstappen's steering wheel was ever in a position that would have allowed the Dutch driver to make the hard turn.
Wolff also said he would like to see the on-board footage from Verstappen's Red Bull.
The FIA had ruled the near-collision was a "racing incident" that needed no further investigation — prompting scorn from Lewis Hamilton over the team radio.
F1 race director Michael Masi has now confirmed the key missing footage has still not been seen by race officials.
He said it is "only the cameras that were broadcast" that officials had access to in investigating the incident.
"The forward facing, the 360, there's all of the camera angles that we don't get live that will be downloaded and we'll have a look at them post-race," he said.
"It hasn't been obtained yet. It's been requested."
He conceded the footage from Verstappen's Red Bull could be a "smoking gun".
"Could be, absolutely. Possibly. But no, we didn't have access to it," he said.
"And obviously, it's being downloaded. And once the commercial rights holder supplies it, we'll have a look."
Hamilton had earlier called the incident "crazy" when first told of the incident was being looked at by stewards. It took him 11 more laps before he got the move to stick on Lap 59.
Davidson said footage of Verstappen's dash could easily have resulted in the FIA taking action against Verstappen.
"You always need in these situations other camera angles. The FIA have more camera angles than we do, but they're missing this critical on-board shot," he said.
"I think if they had that on-board shot it's a very different story today."
He said broadcast cameras appeared to show Verstappen not making enough effort to make the turn.
"Usually what you'd be looking for is a telltale sign like a lock-up on the inside front tyre," he said.
"A sign that the driver is right at the adhesion of grip, and the steering angle being forced into the car. And the other thing you're looking for is, is the driver on the apex — is the driver doing everything to make the corner.
"I can't see that much steering angle going into the car. For me, it's very well done by Max, cramping him off the road. But I'm not seeing enough effort being put into the car to try and make the corner."
Former F1 driver Paul di Resta said on Sky Sports after the race he at least expected Verstappen to be ordered to give the position back to Hamilton.
Former driver Johnny Herbert also said he anticipated a five-second penalty being handed down.
It's why Wolff was so unhappy after the race, describing Verstappen's move as "over the line".
"It was really wrong defence from Max, absolutely an inch over the limit, but he needed to do that to defend," he said.
"Lewis just managed it even more brilliantly by avoiding the contact and end the race that way.
"But that was just over the line, it should have been a five-second penalty at least. Probably Max knew that. Just brushing it under the carpet, it's just the tip of the iceberg.
"It's just laughable."
A five second penalty would have seen Verstappen finish third behind Mercedes' driver Valtteri Bottas, who was three seconds behind the Dutch driver as they crossed the line.
That would have cut Verstappen's lead to just 11 championship points with three races remaining.
Hamilton was also suspicious after the race, suggesting the decision not to take action against Verstappen was pre-ordained.
"When they said they were going to investigate, I just knew the decision they were going to come to, whether it was right or wrong," said Hamilton to Sky Sports.
"I didn't let it phase me, I just kept racing."
It was just one of the many moments of drama throughout the weekend, which began with Hamilton taking a grid penalty for introducing a new engine.
After his car's rear wing was found to have violated technical rules by 0.2mm, Hamilton started Sunday's sprint race from last, and also started Monday's grand prix from 10th as a result of his earlier grid penalty.
Near-perfect as Hamilton was, he was still fined $9000 for undoing his safety belt on his victory lap in breach of the rules to accept a Brazilian flag from a track marshall.
Qatar makes its F1 debut as host of next Sunday's latest fix of the sport's refreshingly exciting circuit drama followed by Saudi Arabia and the season-closing Abu Dhabi Grand Prix in mid-December.