Executives from other NFL teams question uneven COVID-19 protocol standards for Aaron Rodgers, Green Bay Packers
Multiple coaches and front-office executives have complained that their teams apparently were held to different COVID-19 protocol standards over the summer than the Green Bay Packers.
While the NFL instructed teams that unvaccinated players were required to wear masks along the sideline during preseason games, Packers quarterback Aaron Rodgers did not.
One team executive said he received a memo from the NFL about the COVID-19 protocols that read, in part: "Any such individual with bench area access who is not fully vaccinated except for active players shall be required to wear masks at all times. Unvaccinated inactive players must also wear masks."
One executive told ESPN: "That's B.S. … What's going on in Green Bay, that's not what teams were told by the NFL. Our players wore masks all the time. We made our guys that weren't playing wear masks."
The NFL is investigating how the Packers handled COVID-19 protocols at their facility and around games. The league will be looking at video footage from inside the team's training facility to see that masks were being worn and protocols were being adhered to, according to an NFL spokesman.
The league also is looking into a Halloween party that multiple Packers players attended, including Rodgers, when they were seen on social media not wearing masks. The NFL has rules set up that only a certain number of players can be together outside of the team's training facility; the league believes a violation might have been committed.
Rodgers and the Packers are facing fines but no suspensions for potential protocol violations, according to a source.
Rodgers, who has been tested daily as part of NFL protocols for unvaccinated players, found out he contracted COVID-19 on Wednesday. He will miss Sunday's road game against the Kansas City Chiefs and must have a negative test to return to the team on Nov. 13.
On Friday, during an appearance on "The Pat McAfee Show," Rodgers said that an allergy to mRNA vaccines prevented him from receiving two of the three approved COVID-19 vaccines and that he did not feel comfortable getting the third, from Johnson & Johnson, because of reactions that he had heard about. The use of that vaccine was briefly suspended earlier this year.
Rodgers said he petitioned the NFL, the NFL Players Association and a jointly approved infectious disease expert to be considered vaccinated after he underwent a treatment designed to raise his immunity and therefore would not have to follow protocols for unvaccinated players in team facilities and outside.
The quarterback told reporters in August that he was "immunized." Shortly thereafter, his petition was denied. He violated at least one of the protocols for unvaccinated players by regularly appearing at his news conferences without a mask.
ESPN's Rob Demovsky and The Associated Press contributed to this report.
Potential No. 1 pick Kayvon Thibodeaux to declare for NFL draft, skip Oregon Ducks' bowl game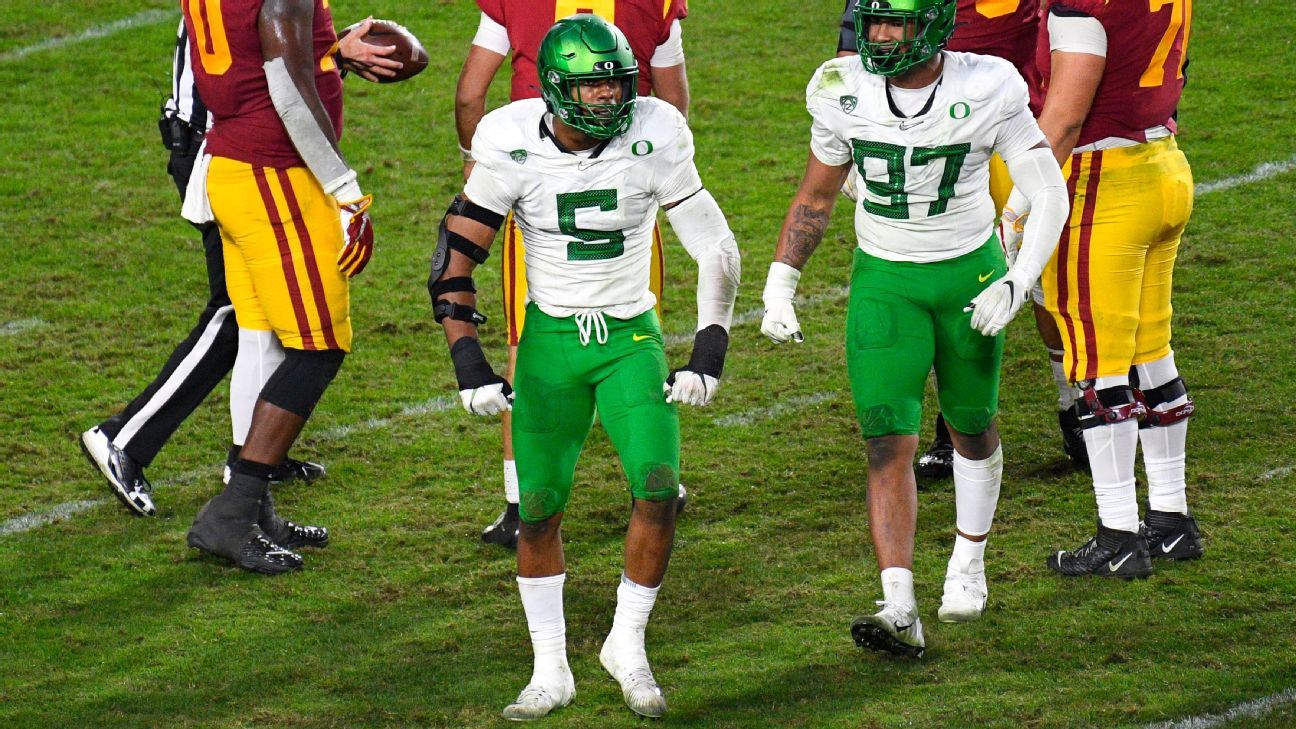 Star Oregon defensive end Kayvon Thibodeaux is declaring for the NFL draft, sources told ESPN's Adam Schefter on Monday.
Thibodeaux will not play in the Ducks' bowl game, a matchup against No. 16 Oklahoma in the Valero Alamo Bowl on Dec. 29, and instead will start preparing for the draft, sources said.
ESPN's Mel Kiper Jr. has Thibodeaux rated No. 1 overall in his latest Big Board. Fellow ESPN draft analyst Todd McShay has him as the No. 2-rated prospect in this year's draft class.
The 6-foot-5 Thibodeaux was the Pac-12 Defensive Freshman of the Year in 2019 and a first-team All-Pac-12 selection last year after arriving at Oregon as the No. 1-ranked player in the class of 2019. He played 10 games this season — an ankle injury slowed him up early — and finished with seven sacks and 49 total tackles.
Thibodeaux was also at the forefront of players' ability to capitalize on their name, image and likeness. He signed a handful of deals, including one with Ebay, another with United Airlines and a six-figure memorabilia deal. He also released an NFT in partnership with Nike founder Phil Knight and sneaker designer Tinker Hatfield that sold for $100 per unit. In September, he launched his own cryptocurrency called $JREAM.
Thibodeaux's early exit came on the same day Mario Cristobal left Oregon to take the head-coaching position at Miami.
Information from ESPN's Paolo Uggetti was used in this report.
New York Giants QB Daniel Jones (neck) unlikely to play vs. Los Angeles Chargers, sources say
EAST RUTHERFORD, N.J. — After further visits with team doctors and specialists to have his neck injury evaluated, New York Giants quarterback Daniel Jones is unlikely to play Sunday vs. the Los Angeles Chargers, sources told ESPN's Adam Schefter.
Jones missed Sunday's loss to the Miami Dolphins. He was injured the previous week in a win over the Philadelphia Eagles. The Giants (4-8) remain hopeful he won't miss much more time and will return this season.
Mike Glennon started in Jones' place on Sunday, but was diagnosed with a concussion after the contest. That puts newly acquired quarterback Jake Fromm potentially in line to start against the Chargers. It only adds to questions about whether Jones has done enough in his first three professional seasons to convince the Giants — and potentially a new general manager — that he is a true franchise quarterback they should build around.
Fromm, a University of Georgia standout, was signed off the Buffalo Bills' practice squad last week. He has never played in an NFL game and could be making his first start 11 days after joining the team.
"It's the beauty of the NFL. It's next man up. Jake is getting his opportunity," said Giants left tackle Andrew Thomas, who was also his teammate at Georgia. "I'm excited for him to get his chance. But like I said, next man up, and we're doing everything to help him."
The Giants also have former Michigan State quarterback Brian Lewerke on their practice squad. He seems to have been immediately jumped by Fromm on the depth chart.
Judge said that Fromm would be next in line this week at practice with Jones and Glennon sidelined. The Giants might still add additional contingencies.
"We're talking internally about a lot of options personnel-wise to see what we can do and build in depth for a multitude of reasons," coach Joe Judge said.
Judge said after the game in Miami that Glennon would remain the starter if healthy while Jones remained sidelined. But Glennon's status is in doubt and might not be decided until late this week.
He's currently in the concussion protocol.
"The optimistic view would be to have [Glennon] ready for the game on Sunday," Judge said during a Monday afternoon conference call from Arizona, where the Giants are practicing this week.
New York is also dealing with COVID-19 issues. Offensive lineman Wes Martin and quarterbacks coach Jerry Schuplinski tested positive on Monday, per Judge.
Martin was placed on the reserve/COVID-19 list on Monday afternoon. Schuplinski was involved in meetings virtually throughout the day as the Giants try to get Fromm coached up quickly for a potential start.
Having Fromm start would provide some limitations.
"For a guy who has only been in your system for a couple days, you have to go ahead and select more of a menu what he can operate with in a game," Judge said. "That is not always based on what he's capable of with his ability, it's just based on being new in a scheme and system and what he's comfortable going out there and playing aggressively and making the right decisions within."
Fromm has crammed hard since joining the Giants. He stayed after practice on Friday last week and did extra work with Jones there to provide input.
The fifth-round pick by the Buffalo Bills last year has made a positive first impression.
"He's an intelligent guy. He's demonstrated that already," Judge said. "He has very good poise out there and he has a very good presence. Once thing that is very impressive about this guy is you talk to former teammates of his, like we did before he got in here, most of those Georgia guys, and every single one lit up and said we'd absolutely love to have that guy on the team."
The bar won't be especially high. The Giants failed to score a touchdown on Sunday in Miami. They have one touchdown in the two games since offensive coordinator Jason Garrett was fired.
Glennon went 23-of-44 for 187 yards with an interception against the Dolphins.
Jones has completed 64.3% of his passes for 2,428 yards with 10 touchdowns and seven interceptions this season.
New Orleans Saints WR Deonte Harris suspended three games; DE Cameron Jordan put on COVID-19 list
METAIRIE, La. — The hits keep coming for one of the NFL's most depleted rosters.
New Orleans Saints receiver/kick returner Deonte Harris was officially suspended three games Monday for a summer DUI arrest after his appeal was unsuccessful. And defensive end Cameron Jordan was placed on the reserve/COVID-19 list — putting one of the NFL's longest iron man streaks in serious jeopardy.
Jordan has played in 172 consecutive regular-season games — the longest active streak of any nonspecialist in the NFL. He will need two negative tests 24 hours apart to be able to return in time for Sunday's game at the New York Jets. Ironically, Saints linebacker Demario Davis would replace Jordan atop that list if he can't play. Davis has played in 156 consecutive games.
Jordan, 32, has never missed a game since being drafted in the first round in 2011. He has four sacks this season and 98.5 in his career.
The Saints (5-7) are already thin at defensive end, with fellow starter Marcus Davenport having missed the past two games with a shoulder injury and veteran backup Tanoh Kpassagnon having been placed on injured reserve last week.
Their offense has also been seriously banged up during their current five-game losing streak — though they are hoping to get at least some from the group of running back Alvin Kamara and offensive tackles Terron Armstead and Ryan Ramczyk back from knee injuries this week.
Quarterback Taysom Hill will also be playing through the pain of a mallet finger injury in his right throwing hand and a partially torn plantar fascia in his foot.
The 24-year-old Harris, a third-year pro who has taken on a bigger role on offense this year, leads the Saints with 523 receiving yards and has three long touchdowns on 31 catches.
Harris' DUI case was resolved earlier in November when he was sentenced to one year of supervised probation. Maryland court records show that Harris pleaded not guilty but agreed to the statement of facts in the police report. According to that police report, which was obtained by NOLA.com, Harris registered a blood alcohol content of 0.246% after driving more than 20 miles per hour over the speed limit and swerving across three lanes of traffic on the interstate at 1:30 a.m.