Cleveland Browns cornerback Denzel Ward races 99 yards for a TD after picking off Joe Burrow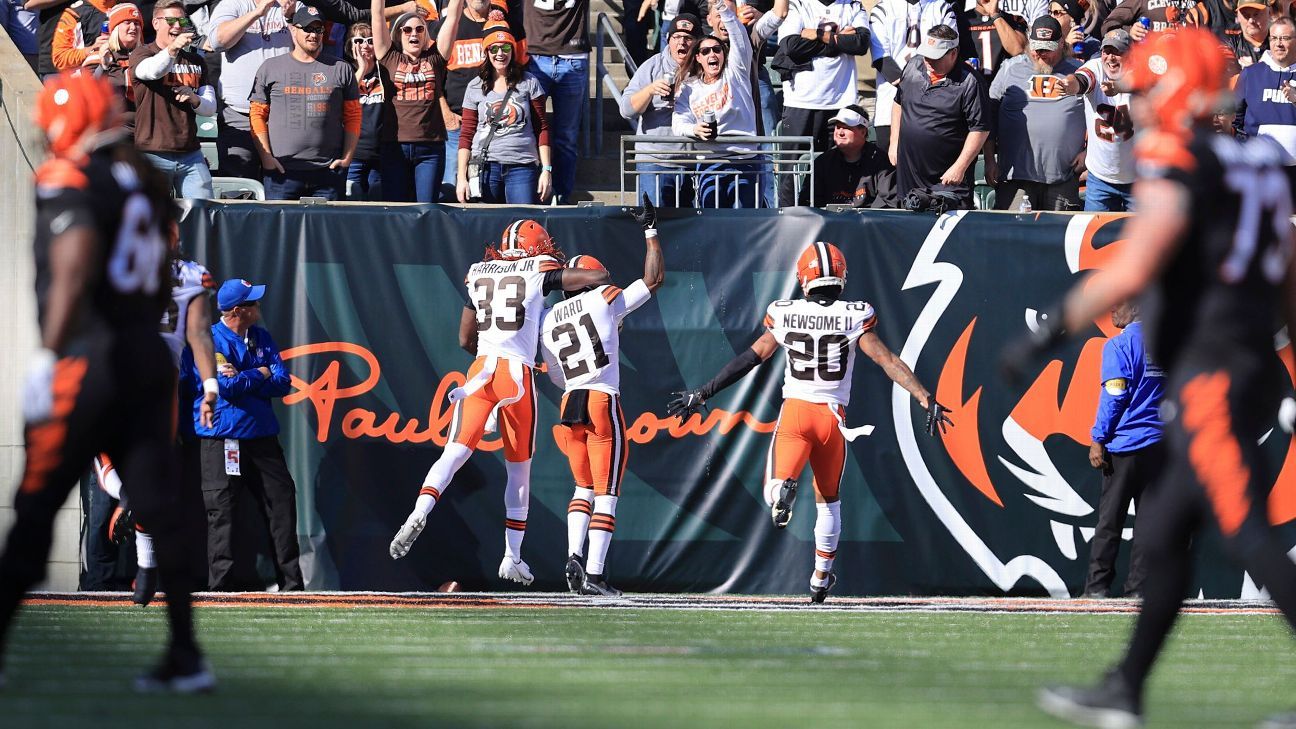 The Battle of Ohio between the Cincinnati Bengals and Cleveland Browns kicked off with some fireworks.
On the Bengals' opening drive, Browns corner Denzel Ward intercepted Joe Burrow in front of the pylon and raced 99 yards for a Cleveland touchdown the other way.
Ward's pick-six was the second-longest defensive touchdown in Browns history, while Burrow became just the third quarterback this season, joining Mac Jones and Matt Ryan, to toss multiple pick-sixes.
The interception came thanks to a Browns offsides penalty after Burrow had been sacked on third-and-7. With another chance on third down, Ward picked made the big play.
DENZEL WARD. 100-YARD PICK-6. #Browns

📺: #CLEvsCIN on CBS
📱: NFL app pic.twitter.com/6YCHI0bBH7

— NFL (@NFL) November 7, 2021
My Cause My Cleats: Jacksonville Jaguars punter Logan Cooke and wife fund water well in Kenya – Jacksonville Jaguars Blog
JACKSONVILLE, Fla. – When Logan Cooke first saw the photo, he was stunned.
Two glasses filled with water, one clear and the other a cloudy white with particles of … stuff … suspended throughout. Cooke was floored that the people in the small Kenyan village of Three Rivers had been drinking and cooking with the latter their entire lives.
"That's all they knew," said Cooke, the Jacksonville Jaguars' fourth-year punter. "We drink water every day, drink half a Dasani bottle and chunk it in the garbage, and we just don't think about that stuff.
"It just looks like you went to the pond out there. They're in two glass cups. One you can't even see through it, obviously, it's like brown dirt water, and the other one's clear. It looks like Aquafina. Just the difference in it, it's wild. And those kids didn't know any different."
No one in the village has to use the brown water any longer after the construction of a well.
Cooke and his wife, Mary, partnered with New York-based Zoe Ministries to build the well, and it's the cause that Cooke is promoting Sunday in the NFL's annual My Cause My Cleats program, which allows NFL players to pick a cause that's important to them and represent it with custom designed cleats.
Cooke is one of 48 Jaguars players and coaches who will be wearing custom cleats or sneakers during Sunday's game at the Los Angeles Rams. Cooke's black-and-white cleats have the Zoe Ministries logo on the side and a drawing of a well near the heel.
Cooke said his wife, who is a nurse, had been interested in international mission work for a while and had hoped to travel to Africa to spend time at some clinics. Cooke had done some mission work in the States before and that got him interested in doing an international mission.
He was scheduled to go on a Fellowship of Christian Athletes-sponsored trip to Africa with other NFL players to run some camps in June 2020 before the pandemic scuttled those plans.
Then came the opportunity to help with the well, and Cooke said he and his wife quickly agreed. Cooke, whose 43.3 net yards per punt average is fourth in the NFL, said he wanted to keep his monetary contribution to the project private.
There was a first attempt at a well at another village, but the drilling did not find water and the project moved to Three Rivers, near the Ugandan border. Cooke said he and his wife received pictures of the progress and finally got the ones they wanted to see.
"They sent pictures of them starting to drill [the first well], and kids around there were fired up and excited. We were pumped and got word a month later they actually didn't hit water," Cooke said. "… The next pictures we got from that village was them drilling and water just shooting up like oil. It was awesome."
Cooke said he and his wife and son, Cooper, who was born on Oct. 11, are hoping to make a trip to Africa this summer to see the well and spend time helping any way they can. Even though his only experience has been through photos, Cooke said what he has seen has been a powerful reminder of how lucky most of us are.
"Once you got pictures back and kind of saw where they live, and, like, they're so behind times, it's incredible," he said. "They're still in huts. The kids, I mean, they're so happy over there, too, and it makes me feel so terrible for ever being discouraged over here or feeling pity for myself."
Talking about the photo of those two glasses of water, however, had him smiling as much as the kids in some of the other photos he's received.
"It was cool to see kind of the difference from the water they were drinking," Cooke said. "They were walking miles every day to get river water. It was nasty and contaminated stuff."
Detroit Lions' Tracy Walker – 'Sigh of relief' for guilty verdicts in trial for murder of cousin Ahmaud Arbery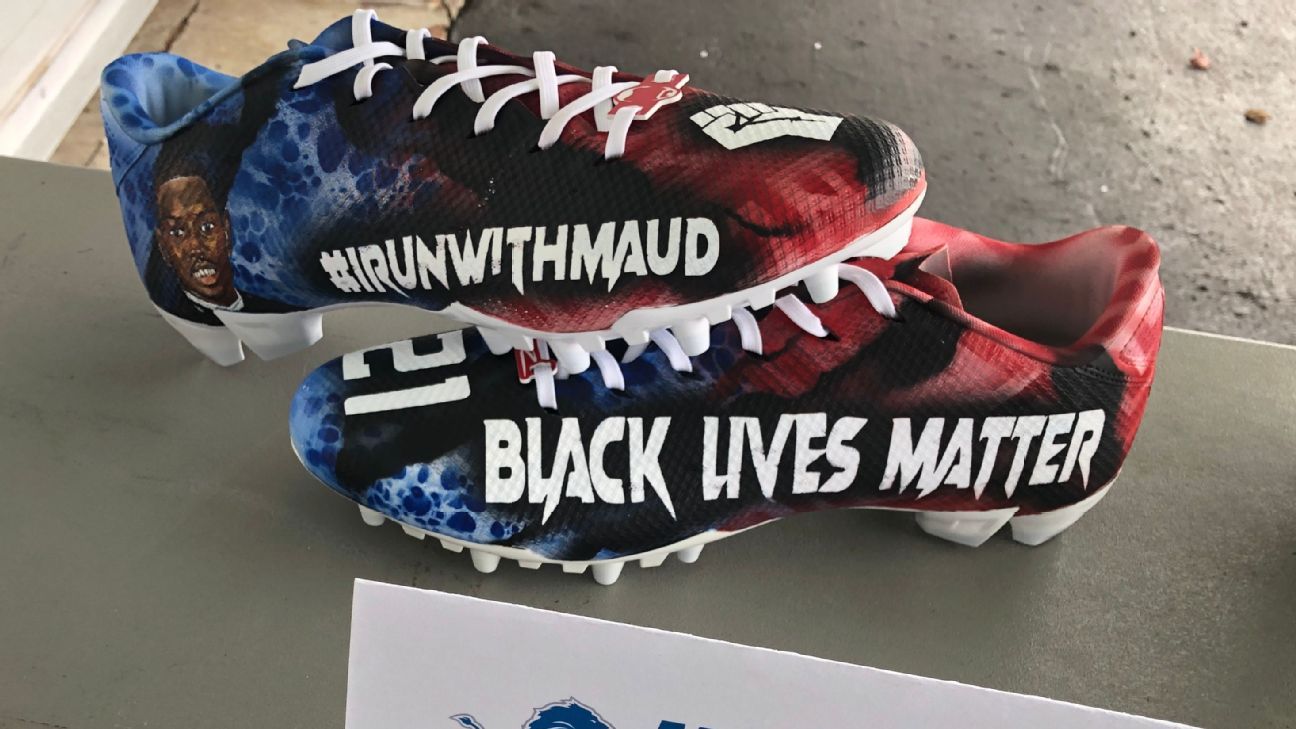 ALLEN PARK, Mich. — A day before the Detroit Lions' Thanksgiving Day game, safety Tracy Walker had a reason to celebrate.
So he placed a call to his folks back home on Nov. 24.
Following a 13-day trial at Glynn County Courthouse in Brunswick, Georgia, Walker said he felt excitement when jurors convicted the three white men of murder for their roles in the killing of his cousin Ahmaud Arbery.
"I called everybody back at home. I know it was a party in my hometown. I ain't gonna lie to you, it was a great day for me. It's a sigh of relief," Walker said. "It's sad that we had to wait this long for actions to take place, but at the end of the day, we've got to control what we can control and we're happy with the verdict. At the end of the day, we're going to keep moving forward and keep on going."
Travis McMichael, his father, Greg McMichael, and their neighbor William "Roddie" Bryan all face life sentences of life in prison for their roles in Arbery's death.
Arbery, a 25-year-old Black man, was shot and killed while jogging in broad daylight in the Satilla Shores neighborhood, near Brunswick, in February 2020.
"My cousin, unfortunately, he's not gonna be able to come back, but at the end of the day, there's more people like my cousin that are out there that are still having these problems," Walker said. "That still have to face the problems of being subjected because of their color or being looked at and looked down on because of their color and it's sad to say, but that's something that I can promote.
"My cousin is just an outlook on it and something that I can speak on from personal experience, but at the end of the day it's a whole of Black people, it's a whole lot of colored people, it's a whole lot of Arabian, Mexican, Hispanic, you name it," he added. "It's a whole lot of people that are going through racial subjection so at the end of the day, that's what I'm promoting is to treat everybody equally."
When the Lions host the Minnesota Vikings on Sunday, Walker will continue to honor his second cousin, who played football with him at Brunswick High School.
He will break out a pair of customized cleats featuring Arbery's face with the messages "#IRunWithMaud" and "Black Lives Matter," which will later be donated to the Black Lives Matter organization on behalf of the NFL's "My Cause, My Cleats" campaign.
The cleats were designed by Marcus Rivero, who runs a Miami-based business called Soles by Sir. He has worked with many NFL players.
"I just felt that was another way for me to continue to push out his name and continue to basically just represent him and everything he stood for," Walker said.
Walker described his family as being extremely happy with the conviction because justice was rightfully served.
"I'm a firm believer that they got what they deserve," Walker said.
Walker hopes the Arbery verdict can help the next generation of Black people.
"It gives us hope that we're not considered trash," Walker said. "Because you know, like I know, and it's hard to say this but as a Black person you definitely understand what I'm saying. When we get pulled over, we're scared that we could lose our life or better yet, we're going to jail just off the top of our head, no matter if we're at a red light or with a light out, we ran the stop sign, no matter what the case may be. As a Black male, getting pulled over by the police or stopped by anybody, it's a problem, so I just feel like it gives us hope and more confidence for sure."
Houston Texans coach David Culley says Justin Reid to play Sunday after Week 12 benching
HOUSTON — Texans safety Justin Reid will play Sunday against the Indianapolis Colts after he was held out of Houston's game in Week 12 for disciplinary reasons, head coach David Culley said Wednesday.
Reid was suspended for the game against the New York Jets after he challenged Culley's coaching in a team meeting, team sources told ESPN. On Monday, Culley said his interaction with Reid "wasn't just a disagreement. It has something to do with our rules and our standards."
Culley and Reid met on Monday afternoon to discuss the situation.
"We're moving forward," Culley said Wednesday. "Back to business as usual."
Sunday was not the first time Culley has held players out for disciplinary reasons. Earlier this season, linebacker Zach Cunningham and cornerback Desmond King II were benched in similar situations.
On Monday, Culley said the situation with Reid was "not a distraction anymore" to the team.
"We took care of it," Culley said. "When those things happen, you take care of it and you move on. That's what we did in this situation."
Reid has two interceptions, a forced fumble and four passes defended this season. The 2018 third-round pick is in the final season of his rookie contract.