Baltimore Ravens star Lamar Jackson sets NFL quarterback record with 12th career 100-yard rushing game
BALTIMORE — Baltimore Ravens quarterback Lamar Jackson has taken a major step as a passer this season, but he reminded everyone Sunday that he remains the greatest running quarterback in NFL history.
Jackson recorded his 12th career 100-yard rushing game (including the postseason), which set an NFL record for quarterbacks. In his fourth NFL season, Jackson moved past Michael Vick, who had 11 across his 13-year career.
Jackson has produced 10 100-yard rushing games during the regular season, which ties Vick.
This was Jackson's second 100-yard rushing game of the season and his first since the Week 2 win over the Kansas City Chiefs. On Sunday, Jackson ran early and often against the Vikings, gaining 99 yards in the first three quarters.
It wasn't a day when Jackson just dominated with his legs. He also threw three touchdowns to pull the Ravens into a 24-24 tie with the Vikings midway through the fourth quarter.
Jackson also moved past John Elway and Donovan McNabb for No. 8 on the all-time rushing list for quarterbacks.
Source — New Orleans Saints QB Taysom Hill to play through finger injury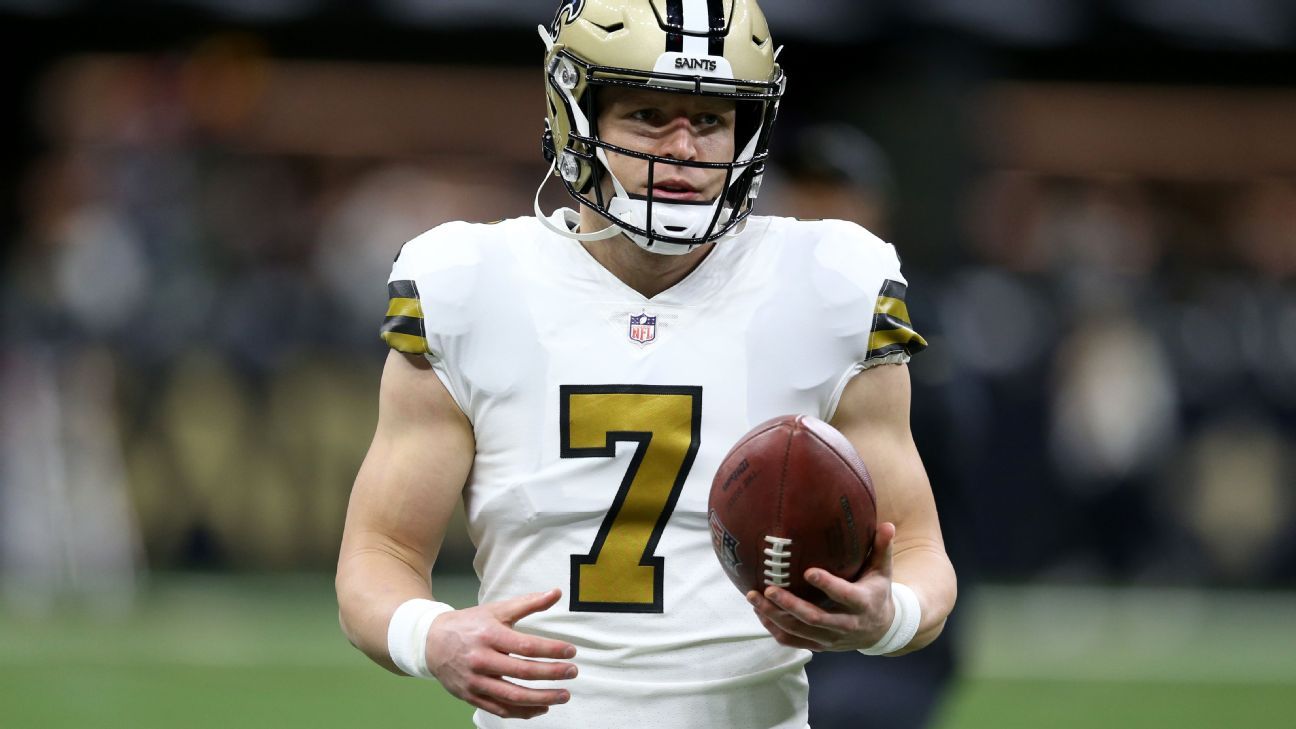 METAIRIE, La. — New Orleans Saints quarterback Taysom Hill will try to play through a mallet finger injury that he suffered in Thursday night's loss to the Dallas Cowboys without having surgery, a source told ESPN's Adam Schefter.
Saints doctors determined that Hill suffered a mallet finger (the name for an injured tendon at the tip of the finger), according to the source. However, Hill's injury was not as extensive as the one that Seattle Seahawks quarterback Russell Wilson suffered earlier this year, which did require surgery. Wilson suffered both a mallet finger and a fracture-dislocation.
Hill was injured when he hit the middle finger of his right throwing hand against another player in the first quarter of Thursday's 27-17 loss. He played the remainder of the game with a splint on the finger and finished with four interceptions.
"It took a little getting used to," Hill acknowledged after the game. "Anytime you're putting something else on the finger (it affects) traction on the ball and stuff. But it was OK."
Hill finished the game 19 of 41 passing for 264 yards two touchdowns and the four interceptions in his first start of the 2021 season — three of which came in the fourth quarter while he admittedly started "pressing." He also ran the ball 11 times for 101 yards despite playing through the pain of a partially torn plantar fascia that he suffered in Week 10.
"I thought he played with a lot of heart, a lot of guts. We didn't help him any in the first half," Saints coach Sean Payton said after the game.
If he is deemed healthy enough to play at close to full strength, Hill has a good chance to remain in the starting role for the Saints (5-7) when they play again at the New York Jets in Week 14. Despite the ugly result and fourth-quarter implosion, Hill's running ability did provide at least some element of juice to an offense that has flatlined ever since original starting QB Jameis Winston suffered a torn ACL in Week 8.
The Saints are 0-5 since Winston was injured. Veteran backup Trevor Siemian helped to lead the Saints to a victory over the Tampa Bay Buccaneers after replacing Winston in the second quarter of that Week 8 game. But then he went 0-4 as a starter while the offense regressed with each passing week – in large part due to an overwhelming barrage of injuries.
The Saints are hoping to get running back Alvin Kamara and offensive tackles Terron Armstead and Ryan Ramczyk back from knee injuries soon.
Hill is now 3-2 in his career as a starter after going 3-1 as an injury replacement for Drew Brees last year. He completed 82 of 114 passes in those games (71.9%) for 834 yards, four touchdowns and two interceptions. He also ran the ball 39 times for 209 yards and four TDs but lost three fumbles.
The 31-year-old signed a unique contract extension last week that is worth a base value of $40 million over four years if he continues to play his usual role as a QB/RB/TE/WR but could be worth up to $95 million if he becomes the team's starting quarterback and reaches lofty incentives.
Chicago Bears to start Andy Dalton at quarterback vs. Arizona Cardinals on Sunday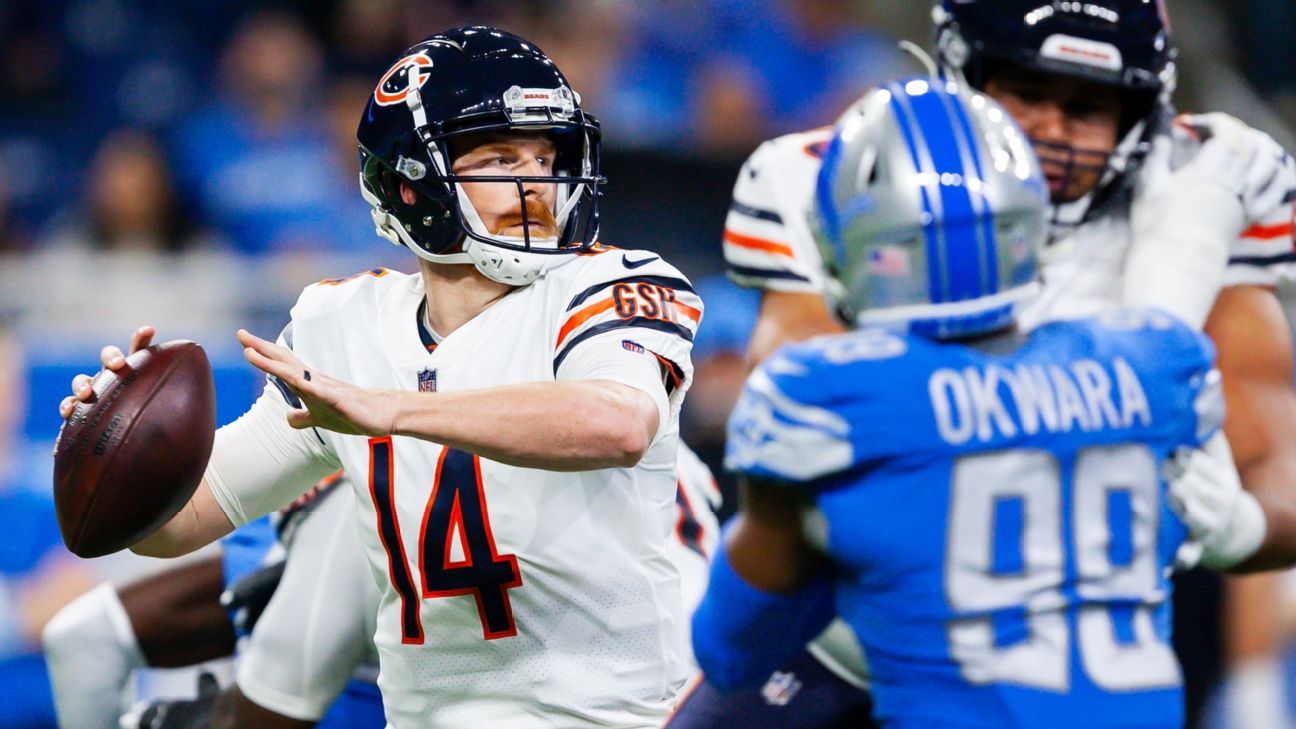 LAKE FOREST, Ill. — Chicago Bears veteran quarterback Andy Dalton will start instead of rookie Justin Fields (ribs) on Sunday against the Arizona Cardinals, coach Matt Nagy announced on Friday.
"As far as for the game, Andy Dalton's going to start on Sunday, Nick Foles will be the backup," Nagy said after practice. "Justin's making good progress, just not there yet medically for the clearance."
Fields has not played since he injured his ribs against the Baltimore Ravens on Nov. 21.
Despite a short turnaround last week, Dalton played well in Chicago's victory over the Detroit Lions on Thanksgiving. Dalton passed for 317 yards, one touchdown and one interception. He became the first Bears quarterback to throw for 300-plus yards since Foles accomplished the feat last year.
In other injury news, Bears defensive lineman Akiem Hicks (groin) has been ruled out, and wide receiver Allen Robinson (hamstring) is doubtful to face Arizona.
Outside linebacker Roquan Smith (hamstring) returned to practice — albeit in limited fashion — on Friday and officially will be a game-time decision, per Nagy,
Los Angeles Rams list WR Odell Beckham Jr., RB Darrell Henderson as questionable
THOUSAND OAKS, Calif. — Los Angeles Rams receiver Odell Beckham Jr. and running back Darrell Henderson are questionable to play Sunday against the Jacksonville Jaguars, coach Sean McVay said.
Coming off his second game with the Rams, Beckham is dealing with a hip injury and Henderson has a thigh injury.
McVay said that he would be surprised if Beckham were unable to play, but added that Henderson would be further evaluated during Friday's practice.
The Rams are 7-4 and have lost three straight as they prepare for the 2-9 Jaguars at SoFi Stadium.
Beckham's practice participation has been uneven throughout the week after he caught five passes for 81 yards and a touchdown in a 36-28 loss to the Green Bay Packers last Sunday. The eighth-year pro practiced in a limited capacity Wednesday, but did not practice Thursday, which is typically the Rams heaviest workload day of the week.
The Rams receivers group has been hit with a rash of injuries that have left them thin at the position.
Three weeks ago, on the same day the Rams signed Beckham to a free agent deal, veteran receiver Robert Woods suffered an ACL tear in his left knee that has sidelined him for the season. Prior to Woods' injury, rookie Tutu Atwell, a second-round pick from Louisville, was placed on injured reserve because of a shoulder injury.
The Rams also released receiver DeSean Jackson after the trade deadline after they were unable to find a trade partner following the veteran receiver's request to seek a new opportunity.
If Beckham is unable to play, the Rams will depend on rookie Ben Skowronek, a seventh-round pick from Notre Dame who has recently dealt with a back issue, to step in alongside Cooper Kupp and Van Jefferson. J.J. Koski, an undrafted free agent, could also be used as a role player.
If Henderson can't play, expect Sony Michel to start. Michel has rushed for 305 yards and a touchdown since he was traded to the Rams before the season.