Arizona Cardinals to gauge status of Kyler Murray, DeAndre Hopkins during warm-ups, source says
Arizona Cardinals quarterback Kyler Murray, listed as questionable for Sunday's game vs. the San Francisco 49ers due to a sprained left ankle, is expected to test his injury in pregame warm-ups before the staff makes a final decision on his status, a source told ESPN's Adam Schefter.
The Cardinals want to be careful leading up to this divisional game. If Murray doesn't start, Colt McCoy will head under center for Arizona, which is coming off its first loss of the season.
Arizona doesn't sound as optimistic that wide receiver DeAndre Hopkins, also listed as questionable due to a hamstring injury, will be able to play vs. the 49ers. But he, too, will partake in pregame warm-ups, and the Cardinals will gauge his status at that time.
Murray didn't practice Wednesday and Thursday, and wasn't on the field for the open portion of Friday's practice, either. On Friday, Cardinals coach Kliff Kingsbury told reporters that if Murray is healthy enough to continue playing at a "high level" from the pocket despite injury, then he would play.
"We're not going to put them out there unless he can function," Kingsbury said. "He wants to play, so we'll see."
Murray leads the NFL in completion percentage — 77.4% — in the pocket, third in yards per attempt, fourth in yards per drop back and sixth in passing yards. He also has the league's lowest off-target percentage from the pocket, along with the highest adjusted completion percentage, lowest contact and lowest contact percentage from the pocket.
Murray remained confident during the week, despite the lack of practice. Kingsbury said his quarterback spent time rehabbing inside the building with trainers instead of practicing, and that the staff had been "putting him through the ringer trying to get him ready."
"I think I'll be good to go on Sunday if I just know the game plan and get the mental reps," Murray said on Wednesday.
ESPN Staff Writer Josh Weinfuss contributed to this report.
Follow live: Lamar returns for Ravens in AFC North showdown vs. Browns
Groin injury ends Randall Cobb's most productive day since his return to Green Bay Packers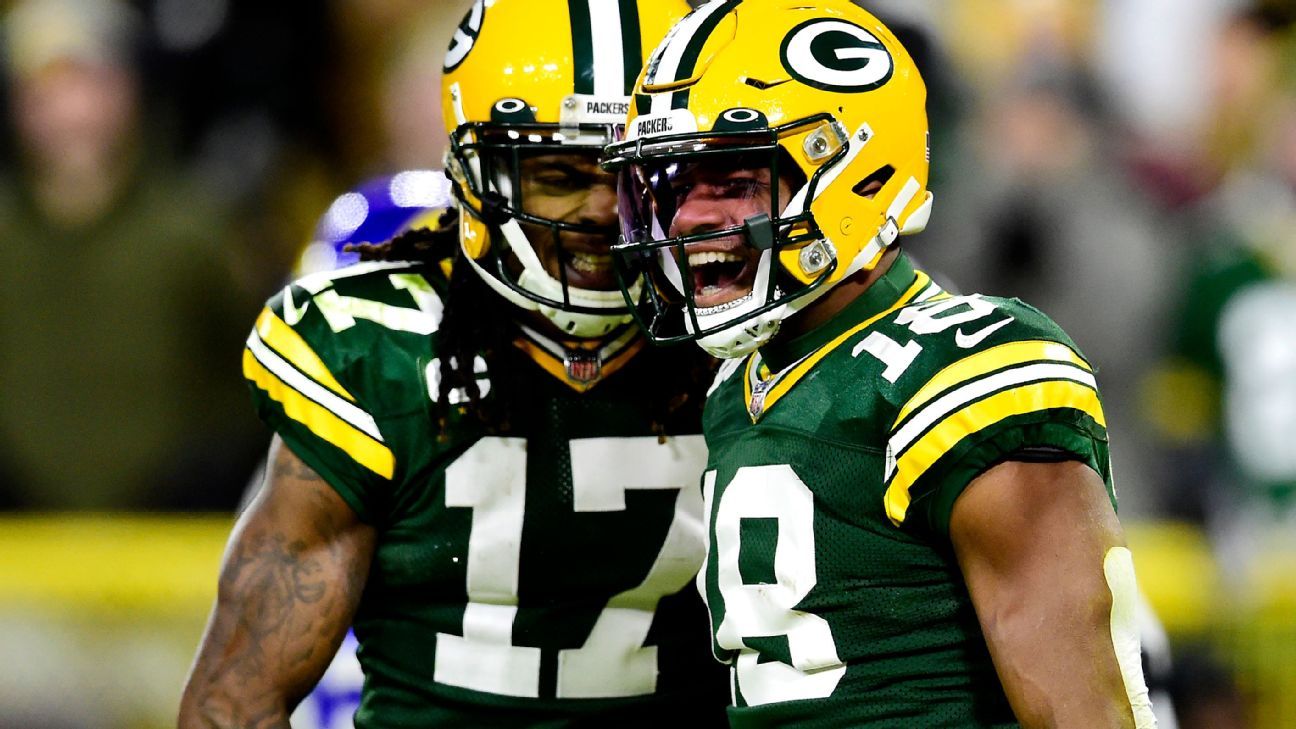 GREEN BAY, Wis. — Randall Cobb's most productive day since his return to the Green Bay Packers this season ended at halftime of Sunday's game against the Los Angeles Rams.
Cobb was ruled out at the start of the second half because of a groin injury.
He set a season high for receiving yards in the first half with 95 on four catches, including a 7-yard touchdown that was his fifth score of the season. Previously on that drive, Cobb had a 43-yard reception to move the Packers into the red zone. It was not immediately clear when Cobb suffered the injury. He muffed a punt in the second quarter but stayed in the game.
The Packers traded for Cobb this past summer at the request of quarterback Aaron Rodgers. Cobb played for the Packers from 2011 to 2018. They let him go in free agency, and he spent one season each with the Cowboys and Texans.
The Packers finally had their full complement of receivers back with the return of Allen Lazard from a shoulder injury. It lasted for one half.
Cobb's previous best game came in Week 4, when he caught six passes for 69 yards and two touchdowns.
Rams vs. Packers – Game Summary – November 28, 2021
first Quarter
LAR
GB
TD
2:11
Aaron Rodgers 1 Yard Rush, M.Crosby extra point is GOOD, Center-S.Wirtel, Holder-C.Bojorquez.
3 plays, 6 yards, 1:31
0
7
second Quarter
LAR
GB
FG
13:34
Mason Crosby Made 45 Yrd Field Goal
4 plays, 3 yards, 1:53
0
10
TD
12:53
Van Jefferson Pass From Matthew Stafford for 79 Yrds Matt Gay Made Ex. Pt
3 plays, 81 yards, 0:47
7
10
FG
9:44
Mason Crosby Made 28 Yrd Field Goal
7 plays, 66 yards, 3:02
7
13
FG
7:24
Matt Gay Made 36 Yrd Field Goal
4 plays, 7 yards, 0:53
10
13
TD
4:27
Randall Cobb Pass From Aaron Rodgers for 7 Yrds Mason Crosby Made Ex. Pt
6 plays, 89 yards, 2:59
10
20
TD
1:32
Darrell Henderson Jr. Pass From Matthew Stafford for 6 Yrds Matt Gay Made Ex. Pt
8 plays, 75 yards, 2:53
17
20
third Quarter
LAR
GB
TD
7:18
AJ Dillon Pass From Aaron Rodgers for 5 Yrds, M.Crosby extra point is GOOD, Center-S.Wirtel, Holder-C.Bojorquez.
13 plays, 75 yards, 7:42
17
27
FG
2:32
Mason Crosby Made 29 Yrd Field Goal
6 plays, 16 yards, 2:19
17
30
TD
2:01
Rasul Douglas 33 Yrd Interception Return, Aaron Rodgers Pass To Marquez Valdes-Scantling For Two-Point Conversion No Good
3 plays, 3 yards, 0:36
17
36
fourth Quarter
LAR
GB
TD
14:52
Odell Beckham Jr. Pass From Matthew Stafford for 54 Yrds, TWO-POINT CONVERSION ATTEMPT. M.Stafford pass to C.Kupp is complete. ATTEMPT SUCCEEDS.
7 plays, 80 yards, 2:00
25
36
FG
0:22
Matt Gay Made 39 Yrd Field Goal
11 plays, 47 yards, 2:47
28
36