NFL Week 9 injury updates
Week 9 of the NFL season is here, and there has been some huge injury news this week.
Tennessee Titans running back Derrick Henry is out indefinitely after undergoing surgery for a foot injury he suffered in Week 8 against the Indianapolis Colts. The Green Bay Packers are without quarterback Aaron Rodgers for their showdown with the Kansas City Chiefs after Rodgers tested positive for COVID-19. Green Bay will, however, get its top receiver back this week, as Davante Adams was back at practice after missing last week because of a positive COVID-19 test.
There's good news for quarterbacks, specifically in Texas. Dak Prescott is set to start for the Dallas Cowboys after missing last week's game with a calf injury. Tyrod Taylor was named the starter for the Houston Texans after missing the previous six games with a hamstring injury. In another positive development, Carolina Panthers running back Christian McCaffrey has been designated for return from injured reserve. If activated, he could take the field for the first time since Week 2.
As you prepare for the weekend of NFL football, our reporters have the latest updates on key players and their health entering Week 9.
Quick links:
Schedule | Depth charts | PickCenter


Injury: Ankle
Murray is questionable to play Sunday against the Niners because of a left ankle sprain. He'll test it before the game and the Cards will make a decision then. Coach Kliff Kingsbury said he's fine with Murray playing without practicing. As long as the former No. 1 overall pick can navigate the pocket, he'll likely play. — Josh Weinfuss
---

Injury: Groin
The Ravens listed two of their top three wide receivers as questionable: Bateman (groin) and Sammy Watkins (hamstring). It looks like Bateman is the safer option to play against the Vikings. After he didn't practice Friday, coach John Harbaugh said the rookie first-round pick "has a real good chance" to play. Harbaugh was more vague about the status of Watkins, who has missed the past two games. Bateman could put up some significant numbers against the Vikings, who allowed 100-yard games to two Cowboys wide receivers a week ago. — Jamison Hensley
---

Injury: Ribs
Beasley is questionable for Sunday's game, but coach Sean McDermott expressed optimism when it came to his status vs. the Jaguars. He did not participate in practice Wednesday and Thursday, but he was limited Friday while wearing a noncontact jersey at practice. It's trending up for him to be available this week.
Injury: Hand
Knox will miss a second straight game with a hand injury suffered in the team's loss to the Tennessee Titans in Week 6. He did not practice this week. Tommy Sweeney filled in well as a blocker in Knox's absence and will do so again this week, but he has not been much of a receiving threat.
Injury: Shoulder
Poyer, part of the Bills' dominant starting safety duo, suffered a shoulder injury in practice Wednesday. He didn't participate Thursday but was limited Friday. McDermott said that they would need to see how he did during practice Friday, but he is officially questionable for the game. — Alaina Getzenberg
---

Injury: Concussion, shoulder
The injured shoulder is just as much a concern for Darnold as the concussion. The good news is that he cleared the concussion protocol, but there is real worry over the strength in the shoulder. P.J. Walker has also gotten most of the first-team reps this week and could be the starter if Darnold can't go. In addition, running back Christian McCaffrey was activated off injured reserve after missing five games because of a hamstring injury, making him eligible to play against the Patriots. — David Newton
---

Injury: Dislocated elbow
Cleveland's All-Pro right tackle will miss the first of several games because of the elbow dislocation he suffered Sunday vs. Pittsburgh. He was placed on the injured reserve list Friday, and Blake Hance will get the start in his place in Cincinnati. — Jake Trotter
---

Injury: Ankle
Smith has been ruled out because of an ankle injury he aggravated last week at Minnesota. Terence Steele, who started the past six games at right tackle, will side into Smith's role and La'el Collins will go back to his familiar right tackle spot. Dak Prescott will be back after missing a game with a calf strain, but the Cowboys do not feel compromised without Smith because of how well Steele has fared on the right side. And there's this: Denver traded Von Miller this week. Receivers Amari Cooper and CeeDee Lamb are questionable but both are expected to play. — Todd Archer
---
Injury: Hip
The Broncos traded Von Miller on Monday and Bradley Chubb is on injured reserve, so any injury to Reed, the guy who has filled in for each Miller and Chubb in the past three seasons, is going to cause a ripple in the defense. Reed was held out of Friday's practice, and the Broncos want to see how he moves in Saturday's on-field work before they go to Dallas. If Reed can't play against the Cowboys, get ready to see plenty of rookie Jonathon Cooper and Stephen Weatherly, whom the Broncos acquired in a trade two weeks ago, at the two outside linebacker spots. — Jeff Legwold
---
Injury: Heel
Coach Urban Meyer said Robinson would move around a bit on the practice field on Friday and the team will see how his bruised right heel responds on Saturday and Sunday. Robinson, who got hurt last week in Seattle, did not practice Wednesday or Thursday, though he was out on the field. — Michael DiRocco
---
Injury: Knee
This comes with a caveat as Simpson and defensive tackle Johnathan Hankins (neck) were the only two Raiders players listed on the team's injury report this week, and neither had a game status designation after being full participants all week. Physically, it is the healthiest the Raiders, who are coming off their bye, have been all season. But if Simpson tweaks his injured knee again, expect Jordan Simmons to spell him. Same with Darius Philon when it comes to Hankins. — Paul Gutierrez
---

Injury: Hamstring, shoulder
Dolphins coach Brian Flores said Friday that Parker recently suffered a setback to an injury that kept him out of three of Miami's past four games. The wide receiver apparently reaggravated the injury in practice this week and was placed on the injured reserve list Friday. — Marcel Louis-Jacques
---

Injury: Elbow
Pierce didn't have a setback in practice, according to coach Mike Zimmer, but he won't play against Baltimore after being downgraded from limited to DNP on Thursday and Friday. Against the Ravens' potent rushing attack, which is averaging the league's third-highest output at 149.4 rushing yards per game, Minnesota will need to rely on backup nose tackle Armon Watts in Pierce's place and could also be without linebacker Anthony Barr, who is questionable with a knee injury, as is cornerback Cameron Dantzler (ankle). — Courtney Cronin
---
Injury: Illness
Jackson, who is tied for the team lead with three interceptions, missed the first two practices of the week because of illness. The Patriots are already thin at cornerback — a hot topic this week because they face Stephon Gilmore, whom they traded to the Panthers on Oct. 6. If Jackson can't play Sunday, it would likely thrust 2019 second-round pick Joejuan Williams into a starting role opposite Jalen Mills. — Mike Reiss
---
Injury: Knee
This isn't exactly breaking news since Winston suffered a season-ending ACL tear last Sunday. But this will be the Saints' first game without him. Coach Sean Payton announced Friday that veteran backup Trevor Siemian would get the start against the Atlanta Falcons, with Taysom Hill also playing a role on offense after returning from a concussion this week. Siemian did an impressive job of filling in during last week's win over the Tampa Bay Buccaneers. But the Saints (5-2) will continue to rely most heavily on their defense and run game — as they have all season while ranking 31st in the NFL in passing yards. — Mike Triplett
---

Injury: Calf
Kittle has been on injured reserve for the past four weeks, missing three games in the process. But he returned to practice this week and made it through the three days without any issue. The Niners are activating him from injured reserve, which means he will play against the Cardinals. How much? Well, coach Kyle Shanahan doesn't like the idea of limiting Kittle if he's healthy and available, which it appears he is.
"When a guy's not healthy, you've always got to [manage them]," Shanahan said. "But I haven't heard of people managing a tight end, especially one like Kittle. Tight ends go. They play every play usually."
Injury: Calf
Samuel has been the focal point of San Francisco's offense all season but played through his calf issue last week in Chicago and came out the other side a bit worse for the wear. This week, Samuel has been limited in practice and is listed as questionable for Sunday against Arizona. Samuel struck an optimistic tone when talking about his injury on Friday, but it remains to be seen if he'll be able to play.
"As days went by, it kind of gets better day by day, so we've just been taking it slow and just see how it goes," Samuel said.
Injury: Ribs
Mitchell suffered the injury during his 137-yard outburst last week, and it has been painful enough to keep him out of Wednesday's practice and limit him on Thursday and Friday. Mitchell wore a blue no-contact jersey in both of those sessions. He's officially listed as questionable for Sunday, and Shanahan indicated that Mitchell's status is uncertain enough for Sunday that running back Jeff Wilson Jr. could be activated from the physically unable to perform list earlier than the team hoped.
"That is only three practices, but he looked as good and ready as he could be," Shanahan said of Wilson. "So, from a health standpoint and everything, there's no question on that. Ideally, in a perfect world, we could give him a couple more practices, too. But with Elijah being questionable and the way he looked this week, that's why it's an issue." — Nick Wagoner
---
Injury: Knee
Brown didn't practice on Friday and is listed as questionable because of a knee injury. Brown was in and out of the Iineup last season because of knee injuries. He had a procedure done on both knees during the offseason and missed some of training camp. The Titans will continue to manage the pounding on Brown's knees going forward. — Turron Davenport
San Francisco 49ers WR Deebo Samuel, LB Fred Warner out 1-2 weeks, coach Kyle Shanahan says
SANTA CLARA, Calif. — The San Francisco 49ers breathed a collective sigh of relief Monday after receiving important injury news on two of their best players.
Niners coach Kyle Shanahan said Monday that receiver Deebo Samuel and linebacker Fred Warner suffered groin and hamstring strains, respectively, in San Francisco's 34-26 victory Sunday over the Minnesota Vikings.
The bad news is that both will miss at least Sunday's game against the Seattle Seahawks. But Shanahan was more pleased by the fact that both players aren't expected to miss more than a game or two as the 6-5 Niners make their push for an NFC playoff spot.
"That's what I was kind of telling you guys last night that I hope for that it was just a strain," Shanahan said. "And strains usually [last] anywhere from one to two weeks. I think it was very good news considering what it could have been."
According to Shanahan, both Samuel and Warner could return as soon as the Dec. 12 game against the Cincinnati Bengals. Barring a setback, both would be expected back in time for a Dec. 19 home game against the Atlanta Falcons.
While the Niners got relatively good news in the big picture, the loss of Samuel and Warner even for one week is significant.
Samuel has been the team's most productive offensive player, establishing himself as the league's premier multidimensional weapon.
On Sunday, Samuel became just the third player in NFL history to record 1,000 receiving yards, five rushing touchdowns and five receiving scores in the same season.
Without Samuel, the Niners will look to second-year receiver Brandon Aiyuk to continue building on his recent surge, as well as the likes of tight end George Kittle, wideout Jauan Jennings and a burgeoning running game.
"He's been a big part of our offense," Shanahan said. "But I think we're in a spot right now that we can overcome that."
Replacing Warner also won't be easy, especially since it's something the Niners haven't had to do at any point in his three-plus seasons. When he misses Sunday's game against the Seahawks, it will be the first contest Warner has missed since he came into the league in 2018, snapping a streak of 59 consecutive regular-season starts.
When Warner departed in the third quarter against the Vikings, the Niners turned to Demetrius Flannigan-Fowles to step in at middle linebacker with Azeez Al-Shaair remaining at weakside linebacker.
How that plays out this week will depend on the status of fellow linebacker Dre Greenlaw. Greenlaw also left Sunday's game with what Shanahan described as an "irritation" of the core muscle injury that had kept him out since Week 1. Greenlaw is considered day-to-day this week.
And with strongside linebacker Marcell Harris in the concussion protocol, the 49ers figure to enter the Seattle game woefully thin at linebacker. That puts even more onus on Al-Shaair, who had an interception and a fumble recovery in the win against Minnesota.
"Azeez has been ready for anything we've asked him to do," Shanahan said. "He always runs around and plays like his hair is on fire and he loves playing the football game. That's not changing, but he's just getting more and more confident of where to be, what to anticipate … He's been playing at a high level all year and whether he's inside or outside, I expect it to continue, we need it to continue, because he's one of the reasons we're playing pretty good right now."
Elsewhere on the injury front, running back Trey Sermon suffered an ankle sprain that Shanahan said will keep him out "for a little while" and makes him a candidate to head to injured reserve with a chance to return later in the season.
Green Bay Packers QB Aaron Rodgers not expected to have surgery to repair broken toe during bye week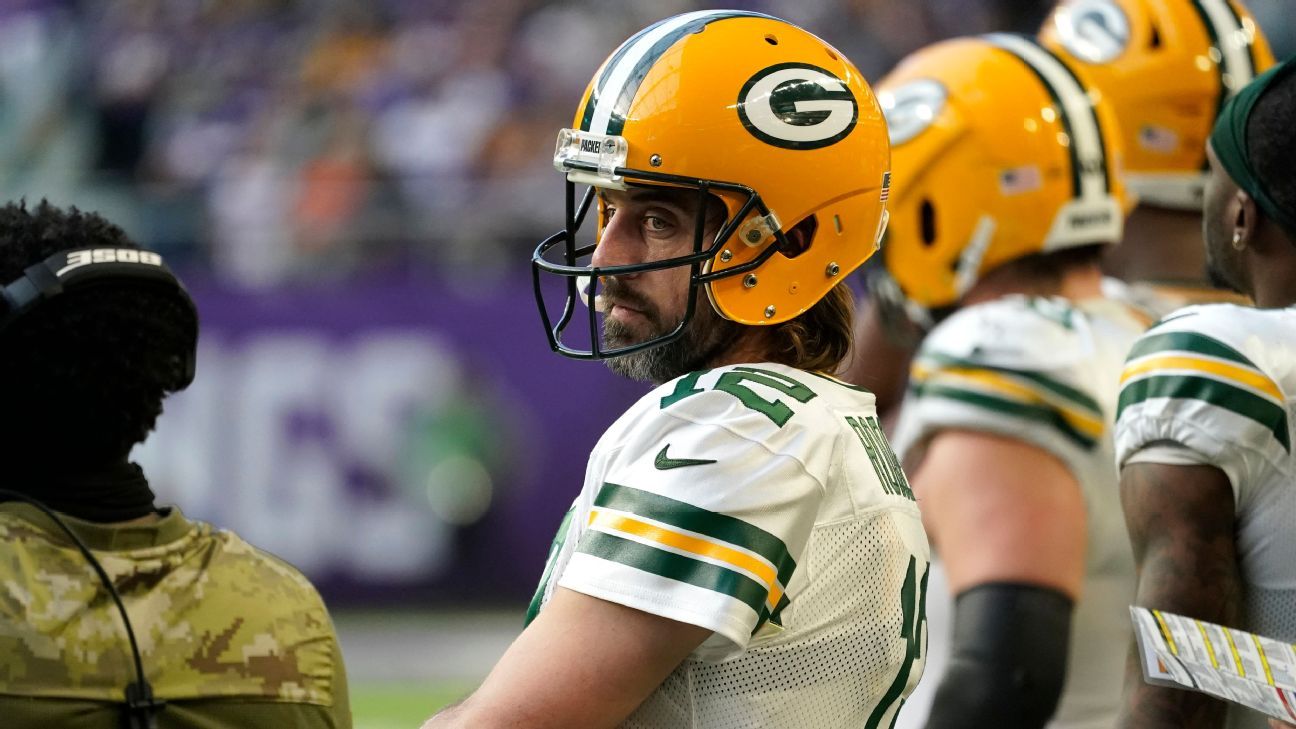 GREEN BAY, Wis. — Aaron Rodgers and the Green Bay Packers are expected to use rest — not surgery — to help the quarterback's fractured pinkie toe heal.
Packers coach Matt LaFleur said Monday that Rodgers is "gathering other opinions, so we'll see where that goes," but a source said those opinions are not expected to lead to surgery during this week's bye.
The Packers (9-3) are off until Dec. 12, when they'll face the Chicago Bears in a Sunday night prime-time game.
"The most important thing is healing and taking care of my toe," Rodgers said Sunday when asked about his bye-week plans.
NFL Network reported earlier on Monday that Rodgers does not plan to have surgery.
Rodgers said he fractured the toe during his COVID-19 quarantine earlier this month, and he has played in the past three games since with almost no on-field practice preparations.
The only full-fledged practice he took part in during that stretch was on Nov. 19, two days before the Packers' loss at Minnesota. He said he received a pain-killing injection at halftime of the game against the Vikings but did not need one to play in Sunday's win over the Los Angeles Rams.
"The difference is I didn't have to get shot up again at halftime, so definitely the healing this week not practicing [helped]," Rodgers said after he threw for 307 yards and two touchdowns in Sunday's 36-28 win over the Rams.
"Last week, I tried to do some stuff on Friday, felt like we needed maybe a little jolt and that kind of impacted Sunday a little bit from a pain standpoint. This week, I just did a walk-through on Saturday and obviously all the walk-throughs during the week, but no practice time, I think really helped. It definitely helped looking at the scans. The healing, kind of get to a better spot, so I've definitely felt better, but third quarter, late third, early fourth and I got stepped on early in the game, there was definitely some pain I was dealing with."
Rodgers even had a rushing touchdown on Sunday, beating Rams cornerback Jalen Ramsey around the edge for a 1-yard score. In the past two games combined, Rodgers has thrown for 692 yards and six touchdowns without an interception.
He said after Sunday's game that he would make a decision about surgery after additional tests on Monday.
"The toe felt good most of the game," Rodgers said. "Was just actually in talking with the docs. Not sure at this point; we're going to do some more testing in the morning and get a better view of what's going on in there, and then make a decision at that time."
LaFleur said previously that he would leave the decision up to Rodgers and the medical staff.
"I'm not involved in any of those decisions, so I just take any information and hear it," LaFleur said. "I don't have 'M.D.' after my name. So I'll let them handle that."
Dallas Cowboys DT Trysten Hill suspended two games for punching Las Vegas Raiders OG John Simpson
The NFL suspended Cowboys defensive tackle Trysten Hill without pay for two games on Monday for punching Raiders guard John Simpson following Dallas' Thanksgiving Day loss to Las Vegas.
The suspension was issued by NFL vice president of football operations Jon Runyan for violations of unnecessary roughness and unsportsmanlike conduct rules.
"After the Las Vegas Raiders-Dallas Cowboys game on November 25, you engaged in conduct that this office considers unnecessary roughness and displays a lack of sportsmanship. Specifically, as both teams were shaking hands, you waited more than 50 seconds for your opponent at the 50-yard line. When you located him, you then walked toward him in the opposite direction of your locker room. You both engaged in a verbal chest-to-chest confrontation which you escalated by throwing an open hand punch to his facemask, forcible enough to cause your opponent's helmet to come off," Runyan wrote in the letter to Hill.
Hill is appealing the suspension, a source told ESPN's Todd Archer. Derrick Brooks or James Thrash, who are jointly appointed and paid by the NFL and the NFLPA, will issue a ruling on the appeal.
If Hill's suspension stands, he would be eligible to return to the Cowboys' active roster on Monday, Dec. 13. He would miss games against the New Orleans Saints this Thursday and against the Washington Football Team on Dec. 12.